In this tutorial, we'll have an overview of Microsoft SharePoint. We'll also discuss its uses and why it's essential to learn about it.
SharePoint is a web-based collaboration tool for an organization that enables users to communicate and share information across the web.
Understanding Microsoft SharePoint
Everyone in an organization can use SharePoint as it helps teams collaborate.
It can also be your own personal intranet. The Internet is a collaboration of websites and resources that anyone can visit. Intranet, on the other hand, is a collection of websites and resources that only people in an organization can visit.
With the intranet, we can have several sites that are similar to what we can access through the internet. We can have different sites for our organization that only people in our organization can access for a particular project.
Moreover, SharePoint is a way to share and manage content and knowledge across a team. As an organization, we may have a lot of content and knowledge such as submitting an expense report, who our customers or our sales team are, or how to get into a specific office.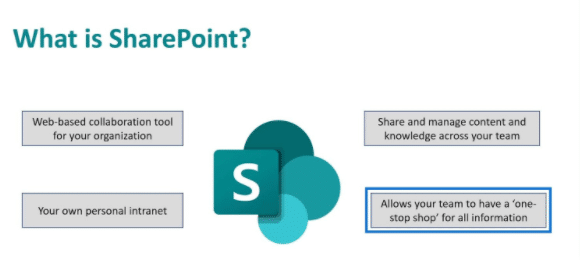 We might still be using the old process even if there's already an updated process. That's why SharePoint is helpful as a way to share and manage content and knowledge across our team.
Lastly, SharePoint empowers teamwork using sites. It provides a collaboration space that allows teams to collaborate, track progress, and manage content or permissions using web-based sites.
It's also very accessible and intuitive. It's one of those skills that's easy to learn and understand.
Uses Of Microsoft SharePoint
SharePoint is a flexible tool. You can do various things, or you can only do one or two of those things as well. It's up to you on how you want to use it. When using SharePoint, you might use simple tools for now, and then scale them to more rich features as your organization grows.
1. Sophisticated Library To Keep Your Organization's Documents
SharePoint is a sophisticated library to keep your organization's documents. This is similar to OneDrive or Google Drive. It's a way to hold all of your documents in one place.
One feature of SharePoint that OneDrive and Google Drive don't offer is that you can associate metadata with these documents. So instead of having a typical folder structure of how you keep your documents, you can associate metadata as well and group it based on different things.
For example, some powerful organizations don't put their shared content in a folder-like structure as there can be a lot of problems with that. They usually have a list of files with metadata.
By doing this, they can easily track, group different things they want, and maintain metadata. If things get updated, they don't need to move around folders because they just need to update the metadata.
2. News And Updates For Your Team
SharePoint can also be used to easily give news and updates for your team. Aside from being able to set sites that contain information, you can also make pages on your site to update your team on certain things.
Let's say for example you have a SharePoint site for your team. Then there's a new sales process that you want to roll out. Instead of sending it via email, you can just post it as a new page on your SharePoint.
With this, it gives everyone access to that page that they can comment on. If for instance, you made an error, you can also change or update it from time to time.
3. Microsoft SharePoint As A Database
SharePoint can be used as a database to hold information about anything. There are organizations that create a SharePoint list containing customer data, transaction data, order data, and many more. It's also powerful and very flexible because it can virtually hold any type of data like attachments, users, and profiles.
It's also more intuitive than other databases. For example, you wouldn't use Excel to store data because you want it to be shared among many people and want it to be in the same place. You want to have validation rules where some people can only add customers that have certain conditions and are valid.
You wouldn't want to use SQL, Salesforce, or any other complicated database as well because you need to learn the language of SQL to be able to use that. So, SharePoint is such a good tool to use as a database and also a good alternative to Microsoft's Dataverse as well.
4. Maintain Common Workflows In Businesses
SharePoint is also used to maintain common workflows in your business for efficiency. Once you have your database in SharePoint, you can use its workflow capabilities to manage certain common business tasks.
Let's say for example you have a workflow related to filling out an expense report. In the old days, we had to go to our email and look for the expense report to fill it out manually. Then, we need to send the attachment to the manager for approval and do other processes that are complicated.
You can do this process a lot easier by having a workflow run entirely in SharePoint. There will be a database to hold all expenses. You can then create a new record, and send that to the manager's SharePoint for approval.
After approval, it'll go directly to accounts payable in SharePoint. Lastly, they will approve it so you can get your payment. No need for back and forth of emails, and it's trackable and auditable as well.
5. One-Stop Shop For Businesses
All in all, it's a one-stop-shop for everything in your business. Everything happens on their platform which makes it very efficient. With SharePoint, you don't need to have different database sources. Also, no need to have really complex workflows that are purely manual.
Here are the features of SharePoint that I want you to experience later on.
Features Of Microsoft SharePoint
SharePoint is a content management system that you can easily search. It also has some social networking capabilities that allow employees to collaborate. For example, you can put discussion posts, FAQs, news feeds about what people are doing, and the like. It brings a social networking aspect to your organization.
It also has excellent integration with Office 365 apps.
Moreover, SharePoint is very customizable not only from a design aspect but also from a functional aspect. You can create any workflow or data that you want through SharePoint lists. You can also have a folder-based or metadata-based document library system. It can even allow users to have pages within pages or one full page.
SharePoint has its own database. It's complicated enough to hold very complex data types but also intuitive enough so anyone can use it without knowing any coding.
There are also good business intelligence features within SharePoint. After having your data in SharePoint, you can manage what's changing and how it's changing. You can have views, dashboards, and other things like that.
SharePoint has one of the best permissions and security systems as well. You can manage permissions very easily and granularly. You can set permissions at the bio level, app-level, database level, column level, or at the whole site level.
Instead of typical systems where permissions are dealt with at a user level, this is dealt with at a group level. So, you assign permission to certain groups and then you assign users to those groups.
Lastly, Microsoft makes SharePoint very easy, intuitive, and accessible to all levels of the organization, regardless of skill level.
Importance Of Learning Microsoft Sharepoint
There are lots of reasons why we need to learn SharePoint. One of the main reasons is that it allows users to increase collaboration, improve teamwork, and drive efficiency in the organization.
It also allows users to create a 'one-stop-shop for all the current and future employees. For example, you might have an employee onboarding or new employees who have missed news or important emails from history. It's better if all of that information is contained in SharePoint so that when those new employees get onboarded, they can see all that history within SharePoint itself.
The final reason we should really learn this is to get hired. SharePoint is used so much in organizations that it's one of the things that people look for when you get hired. Similar to office skills, SharePoint is also very important especially if you can make your own site.
A SharePoint user is different from a SharePoint developer. If you say in your resume that you're a SharePoint developer, that's very relevant because your boss would know that you can automate their workflows and you know how to make a one-stop shop for all their employees.
***** Related Links *****
Upcoming Courses: SharePoint Introduction and Advanced Concepts
Power Apps Environment Setup: Connect To OneDrive & Google Drive
Enterprise DNA Updates For June And What To Look Forward To In July
Conclusion
To summarize, it's essential to learn how to use SharePoint as it provides lots of benefits for your organization. It's especially important for teams that use Power BI as they seamlessly work with each other and complement each other's functions.
You might unlock additional value and features of SharePoint that your organization can use. You can do many things with SharePoint lists, permission systems, workflow management, version history, and many more.
It's also something that everyone in an organization can easily use without being overwhelmed. As a user, it's very easy to use but can also be difficult to master and develop. But once you get a hold of it, it'll help you provide efficiency on your business workflows.
All the best,
Henry