In this tutorial, we'll discuss the difference between MS Power Automate and SharePoint Automate features. First, let's find out what SharePoint Automate is.


SharePoint Automate is an excellent feature; however, it's very limited as each solution is almost the same.
Understanding SharePoint Automate
To further understand how it works, let's try to click Automate.
Then, click Create a rule.
When you choose A column changes…
…you'll see send email to at the end.
Also, when you choose A column value changes…
you'll end up with send email to, too.
Another limitation that SharePoint Automation has is you can't interact with other lists or applications.
For example, we might have a workflow where whenever a new customer is created, an email is sent to them and a record is created in your customer database. At the same time, another record is created for them in your salesforce database.
Another sample scenario is when you tweet that you've received a new customer from this area, and rate them. It doesn't offer a solution that whenever someone adds a new customer, it makes a SharePoint page.
In both of these cases, using Power Automate is more efficient.
Main Difference Between Power Automate And SharePoint Automate
Automate is a function within SharePoint. Think of it as a similar level to Export, Share, or Edit in grid view. On the other hand, Integrate allows you to mix in SharePoint lists with other apps that are offered by Microsoft including Power Automate.
MS Power Automate is an app that's used to create workflows where you can link SharePoint lists and SharePoint documents.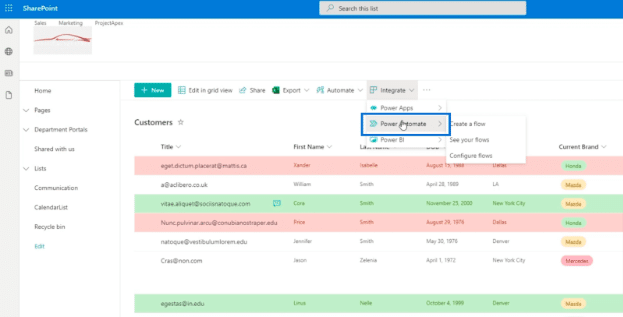 It allows users to automate any task, from simple to complex ones. It's a useful tool to streamline any workflow, with no coding required.
Understanding Tasks In MS Power Automate
To fully understand how this works, we have to dig deeper on how we define tasks.
Tasks can be simple or complex.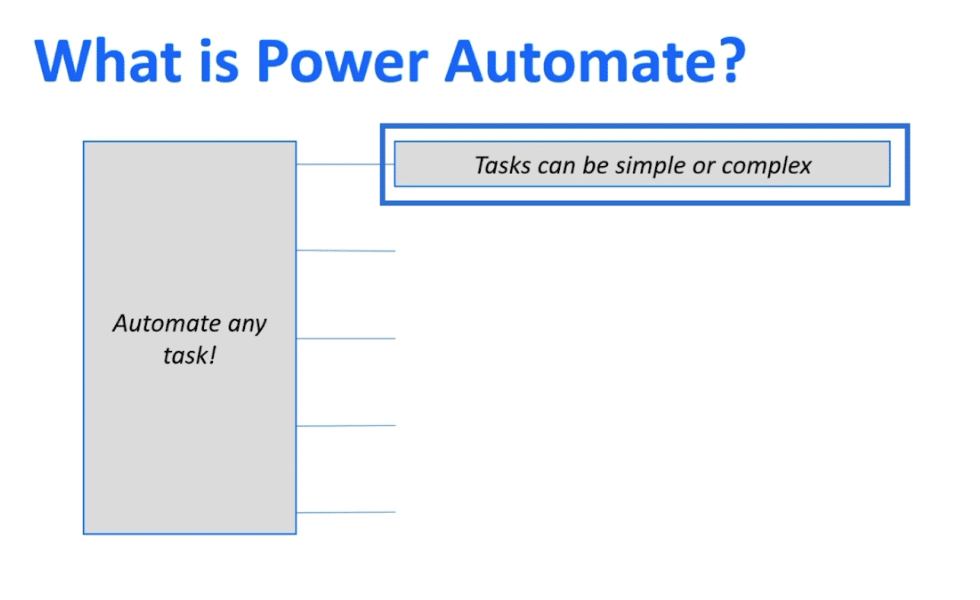 An example of a very simple task is sending an email. On the other hand, a more complex task could be expense reporting where the task is triggered when a user submits an expense report and the task then go through an approval system.
It will check the amount, then go through their manager to see if they approve it. After that, it'll go to the payment system and then it gets paid out to the employee.
That's a very long workflow, but structurally, it's the same as the first example that has a trigger and an action.
Tasks can use any application.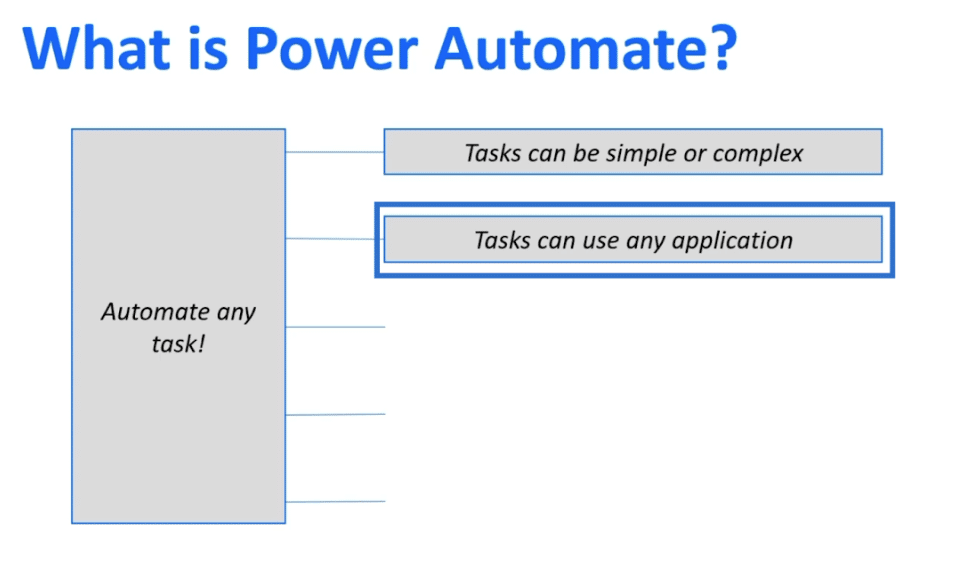 These applications we use on Power Automate are called connectors. We can also have tasks that go through several different connectors.
One of the most powerful integrations is a task that goes through a payment application system. Power Automate controls the payment application system and pays out the employee.
If there's no available connector, you'll usually find a script that you can add in. You can also do third-party hosting, where you can also add the connector.
Tasks can be personal or business.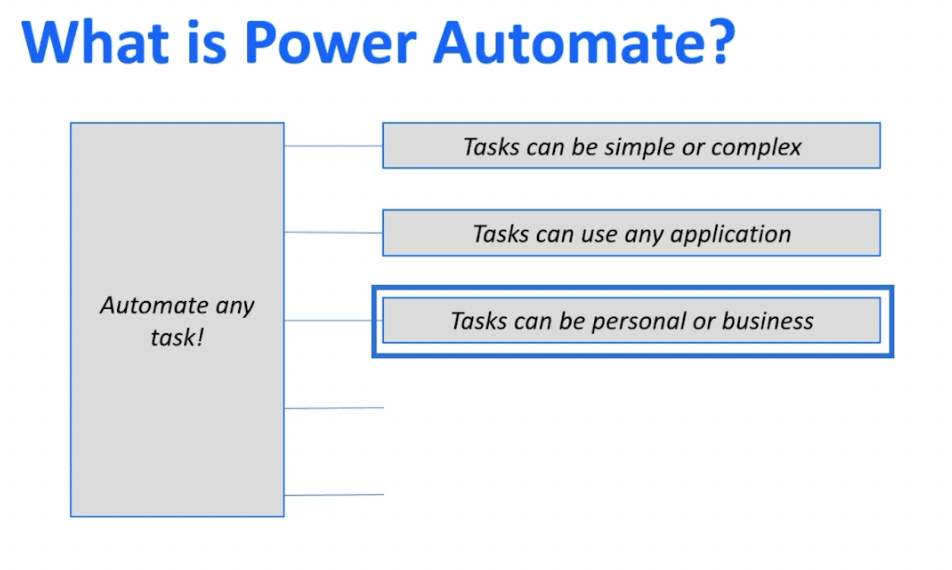 You can automate your personal or work tasks. It's really up to you how you want to utilize this tool.
Tasks can have interactions from people.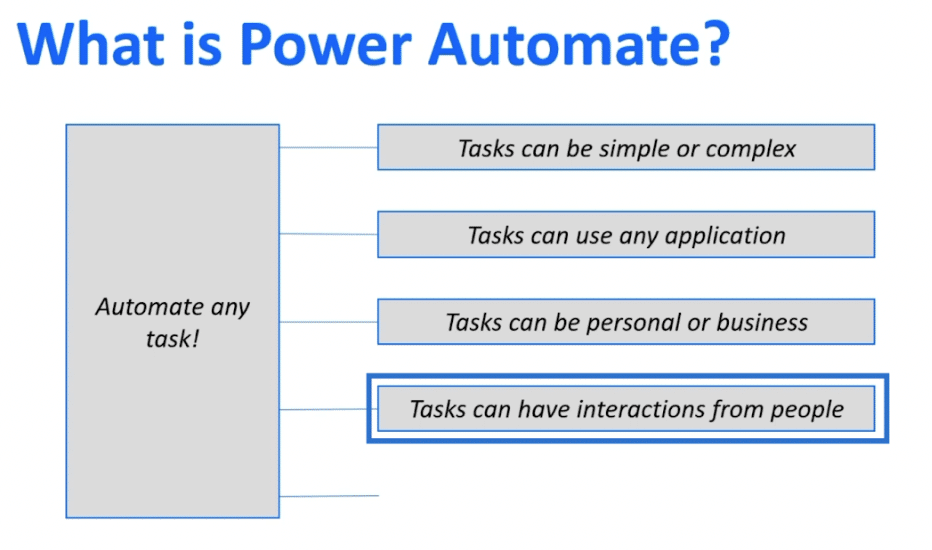 A continuous sequence of automated tasks where after the first step, you'll go to steps two to three to four are not mandatory. There are times when after the first step, a user requires an input before either going to step three, A, or B, depending on the input.
Tasks can be on your desktop or website.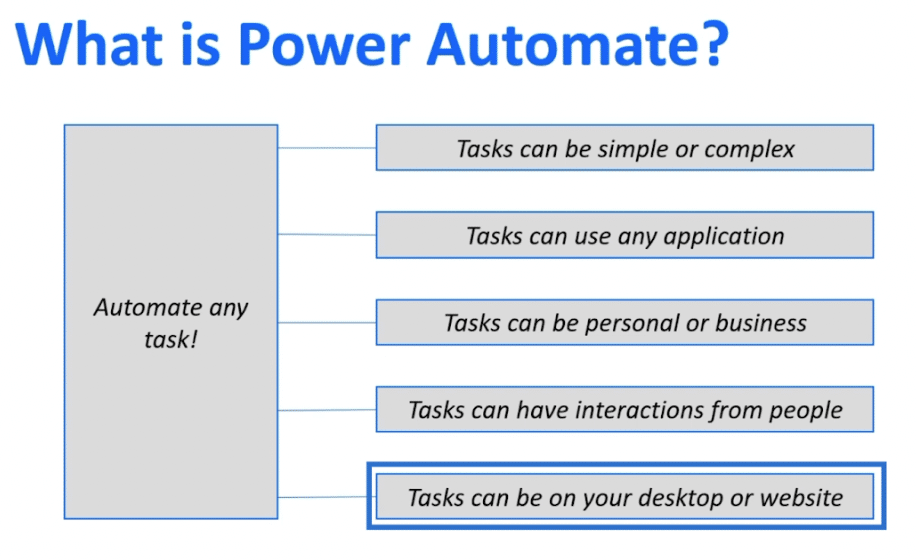 UI flows or desktop flows allows you to automate your desktop actions as well.
Advantages of Power Automate
Here are some of the advantageous features of Power Automate.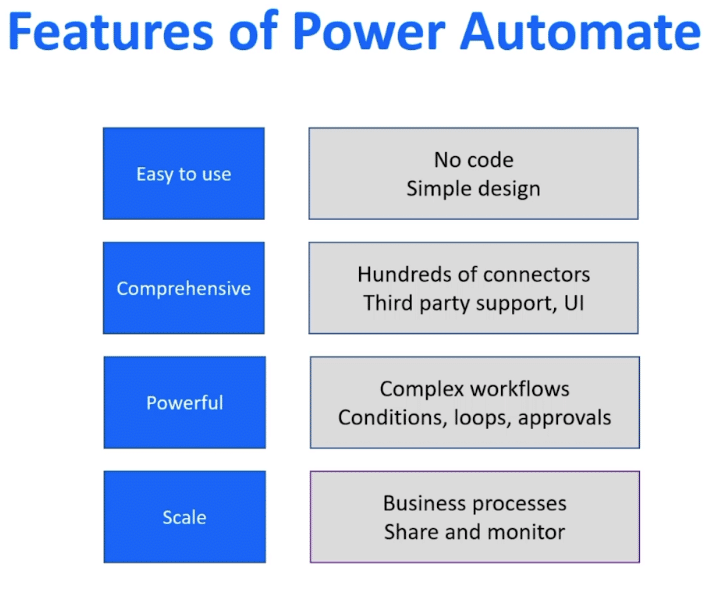 It's easy to use as there are no codes and it has a simple workflow design. The workflow is very visual and can easily be tracked.
It's very comprehensive. It has plenty of connectors and supports various third-party apps.
Power Automate is very powerful. You can have complex workflows with conditions, loops, approval systems, and many other useful tools.
Most importantly, it has a scale factor. Once you make a flow, you can extend and share it to anyone in your organization, giving them access to that flow as well.
***** Related Links *****
Power Automate Flows Creation From Scratch
Microsoft Power Automate: Workflow Automation
UI Flow Inputs In Microsoft Power Automate
Conclusion
In this blog, you've learned the difference between SharePoint Automate and Power Automate. The Automate feature within SharePoint only provides simple task automation, which are mostly emails.
On the other hand, MS Power Automate has various features that can handle workflows from simple to complex task automation. By understanding the difference between these two features, you'll be able to know how and when you can utilize them.
All the best,
Henry Habib