Has your business been struggling to find an AI platform that doesn't present security concerns?
Well, OpenAI recently announced that it was launching an enterprise version of ChatGPT, and the service just might be the perfect solution for your enterprise concerns.
Launched on August 28, 2023, ChatGPT Enterprise is a subscription-based plan that provides enterprise-grade security and privacy while offering unlimited access to GPT-4 at higher speeds. This makes it an ideal choice for organizations looking to harness the power of a cutting-edge AI assistant to handle various tasks efficiently.
The natural language processing platform aims to give businesses and organizations reliable, secure, and customizable assistance to increase productivity and accuracy across various tasks.
In this article, we'll tell you everything you need to know about ChatGPT Enterprise, what it has to offer your business, and how to get started with the platform.
Let's dive right in!
Key Features of ChatGPT Enterprise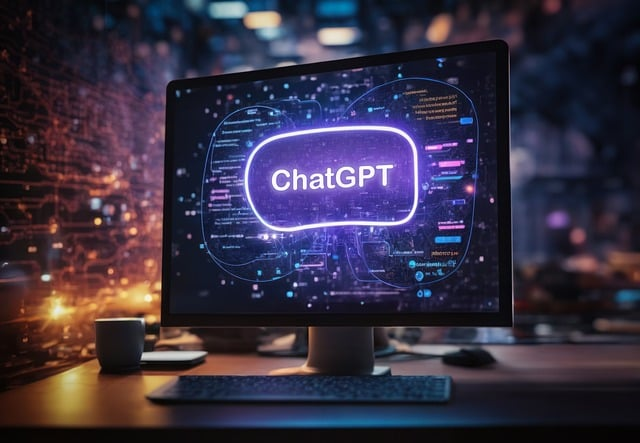 ChatGPT Enterprise is an upgraded version of ChatGPT and is designed specifically for businesses.
Here are some of the key features it offers:
Feature 1: Security Features
One of the best features offered by this enterprise product is enhanced security and privacy. The security features include:
Enterprise-grade security: ChatGPT Enterprise includes access to robust security foundations, including enterprise-grade security and privacy features, without compromising your company's vital information.
Data encryption: It employs advanced data encryption techniques like the industry-standard AES encryption algorithm to safeguard company data both in transit and at rest.
Furthermore, with the enterprise version, companies own and control the data used and the GPT model will not learn from the company's site usage.
SOC 2 compliance: This version of ChatGPT is SOC 2 compliant. SOC 2 is an industry-recognized framework, designed to ensure that service providers manage and secure customers' data efficiently.
Admin console: This enables you to control employee access, integrate single sign-on, perform domain verification, and more.
This level of control ensures that your company can effectively harness the power of ChatGPT, while also maintaining data security and user management.
Feature 2: Increased Performance
In terms of performance, the enterprise version is built to be more efficient for your business needs in comparison to ChatGPT and other alternatives.
To increase performance, Enterprise offers:
Unlimited access to GPT-4, no usage caps.
Performs up to 2x faster than ChatGPT.
Allows for 32K context which enables you to process 4x longer inputs or files.
Shareable chat templates for more efficient collaboration and workflow.
Free credits to use the OpenAI API.
Increased customization options.
This means your team can get more work done and improve overall productivity.
Feature 3: Advanced Data Analysis
Enterprise sets itself apart with its advanced data analysis capabilities, known as Advanced Data Analysis (formerly Code Interpreter), grounded in OpenAI's state-of-the-art AI technology.
Its analytics dashboard enables you to monitor usage insights, track performance, and identify trends that can help you understand how effectively your organization is using Enterprise features.
It also offers data analysis tools that can process and analyze large volumes of text. These tools can help you uncover patterns and relationships within your data, empowering you to act on the valuable information gleaned.
Now that we've gone over the core features, read on to take a look at how you can get started with Enterprise.
Getting Started with ChatGPT Enterprise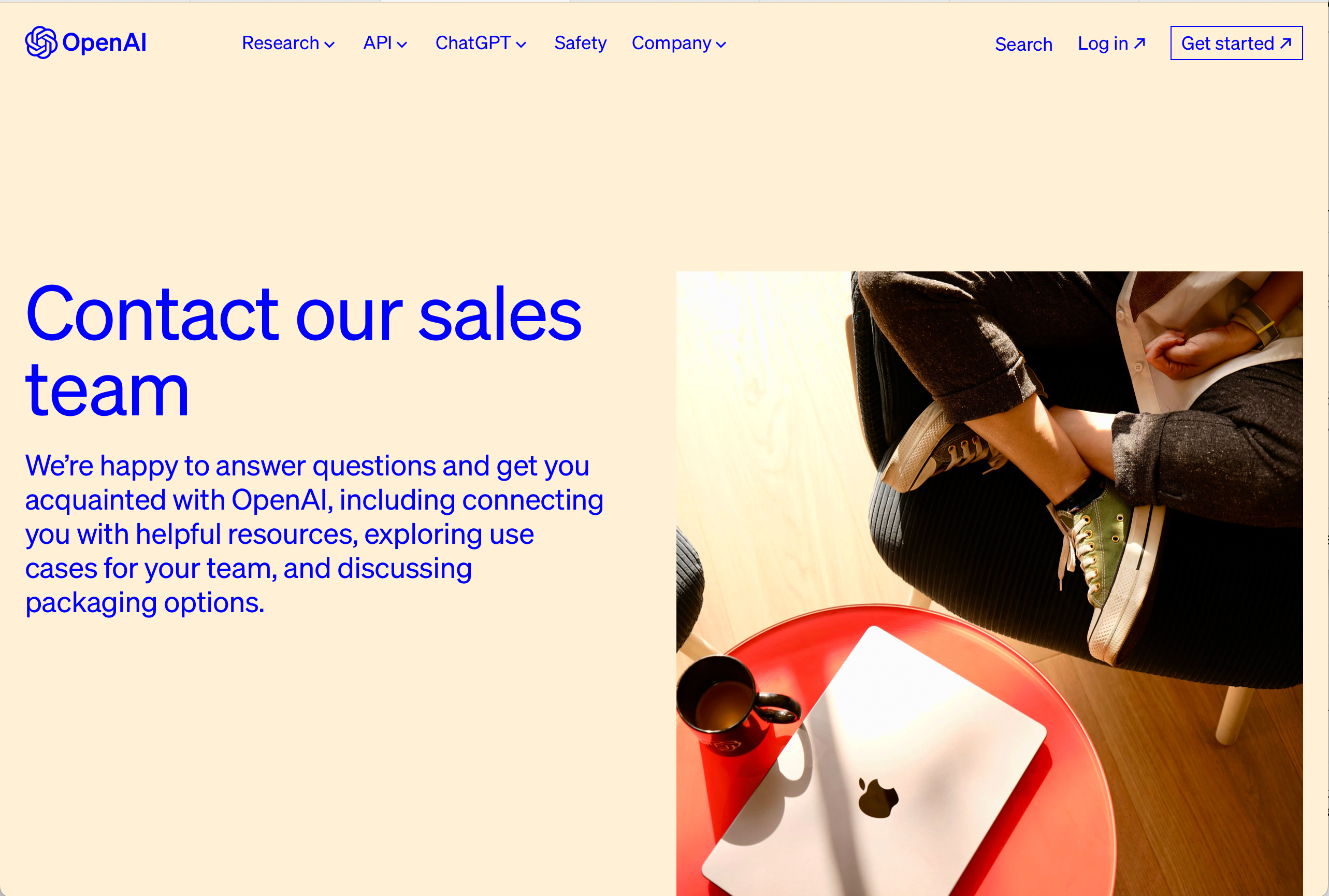 To get started with ChatGPT Enterprise:
Go to the OpenAI homepage.
Click on the Menu button in the top right corner, click ChatGPT in the menu option, and select Enterprise.
Under Enterprise, click Contact Sales, and fill in the form.
You'll be connected to an account manager who will work with you to give you the best service.
How Much Does ChatGPT Enterprise Cost?
OpenAI is committed to offering customized plans for its enterprise service, so there is currently no set price for the ChatGPT Enterprise plan.
Once you fill in the Contact Sales form, your account manager will create a customized price plan for you.
How Companies Are Using ChatGPT Enterprise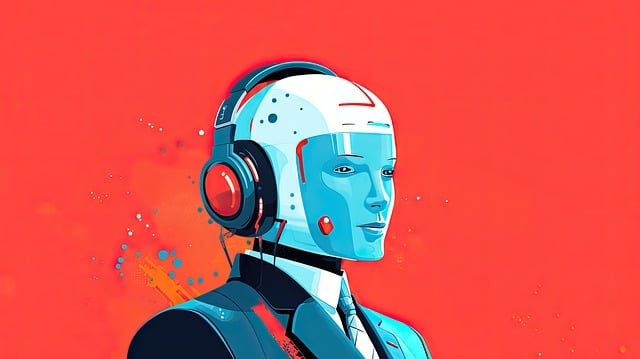 According to OpenAI, since ChatGPT's launch, over 80% of Fortune 500 companies have adopted the service, and with the enhanced features offered by Enterprise, many companies are looking to move to this new service.
Here are just some of the areas where your company can use ChatGPT Enterprise:
Customer support: Enterprise can be used to develop chatbots that are efficient conversational agents for your customer service department.
By handling repetitive queries, addressing concerns, and redirecting customers to relevant resources, you can enhance your customer experience and support agents' productivity.
Marketing and content creation: With the assistance of Enterprise, you can create persuasive and engaging content for your marketing campaigns.
It can generate ideas, slogans, or even entire articles based on your prompts — all while maintaining a consistent brand voice.
Internal communication: Enterprise can be used for internal communications, assisting employees in navigating company policies, procedures, and knowledge bases.
Additionally, it allows for more efficient collaboration among teams, aiding in the creation of reports, proposals, and meeting notes.
Coding: The Enterprise version of ChatGPT can be a valuable partner to your development team. It can give coding suggestions or offer solutions to complex programming challenges, which may accelerate coding tasks and reduce errors in your software development process.
Remember, the key to harnessing the power of ChatGPT Enterprise is incorporating it into various aspects of your organization.
Embrace its potential to optimize and streamline your workflows, and ultimately drive success in multiple domains.
Take a look at our predictions on how ChatGPT will continue transforming industries and jobs globally:
ChatGPT Enterprise Alternative – Bing Chat Enterprise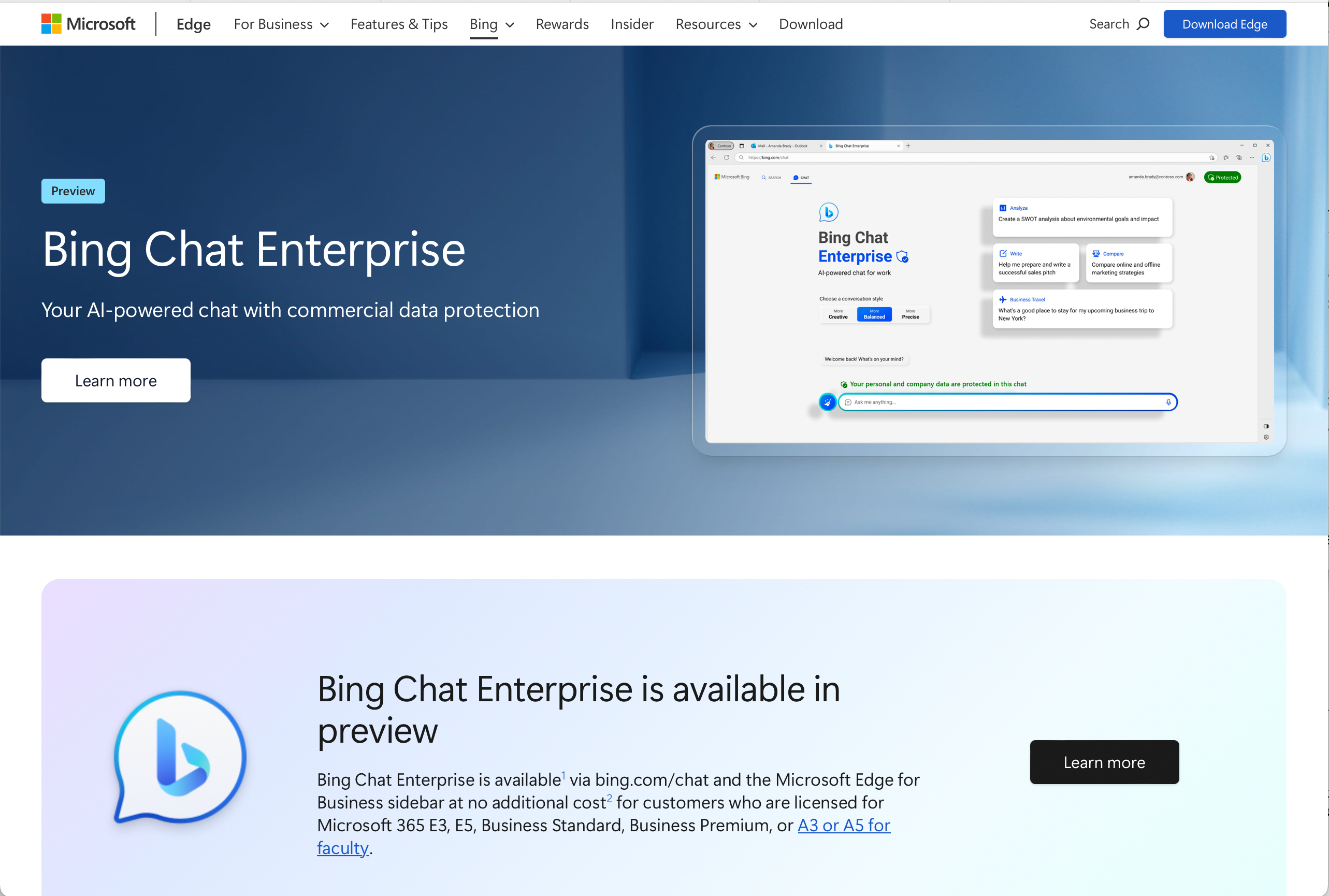 As OpenAI launches ChatGPT Enterprise you may find yourself seeking to compare it to any other alternatives in the field.
And when it comes to business-version AI models, the AI startup is not alone.
Microsoft has introduced its own business-centric offering, known as Bing Chat Enterprise, and it's a strong contender.
This alternative platform is included in select Microsoft 365 plans and offers strong features including:
Commercial data protection: Like ChatGPT Enterprise, no chat data will be saved and business data will not be used to train future Microsoft AI models.
Real-time data: Unlike ChatGPT, Bing Chat Enterprise draws its information from real-time web data, giving you the most up-to-date and accurate responses.
Easy integration: As part of the Microsoft product, Bing Chat Enterprise integrates easily with other tools in the Microsoft ecosystem, making it a great solution for companies that heavily use Microsoft products.
Affordability: The service will be offered at no additional charge with any Microsoft 365 E3, E5, Business Standard, and Business premium subscriptions. It can also be purchased as a standalone for $5 per use/month.
These features and more make Bing Chat Enterprise a direct competitor in the field and a worthwhile tool, especially for companies integrated into the Microsoft ecosystem.
Final Thoughts
With OpenAI launching ChatGPT Enterprise, businesses are presented with an excellent opportunity to harness the power of artificial intelligence to improve operations, collaboration, and decision-making processes.
Looking to the future, OpenAI has said it is "onboarding as many enterprises as (they) can over the next few weeks" and is currently working on a self-service tool called ChatGPT Business to cater to smaller teams looking for a business version of ChatGPT.
We are also expecting to see the integration of this enterprise product into various cloud services in the near future, which will make it more accessible and convenient to use.
So, subscribe to ChatGPT Enterprise and enjoy a host of enterprise-grade features tailored to meet the needs of modern organizations!
Frequently Asked Questions
How can ChatGPT benefit businesses?
ChatGPT can benefit businesses by automating and augmenting various processes.
It can help in providing efficient customer support, generating content, summarizing large documents, or even assisting with data analysis tasks.
This can lead to improved productivity, reduced response times, and enhanced customer satisfaction.
What is the architecture of ChatGPT Enterprise?
The architecture of Enterprise is based on advanced GPT-4 models. It offers enterprise-grade security and privacy features.
It provides higher-speed access, longer context windows for processing inputs, and customization options to suit specific business requirements.
Who are typical users of ChatGPT Enterprise?
Typical users of Enterprise include businesses, organizations, and enterprises that require AI-driven automation and augmentation solutions.
This can cover industries like customer support, marketing, finance, healthcare, retail, and more.
What are common use cases for ChatGPT in business?
Some common use cases for ChatGPT in business include:
Automating customer support by answering questions and resolving issues
Generating content for marketing, copywriting, or social media
Summarizing large documents for faster information consumption
Assisting data analysts by providing insights and recommendations
Streamlining communication by automatically drafting emails or messages
How does ChatGPT Enterprise differ from regular ChatGPT?
Enterprise goes beyond the offerings of regular ChatGPT by featuring enterprise-grade security and privacy.
It also provides unlimited higher-speed GPT-4 access and longer context windows.
In addition to these features, it also has advanced data analysis capabilities, and customization options that cater to the specific needs of businesses and enterprises.
What is the pricing model for ChatGPT Enterprise?
Currently, there is no set price plan for Enterprise.
However, you can contact OpenAI and request a customized quote for the service.