Data is the backbone of businesses these days, and having proof that you know how to handle and make the most out of data is a big deal in the IT world. That's where the Microsoft DP-500 certification comes into play. It proves you've got the chops to handle data like a pro!
Microsoft DP-500 is an exam that tests your skills in designing and using data solutions from Azure data services and Power BI. It tests your knowledge on managing and developing data processing, setting up data storage solutions, and optimizing data solutions. Passing this exam is like a big neon sign saying you're a data whizz, which is important for those working in the data field.
In this article, we'll cover everything you need to know about the Microsoft DP-500 certification. We'll explain why this certification is a big deal, what you need to know for the exam, and how to get ready for it.
So, let's jump into the world of Microsoft DP-500 and see how it can boost your career!
Or, if you're in a hurry, check out our handy cheat sheet at the bottom of this blog post.
What is the Microsoft DP-500 Exam?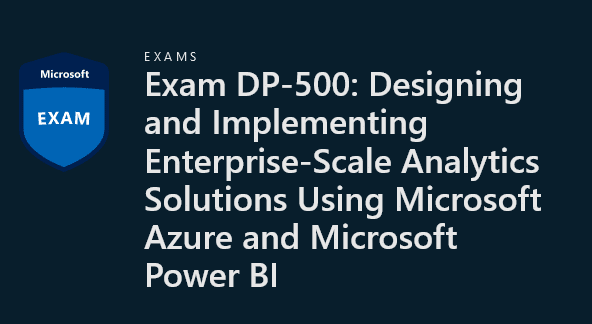 Before we dive into the nitty-gritty of the Microsoft DP-500 exam, let's take a moment to understand what it is and why it's important.
The Microsoft DP-500 exam, formally titled "Designing and Implementing Enterprise-Scale Analytics Solutions Using Microsoft Azure and Microsoft Power BI," is designed to test your knowledge and skills in using the Azure environment and Power BI for advanced data analytics tasks.
The exam is targeted towards professionals who are responsible for designing, creating, and deploying enterprise-scale data analytics solutions. People who are typically engaged in tasks such as performing advanced data analytics at scale, cleaning and transforming data, designing and building enterprise data models, incorporating advanced analytics capabilities, and integrating with the broader IT infrastructure.
The DP-500 exam is not just about testing theoretical knowledge. It'll assess your practical skills, reflecting real-world tasks and challenges data professionals may encounter in their roles.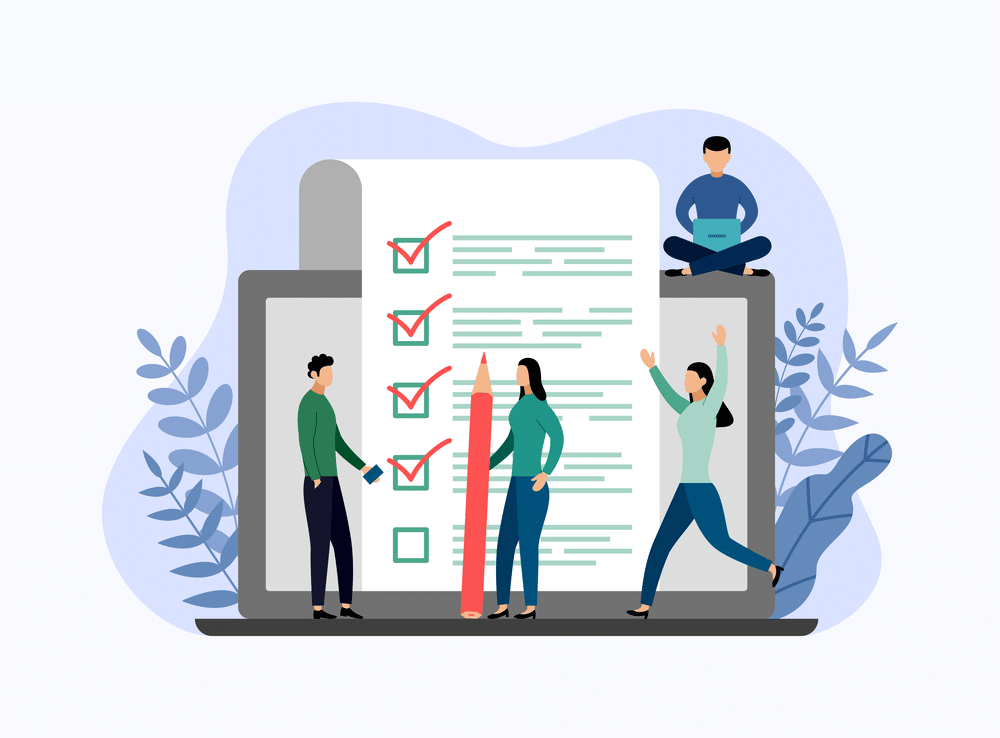 In a nutshell, the purpose of the DP-500 exam is to ensure that the candidates have a thorough understanding of the Azure data environment and Power BI, and that they are capable of implementing, managing, and optimizing data analytics solutions at an enterprise level.
By passing this exam, you demonstrate these capabilities to potential employers, which could open doors to new opportunities and advancements in your data analytics career.
So, who exactly should take this exam? We cover that in the next section.
Who Should Take the DP-500 Certification Exam?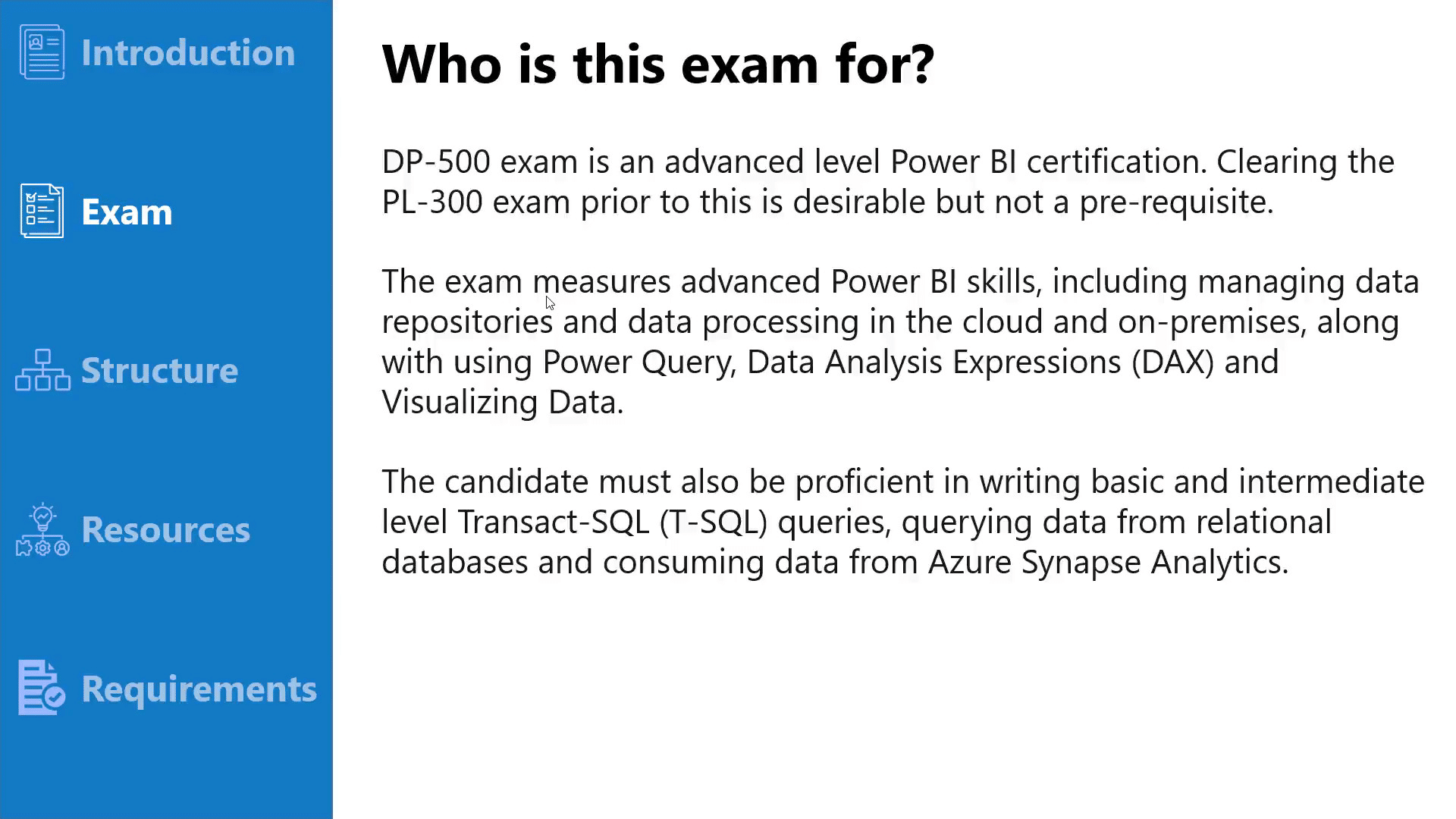 The DP-500 certification training is specifically tailored for data analysts, data engineers, solution architects, data scientists, AI engineers, database administrators, and Power BI data analysts.
It's a key certification for individuals looking to validate their proficiency in Power BI and Azure data services.
In this section, we'll explore the main categories of professionals who stand to gain from acquiring the DP-500 certification.
Data professionals and data architects: Individuals who design and implement the management, monitoring, security, and privacy of data using the full stack of data services to satisfy business needs. Data professionals manage and develop data processing, data models, and reports.

Business Intelligence (BI) professionals: People who turn data into information for businesses to make strategic decisions. They often work with SQL Server Analysis Services, Power BI, and other tools for data visualization, data reporting, and data analysis.

IT professionals looking to validate their skills: If you're working with Azure data solutions in your current role or are planning to, passing the DP-500 exam can help validate your skills and make you more marketable in your field. It's also a good stepping stone if you're interested in earning more advanced Azure certifications.

Career changers: If you're considering a career change into a data-focused role, earning the DP-500 certification can provide a solid foundation of knowledge and prove your commitment to this new career path.
The DP-500 certification is also a good stepping stone for IT professionals, data analysts, and engineers looking to build a robust data solution that seamlessly integrates with any Power BI tools and automates complex tasks.
Next, let's take a look at some soft prerequisites that can help make passing the exam a breeze.
Prerequisites for the DP-500 Certification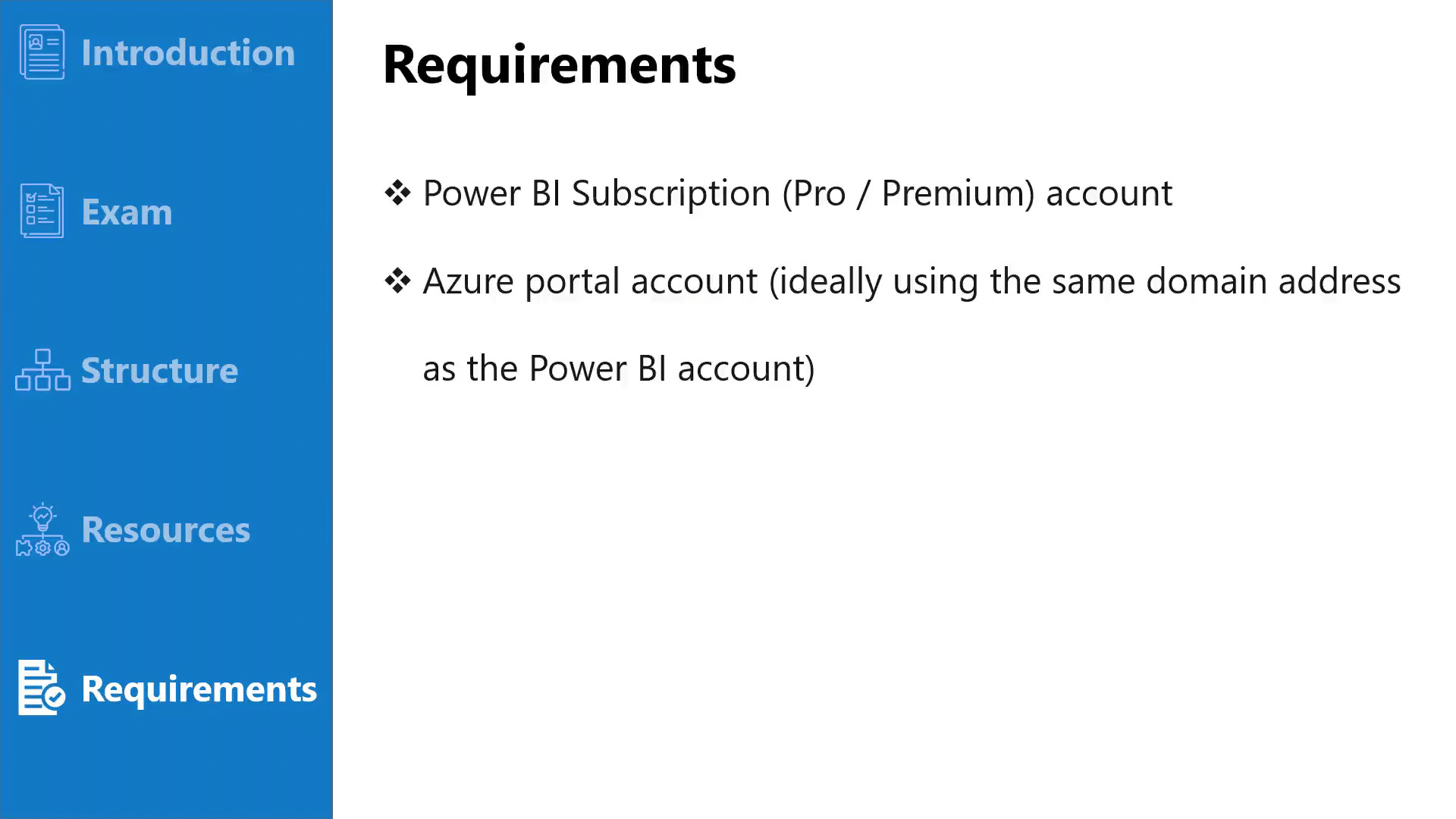 If you're thinking about tackling the DP-500 certification, there are a few prerequisites to consider.
And trust us, this isn't one of those "let's wing it" scenarios; the DP-500 is a tough nut to crack. It's like trying to do a marathon without any training.
So, let's run through what you should have under your belt before you decide to square off against this beast of an exam.
Note: While there are no formal prerequisites for taking the exam, there are certain skills and knowledge that you should have in order to be successful. It's also a good idea to have a Power BI Pro or Premium account as well as an Azure portal account so you can hone your skills.
Subject-matter expertise: First and foremost, DP-500 exam candidates should have subject-matter expertise in building, designing, and implementing enterprise-level, scalable data, and analytic solutions using Microsoft Azure and Microsoft Power BI.

Data analytics skills: This includes having advanced skills in performing data analytics at scale, such as cleaning and transforming data, designing and building enterprise data models, incorporating advanced analytics capabilities, integrating with IT infrastructure, and applying development lifecycle practices.

Power BI skills: Candidates should have advanced Power BI skills. This includes managing data repositories and data processing in the cloud and on-premises, as well as using tools such as Power Query and Data Analysis Expressions (DAX).

Azure skills: Candidates should also be proficient in consuming data from Azure Synapse Analytics and should have experience querying relational databases and analyzing data using Transact-SQL (T-SQL).
Again, there are no formal prerequisites, but having some experience with all of the above will help a lot.
In the next section, we'll take a deep dive into the exam details so you can see why our informal prerequisites are helpful.
Deep Dive into Microsoft DP-500 Exam Details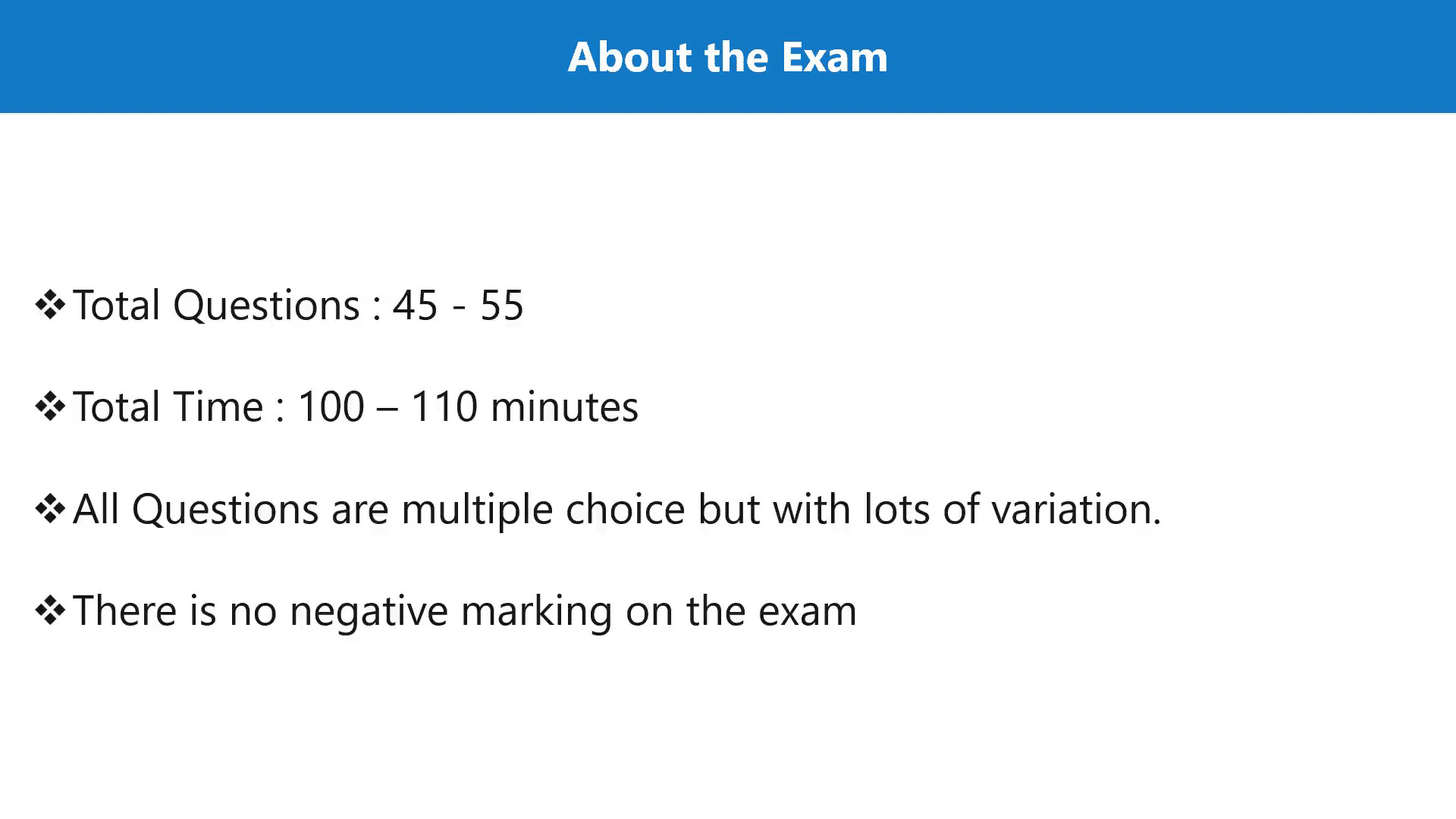 Strap in because we're about to go deep. Like, "submarine exploring the depths of the ocean" deep. We're about to dissect the Microsoft DP-500 exam and reveal all the little details that make up this beast.
We're talking format, content, duration, scoring, the works. By the time we're done, you'll know the DP-500 exam like the back of your hand. So hold on tight!
1. Microsoft DP-500 Exam Format
First, here's an overview of the exam format:
The DP-500 exam is a computer-based test that consists of multiple-choice and multiple-response questions.

The exact number of questions on the exam can vary, but you can expect to see around 40-60 questions.

The exam is timed, and you'll have around 150 minutes to complete it.
2. Microsoft DP-500 Exam Pass Score
In order to pass the exam, you'll need to get a score of 700 or higher. The scoring scale for the exam ranges from 100 to 1,000, with 700 representing the minimum passing score.
Please note that not all questions on the exam are weighted equally, so some questions may be worth more points than others.
After you complete the exam, you'll receive a score report that shows your overall score as well as your performance in each of the skills measured on the exam. This can be helpful in identifying areas where you may need to focus your studies if you decide to retake the exam.
3. Microsoft DP-500 Cost and Scheduling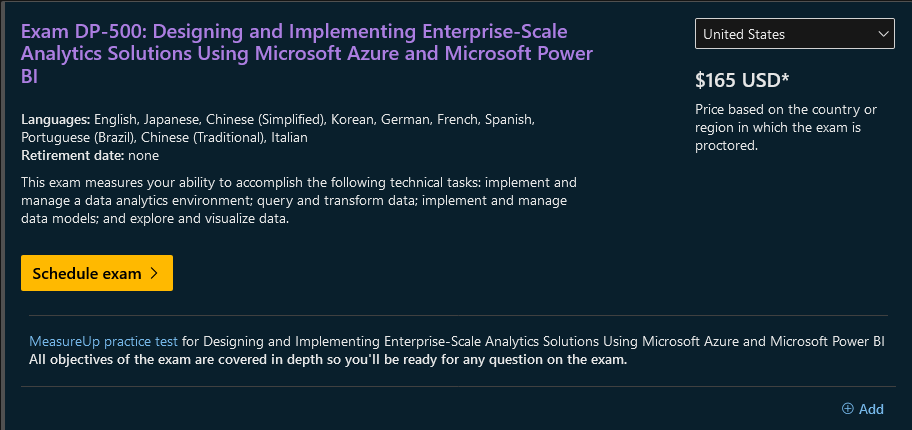 The cost of taking the Microsoft DP-500 Certification exam is $165.
You can schedule the DP-500 exam through the Microsoft Learn website. There's a link to schedule the exam on the Exam DP-500 page.
The DP-500 exam is available in several languages including English, Japanese, Chinese (Simplified), Korean, German, French, Spanish, Portuguese (Brazil), Chinese (Traditional), and Italian.
It's a challenging but achievable test. Now that we've gone over the details, let's talk about the skills that are measured in the next section.
Skills Measured in Microsoft DP-500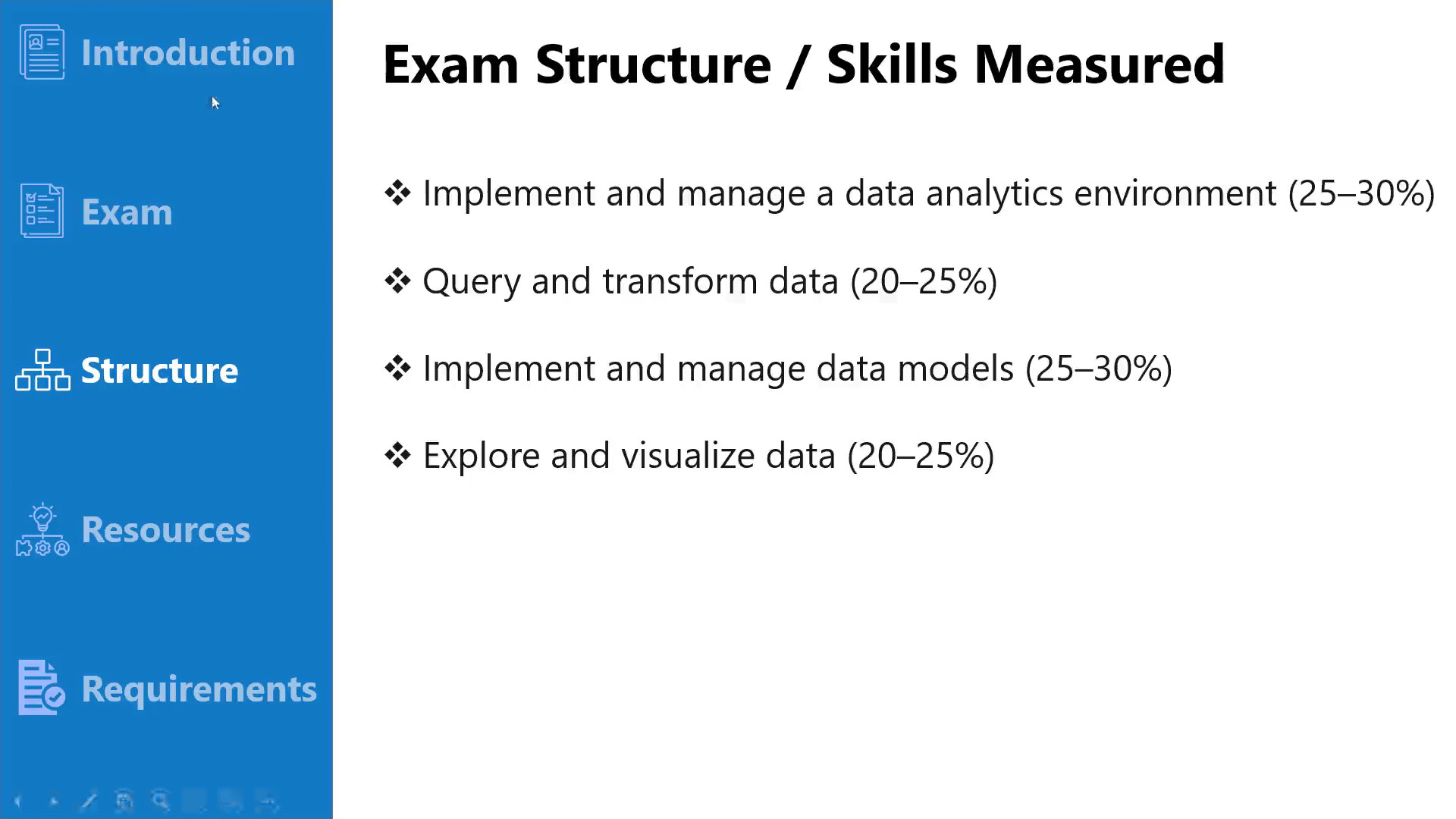 The DP-500 exam measures your ability across four primary areas. Each area has a different weight in the exam, reflecting the relative importance of these skills in the role of a Power BI and Azure Enterprise Data Analyst.
Let's break that down!
1. Implement and Manage a Data Analytics Environment (25–30%)
This area tests your ability to govern and administer a data analytics environment, integrate an analytics platform into an existing IT infrastructure, and manage the analytics development lifecycle.
Key tasks include managing Power BI assets, identifying data sources in Azure, recommending settings in the Power BI admin portal, identifying requirements for a solution, and configuring and managing Power BI capacity.
2. Query and Transform Data (20–25%)
This segment assesses your ability to query data using Azure Synapse Analytics and ingest and transform data using Power BI.
Essential tasks include identifying an appropriate Azure Synapse pool when analyzing data, querying relational data sources in dedicated or serverless SQL pools, identifying data loading performance bottlenecks in Power Query or data sources, and creating and managing scalable Power BI dataflows.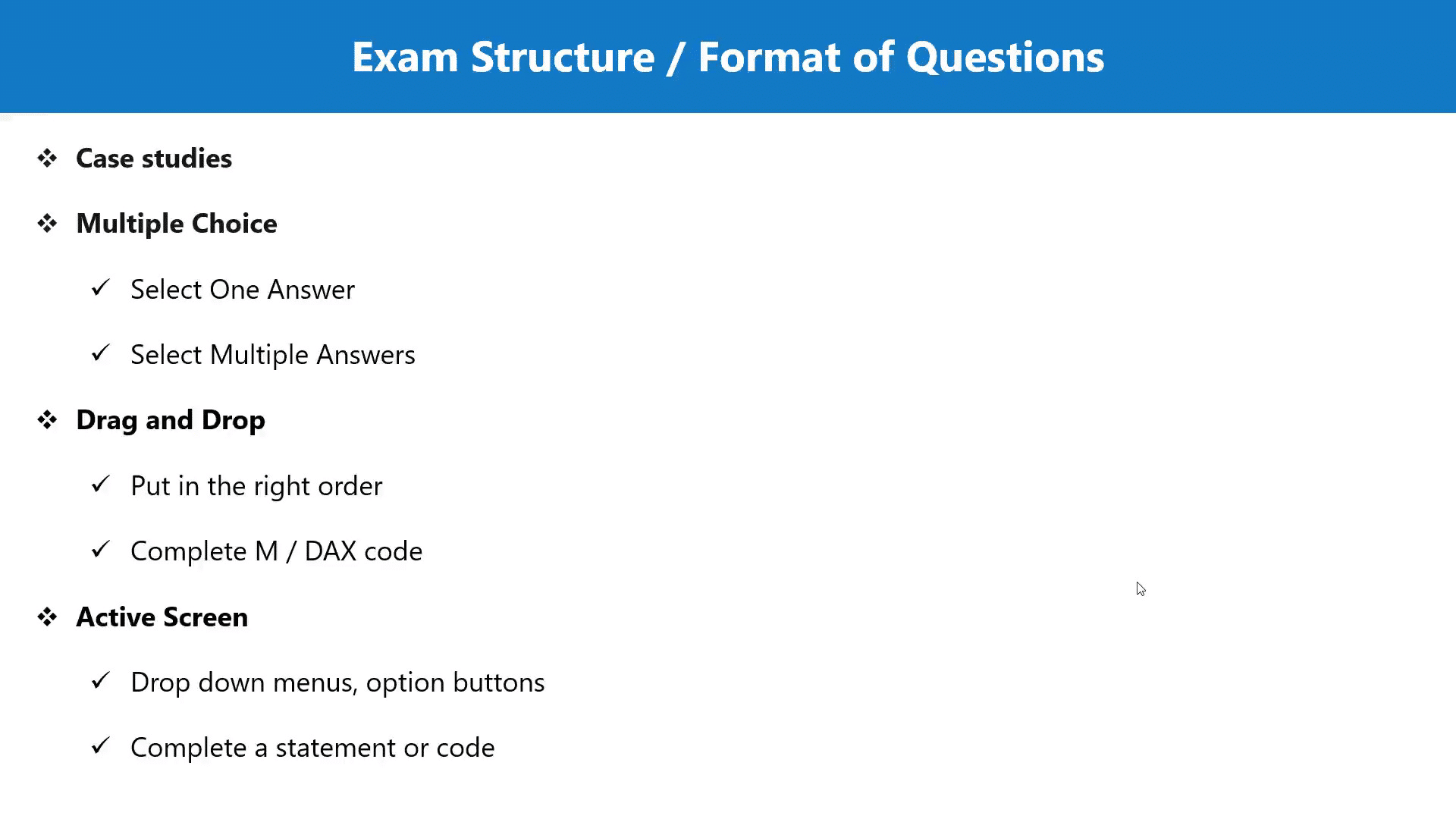 3. Implement and Manage Data Models (25–30%)
This area evaluates your skill in designing and building tabular models and optimizing enterprise-scale data models.
Core tasks include choosing when to use DirectQuery for Power BI datasets, creating calculation groups, designing and building a large format dataset, identifying and implementing performance improvements in queries and report visuals, and optimizing a data model by using Tabular Editor 2 and VertiPaq Analyzer.
4. Explore and Visualize Data (20–25%)
This portion tests your ability to explore data using Azure Synapse Analytics and visualize data using Power BI.
Key tasks include exploring data using native visuals in Spark notebooks, creating and importing a custom report theme in Power BI, creating R or Python visuals in Power BI, designing and configuring Power BI reports for accessibility, and creating and distributing paginated reports in Power BI Report Builder.
You are expected to have advanced Power BI skills, including managing data repositories and data processing in the cloud and on-premises, along with using Power Query and DAX.
By covering these areas, the DP-500 exam offers a comprehensive assessment of your skills and abilities in managing a data analytics environment using Microsoft Azure and Power BI, providing a valuable indicator of proficiency in these critical areas of data analytics.
Alright, that's enough about the details. In the next section, we'll talk about how to prepare for the exam!
How to Prepare for the Microsoft DP-500 Exam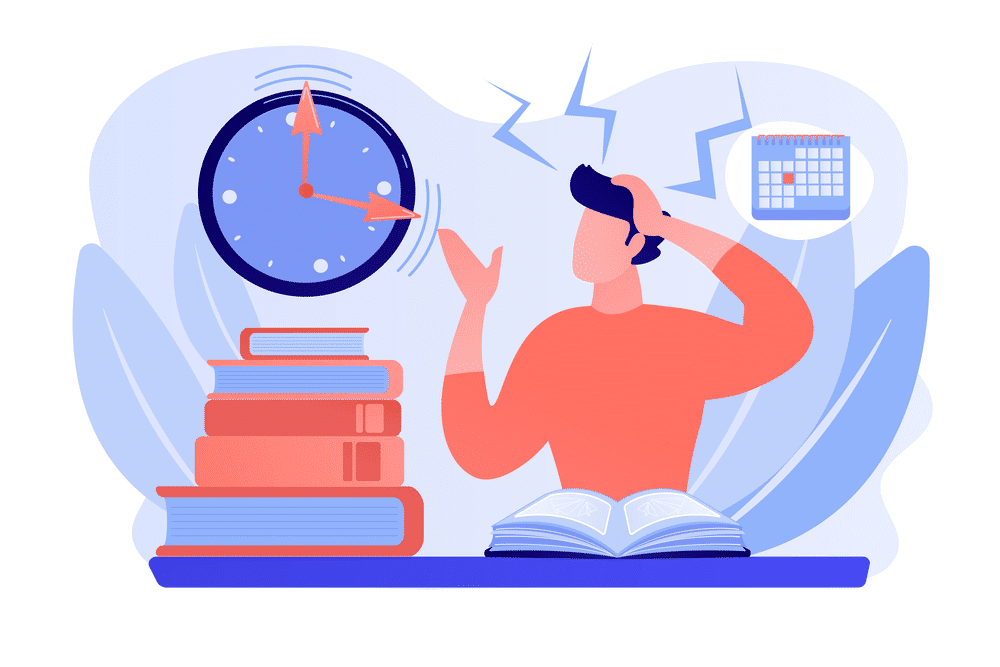 Preparing for the Microsoft DP-500 exam requires a combination of theoretical study, practical experience, and strategic planning.
Here are some tips and resources to help you get started on your preparation journey:
1. Review the exam objectives: The first step in preparing for the DP-500 exam is to review the exam objectives. Review the skills we covered in the previous section and test your knowledge using the learning paths offered by Microsoft.
2. Study relevant documentation: Once you have a good understanding of the exam objectives, it's time to start studying. One of the best ways to do this is to familiarize yourself with the Azure documentation provided by Microsoft. This documentation covers many of the topics that will be on the exam, so it's a great resource to use as you prepare.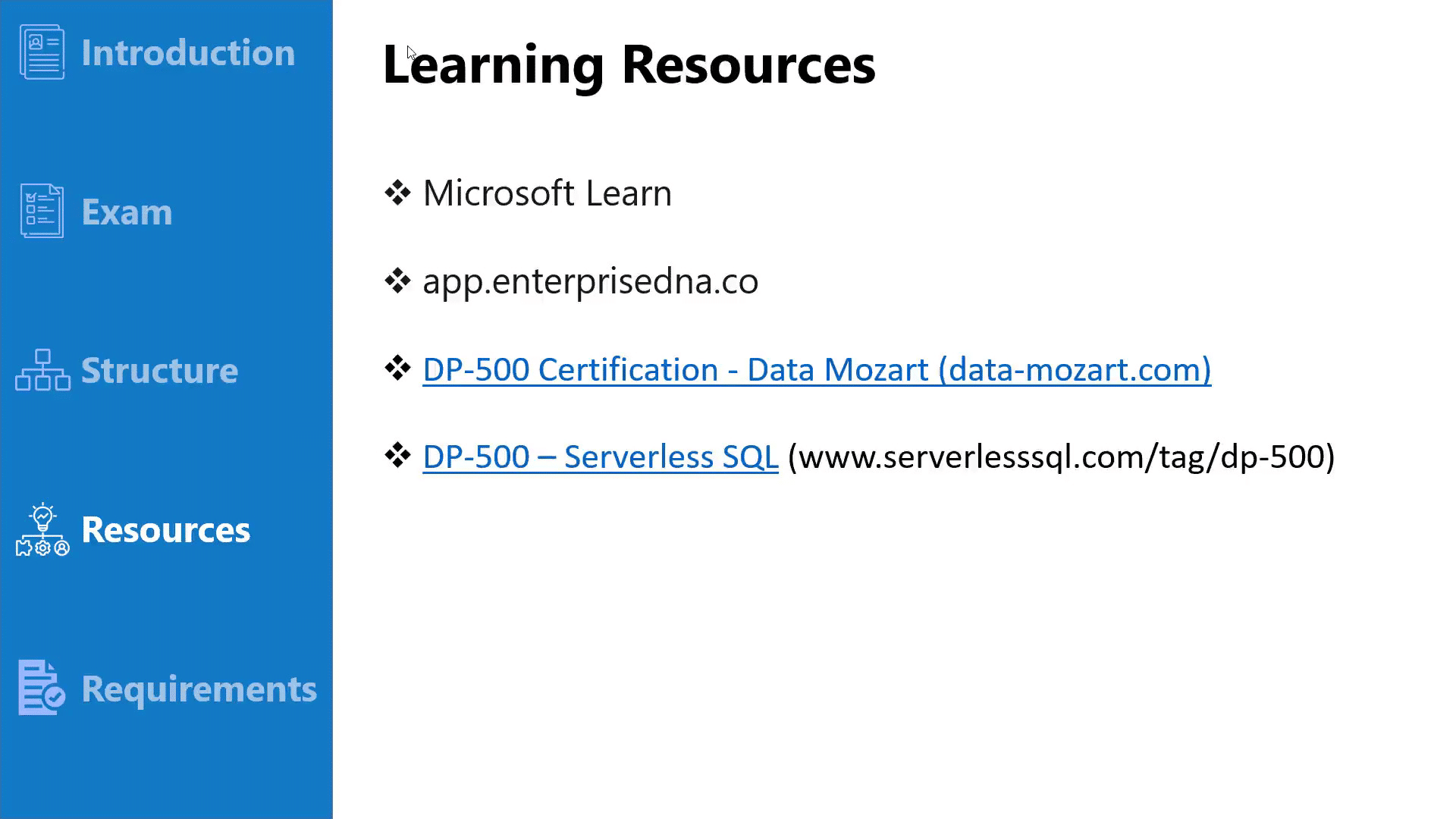 3. Take online courses: In addition to studying the documentation, you may also want to consider taking some online courses that cover the topics related to the DP-500 exam. Enterprise DNA has a two-part course with a learning path for Azure data analytics and Power BI in the context of the DP-500 exam.
4. Review the DP-500 study guide: Check out the Enterprise DNA study guide that we included in the introduction section. Our study guide for DP-500 exam that can help you prepare for it. It includes a summary of the topics that'll be covered on the exam as well as links to additional resources. Be sure to review this guide as part of your preparation!
5. Practice with hands-on experience: Finally, it's important to get some hands-on experience with the tools and technologies covered on the DP-500 exam. This includes tools such as Purview, Synapse, Power BI, Dax Studio, and Tabular Editor 2. Try working with these tools using the practice questions and scenarios covered in the Enterprise DNA course for DP-500.
It goes without saying that preparing for the DP-500 exam takes time and effort, but by following these tips and using the resources available to you, you can increase your chances of success.
Next, we'll go over Microsoft's exam policies for the DP-500 so you know what you need to do if you fail or if you need to reschedule the exam.
Microsoft DP-500 Exam Policies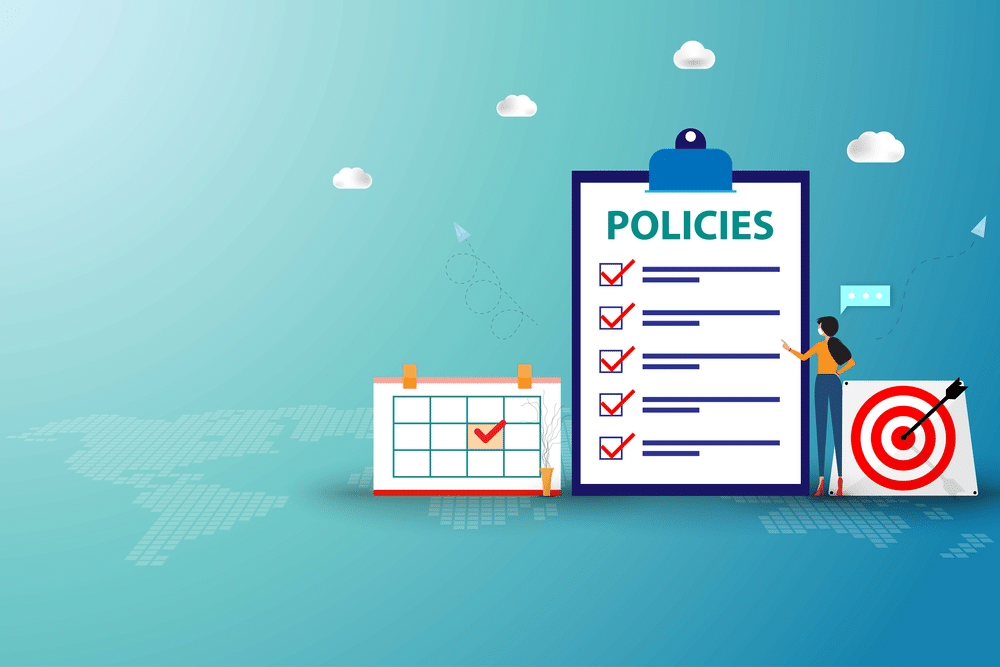 Now it's time to talk rules and regulations. Yeah, we know it sounds as thrilling as watching paint dry, but trust us, you need to know this stuff.
We're going to talk about the Microsoft DP-500 exam policies, and this isn't the fun, creative part, but it's every bit as important as knowing your stuff for the exam. Specifically, here's some information on the retake and cancellation policies:
1. Exam Retake Policy
If you don't pass the DP-500 exam on your first attempt, you can retake it after 24 hours. During this time, you can reschedule the exam on the certification dashboard.
Secondly, you may be asked to wait at least 14 days before taking the exam again if this happens a second time. However, a 14-day waiting period is imposed between the third and fourth attempts, as well as the fourth and fifth attempts.
Note: You're limited to five attempts per year.
2. Exam Reschedule and Cancellation Policy
Microsoft has a cancellation policy that allows you to cancel or reschedule your exam appointment up to six business days prior to your appointment without incurring any fees.
If you cancel or reschedule your appointment within five business days of your scheduled appointment, you'll be charged a fee.
Candidates must reschedule and cancel exam appointments at least 24 hours before the appointment. If you reschedule or cancel less than 24 hours before the appointment, you'll forfeit your exam money.
Final Thoughts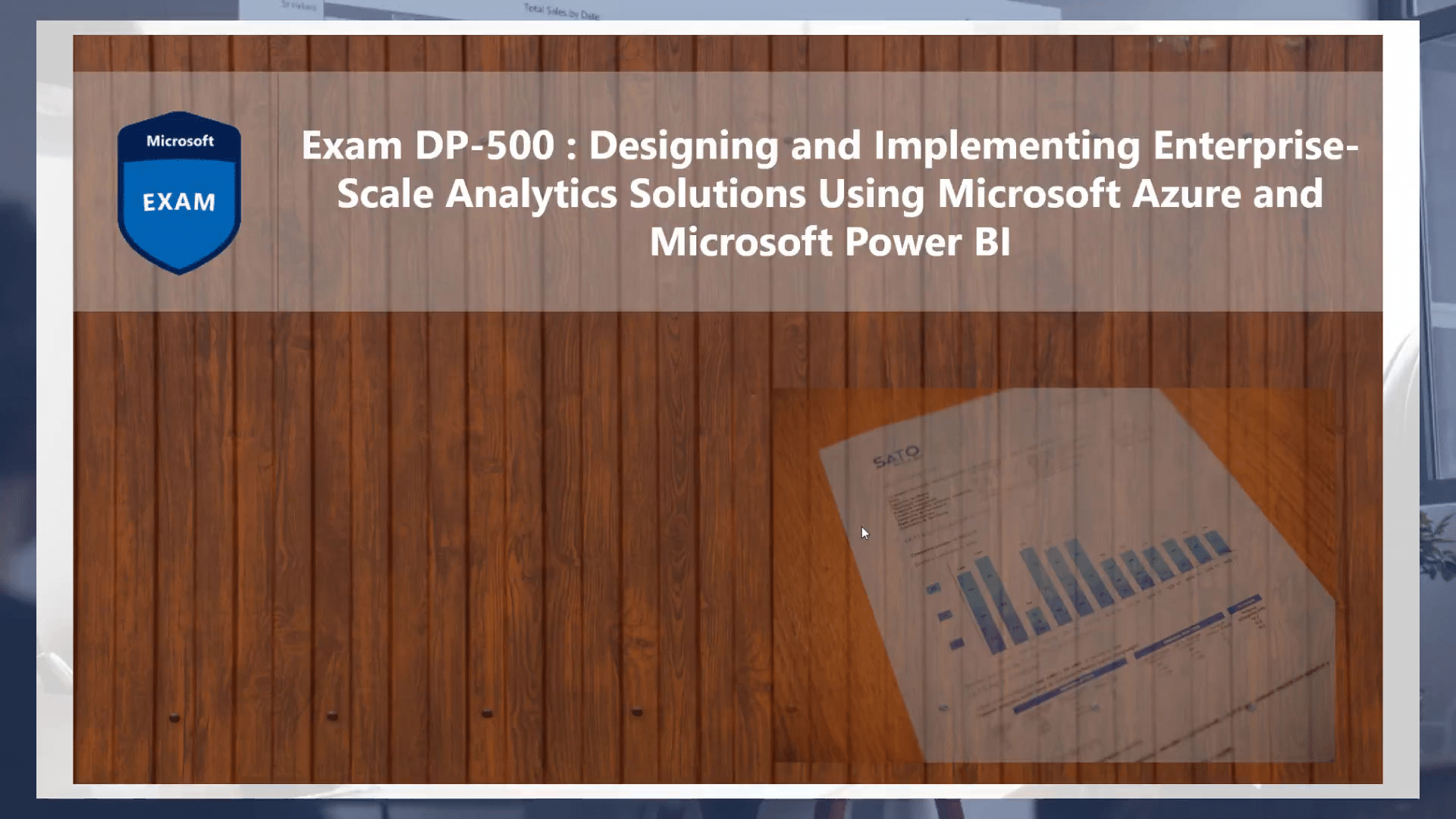 We've delved into the depths of the Microsoft DP-500 exam, and hopefully, it's a bit less of a daunting beast now. From the folks who should consider the exam, to what you need to prep, the nitty-gritty of the exam itself, and even the less-fun policy stuff — we've covered it all.
Just remember, as intimidating as it may seem, with solid preparation, you've got this! The DP-500 certification is a major feather in your cap, signaling to the world that you're a bonafide Azure data whizz.
Make sure you download the cheat sheet below and keep it as a handy reference.
But don't forget, it's not just about passing an exam — it's about gaining valuable knowledge that you'll use throughout your career. So embrace the challenge, dive into your studies, and when you're ready, go out there and crush that exam. You've got this, and we're rooting for you all the way. Until next time, folks, happy studying!
To learn more about what to expect for the DP-500 exam, check out the video below: