Power Platform Tutorials
For this blog post, I'll be talking about Microsoft certifications related to the Power Platform. Microsoft Power Platform certification is always useful because it allows you to tell your employers that you have skills in certain areas and tools, but it can also be expensive. You can watch the full video of this tutorial at the bottom of this blog.
It's about $165 for the exam, and if you want the paid instructor-led option, you'll have to invest about $1,000 to $5,000 per training session, which can be very expensive.
It's also confusing because there are a lot of different certifications out there. Microsoft has role-based certifications, not product-based. So it's more focused on the roles that you're looking for instead of product based exams. Microsoft has certifications for everything, but we'll only cover the Power Platform this time.
Microsoft Power Platform Certification Roadmap
This is a full list of certifications within the Power Platform. They are classified into three level certifications: Fundamentals, Associates, and Expert.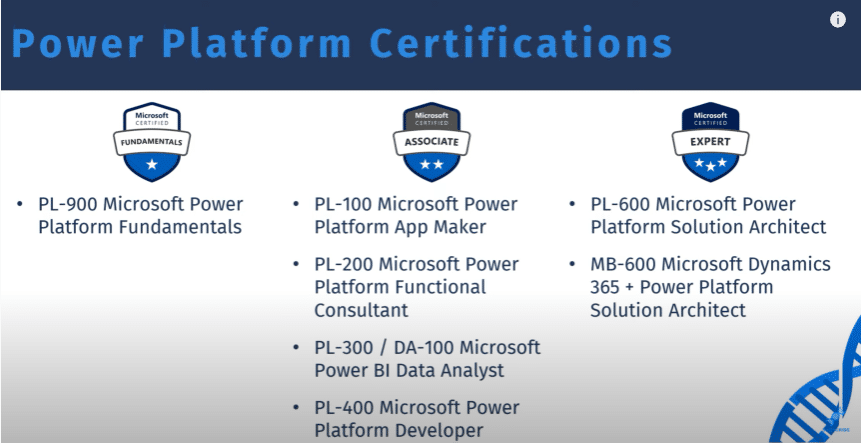 Fundamental Microsoft Power Platform Certification
You first start off with the fundamentals. This certification gives you the business case and the terminology used within the Power Platform. It's very useful for managers who don't necessarily develop in Power Apps, Power Automate, or Power BI, but have teams that do these work. Because of that, they want to make sure to use the right terminology, and they need to know what they can and cannot do within the Power Platform.
Associate Microsoft Power Platform Certification
The middle section is the associate level certifications. These are certifications for users who actually develop within the Power Platform. There are different roles here as well. The App Maker is a very basic way to understand how apps and workflows are developed. The Functional Consultant certification is where you apply your app, workflow, or Power BI reports towards a use case for a project.
The PL-300 and DA-100 is the same certification focused on Power BI as a Data Analyst. The PL-400 is the highest level associate certification for the Power Platform. This is where you develop full solutions that combine Power Apps, Power Automate, Dataverse, Virtual Agents, and Power BI all together in one cohesive solution.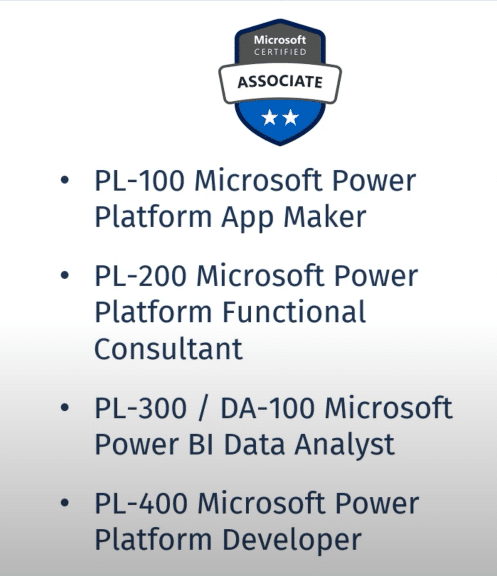 Expert Microsoft Power Platform Certification
These are certifications that require prerequisites so you need to take one or more associate or fundamental level courses. This is the course to go if you want to become an expert in the field or an evangelist, and also if you want to be recognized for your Power Platform expertise.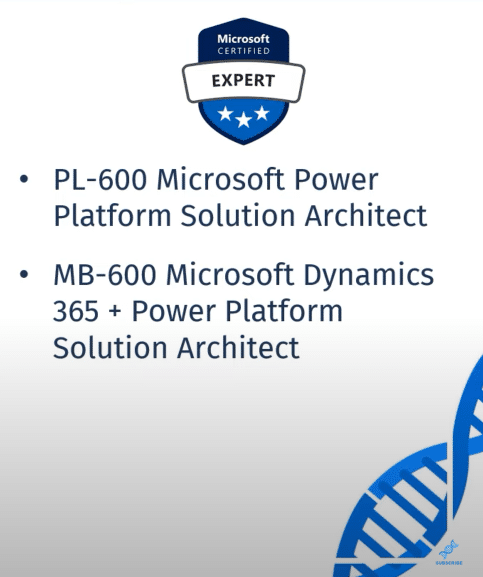 The PLC-600 is a certification for only the Power Platform, while the MB-600 combines the Power Platform and Microsoft Dynamics 365. Both of these are for a Solution Architect position. In these exams, you actually get a use case or a business case that you need to solve with Power Platform or in the second case, Dynamics 365.
PL-900 Certification
Now that we have a basic understanding of the roadmap for the Power Platform certifications, let's go through them one by one to make sure that we understand them in detail. Let's start off with the Microsoft Power Platform fundamentals certification, which is PL-900.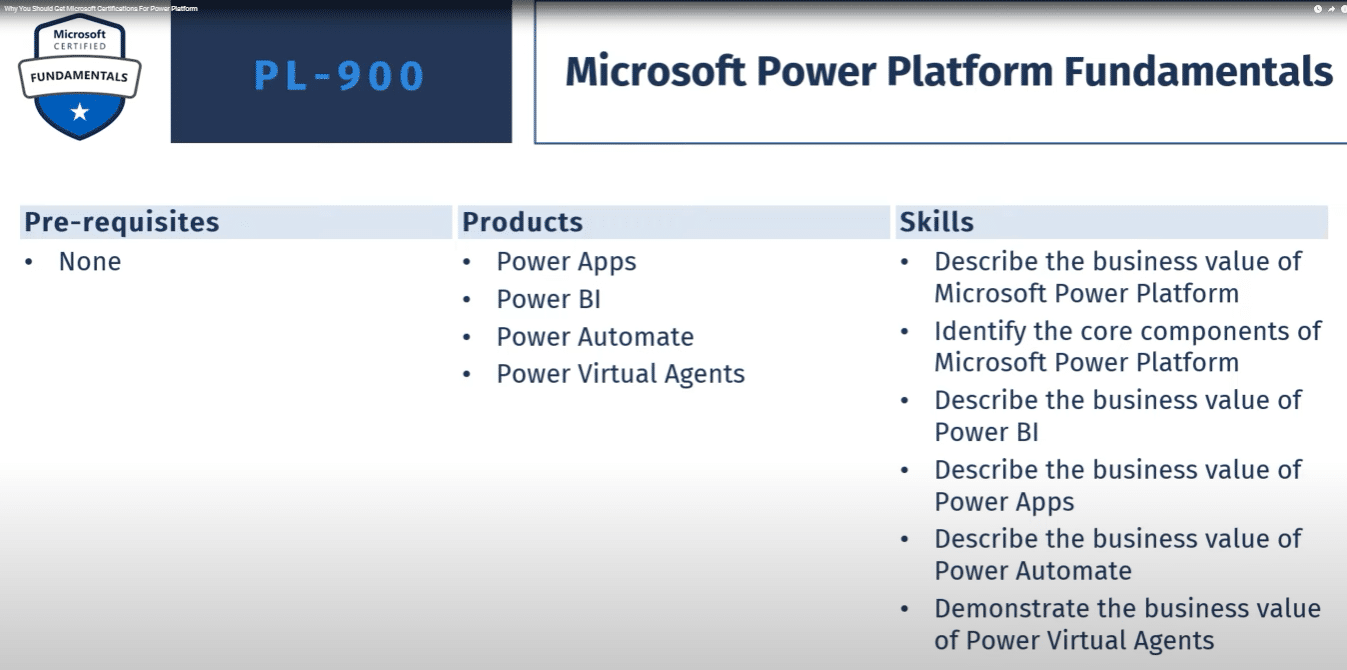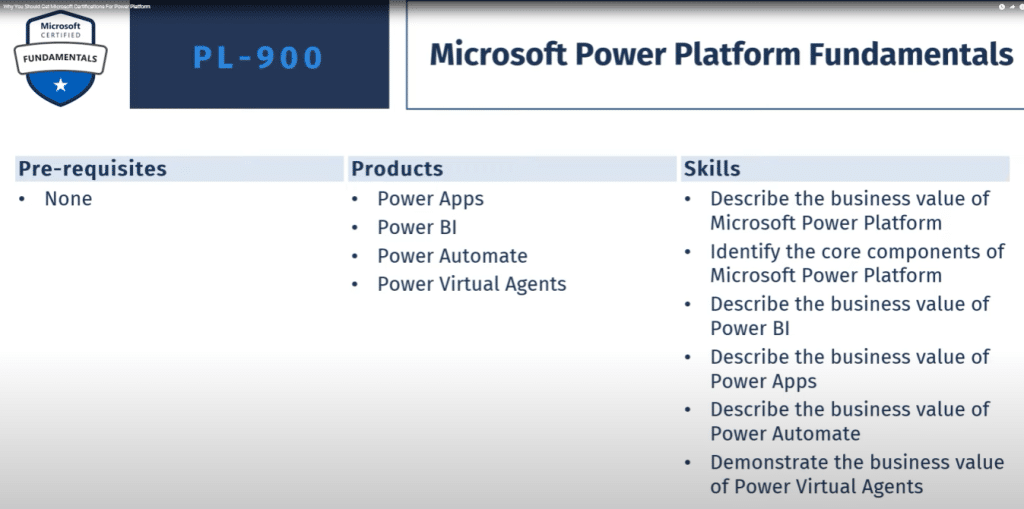 In this certification, you'll go through all four Power Platform products and their business values, core components, and use cases.
You won't be designing any applications, workflows, or reports, but you'll have a basic understanding of the Power Platform.
PL-100 Certification
We then move on to PL-100, which is the Microsoft Power Platform App Maker. For this one, there are no prerequisites and you will be using Power Apps, Power BI, and Power Automate, but you aren't using Power Virtual Agents or Dataverse.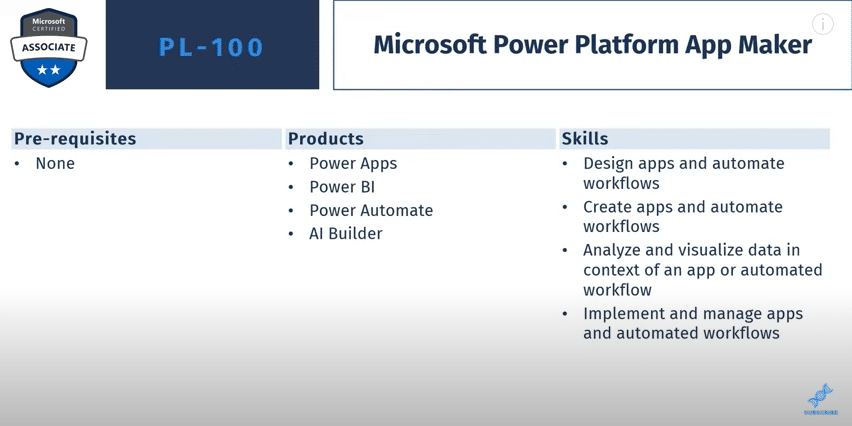 You will be focusing on the AI builder component of the workflows and application development. You'll also be designing and creating apps and workflows, and using Power BI to create reports.
PL-200 Certification
Next, we have PL-200 which doesn't have any prerequisites. This is the Power Platform Functional Consultant certification, where you'll be adding the Power Virtual Agents and Teams. In the skills level, you'll be doing a bit more advanced things than what you were doing in the app maker role.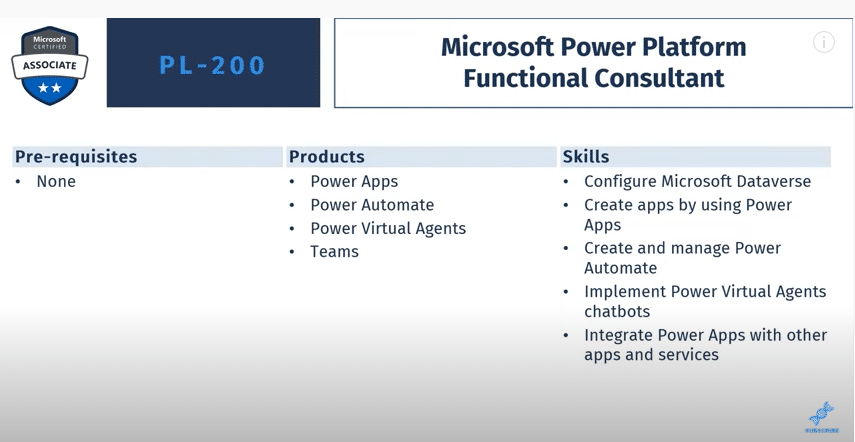 You'll be configuring Microsoft Dataverse and going towards that solution architect role. You'll be creating apps and workflows like you were before, but also implementing and mixing them with Power Virtual Agent chatbots, which is very tough. You will be integrating your current and existing apps and workflows to other Microsoft apps and services, as well as third party services.
PL-300 Certification
Next, we have a bit of a curve ball for the Power BI data analyst certification. This used to be called DA-100, but it recently got renamed to P-300. For this one, you'll be focusing solely on Power BI. You'll be doing your basic Power BI tasks, like preparing, modeling, visualizing, and analyzing the data within Power BI.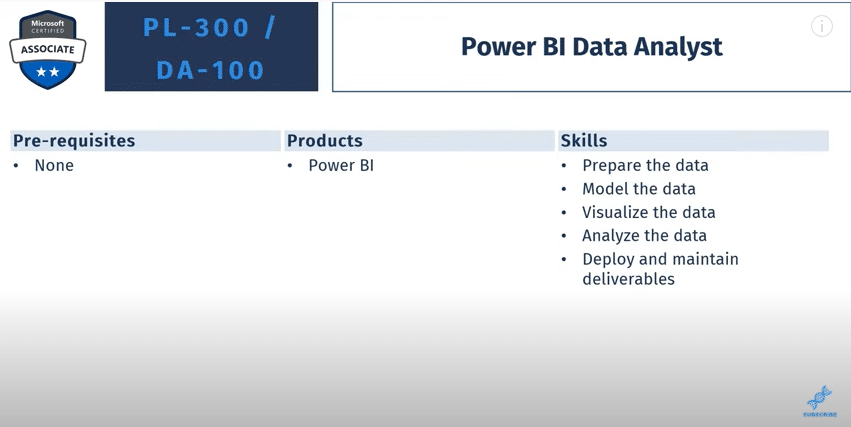 PL-400 Certification
To top it all off, we have the PL-400 or the Microsoft Power Platform developer certification. In this certification, you will be using Power Apps, Power Automate, and Power BI from a greater detail and more technical perspective.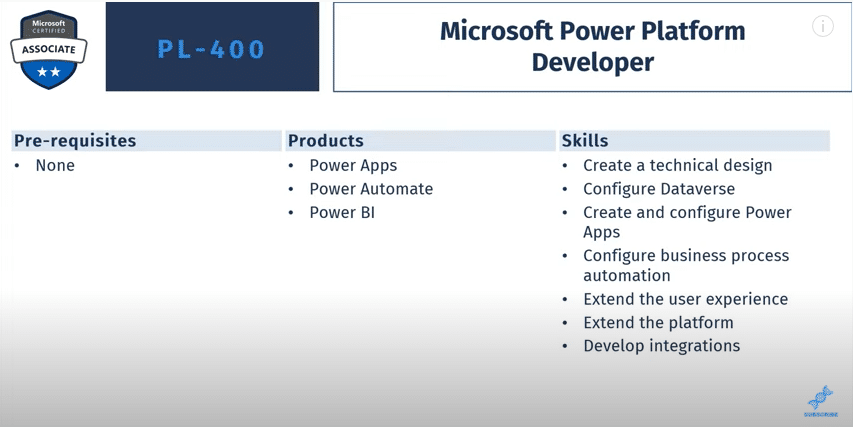 You will need to have a strong applied knowledge of the Microsoft Power Platform services and an in-depth understanding of their capabilities, boundaries, and constraints. You'll design, develop, secure, and troubleshoot existing Microsoft Power Platform solutions. Your skillsets include creating a technical design, configuring Dataverse, extending the platform beyond, and integrating it with the business' current workflow.
PL-600 Certification
Let's move on to our expert level certifications, PL-600, which is for Microsoft power platform solution architects. This is for current solution architects or senior consultants. You'll be responsible for leading successful implementations and focusing on how solutions address the broader business and technical needs of the organization.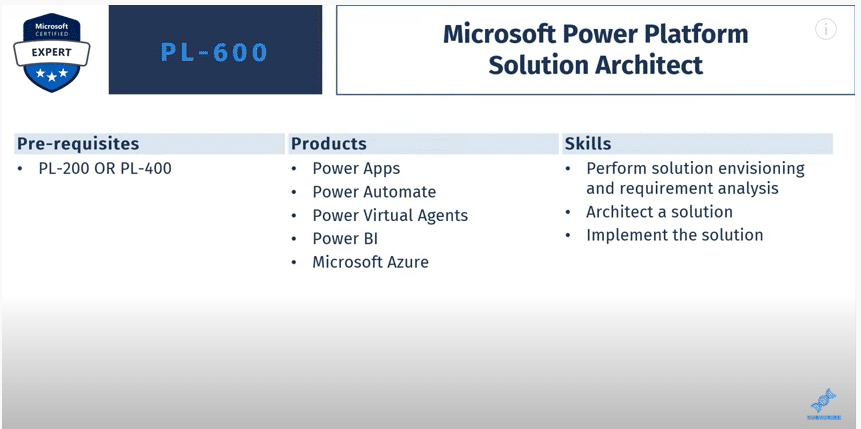 This is the first course we've seen with a prerequisite. You need either PL-200 or PL-400. PL-300 is only for Power BI, which is why it's not a prerequisite here.
The skillset level here is very general. You'll be looking at a business problem and determining what they need to solve for, and then architecting and implementing that solution using the products that are given to you such as Power Apps, Power Automate, Power Virtual Agents, Power BI, and Microsoft Azure.
This will require you to take all that you've learned in your associate level certification and applying it to your workflow.
MB-600 Certification
Finally, we have the MB-600 which is another expert level certification. This is very similar to the Power Platform solution architect, but it also adds Dynamics 365 to the mix.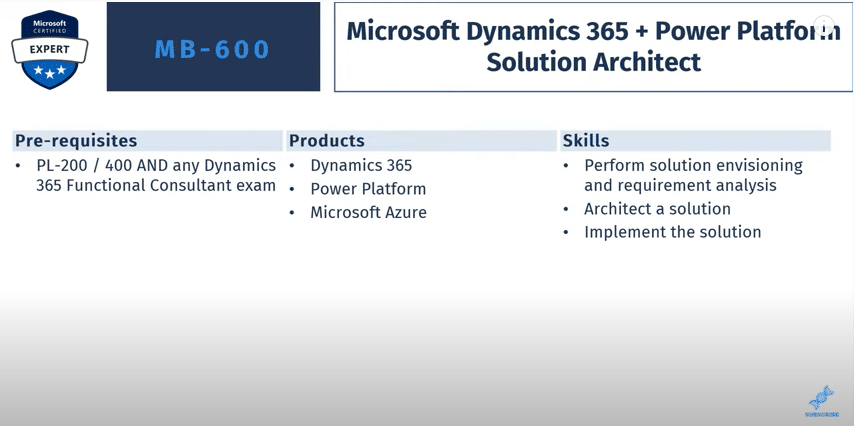 As a prerequisite, you'll need either PL-200 or 400 and a Dynamics 365 Functional Consultant exam. Microsoft wanted to create a certification that really shows both the Dynamics 365 skills and Power Platform skills into one. The products you'll be working on are the same products you had seen before, but with the addition of Dynamics 365.
The skillset is basically the same. You're performing solution envisioning, looking at the requirements, creating a solution, and then implementing that solution for your business needs.
Determining Which Microsoft Power Platform Certification To Take
To know which certification to take, you need to determine what level of knowledge you want to know about the Power Platform. Do you want a very basic understanding of what it can do and what it can't do? If that's the case, then the fundamental level course is right for you.
If you actually want to design or create workflows, apps, and reports, then you should choose an associate level course. After you're done with the associate level, then determine what type of Power Platform user you want to be.
Do you want to apply apps, workflows, and reports to certain business case solutions? Do you want to just focus on analyzing data within Power BI, or do you want to become a full-fledged technical developer within the Power Platform? People usually only do one or two of the associate level certifications. You don't have to do all of them.
After you've taken PL-200 or PL-400, do you want to become a solution architect where you can combine the Power Platform with other Microsoft products like Azure to develop a full solution for a business?
***** Related Links *****
Prove Your Power BI Skills Through The Enterprise DNA Certification
Microsoft Power Apps: Grouping Elements Together
PowerApps Charts, Graphs And Dynamic Images
Conclusion
In this blog, we have discussed the full list of Power Platform certifications. You need to determine what level of knowledge you want to know about the Power Platform to know which certification to take.
If you enjoyed the content covered in this particular tutorial, please subscribe to the Enterprise DNA TV channel. We have a huge amount of content coming out all the time from myself and a range of content creators, all dedicated to improving the way that you use Power BI and the Power Platform.
Henry
[youtube https://www.youtube.com/watch?v=d48fKsESTQs&t=5s?rel=0&w=784&h=441]