In today's data-driven world, the ability to transform raw numbers into meaningful insights is more than a skill; it's a sought-after art form.
Power BI has emerged as a leading tool in this arena, offering powerful data visualization and business intelligence capabilities.
But how can professionals prove their expertise in Power BI?
Power BI certification, specifically the Microsoft Certified: Data Analyst Associate, is a recognized credential that validates an individual's ability to model, visualize, and analyze data using Power BI.
It's designed for data analysts, business intelligence professionals, and anyone looking to demonstrate their proficiency in this dynamic tool.
In this article, we'll explore Microsoft's Power BI certification, the benefits of becoming certified, the details of the examination process, and what benefits you can gain from getting certified.
Let's get started!
What Power BI Certifications Does Microsoft Offer?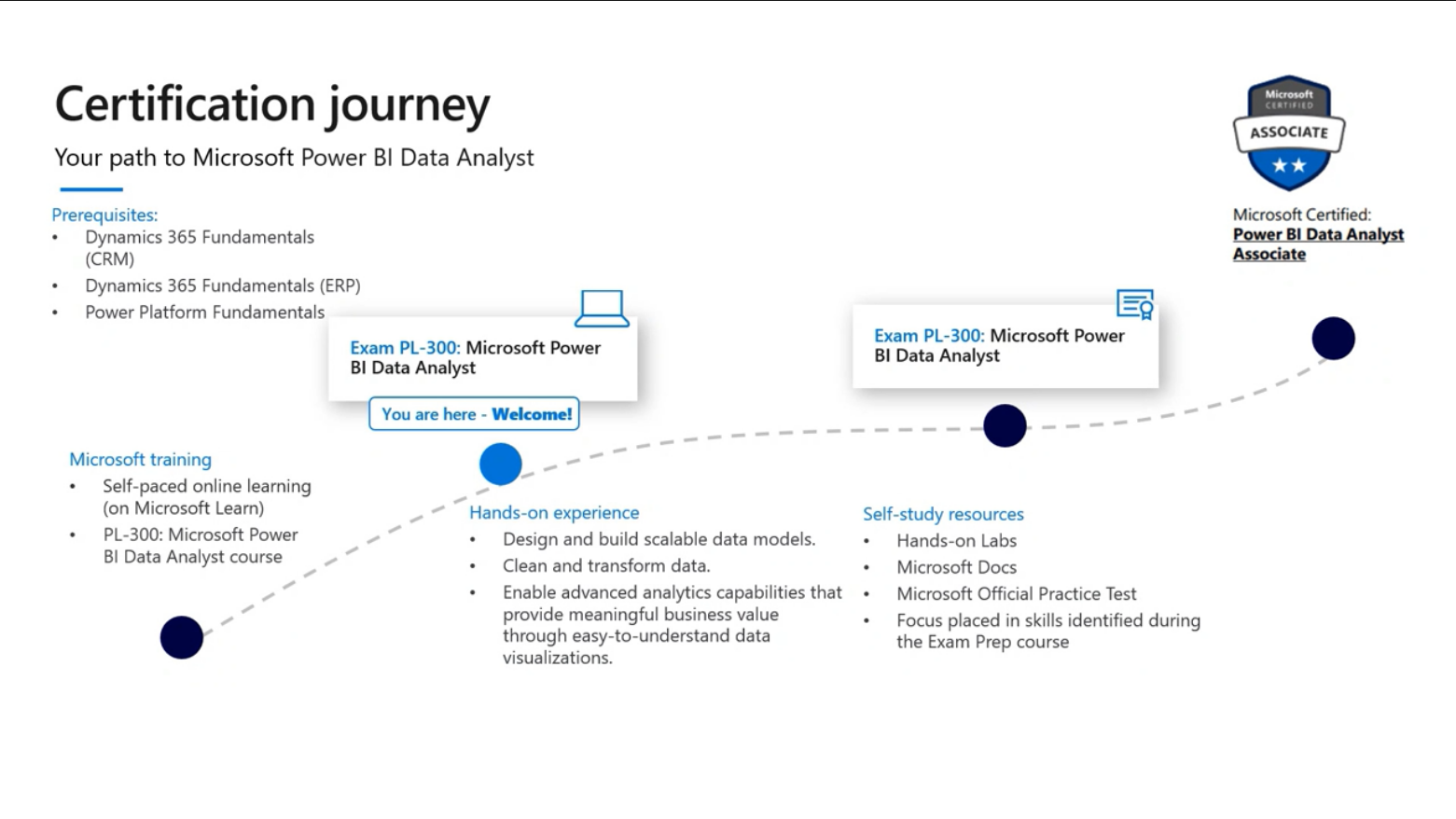 Power BI certifications are more than just a badge of honor; they're a testament to your skills and expertise in data analysis and visualization.
In this section, we'll delve into the various types of Power BI certifications available, highlighting their focus areas, prerequisites, and who they're best suited for.
Understanding these distinctions will help you choose the certification that aligns with your career goals and professional development.
1. Microsoft Certified: Power BI Data Analyst Associate
This is Microsoft's primary certification for Power BI experts. The Power BI Data Analyst Associate certification is designed for professionals who work closely with business stakeholders to identify requirements and collaborate with data analysts and engineers.
The certification emphasizes the following key areas:
Data transformation and visualization: Candidates should be proficient in transforming data, creating data models, visualizing data, and sharing assets using Power BI.

Knowledge of Power Query and Data Analysis Expressions (DAX) is essential.
Data quality and security: Understanding data quality assessment and implementing data security measures, including row-level security and data sensitivity, is vital.
Preparation and certification path: Those seeking this certification can gain experience through Power BI projects, shadowing data analysts, completing training on Enterprise DNA, and exploring the Power BI Learning catalog.

Also, the certification requires passing the Microsoft Power BI Data Analyst exam (PL-300), which we'll talk about in detail in the next section.
This certification aligns with roles such as data analyst and business user, focusing on preparing, modeling, visualizing, analyzing, deploying, and maintaining data assets.
It serves as a valuable credential for professionals aiming to deliver actionable insights through comprehensible data visualizations and enable self-service analytics within their organizations.
2. Other Relevant Microsoft Certifications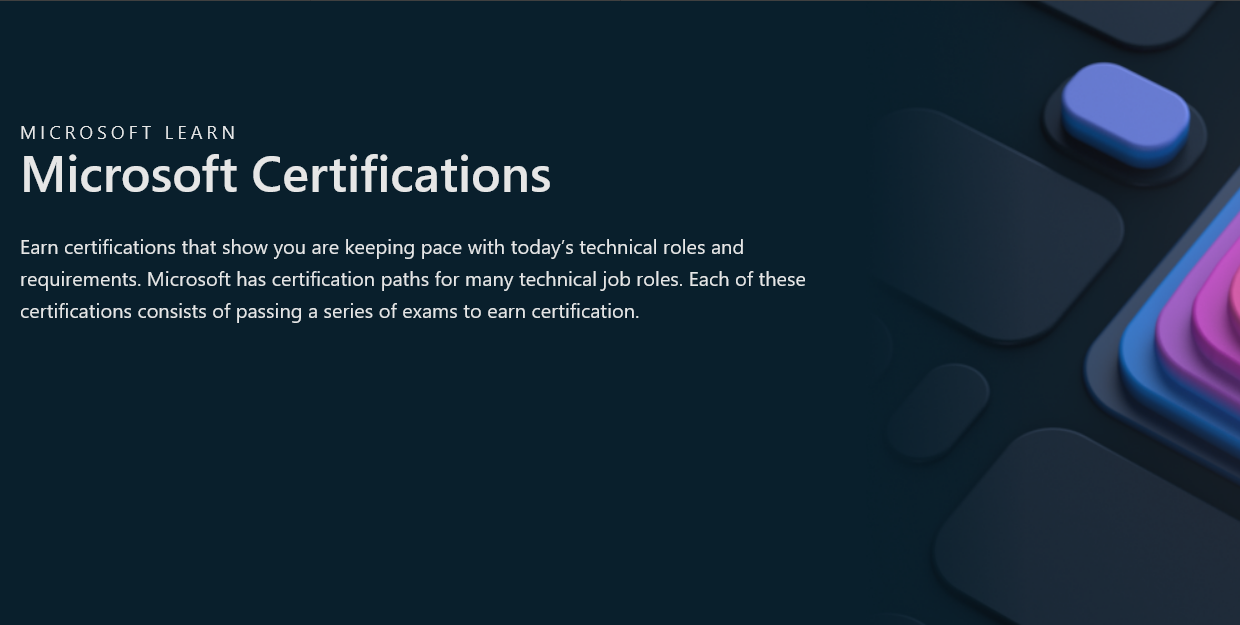 While the Microsoft Certified: Data Analyst Associate is the primary certification for Power BI, there may be other relevant certifications or courses that complement this skill set.
These might include:
1. Microsoft Certified: Azure Enterprise Data Analyst Associate
This certification focuses on data analysis skills using various Microsoft tools, including Power BI. It covers topics such as data visualization, data modeling, and data manipulation.
It can be a valuable certification for data analysts who work with Power BI as part of their overall data analysis toolkit.
2. Microsoft Certified: Power Platform App Maker Associate
This certification is suitable for individuals who create and manage Power BI applications and dashboards.
It covers skills such as designing and implementing data models, creating visualizations, and configuring Power BI services.
Choosing the right Power BI certification depends on your specific needs, career goals, and areas of interest.
In the next section, we'll demystify the examination process, providing insights into the format, preparation strategies, and what to expect on the big day.
Exam Details for PL-300 Exam: Microsoft Power BI Data Analyst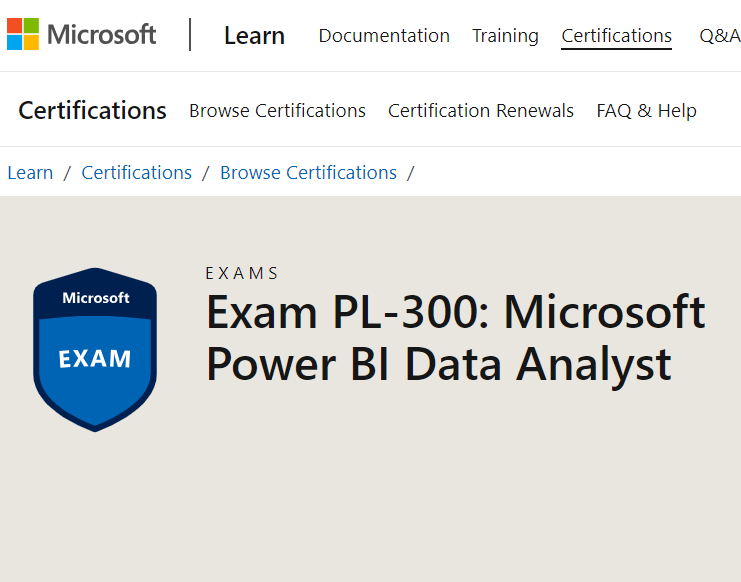 The PL-300 exam is designed for Power BI data analysts who aim to deliver actionable insights by working with data and applying domain expertise.
Let's go over some fundamentals.
1. Exam Details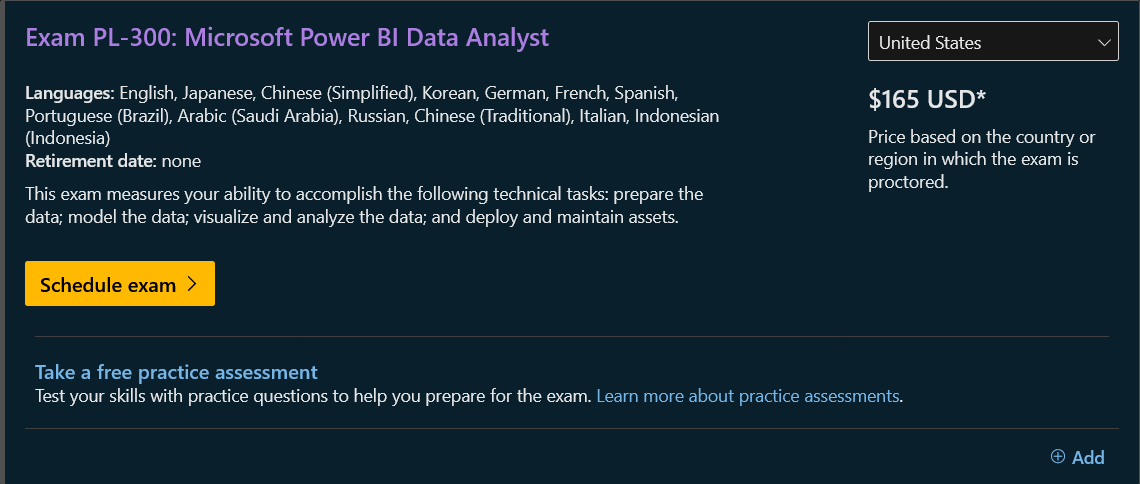 Passing Score: 700. More information about exam scores can be found on the Microsoft website.
Languages: The exam is available in multiple languages, including English, Japanese, Chinese (Simplified), Korean, German, French, Spanish, Portuguese (Brazil), Arabic (Saudi Arabia), Russian, Chinese (Traditional), Italian, and Indonesian (Indonesia).
Price: $165 USD, based on the country or region where the exam is proctored.
2. Skills Measured in PL-300 Exam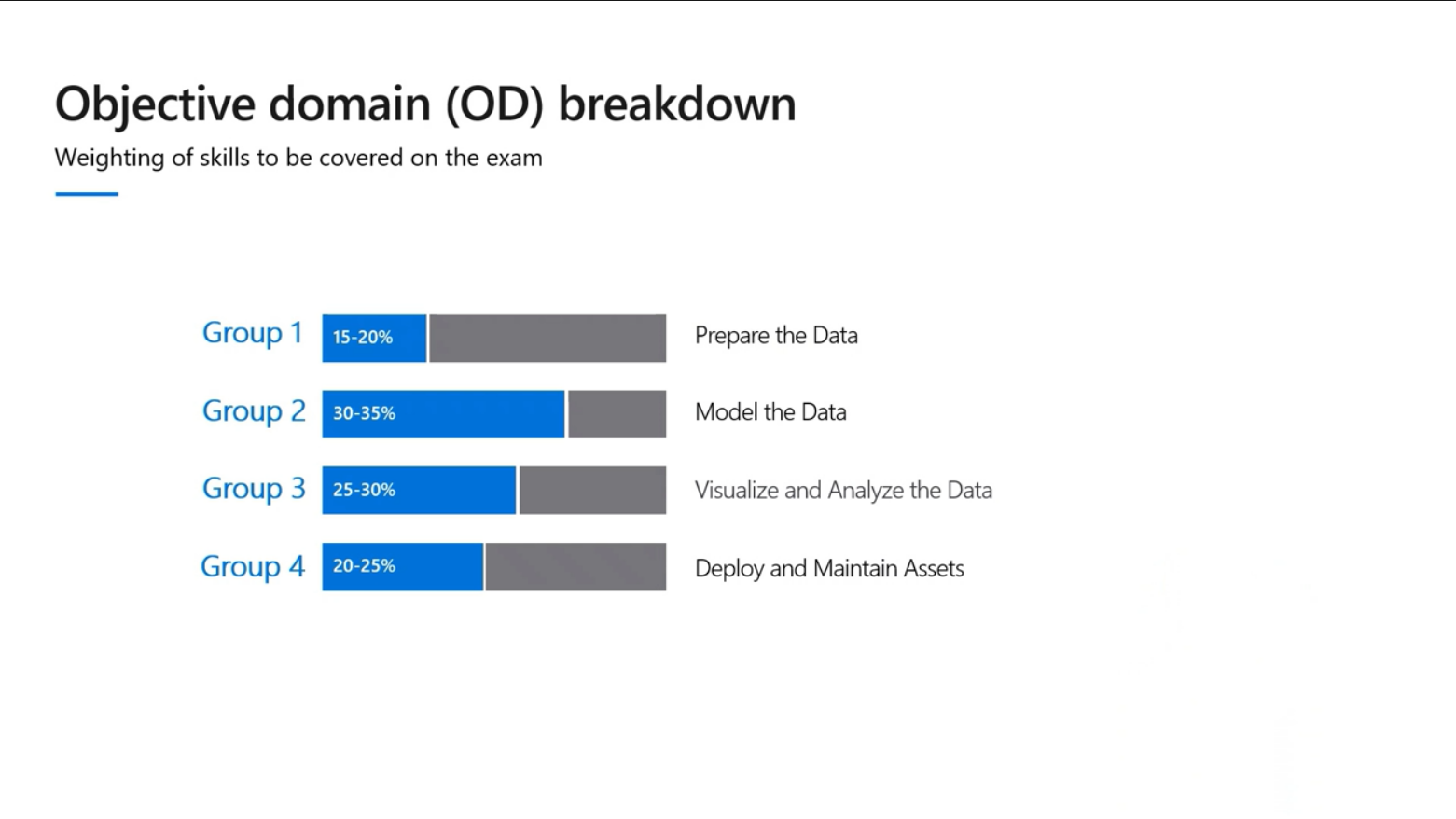 The exam focuses on four main areas:
1. Prepare the Data (25–30%):
Get Data from Data Sources: Identifying and connecting to data sources, selecting datasets, and choosing between DirectQuery, Import, and Dual mode.
Clean the Data: Evaluating data, resolving inconsistencies, and handling data quality issues.
Transform and Load the Data: Designing star schemas, merging and appending queries, and configuring data loading.
2. Model the Data (25–30%):
Design and Implement a Data Model: Configuring table and column properties, defining relationships, and implementing row-level security roles.
Create Calculations Using DAX: Creating aggregation measures, time intelligence measures, and optimizing model performance.
3. Visualize and Analyze the Data (25–30%):
Create Reports: Identifying and implementing visualizations, formatting and configuring visuals, and enhancing reports for usability.
Identify Patterns and Trends: Using AI visuals, detecting outliers, and creating scorecards and metrics.
4. Deploy and Maintain Assets (15–20%):
Manage Workspaces and Assets: Creating and configuring workspaces, managing datasets, and configuring subscriptions and data alerts.
In the next section, we'll go over how you can prepare for the PL-300 exam to get a passing score.
How to Prepare for PL-300 Exam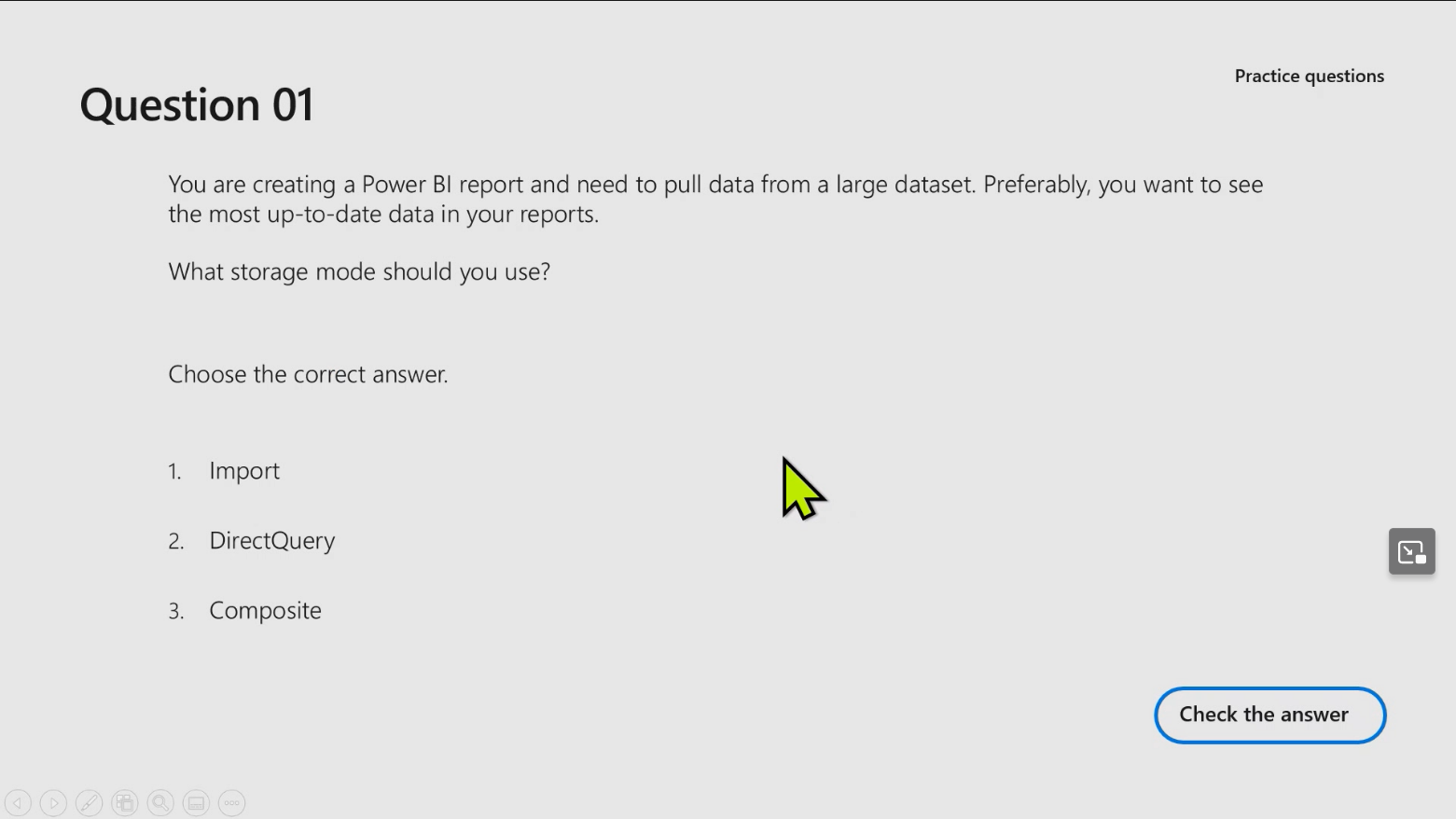 Preparing for the Power BI certification exam, such as the Microsoft Certified: Data Analyst Associate, is a journey that requires dedication, practice, and strategic planning.
In this section, we'll outline effective preparation strategies, resources, and tips to help you succeed in your Power BI certification exam.
Self-paced learning paths: Enterprise DNA offers learning paths on data analytics, data preparation, data modeling, building visuals and reports, and managing workspaces and datasets in Power BI.
Instructor-led training: Options for guided training are available on the Enterprise DNA platform.
Exam Prep videos: PL-300 exam prep videos are available on the Enterprise DNA YouTube.
Study guide: A detailed study guide is linked on the exam page to help candidates prepare.
Exam sandbox: Candidates can demo the exam experience by visiting the exam sandbox provided by Microsoft.
Visit community forums: Online study groups and communities like the Enterprise DNA forum are great places to ask for assistance or solutions to study problems.
Preparing for the Power BI certification exam is a rewarding process that builds not only your skills but also your confidence in using Power BI.
By following a structured approach, utilizing available resources, and maintaining a positive attitude, you can set yourself up for success.
Next, let's discuss how you can apply for Microsoft certifications.
How to Apply for Power BI Certifications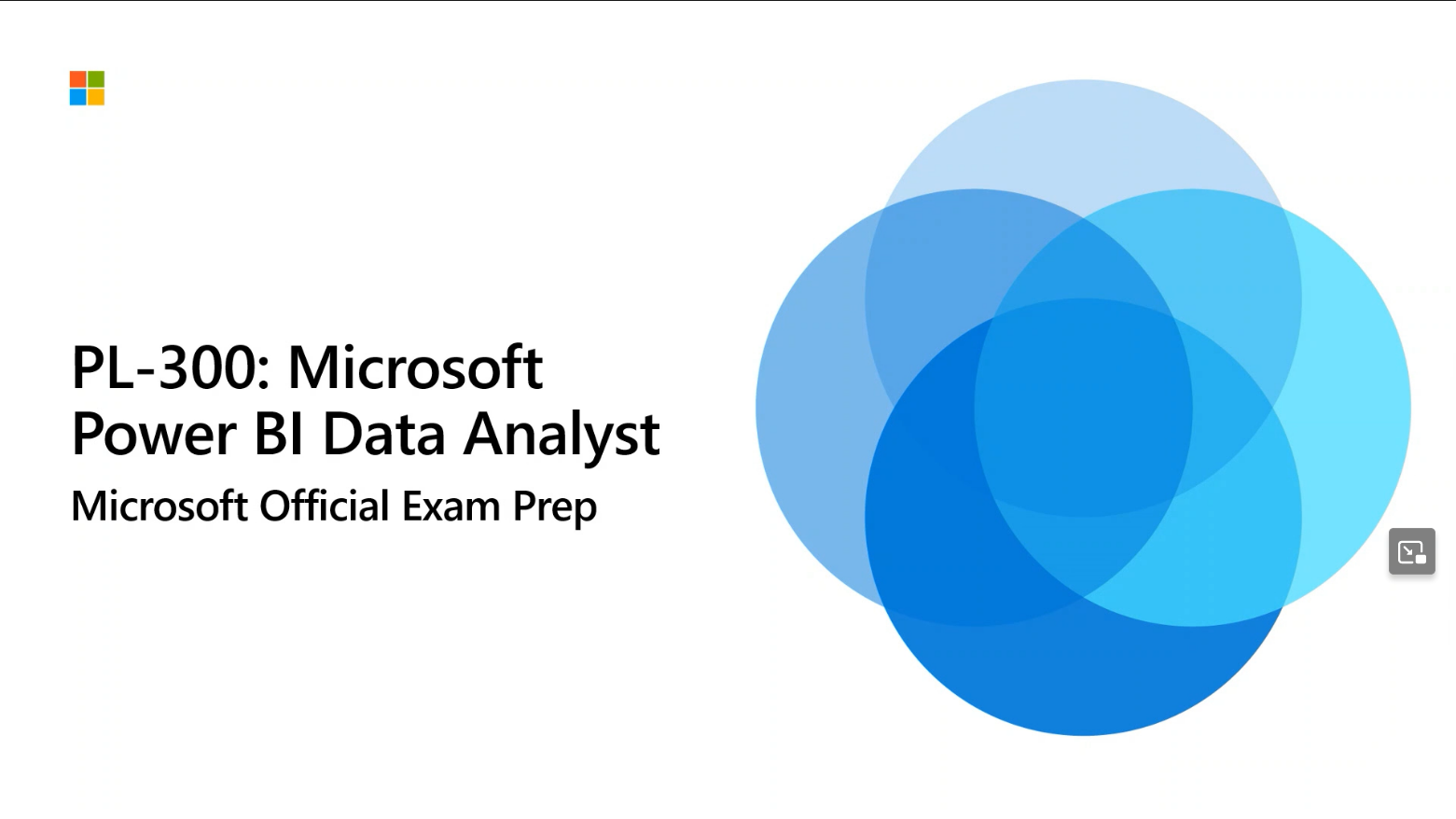 Applying for Power BI certifications, such as the Microsoft Certified: Power BI Data Analyst Associate, is a straightforward process, but it requires careful attention to detail.
In this section, we'll guide you through the steps to register, schedule, and prepare for your Power BI certification exam.
Whether you're a first-time applicant or renewing your certification, this guide will ensure a smooth and successful application process.
Here's a concise guide to ensure success:
Registration Process:

Create or sign in to a Microsoft account.
Select the certification and review exam details.
Click on 'Schedule Exam' to set your exam date with the provider.

Exam Fees and Discounts:

Determine the fee, ranging from $100 to $200 USD.
Check for eligible discounts and complete the payment.

Scheduling the Exam:

Choose between a test center or online proctoring.
Select a date and time, and confirm the appointment.

Special Accommodations:

Request if needed and provide the necessary documentation.
This user-friendly process requires careful planning, from selecting the right certification to scheduling the exam.
Follow these steps to navigate the application process smoothly.
Now that we've gone over the fundamentals, let's discuss how you can renew and maintain your hard-earned certification in the next section.
Maintaining and Renewing Your Power BI Certification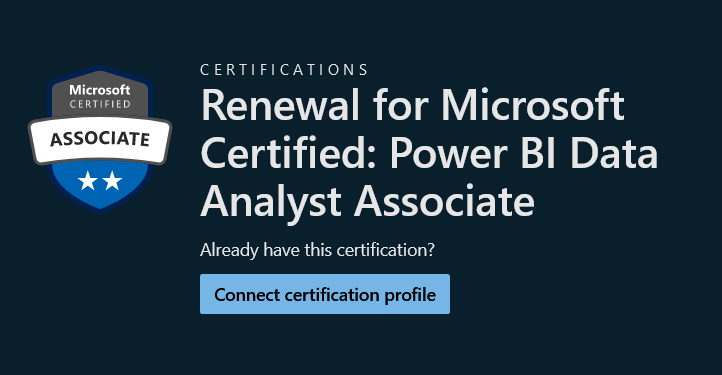 Microsoft certifications are valuable credentials, but they require an ongoing commitment to maintain their validity.
The Power BI Data Analyst Associate certificate, for example, is only valid for a year.
In this section, we'll explore how to keep your Power BI certifications up to date and the renewal process.
1. Continuing Education Requirements
Stay informed: Keep abreast of the latest updates, changes, and best practices in Power BI and other data visualization tools, as the field continues to evolve.
Participate in training: Engage in ongoing training, workshops, and courses to sharpen your skills and stay aligned with industry standards.
2. Renewal Process
If you have the Power BI Data Analyst Associate certification and it will expire within six months, you are eligible to renew it.
Furthermore, renewal demonstrates that you've kept current with the latest Microsoft Power BI updates.
The renewal process involves passing a renewal assessment, and you can prepare for this assessment with a curated collection of learning modules.
3. Skills Measured in Renewal Assessment
The renewal assessment focuses on the following key areas:
Clean, transform, and load data in Power BI
Design a data model in Power BI
Add measures to Power BI Desktop models and optimize data models
Optimize a model for performance in Power BI
Design Power BI reports
Enhance Power BI report designs for the user experience
Perform analytics in Power BI
Create and manage workspaces in Power BI
Manage datasets and import data in Power BI
4. Renewal Terms
Free renewal: You can renew your Microsoft Certification for free by taking an online assessment.
Extension: Extend your certification by one year by passing the assessment.
Retakes: If you don't pass, you can revisit the preparation materials and try again before your certification expires. After your second attempt, you'll need to wait 24 hours between retakes.
Maintaining and renewing your Power BI certifications is an essential aspect of your professional development.
It ensures that your credentials remain valid, reflects your commitment to continuous learning, and opens doors to advanced certifications.
In the next section, we'll explore the tangible benefits of obtaining a Power BI certification and how it can be a game-changer in your professional journey.
Benefits of Power BI Certification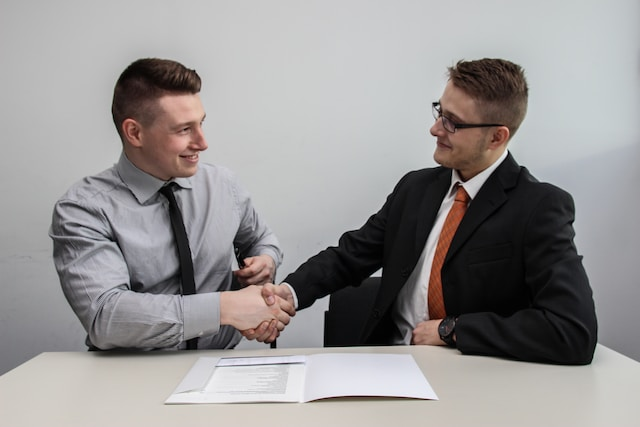 Obtaining a Power BI certification is more than just an achievement; it's a catalyst for professional growth.
In this section, we'll explore the tangible benefits of becoming Power BI certified.
From career advancement to skill validation, these certifications offer a multitude of advantages that can transform your professional landscape.
1. Enhanced Career Opportunities
Recognition: Power BI certifications are recognized across the industry, adding credibility to your resume.
Job prospects: Certified professionals often enjoy better job opportunities and may be preferred by employers seeking expertise in data analysis and data visualization.
Salary increase: Some studies suggest that certified professionals may command higher salaries compared to their non-certified counterparts.
2. Skill Validation and Personal Development
Skill verification: The certification process rigorously tests your knowledge and skills, providing an objective validation of your expertise in Power BI.
Continuous learning: Preparing for the certification encourages continuous learning and staying up-to-date with the latest Power BI features and best practices.
Confidence boost: Achieving certification can boost your confidence, knowing that your skills have met a recognized industry standard for business intelligence.
3. Networking and Community Engagement
Professional network: Being certified may provide access to a community of like-minded professionals, fostering collaboration and networking opportunities.
Industry events: Certification might grant access to exclusive industry events, webinars, and forums, enhancing your professional development.
The benefits of Power BI certifications extend beyond a mere acknowledgment of your skills.
They can be instrumental in advancing your career, validating your expertise, and connecting you with a community of professionals.
Final Thoughts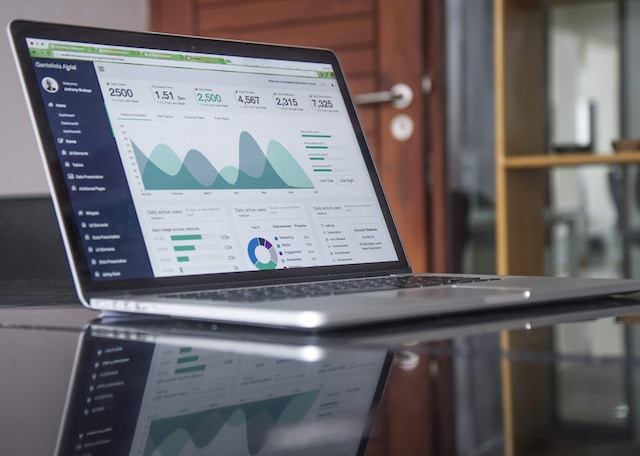 The journey to Power BI certification is an exciting and rewarding path that opens doors to professional growth, recognition, and continuous learning.
From understanding the types of certifications to meticulous preparation and successful application, each step is a building block toward your career advancement.
Power BI continues to evolve, and staying certified ensures that you remain at the forefront of this dynamic field. The investment in certification not only validates your skills but also connects you with a community of like-minded professionals.
It's more than a credential; it's a statement of your dedication to mastering the art of data visualization and analysis.
Furthermore, your success in Power BI certification is a testament to your professional capabilities and a stepping stone to new opportunities.
Ready to take your Power BI skills to the next level?
Check out our comprehensive Power BI tutorials below:
Frequently Asked Questions
Does Power BI have certifications?
Yes, Power BI does have certifications. Microsoft offers the Microsoft Certified: Power BI Data Analyst Associate certification, specifically designed for professionals working with Power BI.
This certification validates the ability to model, analyze, and visualize data and Power BI datasets to provide business insights.
It's a recognized credential in the industry that can enhance career opportunities for data analysts and business intelligence professionals.
Is Power BI certification free?
No, the Power BI exam is not free. The Microsoft Certified: Power BI Data Analyst Associate certification, which focuses on Power BI, requires payment for the examination.
The cost can vary by region and may be subject to change.
Is PL-300 easy to pass?
The difficulty level of passing the PL-300 exam can vary depending on your experience, preparation, and familiarity with Power Platform concepts.
It's designed for the experienced Power BI developer who can design solutions across the Microsoft Power Platform.
What is the salary after the PL-300 certification?
The salary range for Microsoft-certified business intelligence professionals can vary widely.
In the United States, salaries for certified solution architects specializing in the Power Platform can range from approximately $90,000 to $150,000 or more annually, depending on factors like location, experience, and the specific job role.
What are the different certification paths available?
There are multiple Microsoft certifications related to Power BI. The most relevant for Power BI developers is the Microsoft Certified: Power BI Data Analyst Associate.
This certification focuses on skills needed for data analysts who use Power BI online and Power Query to create data models and transform data.
How many attempts are there in the PL-300 exam?
You have two attempts to pass the Microsoft Power Platform Solution Architect (PL-300) exam within a 24-hour period. If you do not pass on your first attempt, you can take the exam again after waiting for 24 hours.
If you do not pass the exam on your second attempt, you will need to wait 14 days before you can take the exam again.
Which exam is most relevant for Power BI certification?
For those seeking to become certified Power BI certified developers, the exam PL-300: Microsoft Power BI Data Analyst is the most relevant.
Passing this exam earns you the Microsoft Certified: Power BI Data Analyst Associate certification.
Are there any practice tests for The Power BI certification course?
Yes, there are practice assessments available for Microsoft certifications. It is recommended to go through the practice questions and view the correct answers and rationales.
This helps familiarize you with the exam format and provides additional learning resources.
How difficult is the Power BI certification exam?
The difficulty of the Power BI certification exam varies depending on your experience and familiarity with the subject matter. Keep in mind that the passing score for the exam PL-300 is 700.
What are the best resources for exam preparation?
The study guide for exam PL-300: Microsoft Power BI Data Analyst is an excellent starting point for exam preparation as it provides an overview of the Power BI course syllabus.
Additionally, there are exam prep videos available on the Enterprise DNA platform.
Is the Power BI certification worth it for my career?
Being certified as a Power BI Data Analyst demonstrates your Power BI skills and expertise with the tool.
This can lead to new job opportunities and career growth, as organizations increasingly rely on data-driven insights for decision-making.