Using AI to help you write your articles or essays is great, but having an AI platform that'll generate articles and essays from customizable outlines with trustworthy references is even better. Enter Smodin.
Smodin is an AI-powered multi-lingual writing assistance application. It offers a wide range of features to cater to all your research and text generation requirements. By harnessing the power of artificial intelligence and natural language processing, much like OpenAI's ChatGPT, this all-in-one platform provides a powerful set of tools to help streamline the writing process for content creators, marketers, educators, and internet workers as a whole.
From rewriting texts to summarizing content and grading essays, Smodin's capabilities provide a versatile solution for a broad range of writing needs. Its user-friendly interface and daily credit system further enhance the appeal of this innovative platform, making it a game-changer in the field of writing assistance.
This article will tell you everything you need to know about this innovative tool and will give you the necessary steps to get you started with the service.
Let's jump in!
What Are Smodin's Key Features?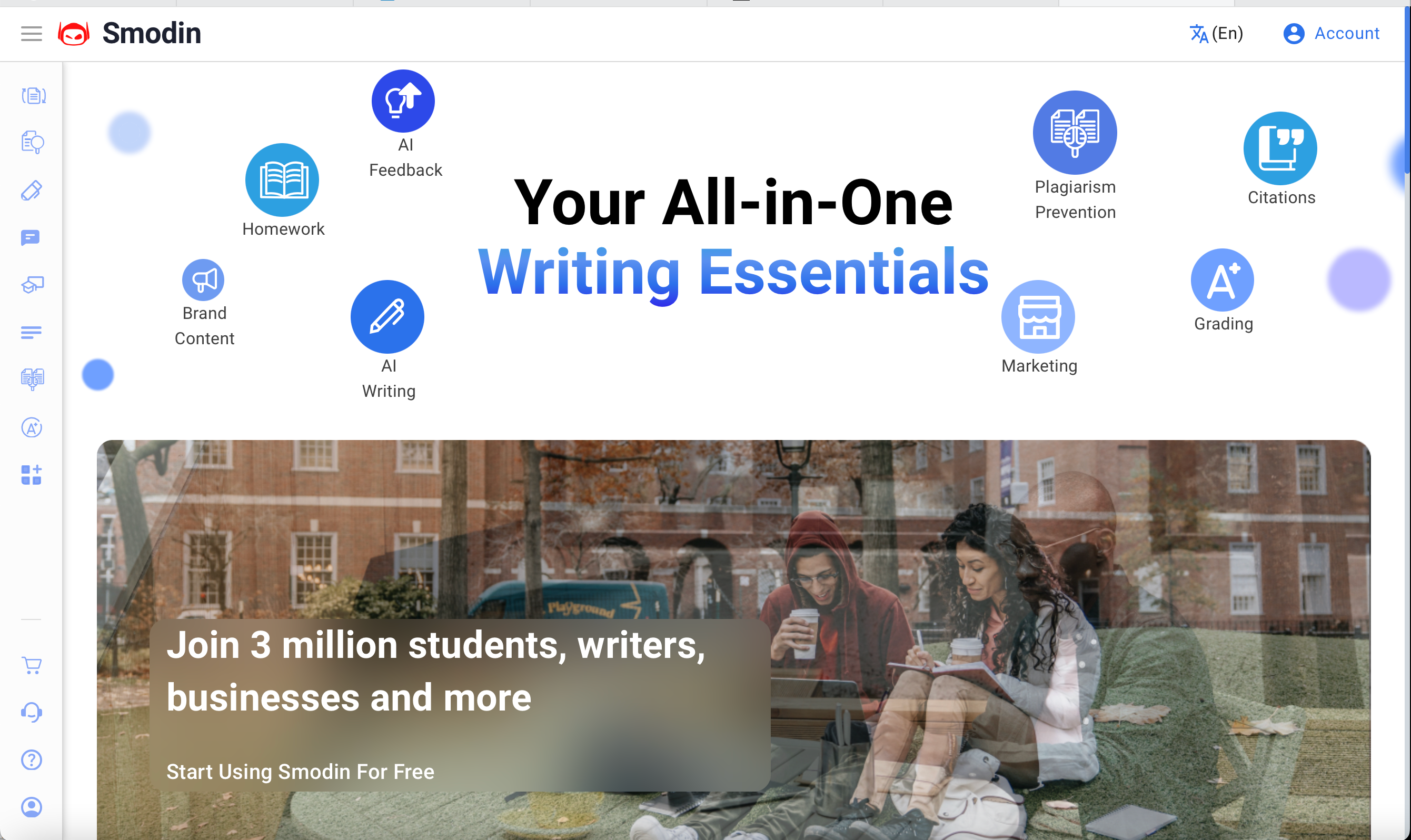 Smodin is a powerful AI writing tool that uses natural language processing (NLP) and machine learning algorithms to streamline the writing process and help users across various domains such as content creation, essay writing, and marketing content.
But this is not unique to AI-based text generation models. What makes Smodin unique is its outstanding features designed to elevate its user's writing experience.
Here are just a few of these key features.
Feature 1: Smodin Author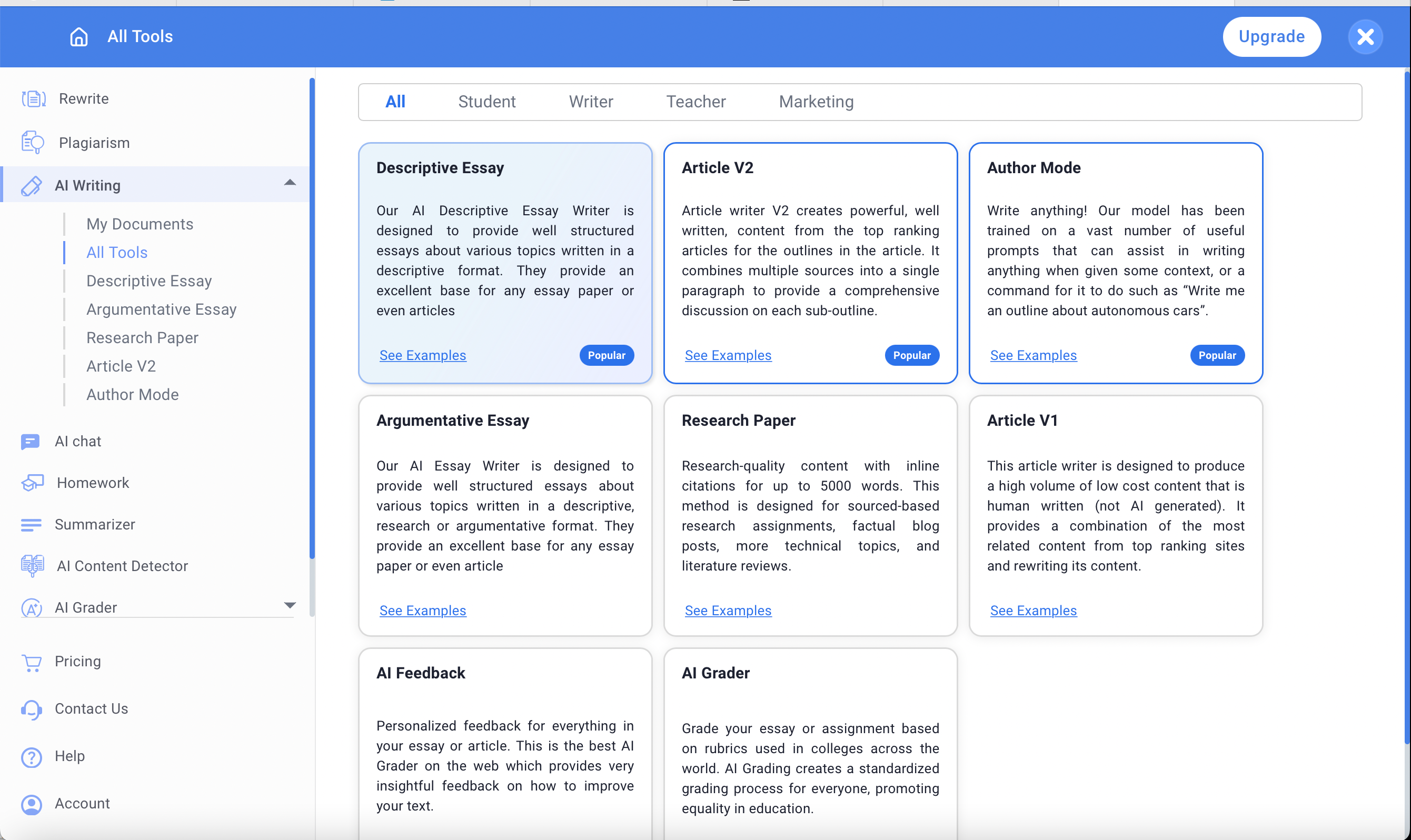 Smodin's text-generation capabilities are among the best, and its easy-to-use writing features make using this content-creation tool, a painless and enjoyable experience. Smodin's writing tools include:
Descriptive Essay Tool: You can use this tool to generate essays written in a descriptive format. This is especially useful to provide a grounded base for your essay and for introducing new ideas to your audience.
Argumentative Essay Tool: If you're trying to write an essay that debates an issue or idea, this may be the best tool for you. Your essay will be written in a well-researched and argumentative format.
Research Paper Tool: Smodin is a great research paper generator. Using this tool, you can generate researched content with relevant inline citations within a limit of 5,000 words. This is particularly useful for technical or fact-based content, or any content requiring thorough research.The app's ChatIn feature is a great partner to this tool as it piggybacks on the power of Google and ChatGPT to give you the most up-to-date researched content.
Author Mode: Write the first few lines of an article to give this tool some context. and watch it generate the rest of the article. Or simply tell it you would like an article written on cheesecakes and watch it produce an engaging article in seconds.
Article V1: This tool will give you a high volume of human-written content on your chosen topic. You can choose to see the original content or you can have the tool rewrite the content and have the tool show that to you instead. Because this will not give you AI-generated content, be aware of plagiarism and copywriter implications.
Article V2: One of Smodin's hallmark features is Article V2, which generates high-quality articles with references for further study. This is a valuable resource for content creators, researchers, and students alike.
AI Feedback: Before you submit your essay or article, use this tool to get insightful and detailed feedback to help you elevate your text.
AI Grader: Particularly useful for educators, this tool will grade assignments based on international rubrics. In this way, it promotes equality by offering a standardized grading process.
Feature 2: Smodin Rewriter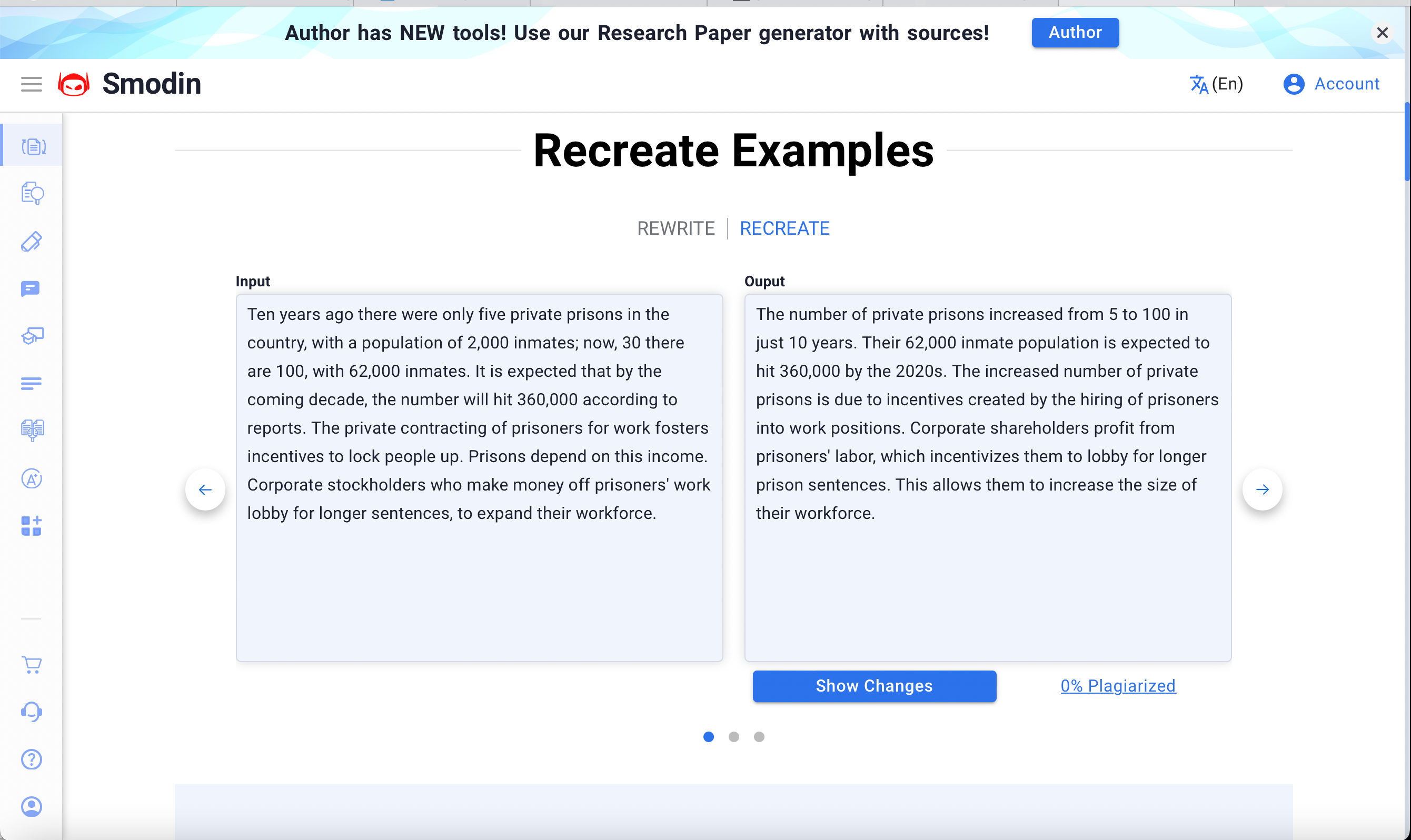 Smodin's rewriter tool will help you generate well-structured rewritten content by replacing words and phrases with appropriate synonyms, ensuring that the newly generated content maintains its original meaning. This process enhances the flow and readability of articles while avoiding plagiarism.
This tool will paraphrase, correct grammar, and generally elevate your text. You will, however, only be able to submit up to 1,000 characters at a time if you're using the free plan.
Feature 3: Smodin Summarizer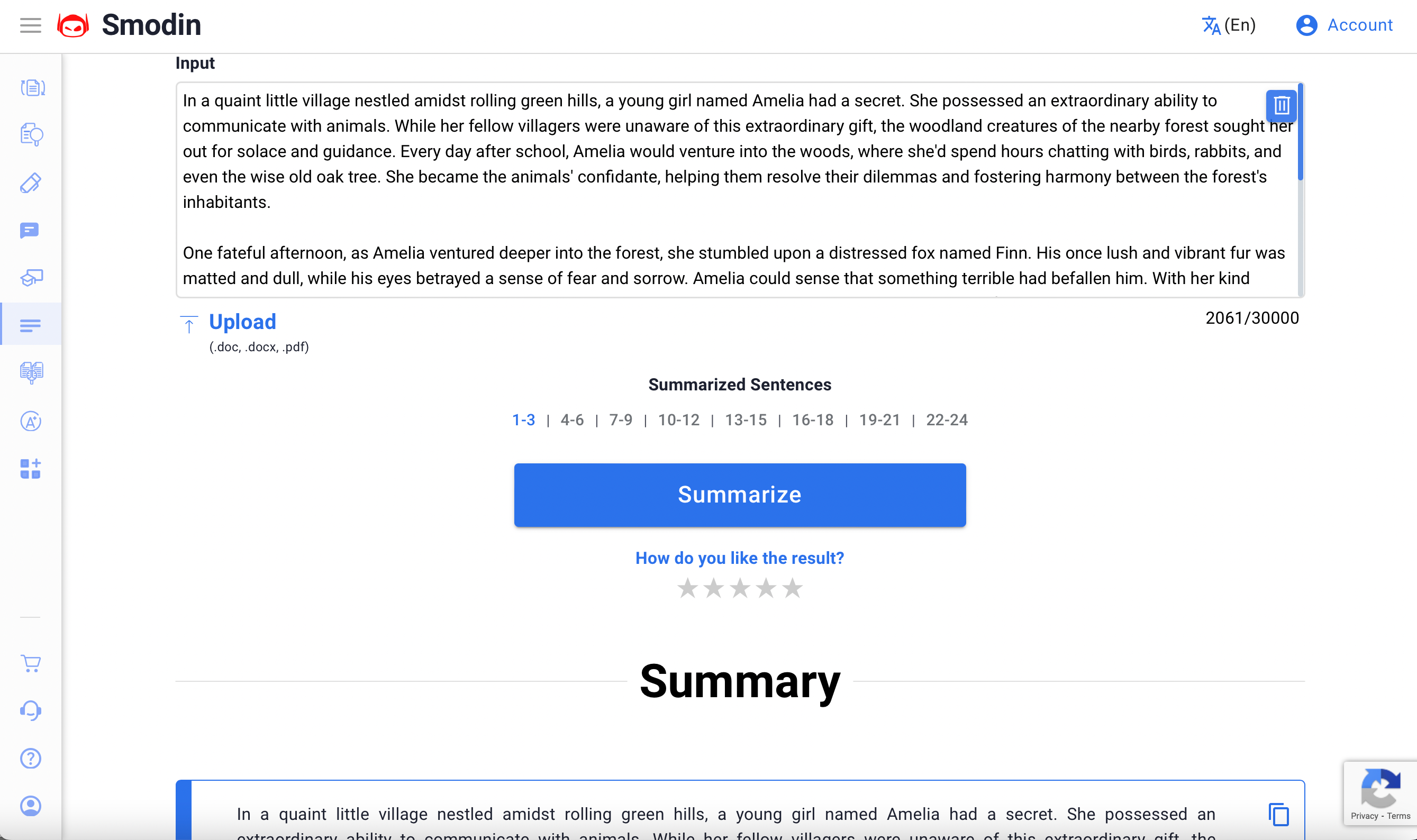 If you have a long text that you don't have the time to read, Smodin's summarizer is a great tool for you. With its AI capabilities, Smodin can quickly and effectively condense a lengthy article or content into a more digestible, concise summary.
Some of the texts that Smodin can summarize include:
Essays
Books
Legal documents
Webpages
Research papers
Publications
Dissertations and more.
Feature 4: Citation Generator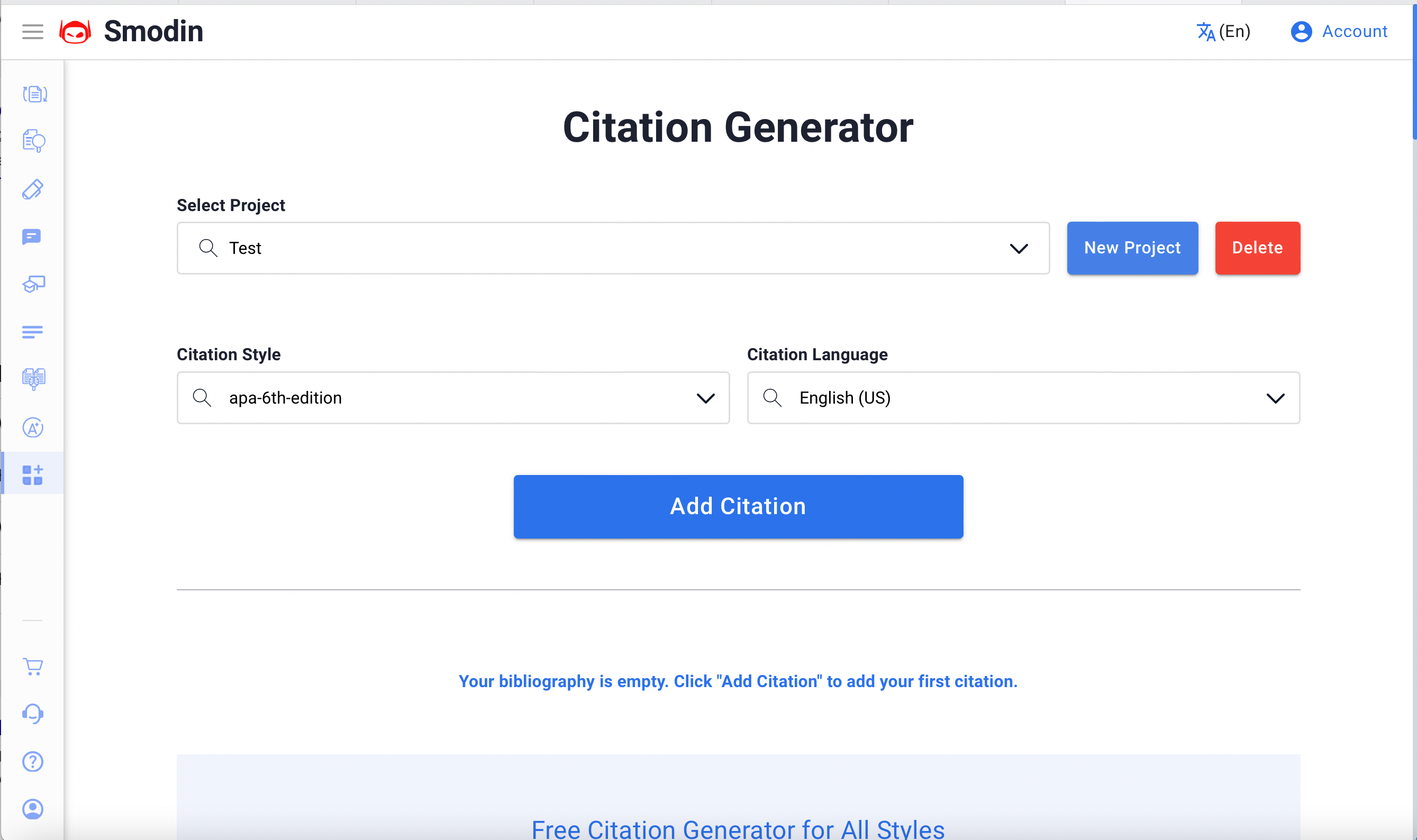 Manually creating citations is a huge drain on your time and energy. And with different institutions and individuals expecting different citation styles, it can be a confusing and frustrating experience to create citations.
Smodin's citation generator simplifies this process and makes sure that your citations are always correct. Simply identify the text you would like to be cited, and the style of citation, and this tool will instantly generate the citation.
Feature 5: Smodin's Plagiarism Checker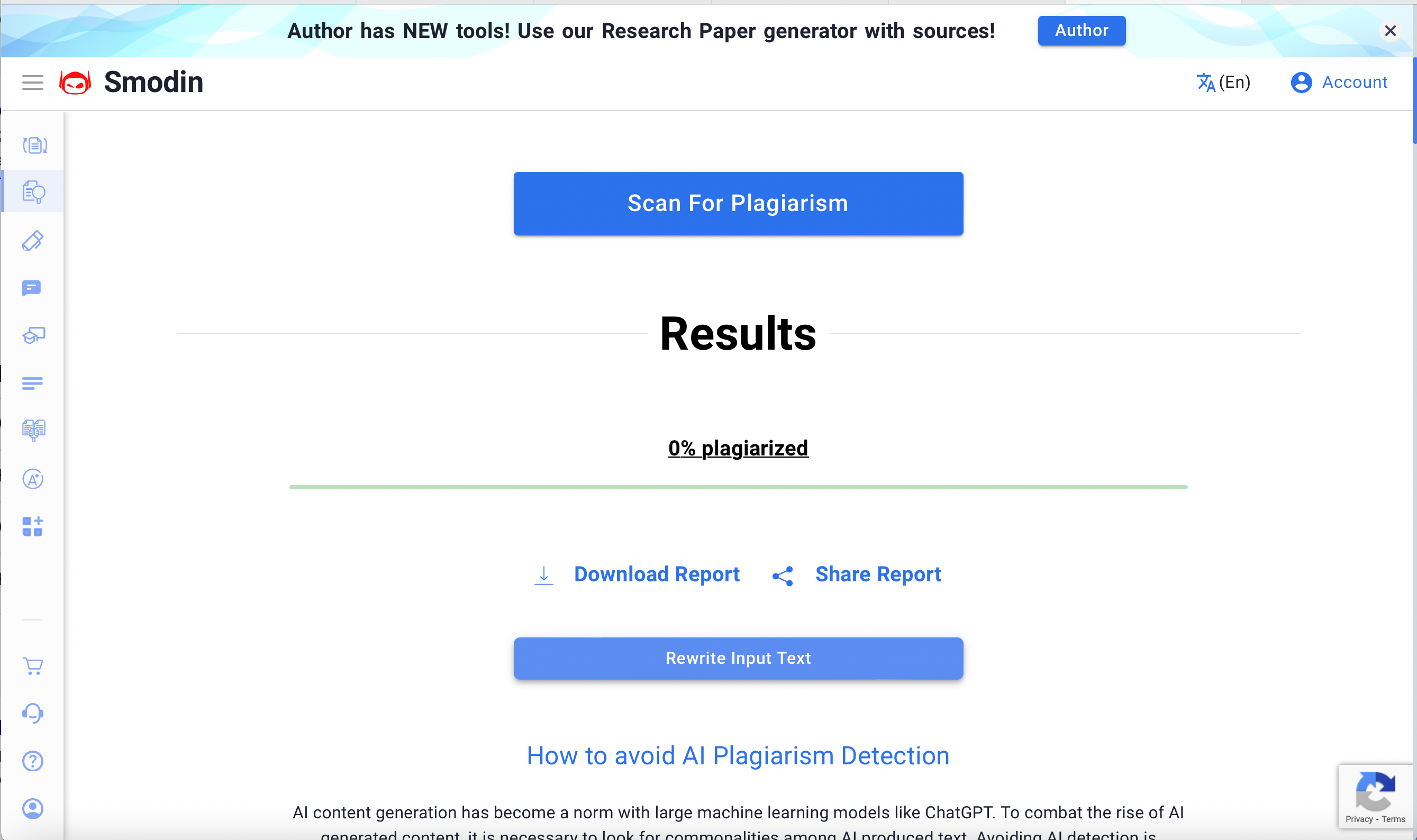 A plagiarism checker is an essential tool for any writer. Smodin's plagiarism checker will scan your text, identify any plagiarism issues, and generate needed citations.
But Smodin's plagiarism checker goes a step further. Apart from identifying any points where your text may be plagiarizing existing work, Smodin has also introduced an AI content detection feature.
This notable feature will be able to tell you if your submitted text was generated by AI. It's not a perfect science, but with an AI detection rate of up to 95%, this is a huge step.
On top of identifying AI-generated content, Smodin also offers a rewriting option to remove AI detection. In essence, this tool will rewrite your text to make it sound less like AI-generated text and more like human-written text.
Feature 6: Smodin Omni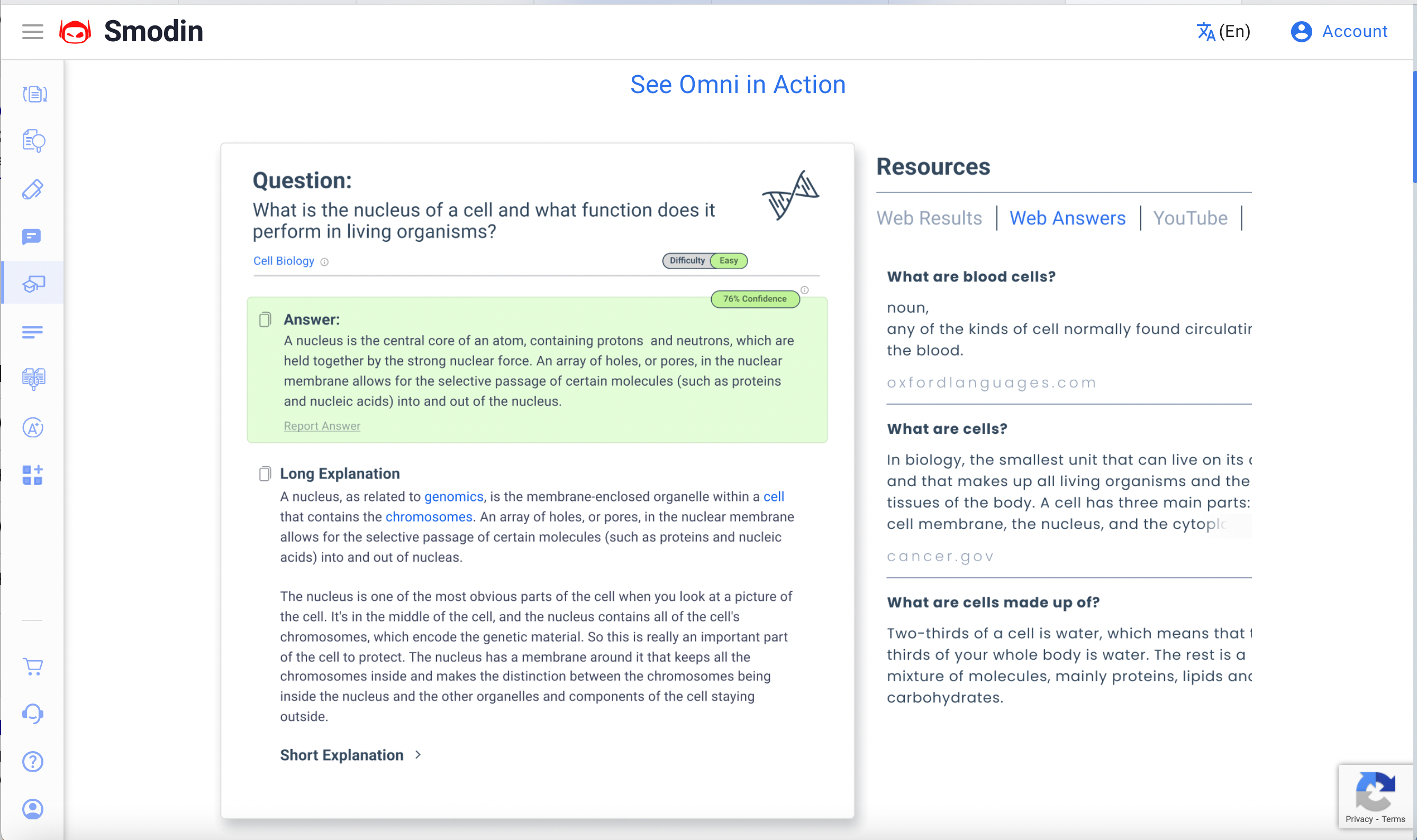 Smodin's Omni feature is a great resource for students or anyone needing an answer to a problem. Simply input your question and have Omni scour the internet to find you an appropriate answer.
This feature reduces the need for a tutor and gives learners an efficient and effective way to learn material and concepts straight from their device of choice.
Feature 7: Multi-Lingual Support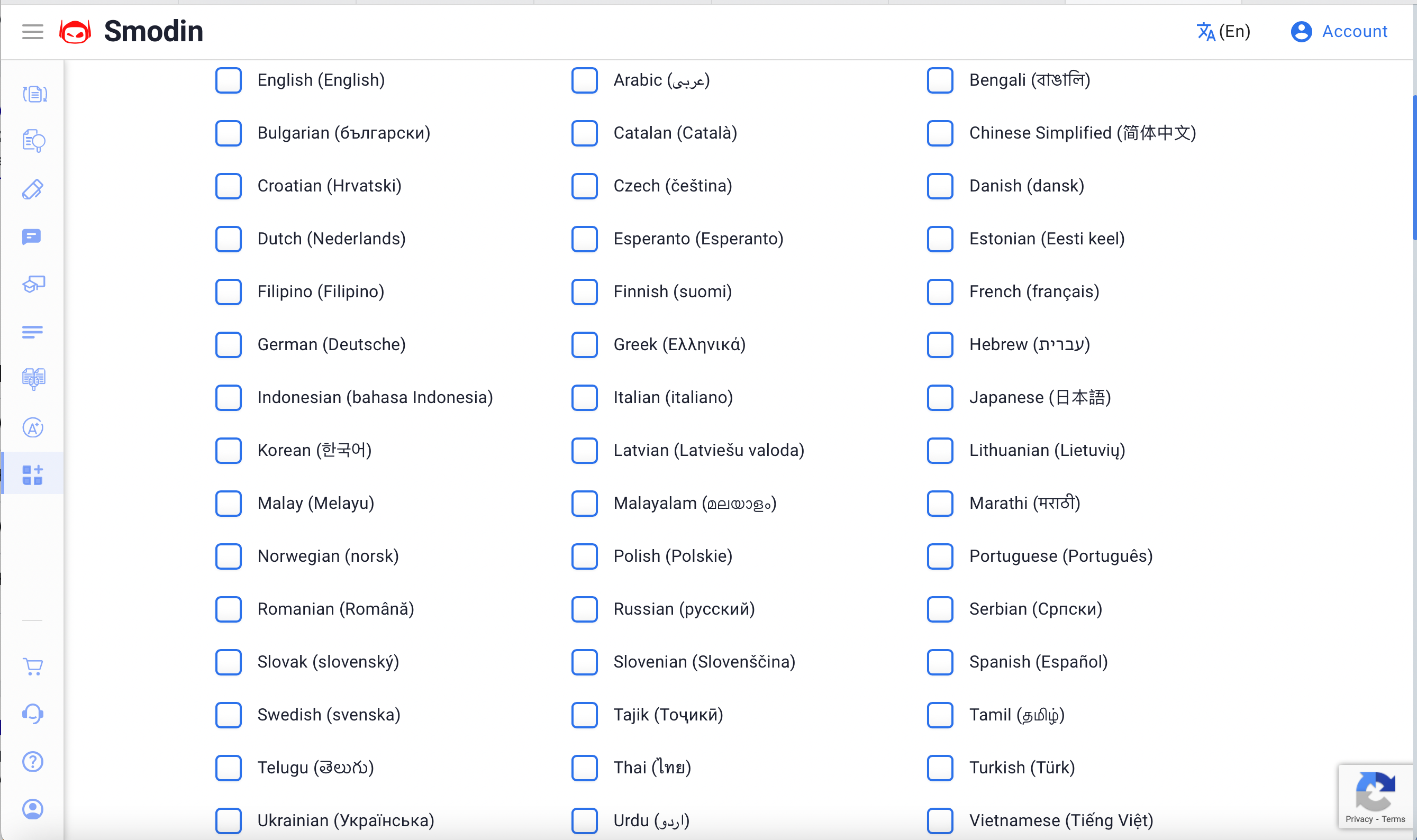 Smodin supports multiple languages, making it a truly global tool for content creators. Among the supported languages are:
English
Spanish
French
German
Chinese
Japanese
Russian
Arabic
This versatile range of languages allows users to create content for diverse audiences and collaborate seamlessly across international teams.
These 7 features are just some of the most impressive aspects of Smodin. Explore the webpage and you will discover even more nifty features and tools ready for use.
Who is Using Smodin?
It's clear that this exceptional app has very impressive features. And as you consider whether it is a useful tool for you, here are some industries and individuals that have found a lot of utility in using the platform.
1. Education: Learners and Educators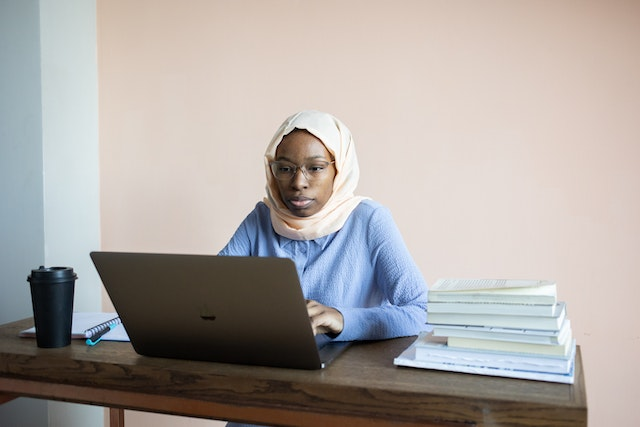 Whether you're studying biology, chemistry, history, or any other academic discipline, Smodin can be an invaluable tool in writing essays, research papers, and reports. For instance:
Biology students can use Smodin to generate detailed explanations of complex concepts like DNA replication, gene inheritance, and cellular processes.
Chemistry students can benefit from Smodin's ability to help them with stoichiometry calculations, chemical reaction explanations, and understanding molecular structures.
History students can rely on Smodin to provide insights into significant events, analyze historical contexts, or even write biographies of notable figures.
In addition, Smodin is a useful and efficient research assistant, citation generator, and plagiarism detector for learners.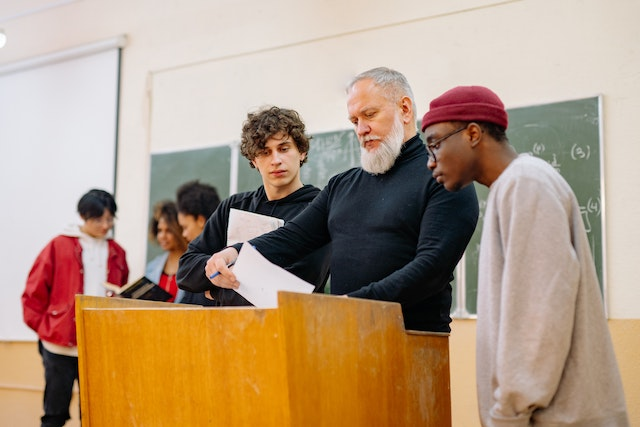 For educators, Smodin's grading, plagiarism, and AI detection tools are great supports and time savers for educator tasks. The Omni feature is also a great resource educators can refer to students to augment their teaching.
2. Professionals
Smodin is not limited to academic pursuits; many professionals across various industries are using the app to create well-structured documents and enhance their writing. For example:
Industry professionals are making use of Smodin to draft technical documentation, create product descriptions, and write industry-specific articles with ease.
Copywriters and content creators are benefiting from Smodin's capabilities such as paraphrasing, rewriting existing content, and generating unique article ideas.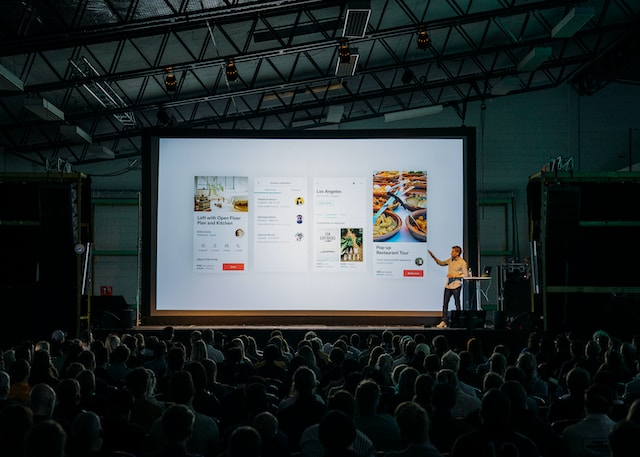 So from marketing professionals writing a pitch to biology Ph.D. candidates writing their dissertations to 7th-grade history students wanting to understand the American Civil War, Smodin is a useful platform for many.
Which begs the question, how much do you have to pay for this seemingly invaluable tool?
How Much Does Smodin Cost?
Smodin offers 3 plans: 1 free plan and 2 paid plans.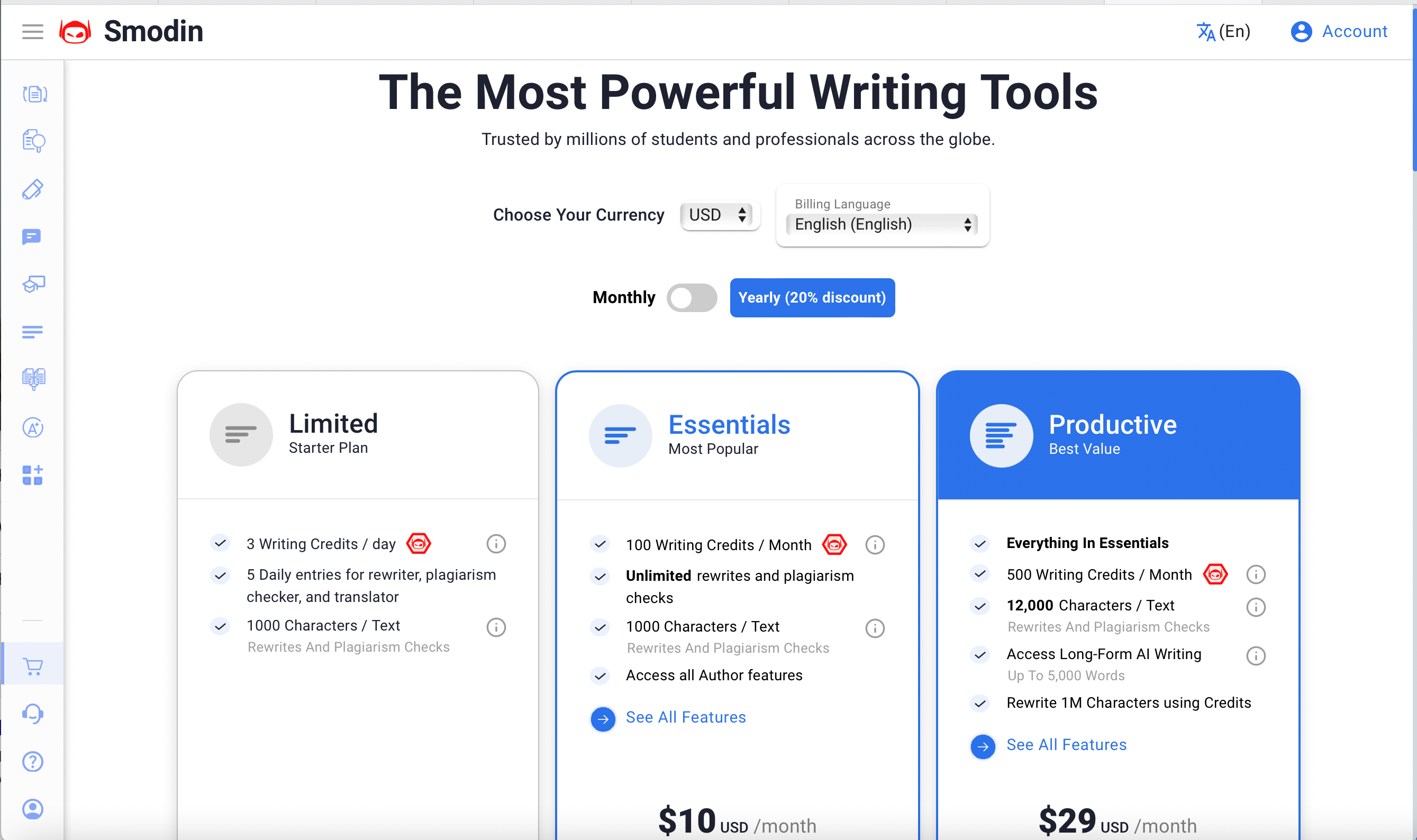 1. Limited Plan (Free)
The limited plan, also called the started plan, is a great plan for those who want to get acquainted with Smodin's features and want to try it out. However, as the name suggests, it provides a very limited experience. You'll be limited to:
3 writing credits a day
5 daily entries for the rewrite, plagiarism checker, and translator tools
1,000 characters per text for the rewriter and plagiarism checker tools
If you'd like a more flexible and generous plan, you could consider one of the paid plans on offer.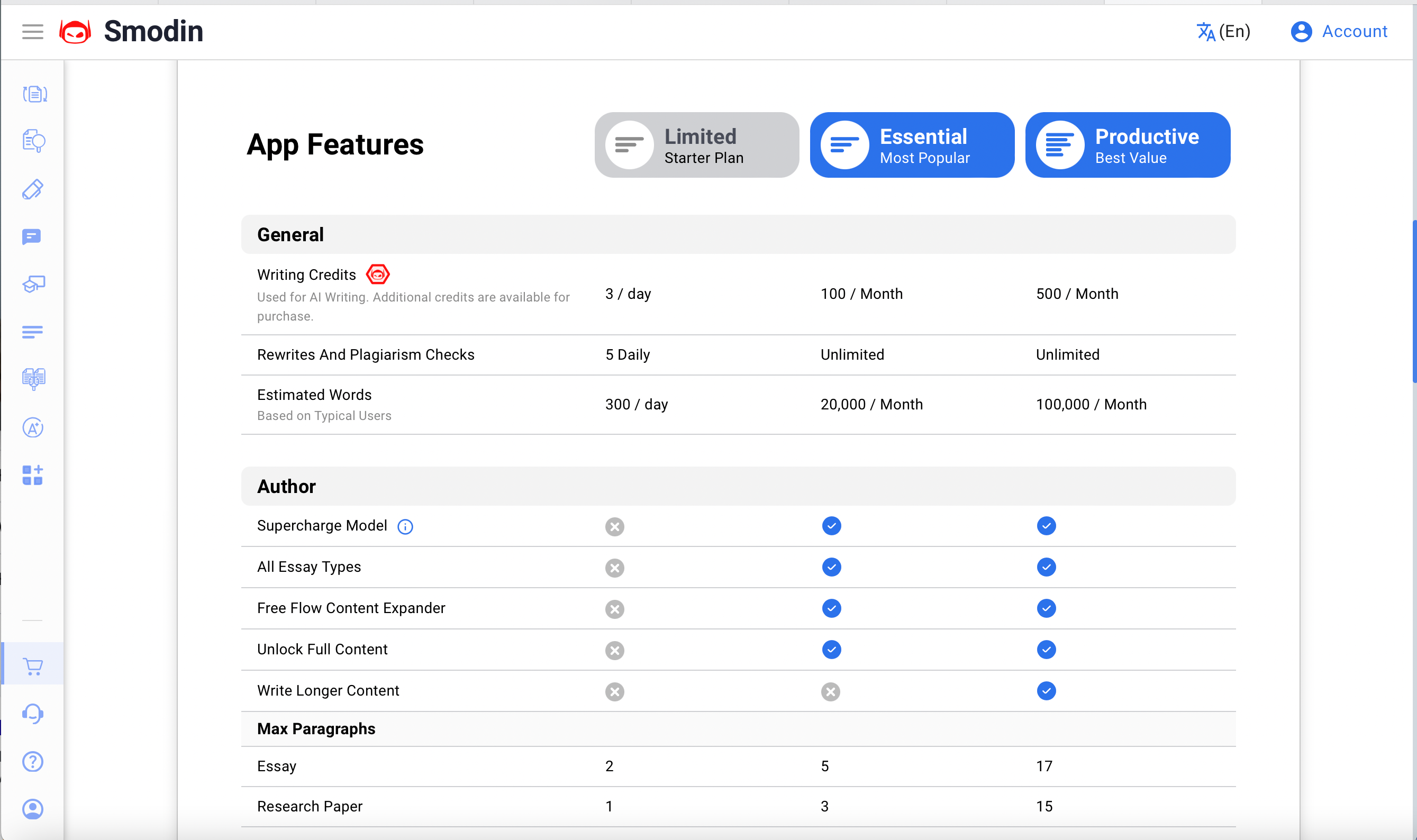 2. Essential Plan
As the name suggests, this plan, costing $10 a month, will give you access to all the Smodin essentials. Some of the benefits of this plan include:
100 credits a month
Unlimited rewrites and plagiarism checks
100 Omni questions a month
Access to additional services like Google Scholar search and a free-flow content expander
If these benefits are still not sufficient, you could opt for the best value plan.
3. Productive Plan
The productive plan, costing $29 a month, is Smodin's most generous plan. Along with all the benefits attributed to the essential plan, productive plan users will also benefit from:
500 credits a month
More generous paragraph limits
Higher character limits
500 Omni questions a month
Now let's give you all the steps you'll need to get started with Smodin today.
How to Get Started on Smodin
If you think Smodin could be a great asset to you, and if it's within your budget, here's how you can get started with the app.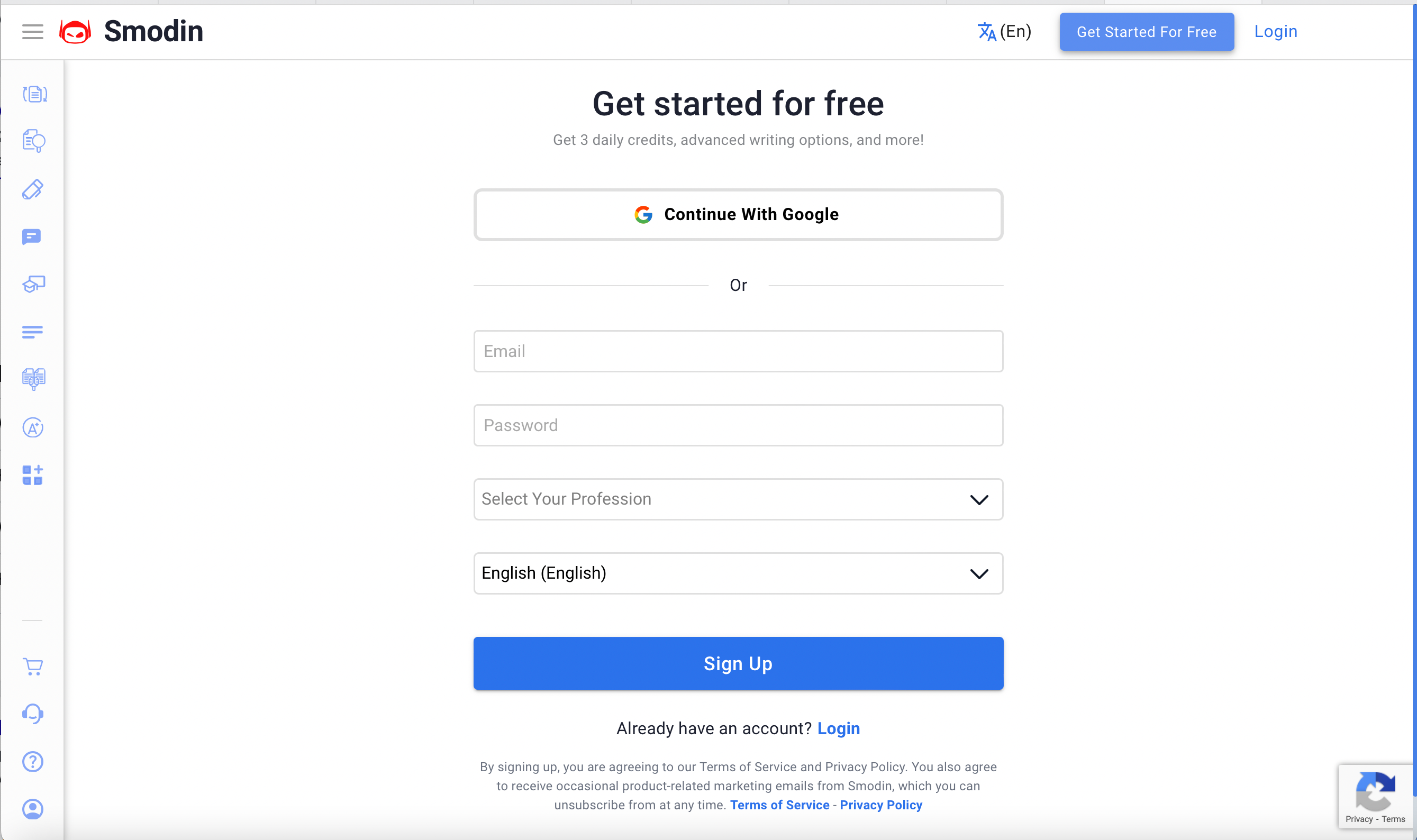 For those interested in the free limited plan:
Go to the Smodin homepage.
Click the 'Get Started For Free' button at the top right of your screen and sign up using your Google Sign In option or a chosen email address.
Begin using the service.
If, however, you'd like to use one of Smodin's more generous paid plans:
Go to the Smodin homepage.
Log into your already created free account or by clicking the 'Login' button at the top right of your screen.
Once you have logged in, scroll to the bottom of your account page and click on the 'Pricing' option under the 'Company' menu.
Select your plan and click the respective 'Get Started' button.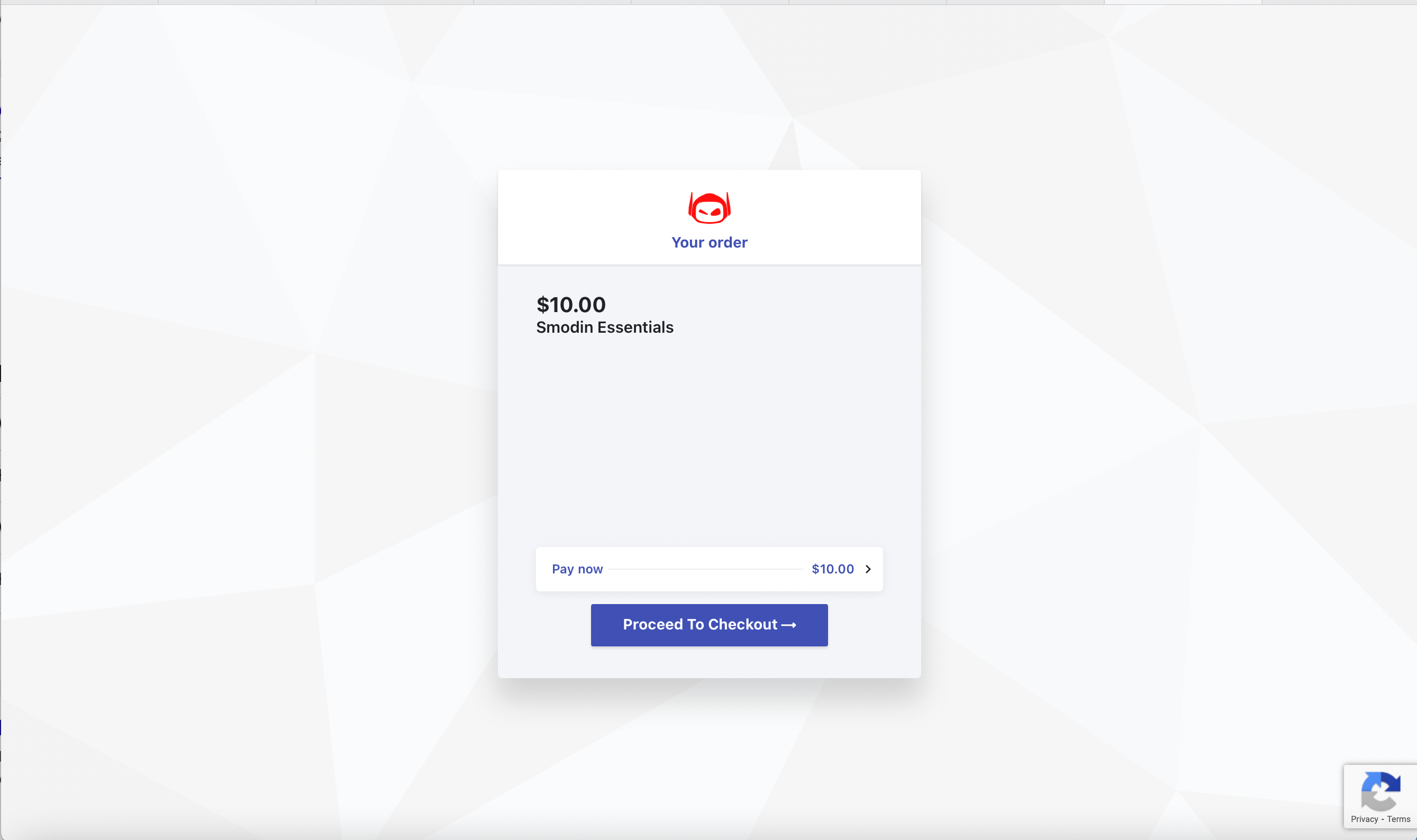 Fill in all the requested purchase and card information and complete your purchase.
Enjoy your premium Smodin services.
Final Thoughts
Smodin is an incredible AI text-generation platform that revolutionizes the way we create content. With its cutting-edge technology and remarkable versatility, Smodin opens up a world of possibilities for learners and professionals alike.
Whether you need to craft a captivating blog post, draft a persuasive sales pitch, or get a biology question answered, Smodin is your reliable companion. It understands your needs and delivers tailored and high-quality content that saves you time and boosts your productivity.
With an intuitive interface and a strong customer service team that is responsive to user feedback, Smodin continues to cement its place among the best AI writing tool in the game and is definitely worth a try. In the meantime, check out how AI writing tools like ChatGPT are changing industries.
Frequently Asked Questions
What languages does Smodin support?
Smodin is a multi-lingual writing assistance tool, that allows you to translate text into dozens of languages. Check the list of available languages here.
Is Smodin a legitimate tool?
Yes, Smodin is a legitimate tool designed to help writers with various tasks, such as rewriting, text generation, and plagiarism checking. It has received positive reviews and is utilized by numerous users for their writing needs.
Can Smodin bypass plagiarism detectors?
Smodin offers plagiarism detection and rewriting tools, which might aid users in creating content that is less likely to be detected as plagiarized. However, it's essential to ensure that your final work is original and does not violate copyright or intellectual property rights.
Is there a free version of Smodin?
Yes, Smodin offers a free version with limited features. It's a great starting point for those looking to explore the app before purchasing a more robust plan.
How does Smodin compare to other text generators?
Smodin holds its own against some of its biggest competitors like Quillbot and Paraphraser. Its robust offering and easy-to-use interface make it an increasing favorite. Users have largely found these features to be helpful and effective for their writing needs.
Does Smodin have a mobile app?
No. Smodin does not currently have a dedicated mobile app.