Empowering your internal users with regard to Power BI is essential. This is especially true when you want to create a competitive advantage in your organization. In this tutorial, we'll go over how to empower Power BI users through Power BI training and effective license decisions.
When users are provided with adequate training and tools, they're able to grow and reach their full potential.
Empowerment comes from investing in education and resources.
Empowering people within an organization is critical for its success. By giving employees the autonomy, resources, and support they need to take ownership of their roles and responsibilities, organizations can foster a culture of innovation and creativity.
Empowering Users Through Education
Enterprise DNA has a platform that provides users with materials and content around Power BI.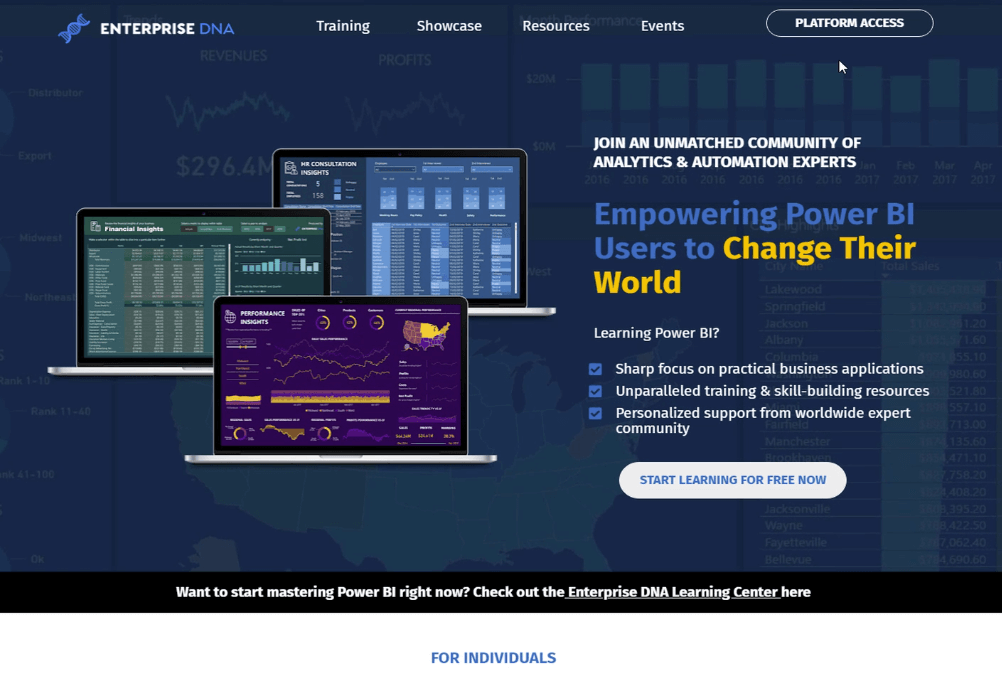 When you sign-up for free, you'll be given access to a variety of tools that will help improve and optimize your Power BI experience.


This Enterprise DNA feature also gives you access to a skill assessment tool.


It's important to test the skills of each Power BI user in your organization. It will help identify and address any gaps in their team's Power BI knowledge and skills. Moreover, it can help organizations identify and address any issues with data literacy.
Data literacy is very important when deploying Power BI in your organization. You can't expect your personnel to instantly accept and understand the tool. Proper training is required.
Once a skill assessment has been done, a learning plan can be developed based on the level of skill.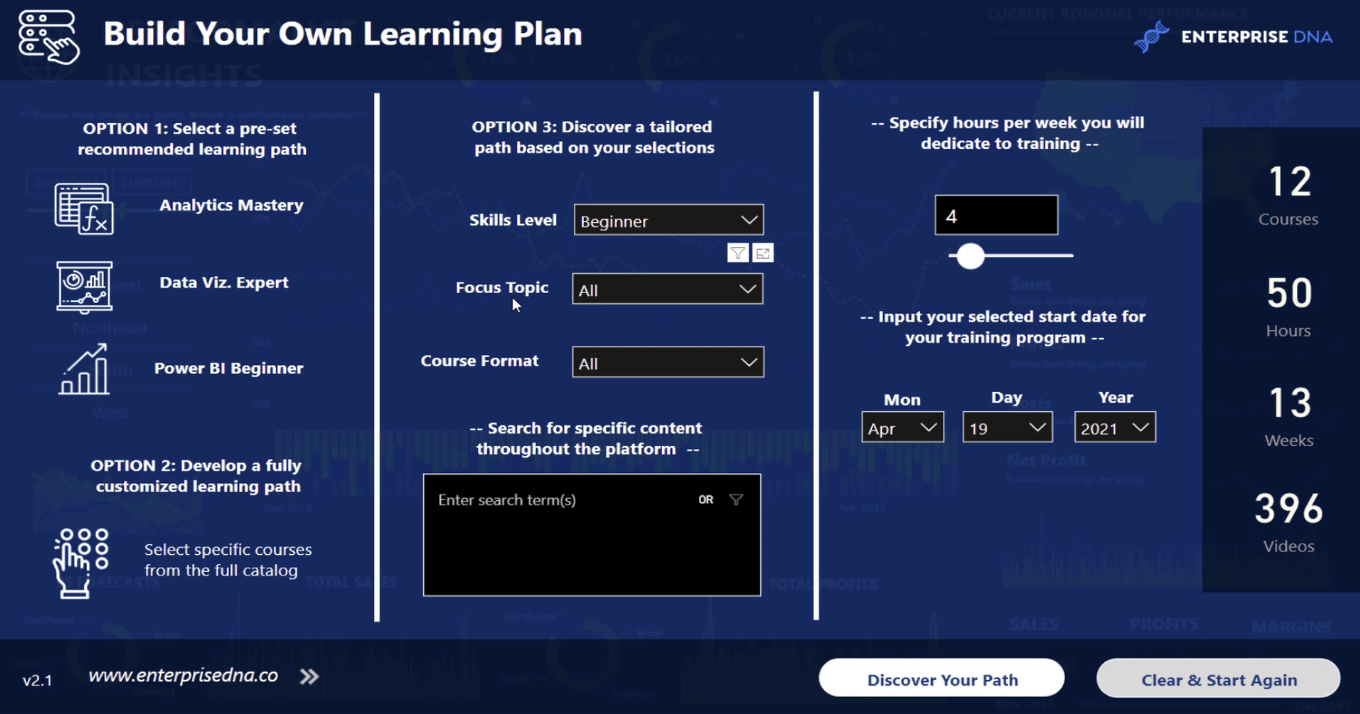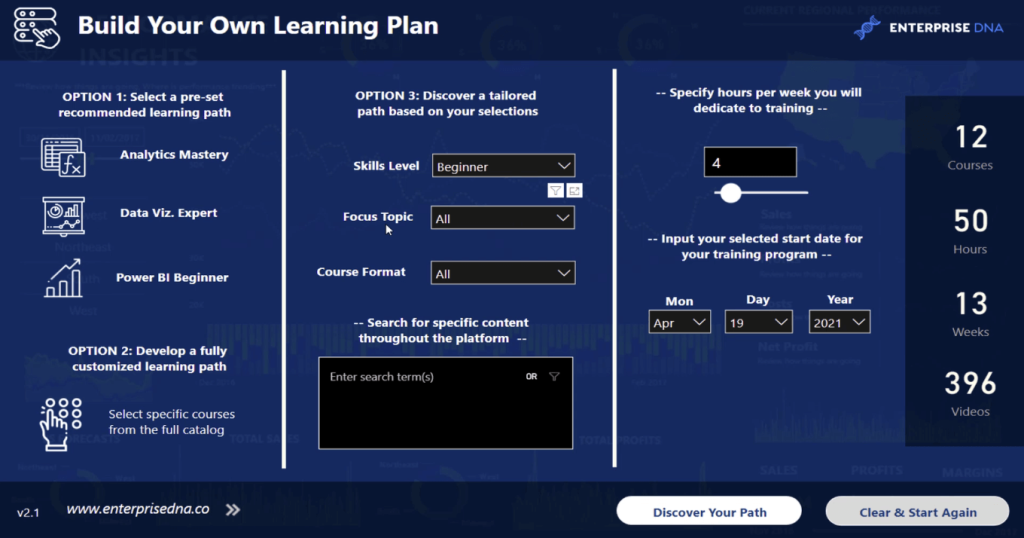 This gives a customized learning plan based on the user's skill set and training preferences.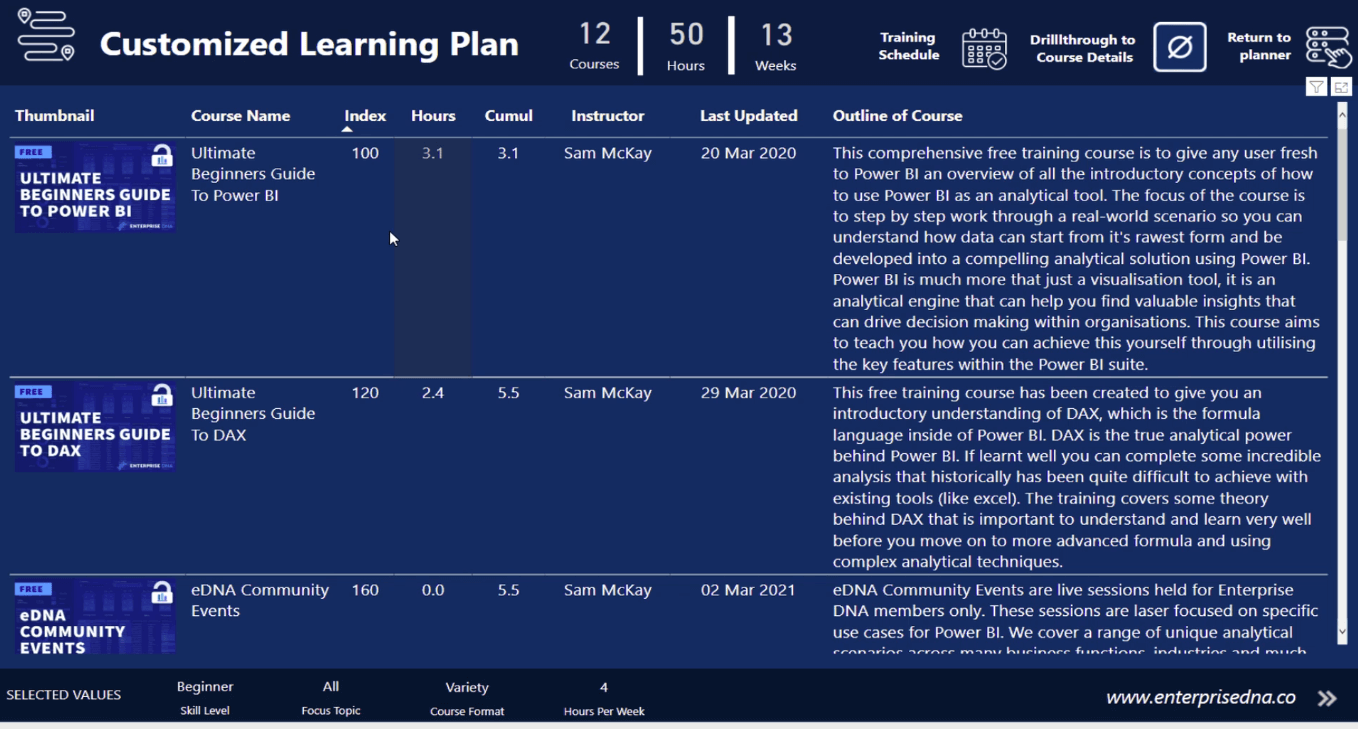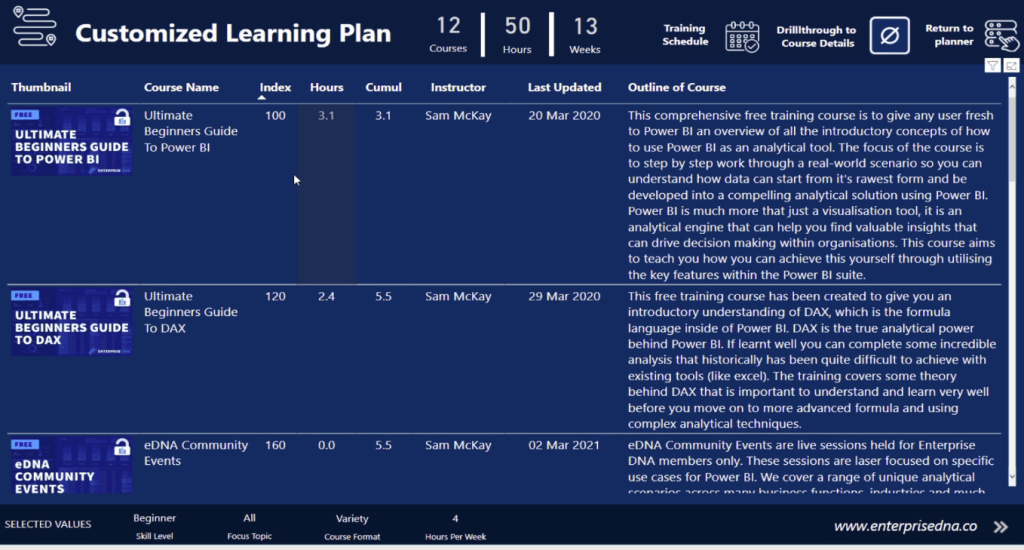 Empowering Users By Providing Resources
Power BI is a powerful resource for data visualization and analysis. In order to use it to its fullest potential, you need to decide the best license to acquire that will bring out the best in the organization.
One of the ways to organize your Power BI licenses is by using the Power BI Licensing Planner available on the Enterprise DNA website.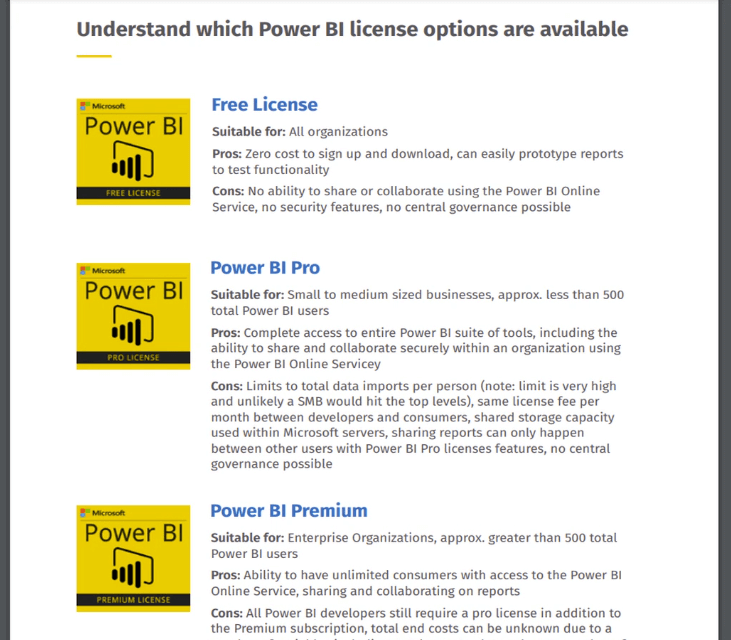 This is a document that contains detailed descriptions and inclusions for each license.
Power BI License
Microsoft offers three license options for Power BI: Free, Pro, and Premium.
The Free license is open to anyone. It doesn't cost anything to sign up and download the Power BI software on your desktop.

This is great when you're still testing how Power BI performs with your data. You can use it to create and run prototypes.
However, a Free license doesn't include the ability to collaborate between users or share data and reports. It doesn't give you the capacity to centrally govern how Power BI is used within your organization.
A Free license is inadequate in dealing with an enterprise-wide Power BI deployment.
Meanwhile, the Power BI Pro license gives you access to all the key features in the Power BI suite. This is the best license for small to medium-sized enterprises (SMEs).

Access is only for less than 500 Power BI users. This includes both developers and consumers.
A Pro license gives users the ability to securely share and collaborate within an organization using the Power BI Service.
But this license still has its limits. It has a limited allocation to the total data imports per person. However, this doesn't really bring a huge impact on SMEs because the limits are just enough. The reality is that it's almost impossible to fully consume the allocation in the Pro license.
On the other hand, the Power BI Premium license is recommended for large corporations with more than 500 Power BI users.
You'll get complete access to all the tools in Power BI along with unlimited access to collaboration features.

Both developers and consumers have unlimited access to Power BI online workspaces. They can share reports and even have online discussions.
The Power BI Premium license has added features such as report statistics, data volume, and refresh rates, among others. It also allows you to deal with advanced AI and big data. And unlike the first two licenses, Premium also provides you with the ability to centrally govern your organization's data.
Power BI License Pricing
If you look at the pricing of Power BI licenses on the Microsoft website, you can see that the per-capacity rate for Premium is worth $4,995 per month. Therefore, if your organization has over 500 users, it is recommended to make the most of this license.
Recently, however, Microsoft has also enabled the ability to purchase a Premium license on a per-user basis.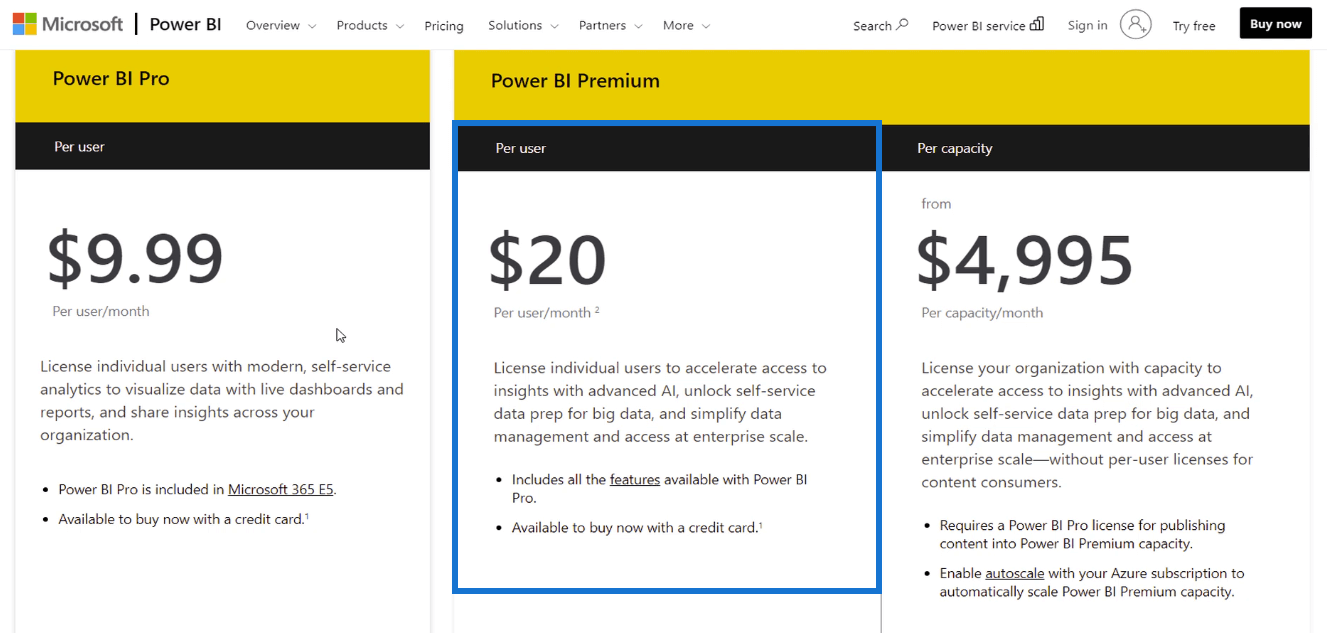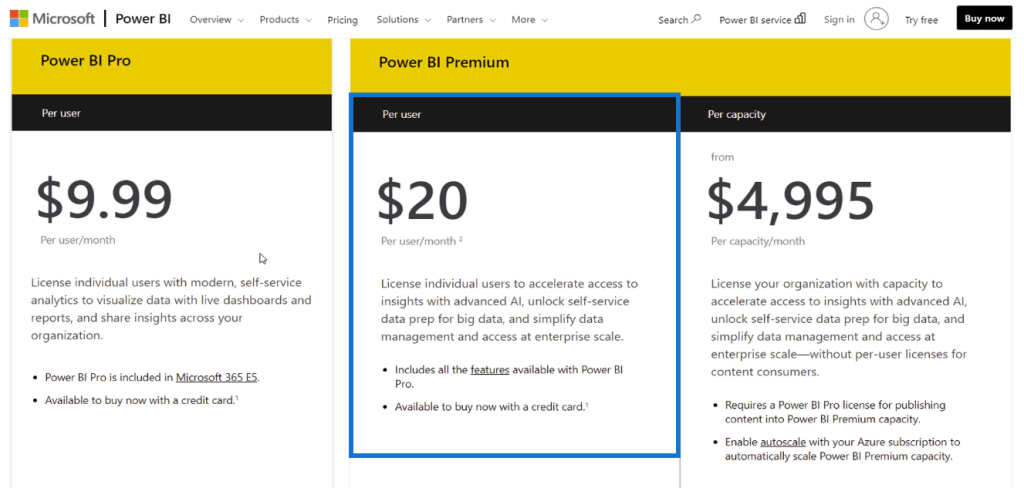 This is more economical for businesses that need the features of a Premium license but only need it for a few users.
If you want to have an exact estimate of the costs, you can click the Contact Sales button. It will redirect you to someone who can give you advice on the best option to take and even receive a calculation of the total costs.
But you can also use the recommended calculations provided by Enterprise DNA in the Power BI Licensing Planner document.
***** Related Links *****
Power BI User Guide In Your Reports
Building Data Culture In An Organization With Power BI
Structure A Power BI Deployment Through A Teams Perspective
Conclusion
Empowering Power BI users in an organization is crucial to achieving success in the digital age. Power BI is a powerful data visualization and analysis tool that allows users to access and analyze data in real time, which can help organizations make better decisions, increase efficiency, and enhance collaboration.
To effectively empower Power BI users, you need to invest in the proper education and resources. These are crucial for realizing the full potential of Power BI. It enables users to be proficient, create better visualizations, enhance adoption, achieve better ROI, and be prepared for scalability.
All the best,
Sam McKay