For those of you who are not aware, we have recently launched an exciting initiative at Enterprise DNA.
Recently, we have been working hard to create and deliver a brand-new educational chat bot. We call our chat bot Edna as a unique play on words of our company name.
Why did we create Edna 1.0?
At Enterprise DNA, we have a lot of content and resources that we make available, covering nearly every area of Power BI development you could imagine, so we thought it's a great idea to provide a way for those connected to us to navigate contents that are relevant to them.
And with the emergence of great chat bot technology, we realised that there was a great opportunity to create virtual discussions and conversations with our connections throughout the Power BI community. 
Also, the idea of being able to pre-program a bot that is specifically targeted at helping Power BI users learn more about a whole variety of tips and techniques was a challenge that we thought was worth pursuing.
How can you use Edna 1.0?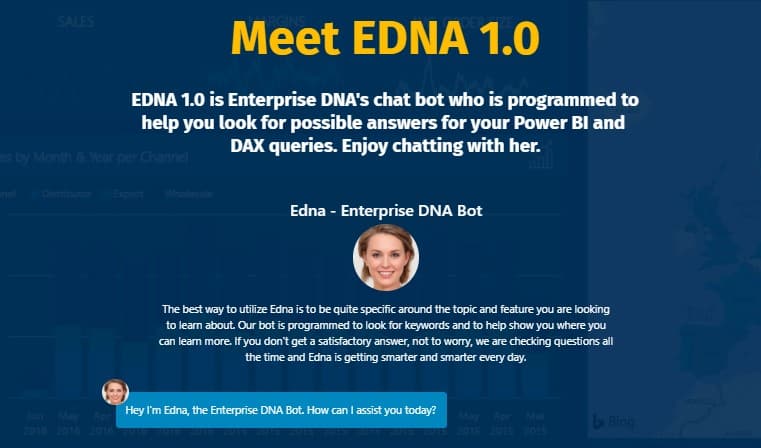 Edna is pre-programmed to look for keywords that you enter into questions. On our current 1.0 version we don't have any natural language programming built into the bot. We are hoping to be able to comprehend a variety of different ways you can ask exactly the same thing in the near future.
So the best way to benefit from utilising Edna is to just type in keywords for the topics that you want to learn more about. You will find that there is extensive answers that have been created by the team at Enterprise DNA.
We are hoping that you can use it now as an education tool, so you can use the inputs that Edna provides to learn more about Power BI and also be directed to many of our examples and resources that will enable you to master Power BI effectively.
What are the future plans for Edna 1.0?
Edna is learning every single day. For every question you ask that Edna does not know now, we are working in the background to teach her how to answer it next time.
Currently we have well over 3000 answers built into Edna. But this will grow quickly as more users utilise the bot as an educational and conversational tool.
We are also continually working on the technology and upgrades to the bot. So hopefully we will be able to comprehend many different ways questions and conversations are generated on our website.
It's really exciting what Edna could turn into in the very near future when more and more of you connected to Enterprise DNA decide to utilise it.
How can you give feedback on Edna?
We are hugely invested in making it a success. So, I really recommend diving in and utilising her in the near future and trying to extract the education and answers that you need.
We want to understand how users are finding it and we want to learn quickly where we can improve it, so if you have any feedback you will find a form on the Edna Web page.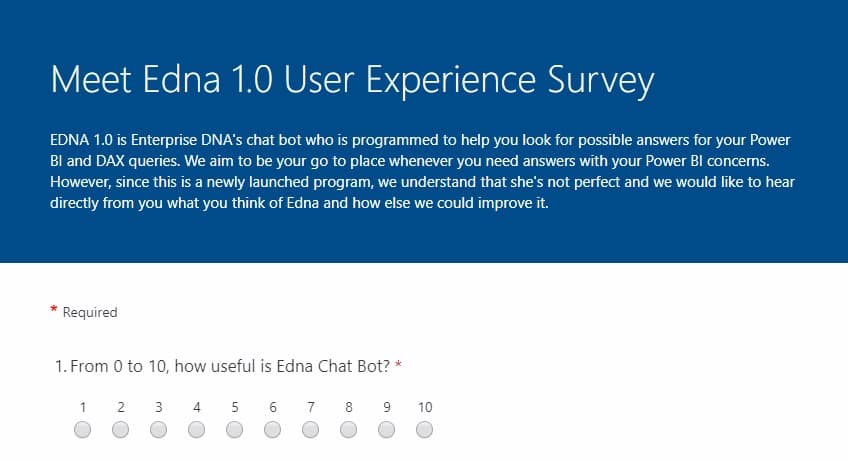 Conclusion About Edna 1.0
This is a really exciting development for us so hopefully you can see the significant effort we made into creating Edna. Also, definitely start utilising this resource that we have developed for you.
Edna 1.0 is just one of the many exciting developments we've got going on at Enterprise DNA. I've enjoyed showcasing this one to you and look forward to telling you about many more in the near future.
Sam