In this brief tutorial, we'll be making a Power Apps account. But before we jump into that, I'm proud to announce that we are transitioning from being a site focused strictly on Power BI to one that's focused on the larger Power Platform. You may watch the full video of this tutorial at the bottom of this blog.
And as such, we've released two courses. One is a masterclass focused on Power Apps and the other on Power Automate. These are both comprehensive courses with about eight hours of material each. We want to provide you samples of both content that we think stands alone is useful to you, but also hopefully gives you the incentive to check out the larger courses.
The Power Apps Masterclass will give you a kick-start on your learning journey on Microsoft's Power Apps. It's a step-by-step guide that will help you create, share, and deploy applications across your organization using Power Apps, and learn how your organization can utilize this tool for insightful business solutions.
Today, I'll share an introductory lesson on how to create a Power Apps account to give you a glimpse into this course. Obviously, you need a Power Apps account to access the Power Apps developer module. So, let's start with actually making an account.
Steps To Create A Power Apps Account
It's very easy to do. First, navigate to this URL in Power Apps on microsoft.com.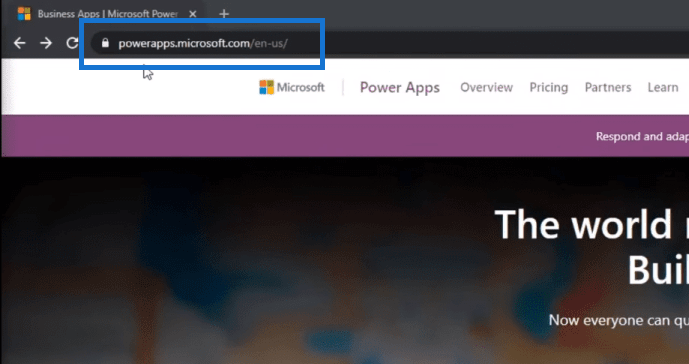 Then click the Try Free button on the top right.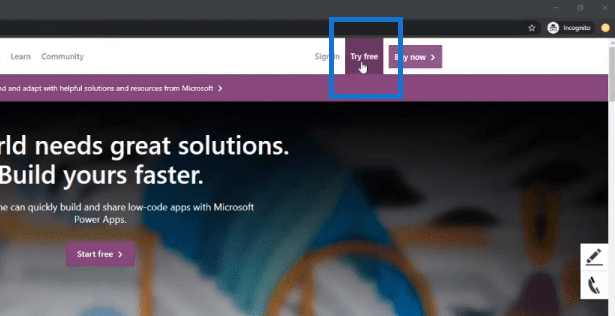 When you click on this, it will ask you to enter an email address.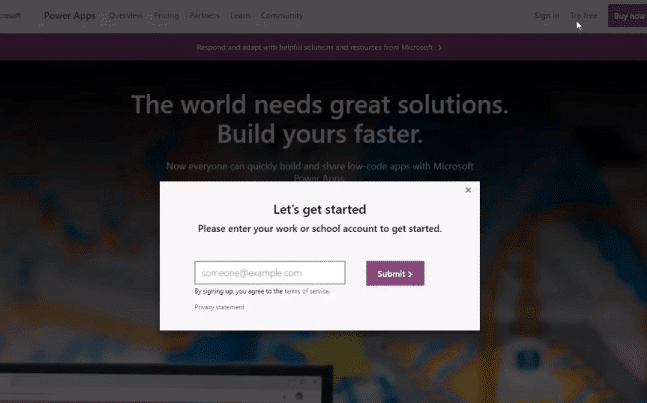 The issue with this, however, is that you can't put in your personal email. And how Microsoft detects that is that it looks at the URL of the email. So, if you try putting in, for example, just a random email like [email protected] and click submit, it will give you an error saying that that's a personal email address.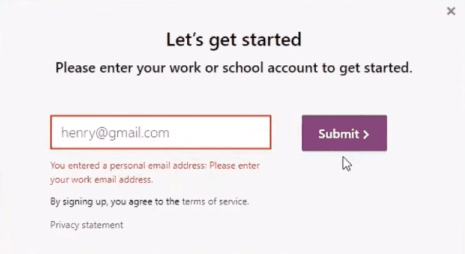 So, if you do have an email that doesn't entail the typical personal URL, such as Gmail or Outlook, or Yahoo, enter that one. If you don't have one, however, there is a really quick and easy workaround that I would suggest you do. What I will do here is actually just open a new tab and go to a website called tempail.com.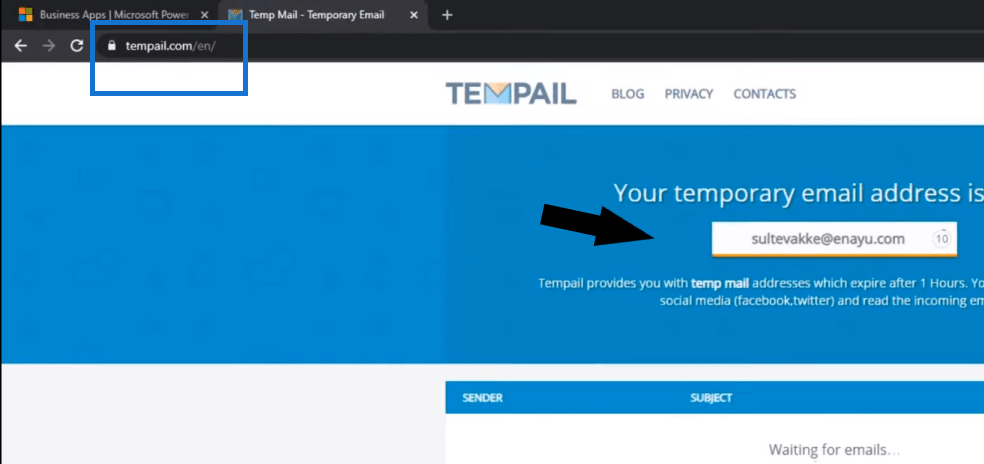 This website basically just generates random emails and inboxes. As you can see it has generated this random email for me. In this example, we'll take this email (yours will be different, obviously), click it and it gets copied. And then, we could just use that and paste it in this text box over here.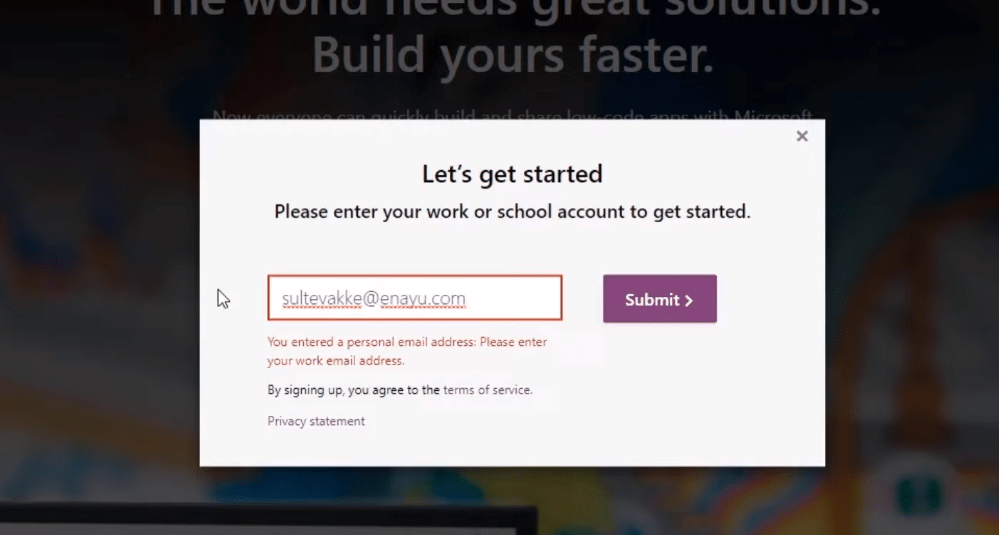 Now, the key thing here is that Microsoft believes that enayu is not a personal email address, so it's a work email address. So then, if you click Submit, it goes through.
Now again, I've stressed that if you do have a work email address, to use that instead is a lot better. But if you don't, you could simply just go to your temp mail, copy the email over, and click Sign up that way as well.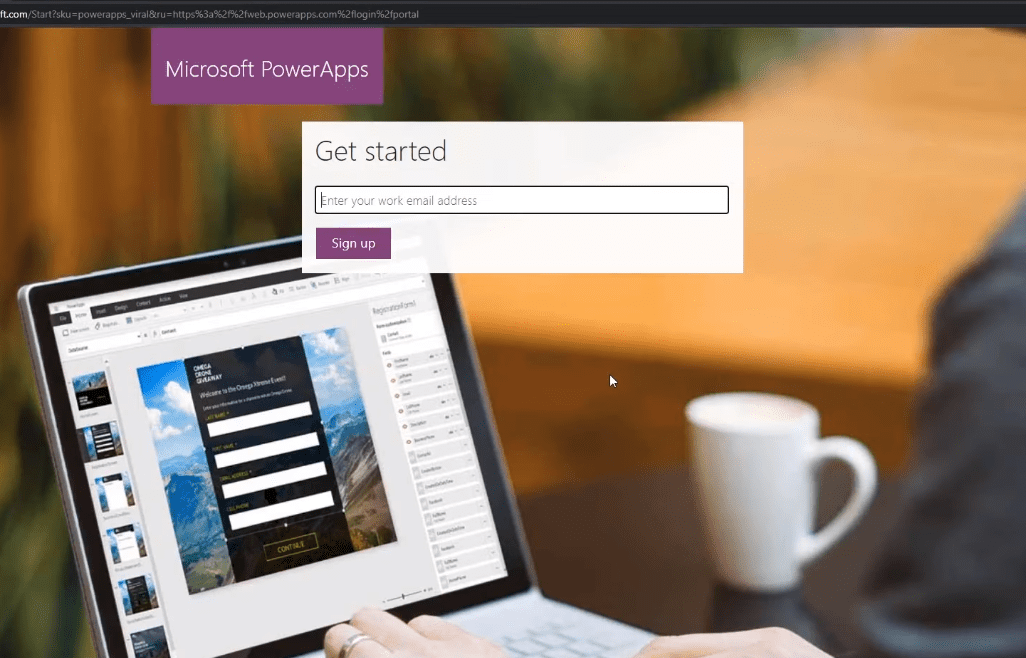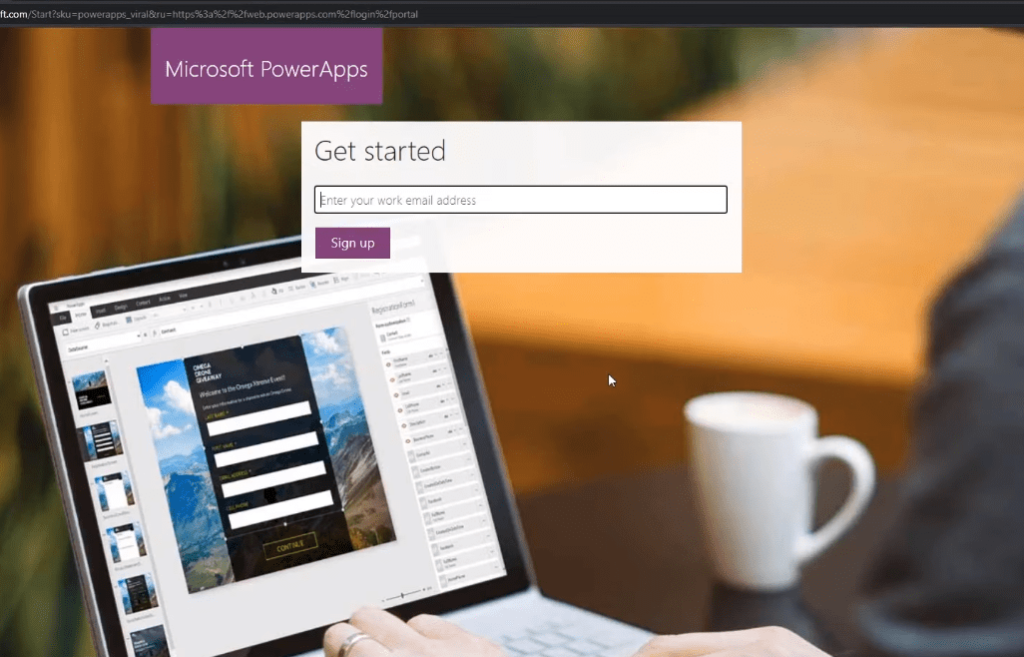 Microsoft will then ask you if you've got your email from your company, you can just select Yes, so we'll keep going through.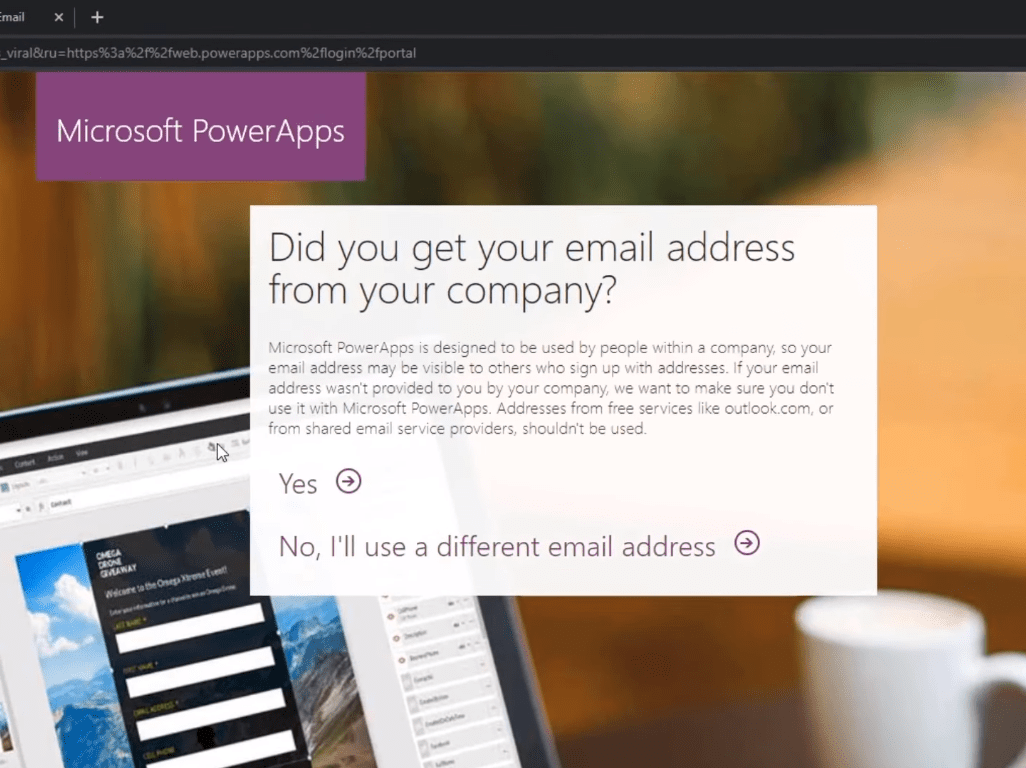 It takes you to this page where you fill in your information and password.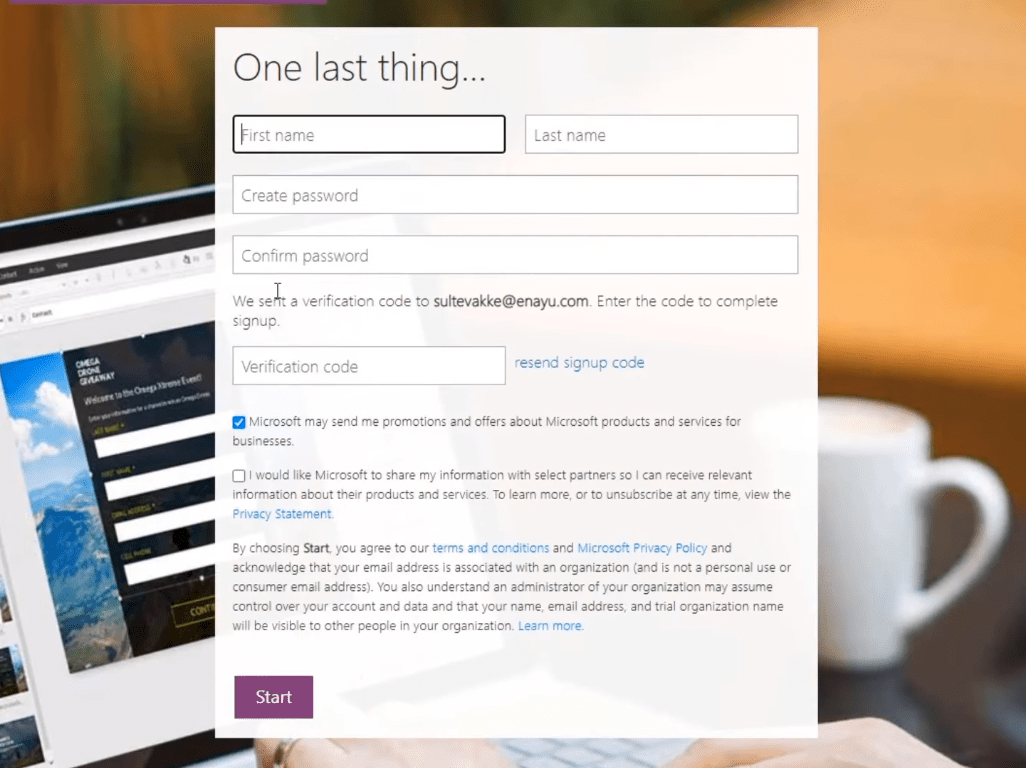 Then, it sends you a verification code. If you go back to the temp email, wait a couple of seconds, and you should see in the inbox something like this below.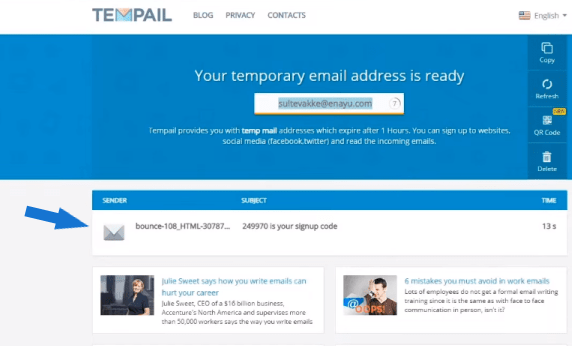 So, our sign-up code is 249970, and obviously yours will be different. You enter the code and you can just click the Start button.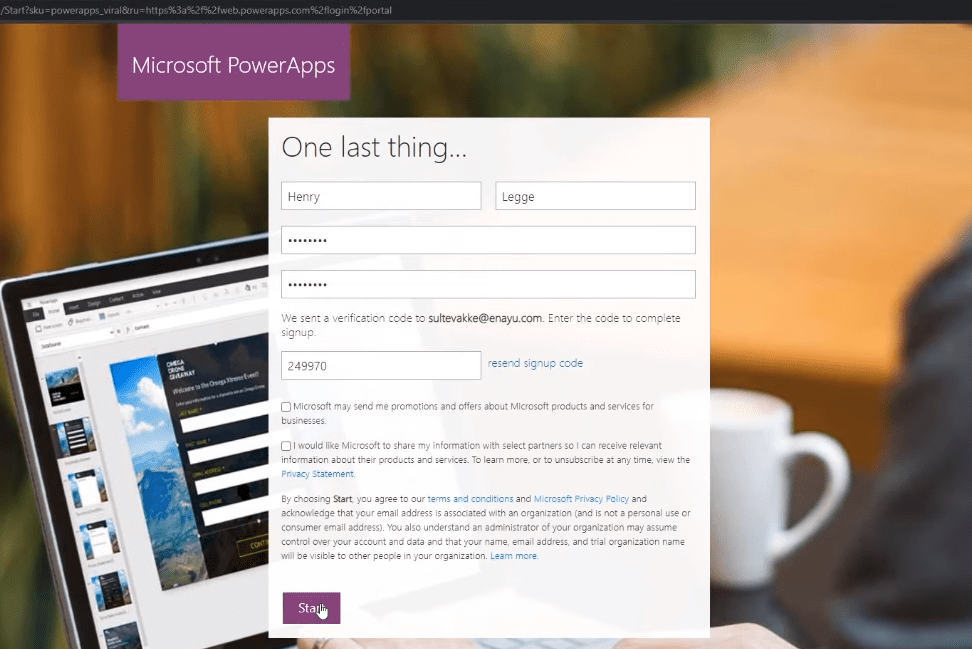 It will be downloading a few small things, and then you'll be all set up with your Microsoft Power Apps developing environment. Make sure that you see this screen here that everything has worked well. If you don't, please reach out to me and I will help you with this.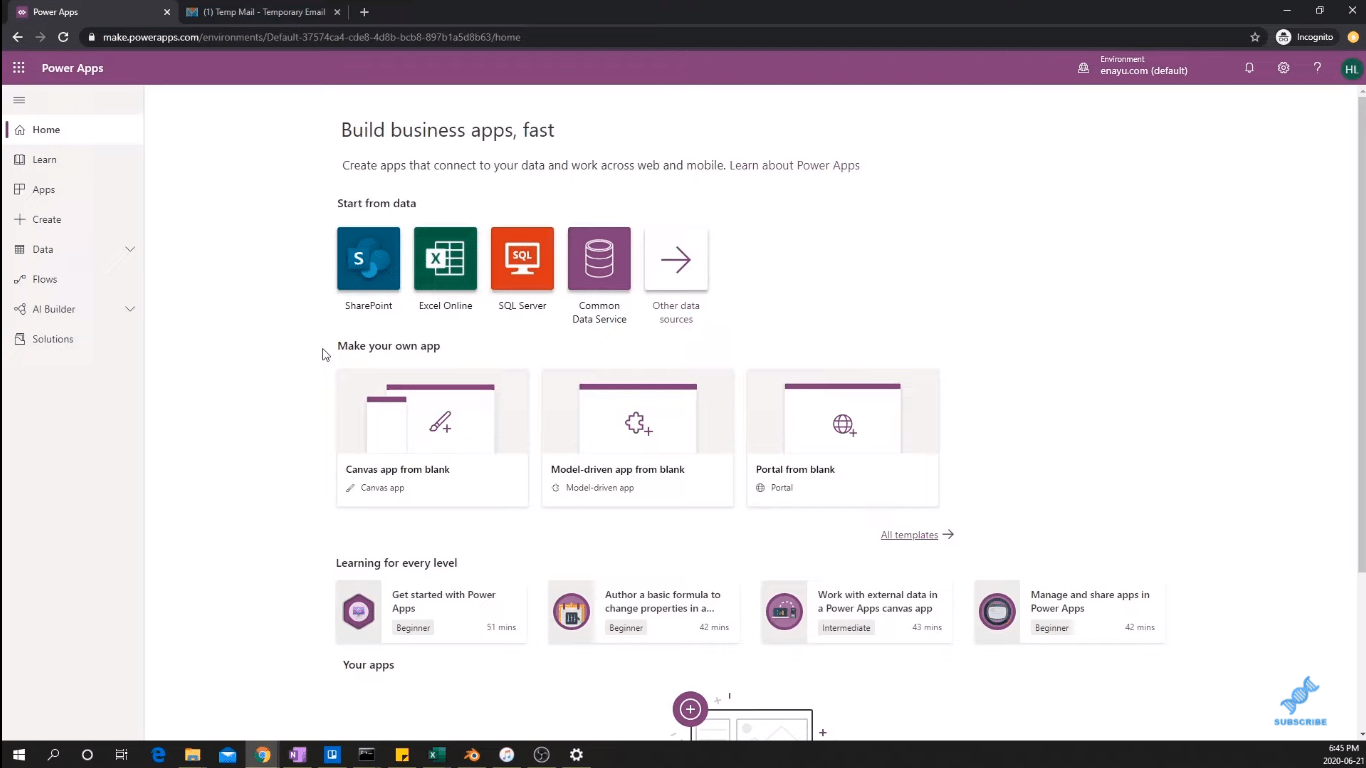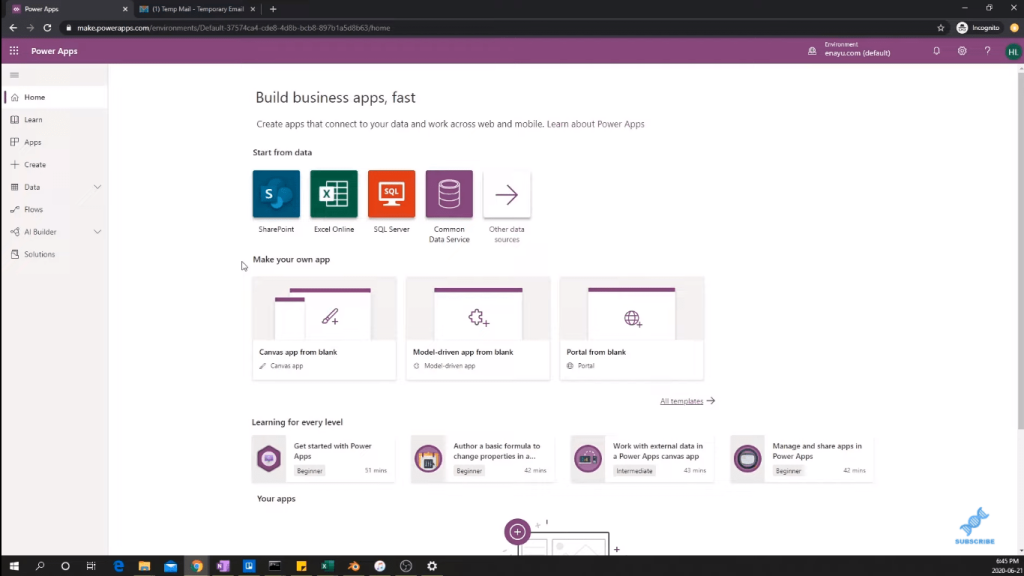 ***** Related Links *****
Power Apps & Power Automate Masterclass Course Rollout
Power Apps: Getting Started With This Revolutionary Tool
Using Power Automate To Refresh Data In Power BI
Conclusion
That's it. Just a short tutorial today, but this is very helpful for beginners. This is the usual issue for most users.
The main complaint that I've received is usually that "it doesn't accept the email that I'm giving it". And the best way to get around this is to use this temporary email site to actually do it.
I hope you've enjoyed this one! All the best!
Henry