Recently, we've put the finishing touches on this course module and completed a comprehensive upgrade to the Ultimate Beginners Guide to DAX course module. 
This is a completely free course available to anyone connected to Enterprise DNA. 
To enroll in this course now, check out the link below.
Ultimate Beginners Guide to DAX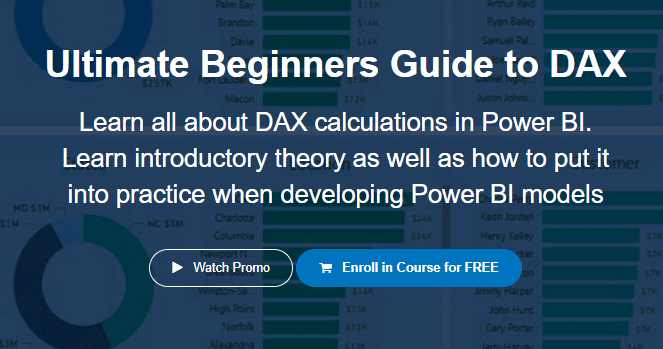 There's been quite a few changes to Power BI over the last 12 to 18 months, so I thought it was timely for us to complete a refresh of this very popular course located at Enterprise DNA Online. 
Even though a lot of the changes have been to the look and feel of Power BI , and not so much to the theory and practical application of DAX, it has still been timely to upgrade our content to move in step with the updates happening to Power BI on a regular basis.
In this particular course module, we really dive into the fundamentals of utilising DAX inside of Power BI.
If you're just getting started with Power BI and you haven't gained any or much exposure to DAX, then I highly recommend diving into this content and getting familiar with the immense analytical potential available to you when you use the formula language effectively. Also, the key concepts and theory around how to extract valuable insights are covered in detail.
There's always a very practical focus with content from Enterprise DNA. We are always trying to tailor our ideas and techniques in the most practical way possible. From experience this is by far the best way to learn and master DAX.
We also touch upon a learning roadmap so you can take these initial concepts and work your way through to more intermediate and advanced techniques like time intelligence and formula patterns.
All is covered in comprehensive detail throughout this course. Overall there's around three hours of content, which has been logically planned out so that you can work through it step-by-step.
At the end of the course, you will receive an automated course completion certificate from Enterprise DNA. This would be a great thing to showcase when highlighting what you have learnt to your colleagues and associates.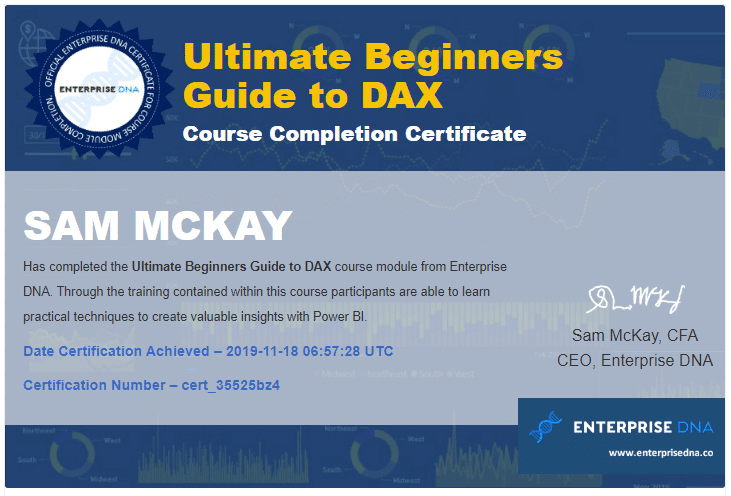 As a reminder, this course is completely free and you can enroll right now.
Check out the link below for more details and for enrolments options.
Ultimate Beginners Guide to DAX
I really enjoyed putting all of this content together and looking forward to all of your feedback once you have an opportunity to work through the course content.
All the best.
Thanks
Sam
***** Learning Power BI? *****
FREE COURSE – Ultimate Beginners Guide To Power BI
FREE COURSE – Ultimate Beginners Guide To DAX
FREE – 60 Page DAX Reference Guide Download
FREE – Power BI Resources
Enterprise DNA Membership
Enterprise DNA Online
Enterprise DNA Events