Today we have an exciting announcement at Enterprise DNA. We are launching our scholarship program.
We have a desire at Enterprise DNA to impact all users of Power BI around the world, and with the creation of this scholarship program, we feel we can bring a wider reach to our unmatched offering of training and resources to many Power BI users globally.
All details around the scholarship program can be found at the link below.
Enterprise DNA Scholarship Program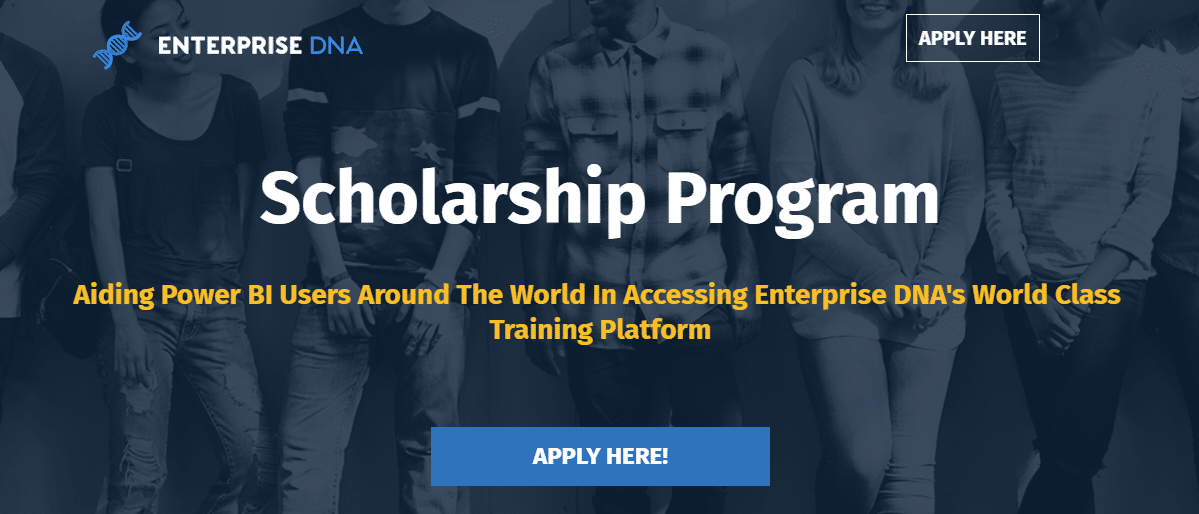 The scholarship program has been specifically tailored to those who require assistance in upgrading to Enterprise DNA Membership.
We understand that the cost of membership is preventing some eager learners around the world the opportunity to learn and master this fantastic tool – Power BI
With the scholarship program, we look to partner with Power BI users and those connected with Enterprise DNA who require some support to access the immense value that we have packaged into the membership offering.
We have a range of scholarships available to those who this program would benefit.

These include half, three-quarter and full scholarships.
We do want to learn more about why you feel you need a scholarship and on the application form, we have space where you can add details around why you feel you are a worthy beneficiary of a scholarship offer.
Our mission with this program is to continue to have a wide impact on all Power BI users from different areas of the world and who would benefit from our world-class training platform.
Not only will you gain access to the membership offering in its current form but also all of the future upgrades to content, resources and many other aspects of the program.
You also have the opportunity to participate in many of the other offerings that we have available through membership. These include the Support Forum and also potentially creating content for our Enterprise Power Users channel.

Hopefully, this gives you a really good outline of what the scholarship program is all about, and maybe this is something that would align with your requirements.
All details and registration for the program can be found at the link below.
Enterprise DNA Scholarship Program
Look forward to hearing from you.
Enterprise DNA Team