As Enterprise DNA grows and evolves, we are looking for more ways to collaborate with analytics professionals based anywhere around the world. Not only are we creating a world class education platform, we are also very focused on creating the go to platform for any data professionals to build their own profiles and experience.
We are pursuing this strategy with a number of different programs that are highlighted in detail below. All of these programs are very easy to become engaged in and we are looking to collaborate with as many willing participants as there are out there who want to work with us.
With our programs you can earn in a number of different ways. We have complimentary training access options, cashback rewards and others.
Below are the details we'd like to share about each specific program, what they entail and how you can sign up and participate.
Referral Program
All you have to do in the Referral Program is promote Enterprise DNA's education platform and our membership offering to anyone you know. This could be friends, colleagues, family. Now, we are making it super easy to be rewarded for a referral. There is no complex signup process or application process.
All you have to do is advise us any time that you have promoted Membership to someone and if they upgrade, we will fulfill our obligations as per our program outline.
You can find out more and put your name down as a future referrer at the link below.
Enterprise DNA Referral Program
Analyst Cloud
With the Analyst Cloud platform, you now have the opportunity to put your profile in front of many employers and project managers who need assistance on Power BI and analytics requirements. This doesn't mean just full-time employment opportunities; it could also be consulting projects or a variety of side gigs that you could use to supplement your income around the day to day job you may have at the moment.
We are looking to facilitate a range of different connections between employers and analysts. So you can earn side income, leverage into a new career, or just build connections with other advanced Power BI users.
You can learn all about the Analyst Cloud at the weblink below. 
Global Training Partners
The Global Training Partners Program is an opportunity to utilize and leverage off Enterprise DNA team's comprehensive education platform. We are currently designing a live training event that anyone around the world could pick up and deliver to their own contacts and clients. This is perfect for Power BI consultants, Microsoft-based consulting firms, and current Enterprise DNA members who are looking for additional side income, internal analytics teams within large organisations and many more.
Our plan with this program is to build a comprehensive education infrastructure that anyone could take and use in their own environments. All that is required is to organise the training and then to turn up and deliver it in a live or virtual capacity.
The only requirement is that you will need to have your own membership and have achieved the Enterprise DNA certification. This way we can be very confident that you can deliver a great experience to Power BI users.
To find out more about this program and to sign up please see the link below.
Earn A Membership Program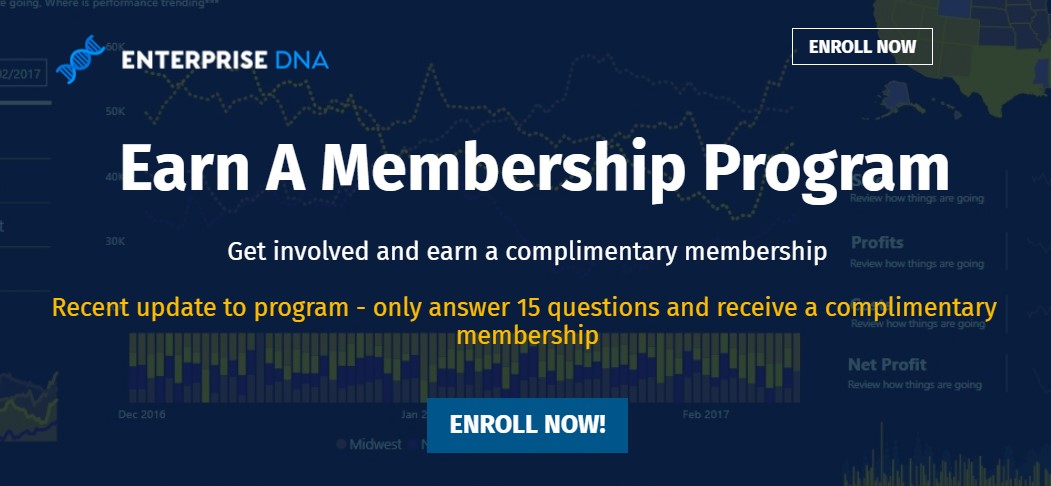 Our Earn A Membership Program is a simple and easy way to build a connection with the Enterprise DNA team. All you need to do is sign up and answer a set amount of questions on the forum and by doing so you can earn a complimentary membership.
Our forum is one of our greatest assets and we are assisting a huge amount of Power BI users every day in their Power BI development work. Due to the significant growth in the support platform we are looking to continually collaborate with accomplished Power BI experts around the world and at the same time reward them for doing so.
To learn more about this program please view the link below.
Submit A Showcase Program
Did you know that you can submit your Power BI models and reports into Enterprise DNA and earn? We want to work closely with many analytics experts out there to build on our comprehensive library of Power BI showcases, and we are willing to invest in those reports that meet our requirements.

The only thing you have to do is make sure that you can release your work publicly. If that works then a simple submission and quick evaluation from Enterprise DNA is all that is required and quickly you could earn some passive income.

We've already had some amazing submissions from current members and looking forward to seeing more great applications from our connections.
Check out all the details around this program at the link below.
As you can see, at Enterprise DNA we are innovating fast and evolving to becoming more than just an online training business. We want to work much closer with those who are connected to Enterprise DNA and find many exciting ways to collaborate to benefit all those who are willing to participate.
We are committed to investing a vast amount of resources into these programs and initiatives. Looking forward to getting you involved and learning more about what we can work together on.