We've just finished a successful run of Power BI Challenge 23, which focused on health and substance abuse dataset.
At the end of Power BI Challenge 23, we've achieved two important milestones: our data challenge hub currently has 3,014 members and our challenge broke the previous record of 62 entries with 92 entries!
This is proof of how our Power BI Challenges can help you find the best solutions to complex business problems while allowing you to learn from the experience.
What Is Enterprise DNA's Power BI Challenge?
The Enterprise DNA forum is home to a thriving and fast-growing global community of data analysts that host monthly challenges spanning a variety of industries and skill levels.
The objective for these challenges is to encourage participants to create real-world solutions through the application of analytical reporting and visualization.
What Do I Get From Joining?
Contrary to popular belief, having a data analytics degree is no longer required to be successful in this field. Everyone can benefit from understanding at least the basics of data and knowing how to use it to improve the way they do their work.
So, where do you begin? Well, you can always start with Enterprise DNA's YouTube tutorials, and then move on to our challenges once you're ready to take your learning to the next level.
For beginners who want to put their Power BI skills into practice, participating in our challenges will give you lots of advantages such as:
Learn by doing and gain exposure.
Build your portfolio and attract potential employers.
Learn from others through collaboration and discussion.
Network with like-minded people.
Power BI Challenge 24 Brief
For this round, we're tackling a sports-related dataset regarding football transfers for the 2022-23 summer season.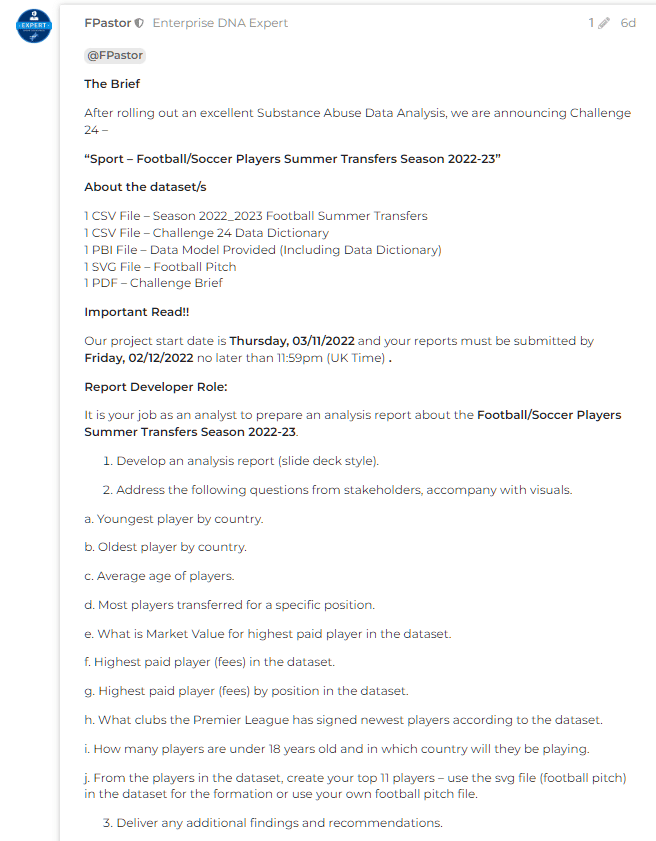 The client you will be working with is the CFO of a football association who needs to present a report to the association's stakeholders. The client is looking for an impactful, slide-deck style presentation that addresses the questions in the brief and will wow her audience.
Your role as the report developer is to prepare an analysis report that addresses the client's requirements. Feel free to use all the techniques at your disposal – tooltips, drill throughs, page navigations, etc.
Power BI Challenge 24 Winners
For Challenge 24, there will be 6 winners from the following categories:
Experts & Previous Winners – EDNA Experts and Previous Challenge Winners
Platform Subscribers Winner – for participating Enterprise DNA On-Demand subscribers
Winning Non-member – for participants who are not currently Enterprise DNA On-Demand subscribers
Out of the Box Thinker – participant who digs deep into their analysis
Creative Head – participant who brings a lot of extravagance and effort into their report and analysis
Best Report Write up – participant who provides the most insightful and instructional explanation of how they constructed their report and met their personal learning objectives for the challenge.
Excellent prizes await winners such as Free Subscriptions to Enterprise DNA Learning Platform and free books from our friends at Packt.
How to Join Power BI Challenge 24
Please visit the forum to review the brief and download all the files needed for the challenge. Email the completed PBIX file to [email protected] and [email protected].
Provide a quick summary with an insightful, instructional explanation of how you constructed the report and what you learned in the challenge.
You can also take an image of your report and post it to the Enterprise Challenges Group with the following tags: #EDNADataChallenge #EDNASportFootballSoccer.
Submission Of Entries
To be considered for the challenge, we will be accepting entries until 11:59pm BTS (UK Time) on Friday, 02 December 2022. Good luck, and we look forward to receiving your reports!
All the best,
Enterprise DNA Team