There were so many amazing submissions in the recently concluded Enterprise DNA Challenge 21 that we're excited to see what everyone comes up with as we start the next round.
Previously, we did an analysis of the Enterprise YouTube Channel and received a record-breaking number of 62 entries, 240+ analysis pages, 550+ DAX measures, and 350+ navigation buttons, bookmarks, and tooltips.
Out of those 62 entries, we received submissions from 44 non-subscribers and 40 newcomers. These numbers are proof that you don't have to be a Power BI expert to join these challenges. Quite the opposite, in fact. If you're just starting out in your journey, the best way to learn is to dive in to real-life datasets and get help from the seasoned pros in our community forum.
This time around, we'll find out how we can use Power BI to improve hotel revenue management. So if you're an analyst working for the hospitality or tourism industry, now's your time to shine!
What is Enterprise DNA's Power BI Challenge?
To refresh your memory, the Power BI Challenge is a series of fun and friendly challenges that all started in our Power BI forum. For each challenge, the Enterprise DNA team releases a scenario simulating what you are likely to face in a particular industry.
The objective is to assess this scenario and using the dataset provided, come up with an actionable report that provides insights and solutions that meet the requirements set out in the brief. The entire community will then come together to review the project and discuss solutions on the forum.
We have covered a lot of real-life scenarios from various industries and niches ranging from Formula 1 to COVID-19 reporting. The sheer amount of support and participation we get for every challenge we post is a huge testament to how flexible and dynamic Power BI truly is.
What do I get from joining?
Here are the categories of winners for the Power BI Challenge 22:
Experts & Previous Winners – entries from the Enterprise DNA experts and previous winners of the challenges
Overall Winner – all entries are eligible, excluding experts and previous winners
First Time Participant Winner – open to any Enterprise DNA subscriber who is taking part in the challenge for the first time
Winning Non-Member – open to entries who are not currently Enterprise DNA subscribers
Out of the Box Thinker – for those submissions that dig deep into their analysis
Creative Head – for those who bring a lot of effort into their report and analysis
The overall winner gets a free Enterprise DNA On-Demand subscription, a chance to be featured at the Enterprise DNA Showcase page, as well as a chance to present their findings in one of our webinars. All category winners also stand to get free subscriptions to the Enterprise DNA On-Demand platform.
And even if you don't win any of these categories, you still have a lot to gain from joining the challenge:
Get your work showcased across the Enterprise DNA network
Receive personalized feedback on your development
Get experience across different industries
Build an awesome analytics portfolio for prospective employers
Power BI Challenge 22 Brief
If you want to start working on your submission, check out the details for Power BI Challenge 22 here. Revenue management involves the use of data analytics to help those in the hotel industry predict their customers' behavior. The resulting insights are then utilized to make better decisions in regards to pricing, marketing, and distribution strategies.
Your role as a data analyst is to prepare a deep-dive analysis on the hotel revenue management dataset provided in the brief.
Your report will not be limited by the number of pages or techniques. Feel free to use all the techniques at your disposal – tooltips, drill throughs, page navigations, etc.
Also take note of these client requirements when making the report:
Client does not want an Intro Page but suggests having vertical/horizontal navigation bars or pop-up menu.
No scrollable or fancy shape reports. Preferred size is 16:9.
Client likes KPIs.
Client is very much interested in a time analysis exploration (Seasonality, Festive Periods, Weekday vs Weekend).
Client is interested in an agent performance overview.
Client is interested in customer type information (family with children, single, or couple visitors).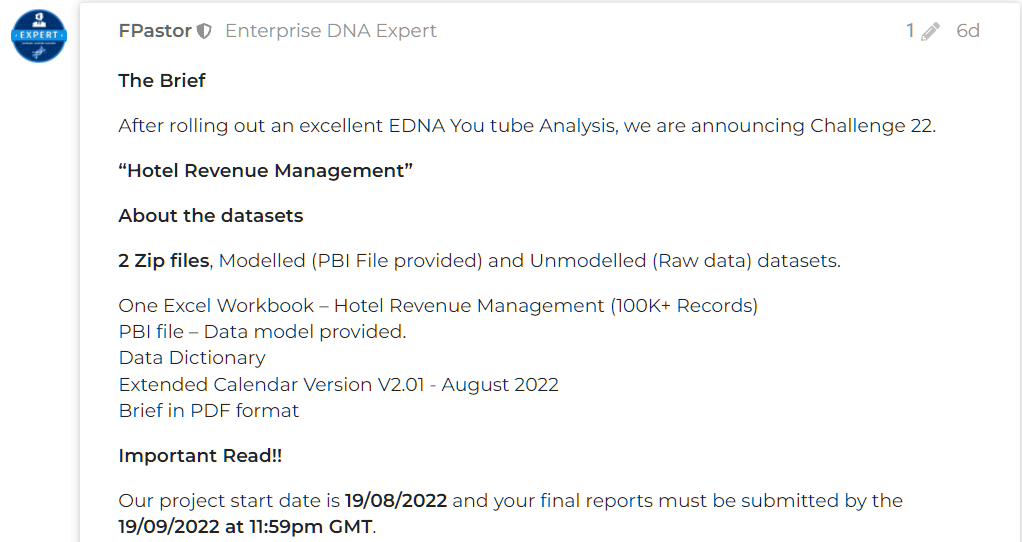 How to Join Power BI Challenge 22
To join, download the pbix files from the forum and start working on your entry. You can check out the ongoing forum discussions, or join our LinkedIn group to network with like-minded peers.
Once you're done with the report, please do the following steps to make your entry count:
Email the pbix file to [email protected]
Include a brief description of the report in your submission.
If you're a subscriber, post the screenshot and the Publish to Web URL of your report in the Enterprise DNA forum.
If you're not a subscriber, post the screenshot and the Publish to Web URL of your report in LinkedIn.
Tag Enterprise DNA and say, "I accepted the Enterprise DNA challenge." Use the hashtags: #EDNADataChallenges #EDNAHotelRevenueManagement in the social media post.
Please take note of these four pillars of a great Power BI report: data transformation, data modeling, DAX calculations, and data visualizations. These criteria will be used for judging who wins each round.

The deadline for the submission of entries is on September 19, 2022, 11:59pm GMT. We hope to see you in the forum, and look forward to seeing your entry! For questions or clarifications about the challenge, please do not hesitate to ask us.
All the best,
Enterprise DNA team