Staying true to our promise of having at least two new courses every month, we're releasing two new Enterprise DNA masterclasses – Power Apps and Power Automate – which contain 15 hours' worth of learning materials. Both classes are taught by the newest addition to our Enterprise DNA Experts, Henry Habib.
What makes this release extremely exciting is the fact that this is our first time to venture outside of Power BI and dive into the Microsoft Power Platform. This means that members who attend this class can expand their knowledge further and go beyond what Power BI can do.
The Microsoft Power Platform
Power BI is such a dynamic tool, giving us the chance to deliver deep insights across various industries. It's not an all-in-one business tool though, and presents some gaps for those who want to do more.
This is why it could also be necessary for some to master the entire Microsoft Power Platform, a collective term used to refer to three products that make data more accessible. These three products are Power BI, Power Apps, and Power Automate.
We all know how critical data has become even for end users, business owners, and other individuals who have little background in tech and data analysis. The Power Platform aims to let non-technical end users interpret and analyze data, and even possibly automate and visualize data themselves.
By jumping from Power BI to the full Power Platform, Enterprise DNA can shift from merely creating reports and visualizations to creating full-blown enterprise application. When used together, this power trio's seamless integrative nature provides limitless possibilities. That's why it's perfect that we're releasing these two new Enterprise DNA Masterclasses within the same month.
The Power Apps Masterclass
Power Apps allow users to create custom apps through a simple "point and click" approach, requiring little to no coding background. It allows users to work with data that come from various sources, making it the perfect course for those who work with a lot of data but are not that familiar with the usual app development process.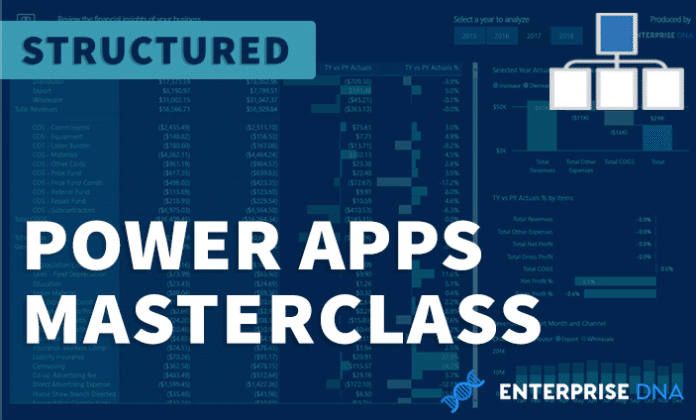 Here's what you'll expect to learn from the course:
The features and capabilities of Power Apps
Step-by-step process on how to build data-driven business solutions without the use of coding
How to use cutting-edge tools for business and productivity apps
How to boost productivity by streamlining business processes that use common applications
How to integrate Power Apps into Power BI and vice versa
The course comes with over 7 hours of training videos, plus 4 sets of demo data that students can use for practical application.
The Power Automate Masterclass
Power Automate, previously known as Microsoft Flow, lets users create automated workflows running among Microsoft services and third-party applications. Its biggest value comes from the amount of time you save using it. It prevents repetitive tasks and can streamline your entire process.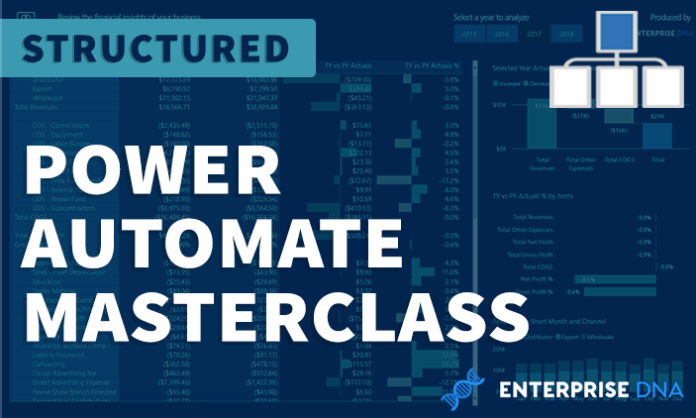 Jarrett Moore, another Enterprise DNA Expert, says that he actually saves over 6 weeks a year because of Power Automate. He says that his usual workflow consists of gathering new data and loading it into his Power BI reports, which he does on a weekly basis. Since using Power Automate, he has made this entire process a lot shorter and less tedious.
Here's what you can expect to learn from the course:
The features and capabilities of Power Automate
How to perform connect operations between different applications
How to create logical workflows built for unique business operations
How to streamline existing business processes without the need for coding
How to share and monitor operation processes
How to automate current processes
The course comes with over 8 hours of training videos.
The Enterprise DNA Education Platform
The Enterprise DNA Education Platform helps Power BI users master report development, data analysis, and insight delivery. With these additions to our courses, they can also branch out of Power BI and tap into the two other Microsoft products that could help them take their skills to the next level.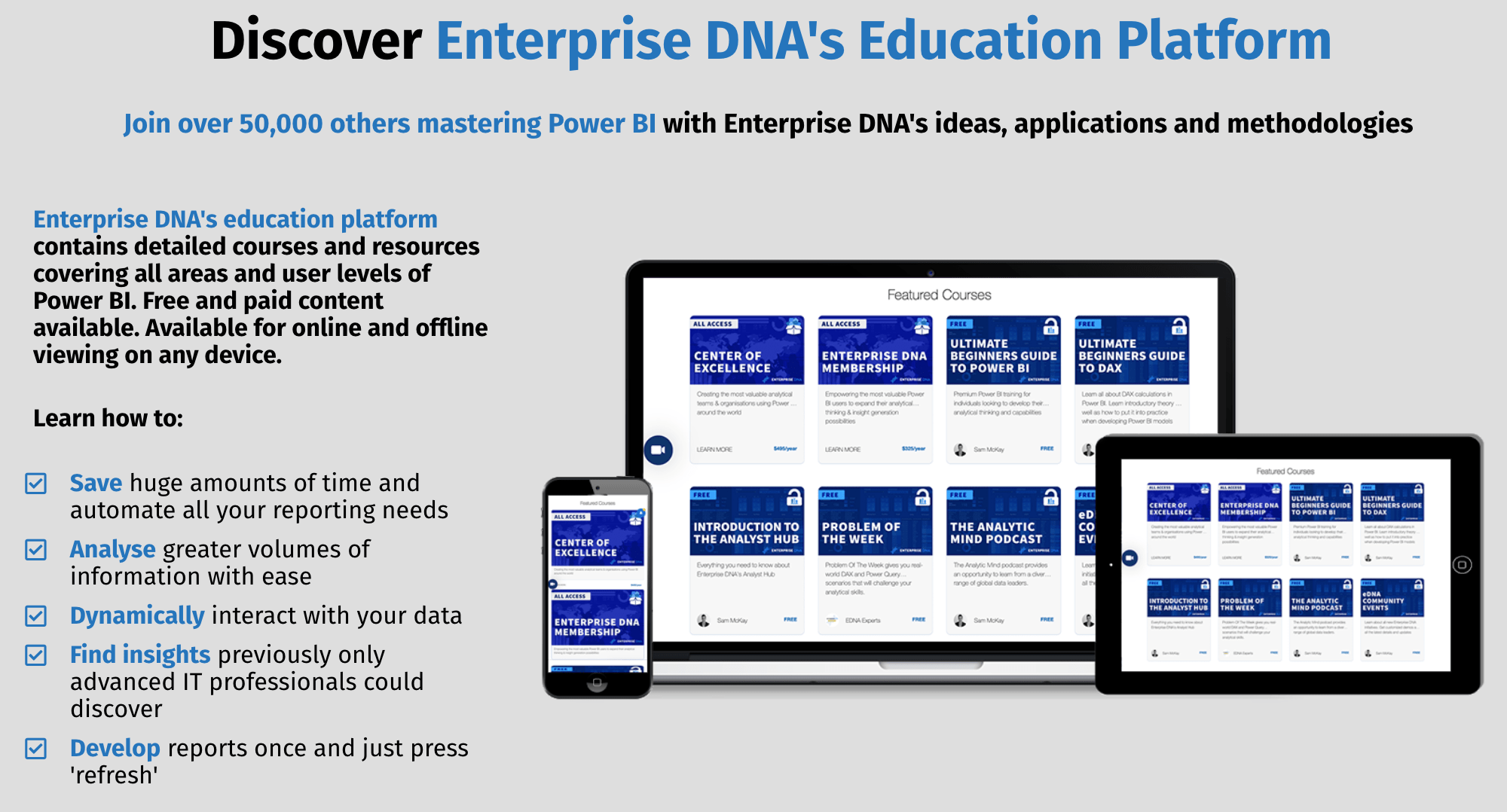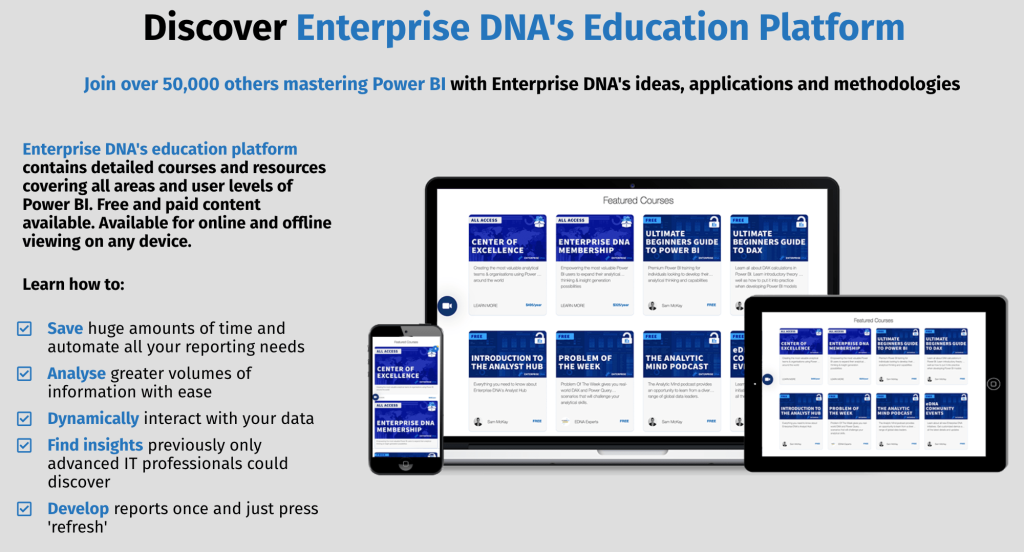 The platform has a combination of free and paid content, with the option of choosing your own path depending on what skillsets you want to focus on more.
Check out the Enterprise DNA Education Platform today not just to develop your Power BI skills, but also to explore what the entire Microsoft Power Platform can do for you and your data. You can start with these courses from Henry or you can jump to our more basic courses and move forward from there.
You can also grab this opportunity to get your Enterprise DNA Membership and maximize the huge amount of resources available for you. Not only will a membership give you access to all courses in the portal, it also allows you to unlock a number of member-exclusive events.
All the best,
Enterprise DNA Team