Power BI remains true to its name in the sense that it is one of the most powerful tools anyone can use for data reporting, visualization, analysis, and a lot more.
For some time now we've thought there must be a way for analysts to scale their development work in Power BI. Not only that, there should be a better way for individuals and teams to collaborate around their analytical work happening in Power BI.
That's why we came up with the Enterprise DNA Analyst Hub.

We are currently developing the web-based application (first release due out in mid October) but already have an entire UI built and ready to showcase. You can learn more at the link below.

Analyst Hub
What Is The Analyst Hub?
Imagine improving the speed and effectiveness of your development work in Power BI by a factor of 3-5x. That's what we believe we can enable with the Analyst Hub, and we're going innovate until we get to those sort of improvements.
The Analyst Hub is a web-based platform that delivers all the tools you'll ever need to enhance your Power BI experience and development work. It's also community-based with a social network experience. Where users can share and collaborate on a range of Power BI specific tools and applications.
Think of it as a one-stop shop for all things Power BI. It will bring together a range of supporting applications for you to use to create amazing and insightful reports and dashboards.
What You Can Do In The Analyst Hub
Here's a current list of attributes that will be included in our first launch of the application.
Log in and sign up for your own individual profile within the app
Dive into individual apps within our app center
Quickly navigate around different apps tailored to supporting Power BI development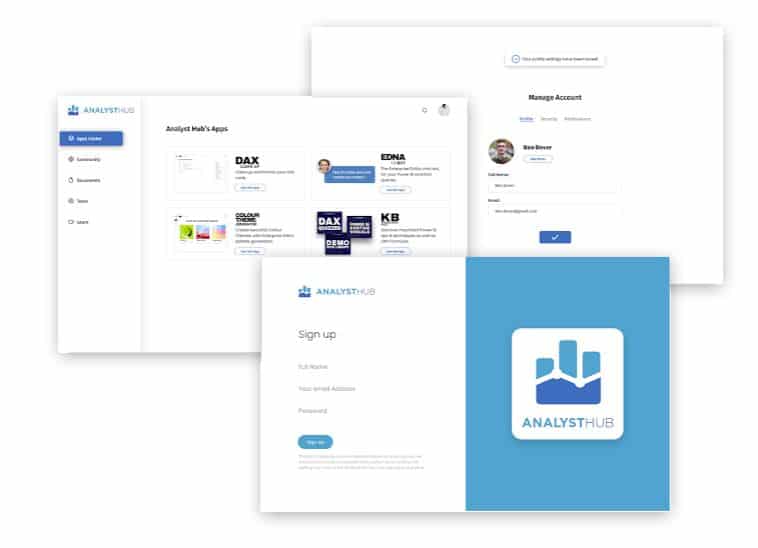 Format your formulas with our DAX Clean Up tool
Save your formulas and DAX measures to your personal documents area for future referencing. Save 100s of formula patterns if you like
Edit your formula formats right within the app
Dynamically search through DAX formula information within the app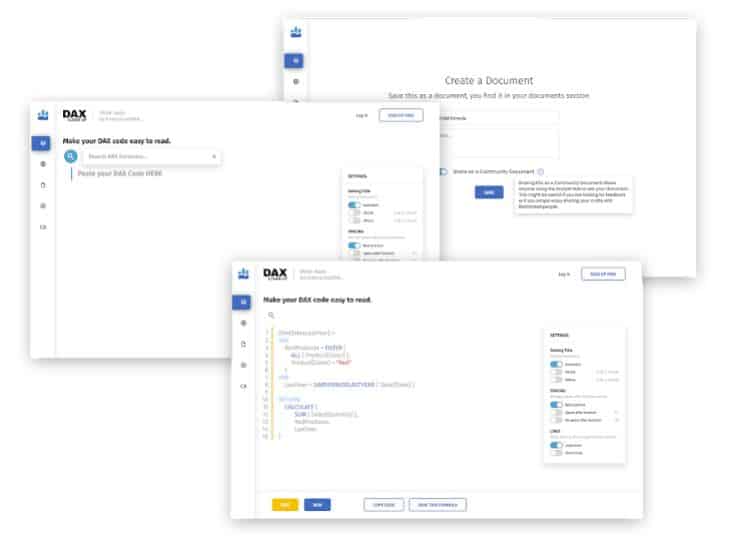 Find any colour theme combinations for your report designs
Save your themes for simple and easy referencing and uploading
Ability to save any individual development resource to your documents section
Edit, revise or share publicly all your documents with the community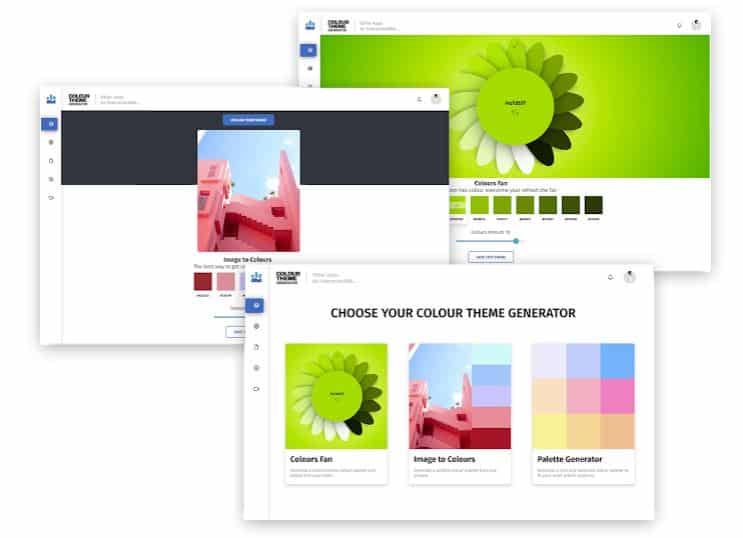 Leverage off others by saving ideas to your own documents within the app
Variety of immersive community features including likes, comments and more
And many more unique features that would take too long to list
We think the community and documents area of the app is our killer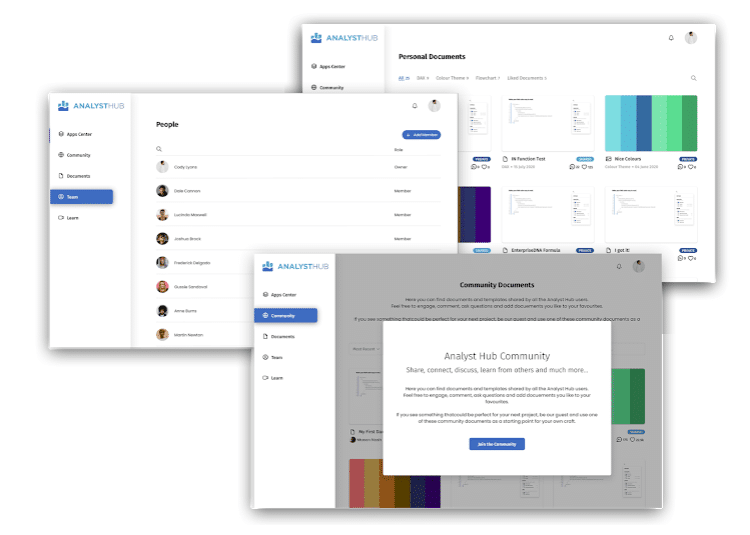 Our two main apps already exists (DAX Clean Up, Colour Theme Generator) but we're wrapping them up into the new Analyst Hub application that allows more sharing and collaboration between other users. You can quickly leverage of others work and use this yourself to speed up your own development.
Here are some more details around the core apps we'll be starting with.
DAX Clean Up Tool
The DAX Clean Up tool makes your DAX codes easier to read. You can format and edit your formula directly from the app. You can even save hundreds of formulas and measures, making it easier to access them the next time you need them.
Unsure about your measure's format or about the data you're referencing? The tool also makes it easy to search for DAX formula information to help you correct any errors and work seamlessly.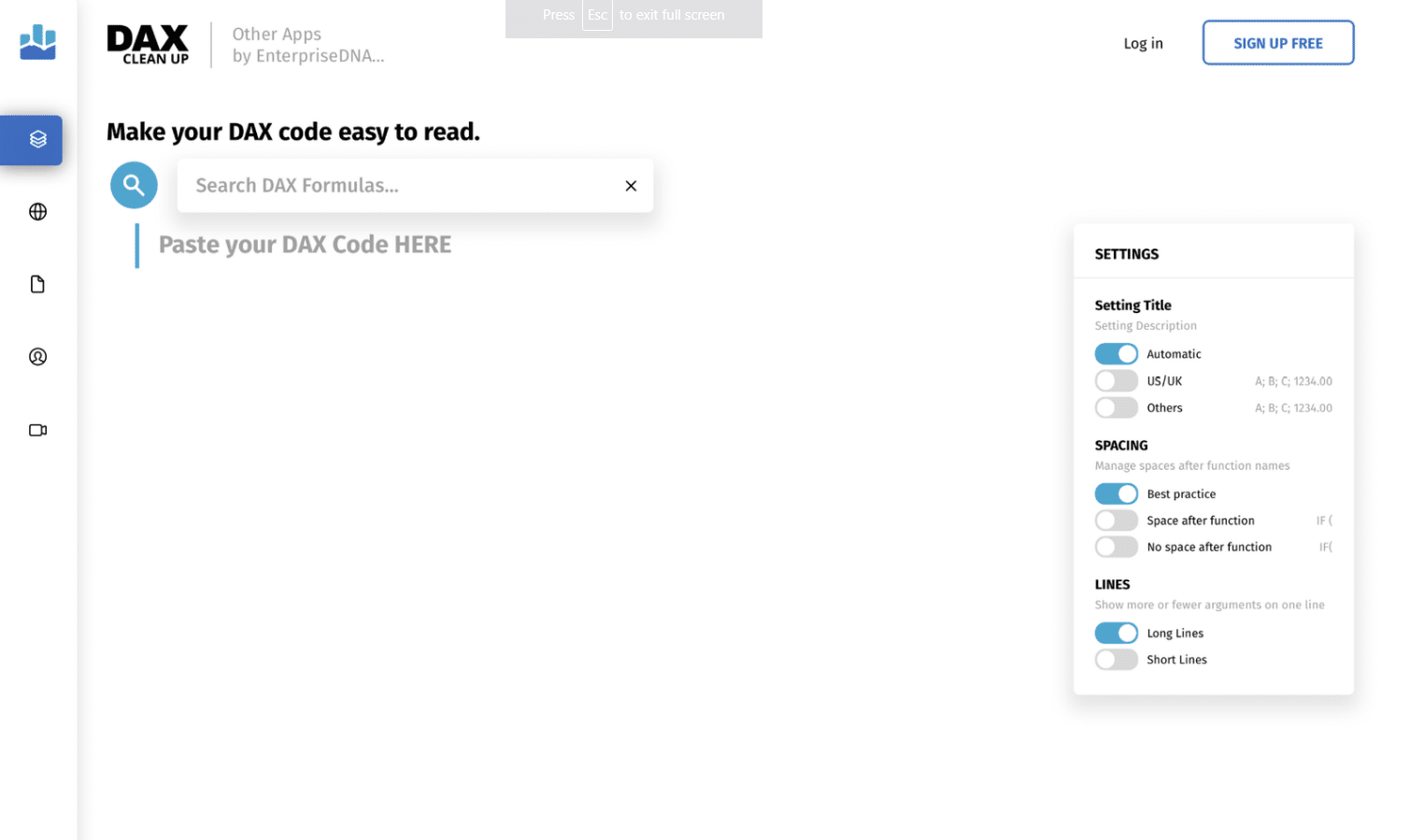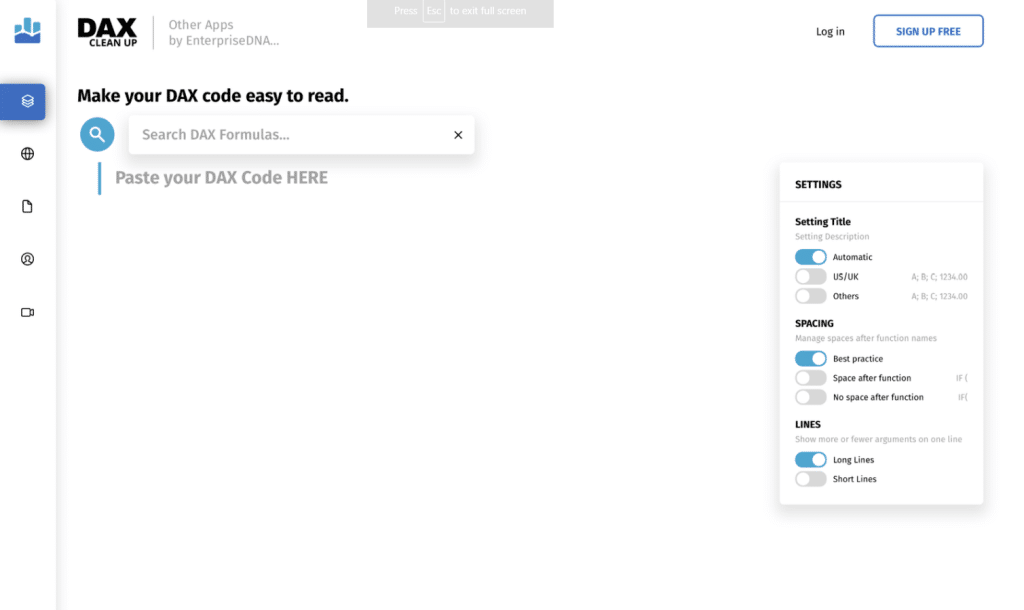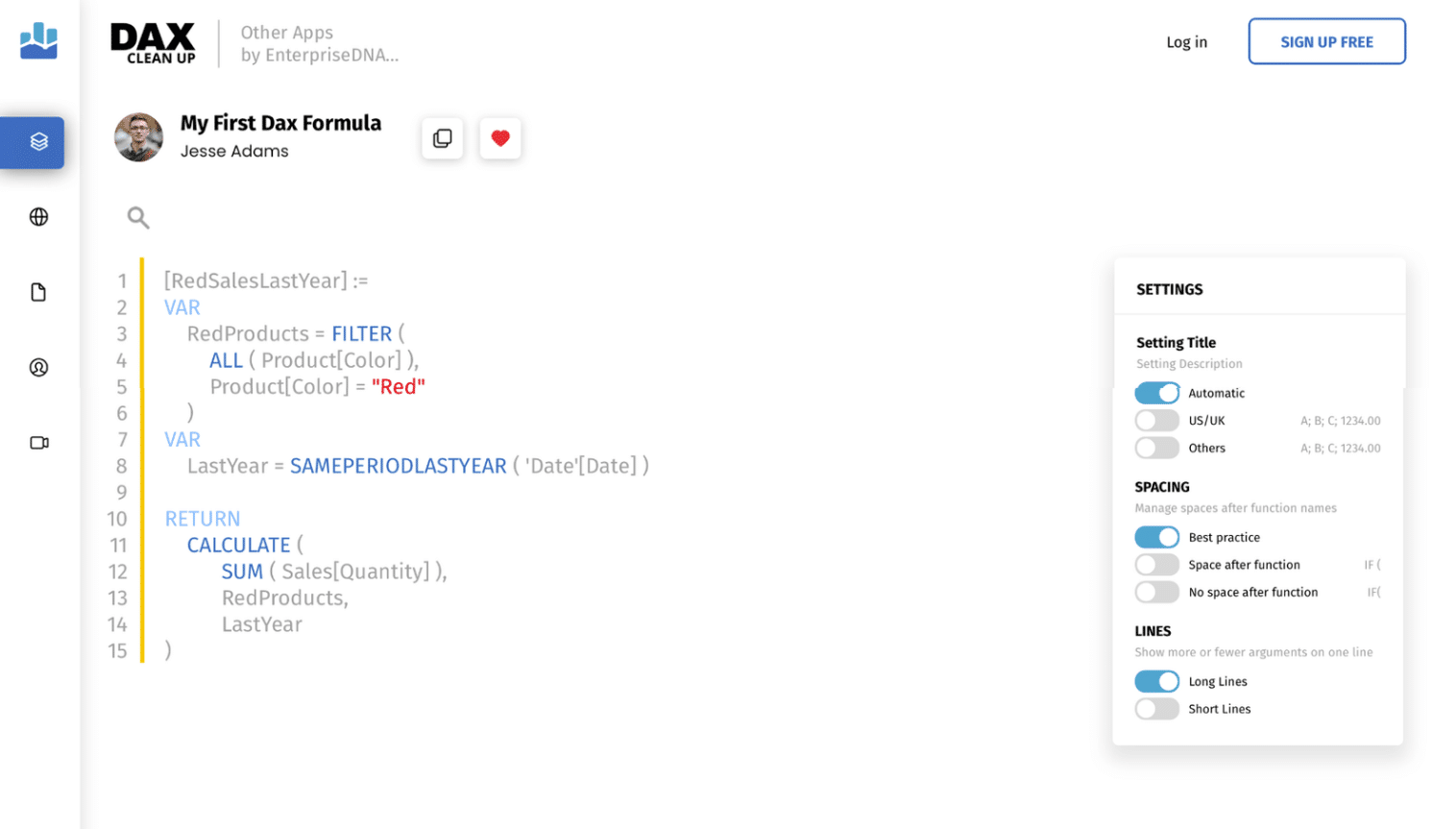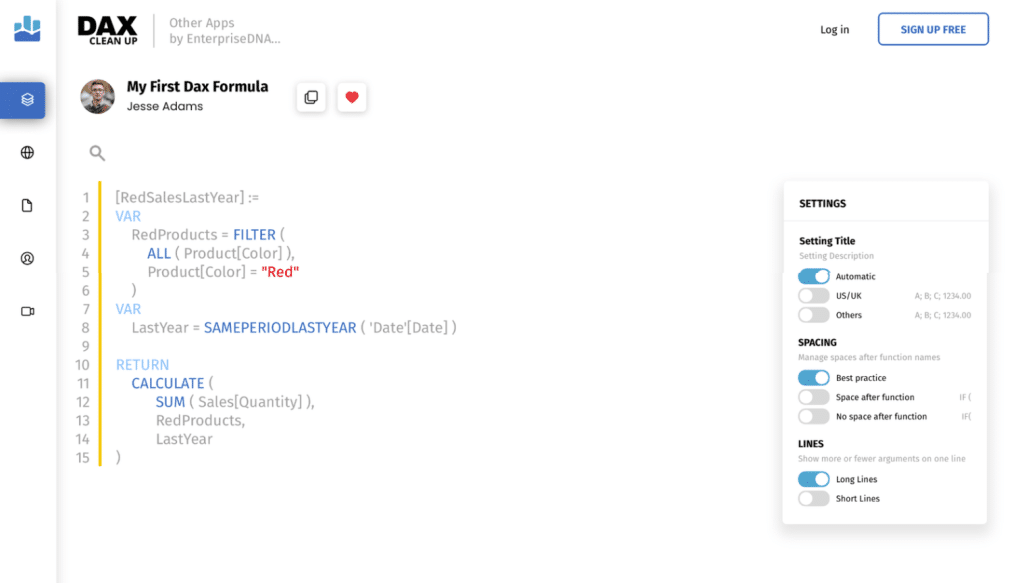 Colour Theme Generator
The way data is presented affects the amount of insights anyone can get out of it. That's why it's also important to choose the right colours that will allow you to compare and contrast data more effectively.
The Colour Theme Generator lets you choose different themes that will make your reports stand out. You can also save those themes and share them with the entire community.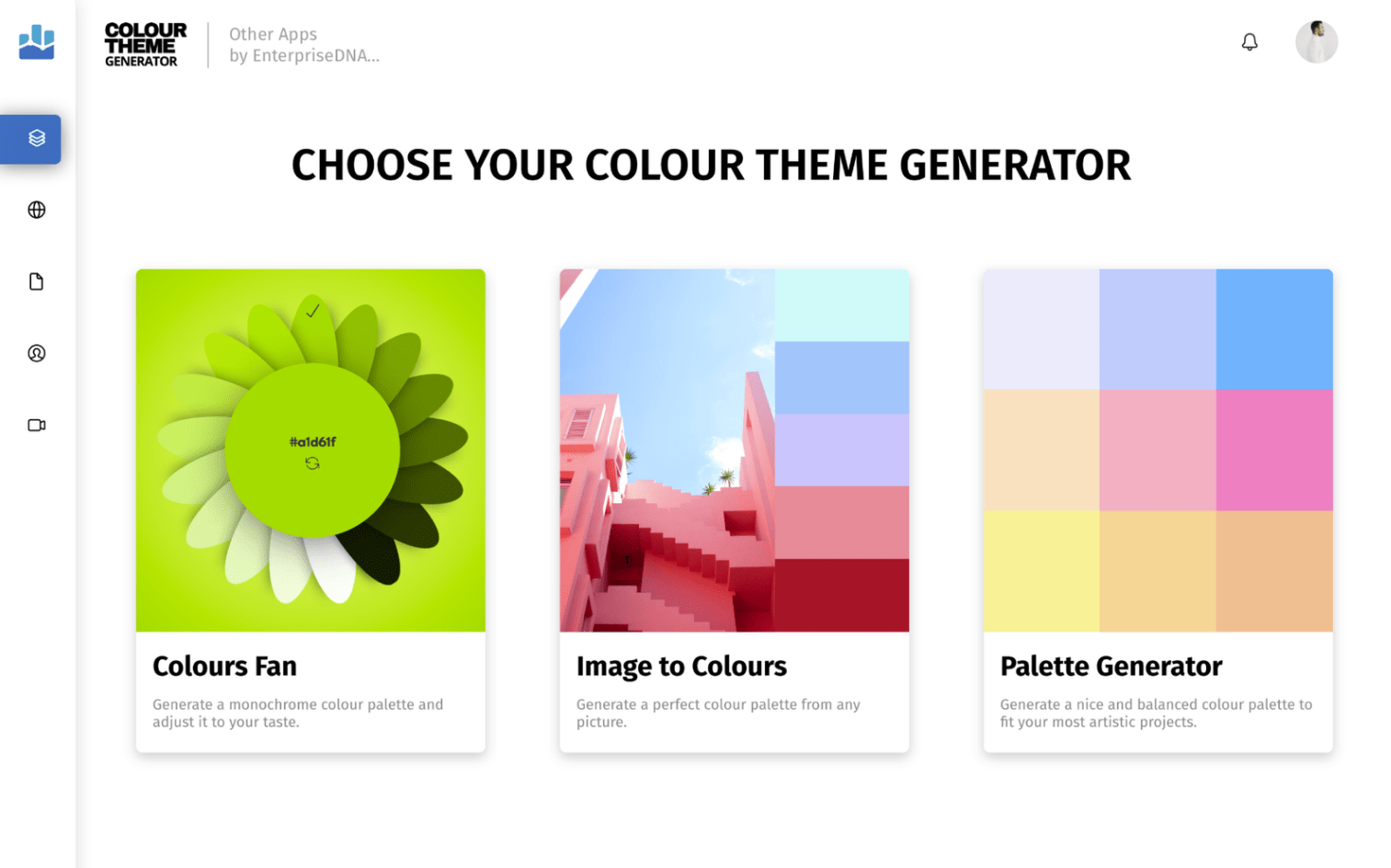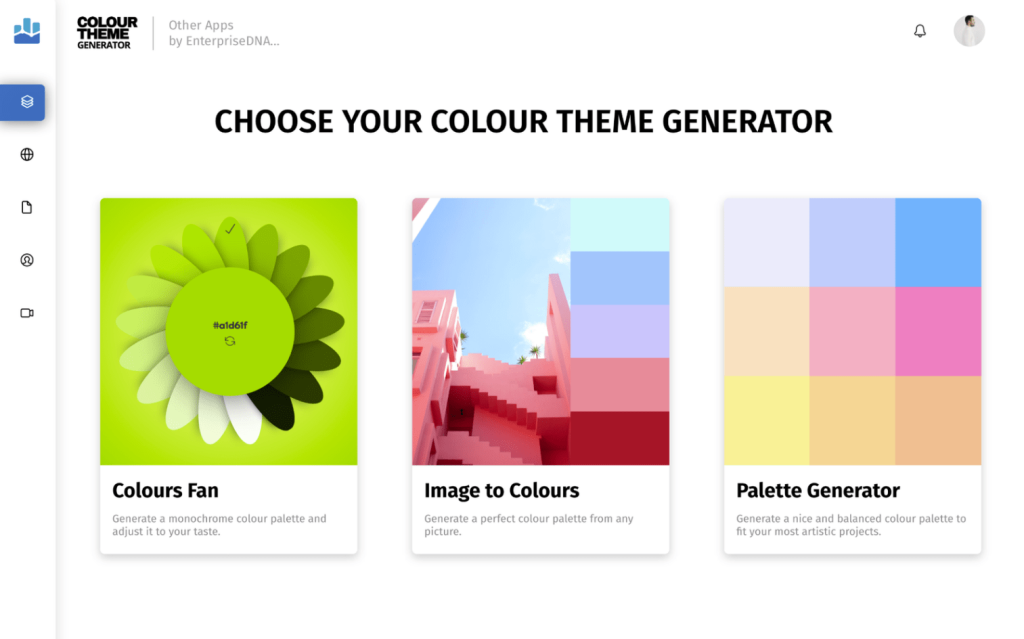 How Does The Social And Collaboration Part Of Analyst Hub Work?
It's about building your Individual Profile.
Think of the Analyst Hub as a social network built specifically for Power BI users. Interact and collaborate with everyone ranging from beginners to experts using your own login and profile.
You can also access the App Center right from your profile, making it easy to tap into all the tools and resources you need.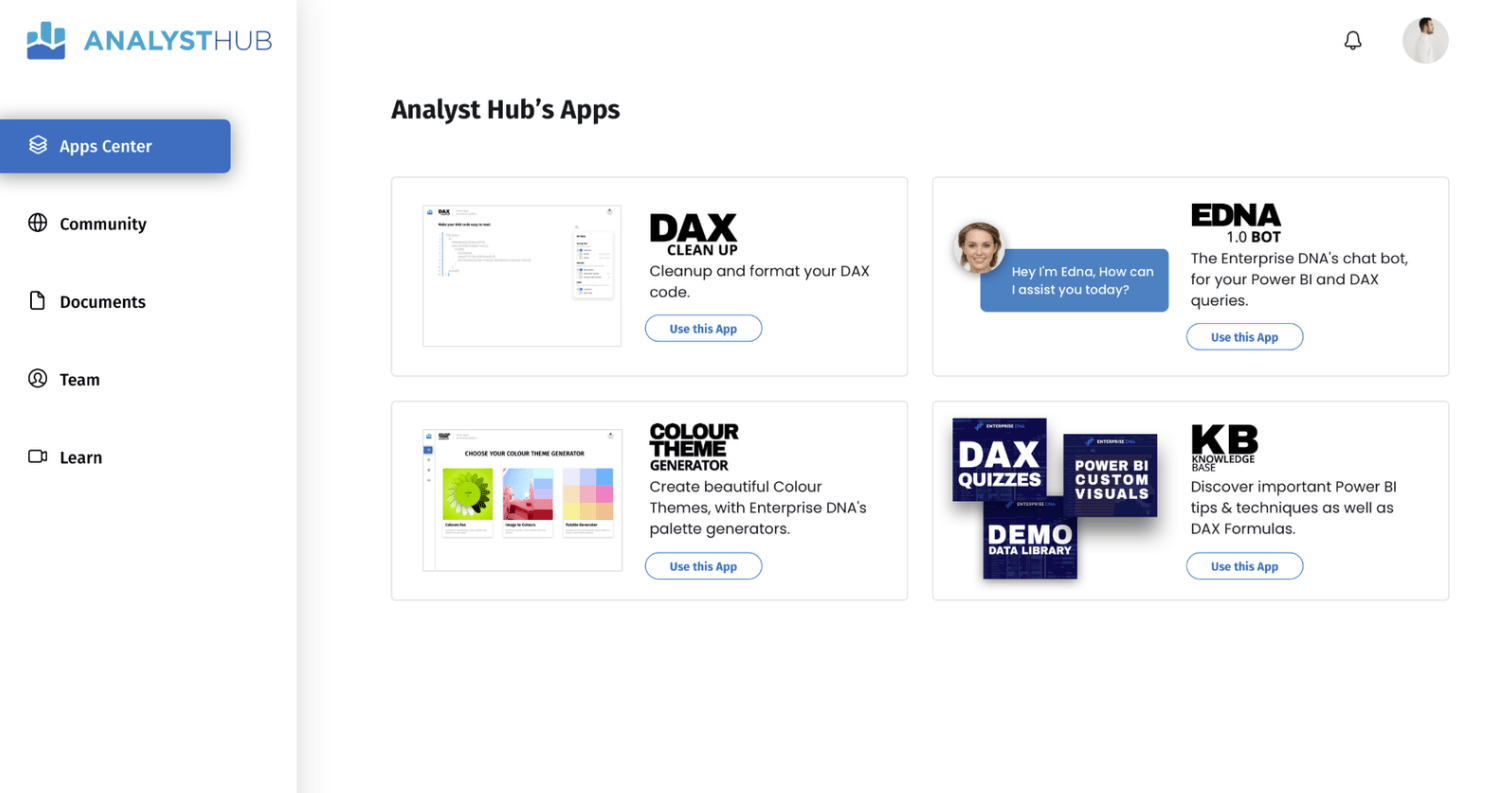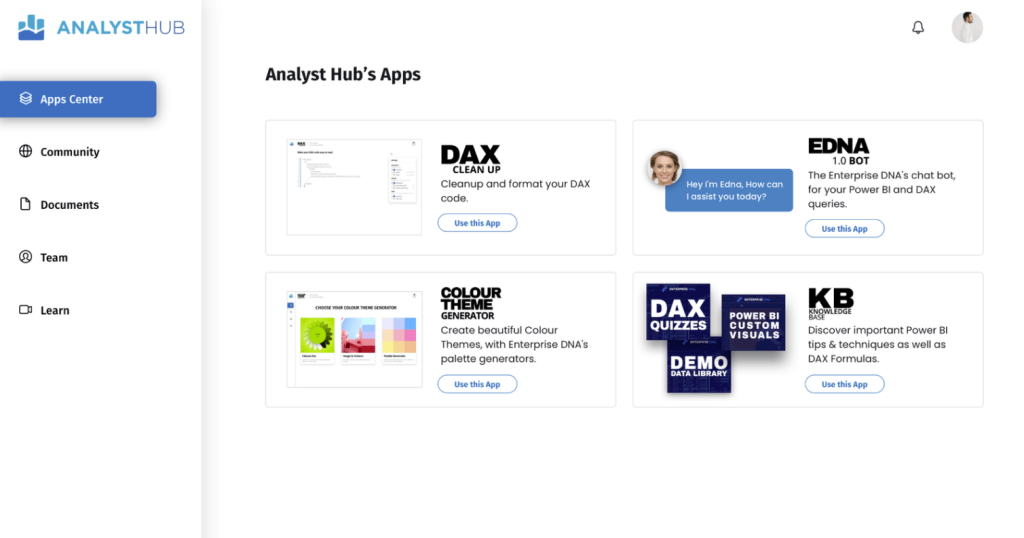 Personal And Community Documents
Each time you save a formula format or a colour theme (or any document from future apps we build), it all gets saved into your personal documents. Think of this as your personal cloud storage, allowing you to compile every personal project you work on, specifically for Power BI.
This also makes it easier for you to share your work with everyone else in the community. After all, we built the Analyst Hub to make working with Power BI an even more collaborative experience.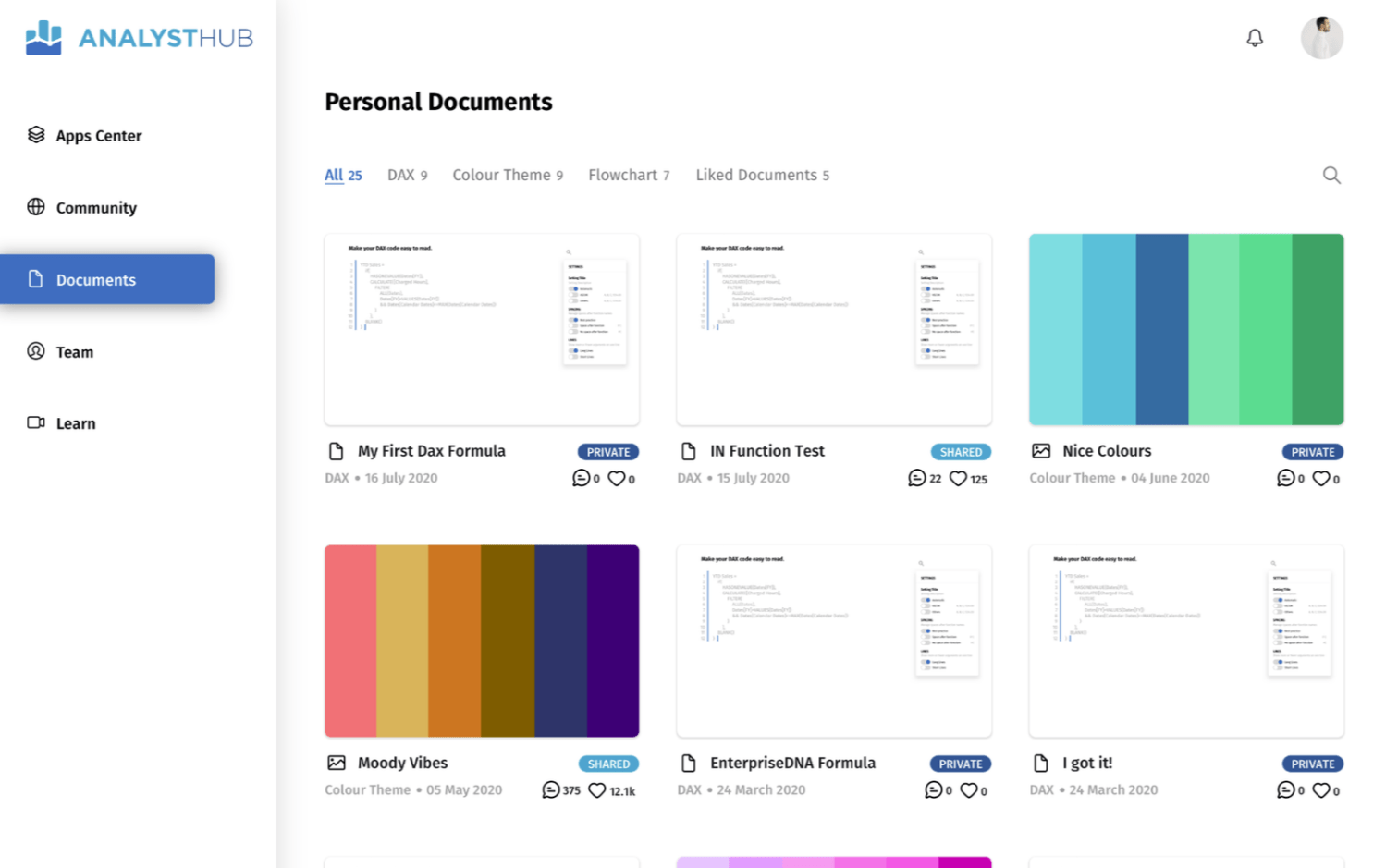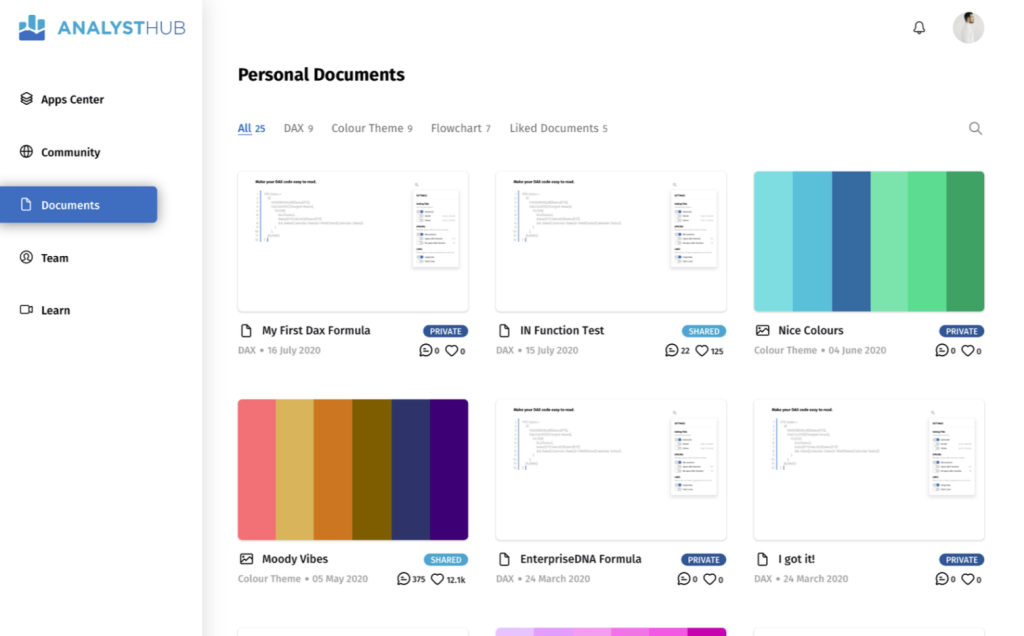 Build The Analyst Hub With Us!
Guess how we came up with the idea for the Analyst Hub? We listed down every single thing a Power BI user needs to level up their experience. Again, this is a tool made by Power BI users for Power BI users. Because you're a Power BI user, you can help us make this tool even bigger and better!
Here are the other tools we'll be adding to the Analyst Hub. The more people helping and joining us on this journey, the faster these will become a reality:
Quickly create design mockups of your Power BI data models using the Data Model Design App
Create mockups of reports and dashboard designs via the Dashboard Wire Framing Tool
Visually represent how your data flows from its original location into Power BI using Data Pipeline Mockups
Plan out your Power BI deployment through the Analytics Planner Tool
Make it easier to format your code in Power Query using the M CODE Format Tool
Collaborate with your own team within your own private virtual location using private collaboration tools
Access to the Analyst Hub is pre-selling now! Be one of the few who will be given early access to the application by mid-October 2020.

You can check out every detail about what we're building, when it's launching and much more at the link below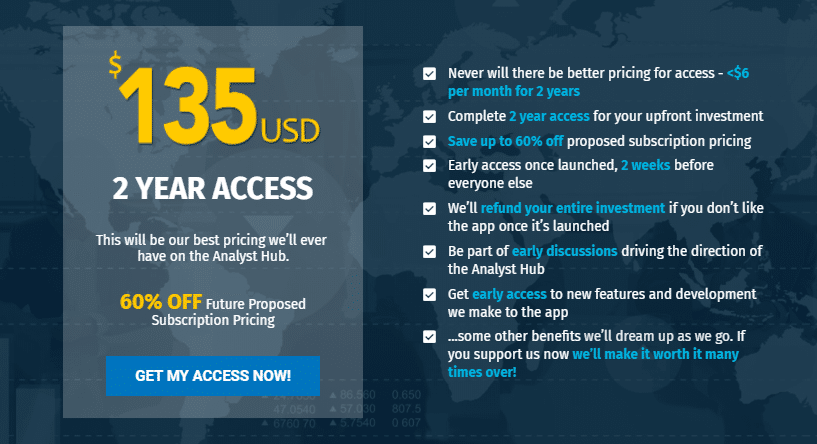 This is the best pricing we'll ever have for the Analyst Hub. And because you get to experience it first, you could also have the power to shape what the Analyst Hub could turn into in the future.
Sign up for the Analyst Hub now!

Enterprise DNA Team