We've concluded our 5th Power BI Challenge and as expected, we received amazing submissions that once again mix up a great dose of insights and a great deal of creativity.
We always aim to cover different industries with each new challenge. So with Challenge #5, we decided to do something that looks into an optician's appointment system.
Power BI Challenges
The bi-weekly Power BI Challenges are open for both members and non-members of Enterprise DNA. Each of the challenges mimic real-life scenarios, pushing participants to find practical (but creative) solutions to the problem at hand.
But these challenges aren't just meant to see who offers the best solution. So far, it has also made the Enterprise DNA community more collaborative, with experts and users sharing tips and best practices to each other based on their submissions. There are more learning opportunities around the platform now more than ever.
With the growing number of submissions for every round, it's getting tougher and tougher to pick a winner. The Enterprise DNA Team uses the 4 key pillars of a great Power BI report — loading and transforming data, data modeling, DAX calculations, and reports and visualizations — to see whose work is better than the others.
What do winners get? Aside from the fact that their work will be showcased in Enterprise DNA Online, the winner will also receive complimentary membership. This means that if you win, you'll gain access to even more resources and tools that will further develop your skills and knowledge.
Challenge #5 Results
This challenge was based on an actual experience that one of our members had. They were brought in as consultants for an optician who wanted to review different appointment management systems. This meant gauging which systems match the optician's needs.
The interesting thing about the given scenario is the fact that the optician did not have any experience with Power BI and thought that using the tool would only complicate the reporting process for her. This means that part of the job is proving that Power BI is easy enough to use and manage.
Of course, most of the submissions readily proved this and showed that Power BI can actually be very user-friendly.
It was interesting that there were so many solutions offered through the different submissions when it came to the appointment management aspect. Some chose to use DAX while others used power query. There were also other discussions around the solutions given in the Forum, proving that this was an interesting challenge for everyone.
The challenge was actually one of the simplest that we've done so far. Haroon admitted that this challenge showed how we sometimes overthink things and go for the complicated, when a problem like this had really simple solutions in the first place.
With the different methods and paths that everybody else chose, one person landed on the winning formula. Congratulations to Melissa, who managed to create a report that did not just deliver amazing insights, it also went well with the expensive appointment management system that the optician planned to use. It was the perfect blend of usability and design.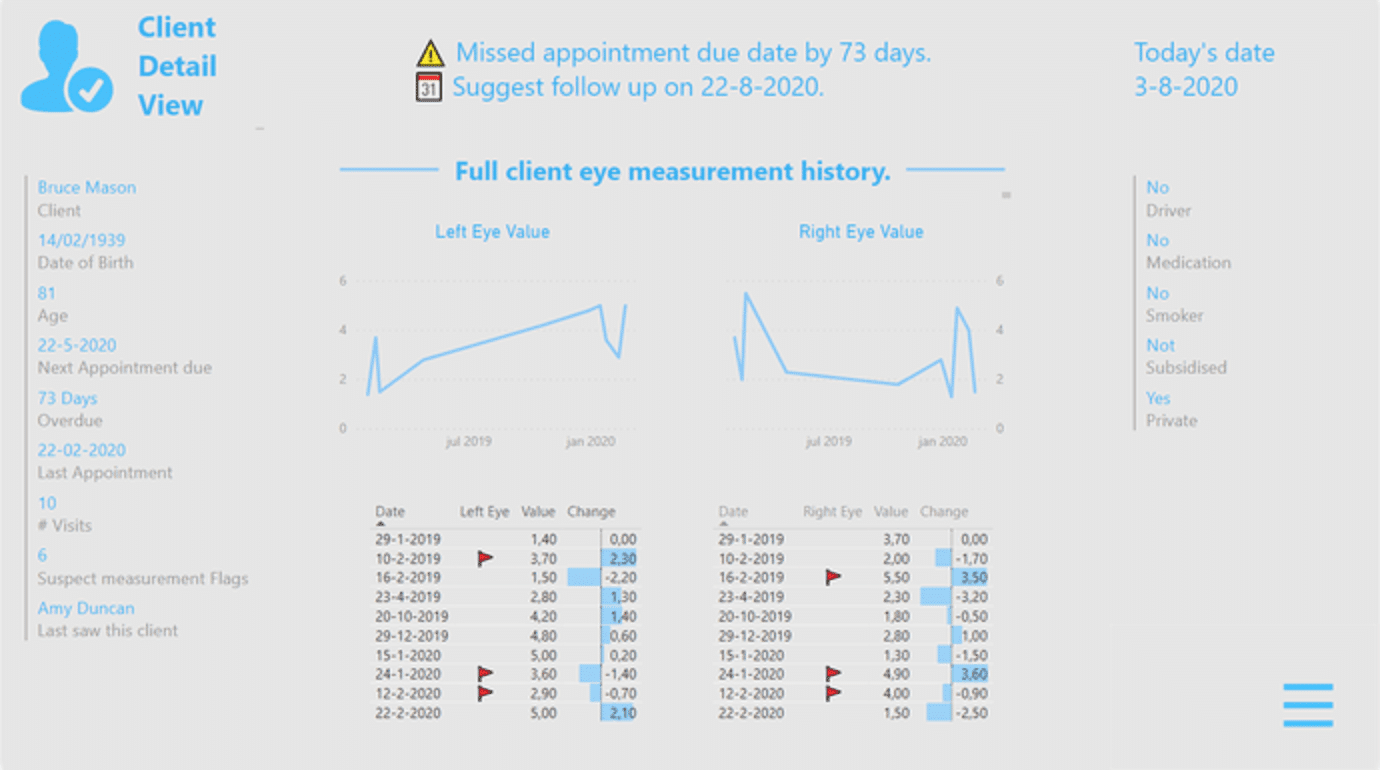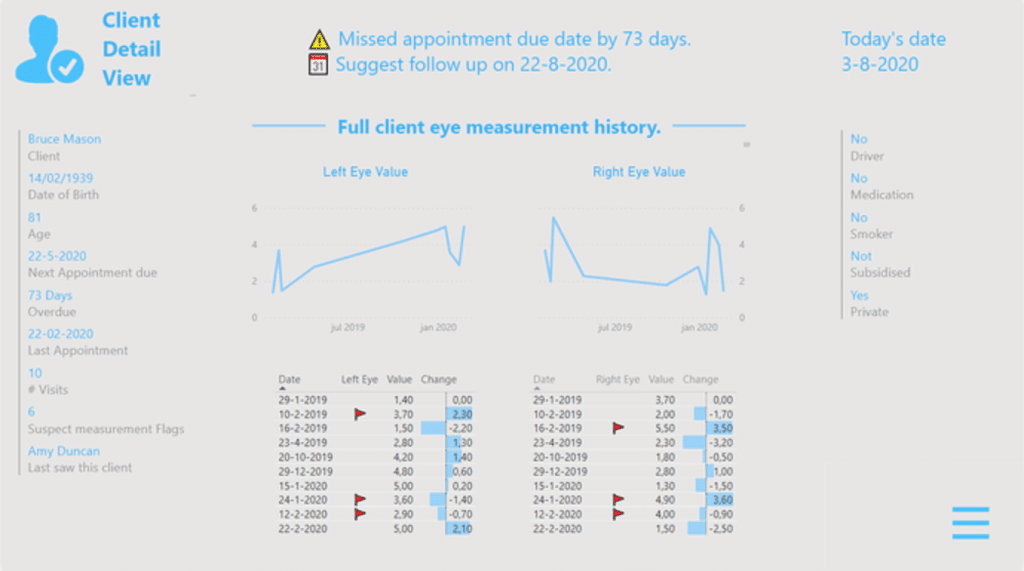 Amazing work, Melissa!
Now, you also know that we added a newcomer category for our Power BI Challenges. So I would also like to congratulate Alvi on a great submission that, as with Melissa's work, also brilliantly combined creativity and substance in a single submission!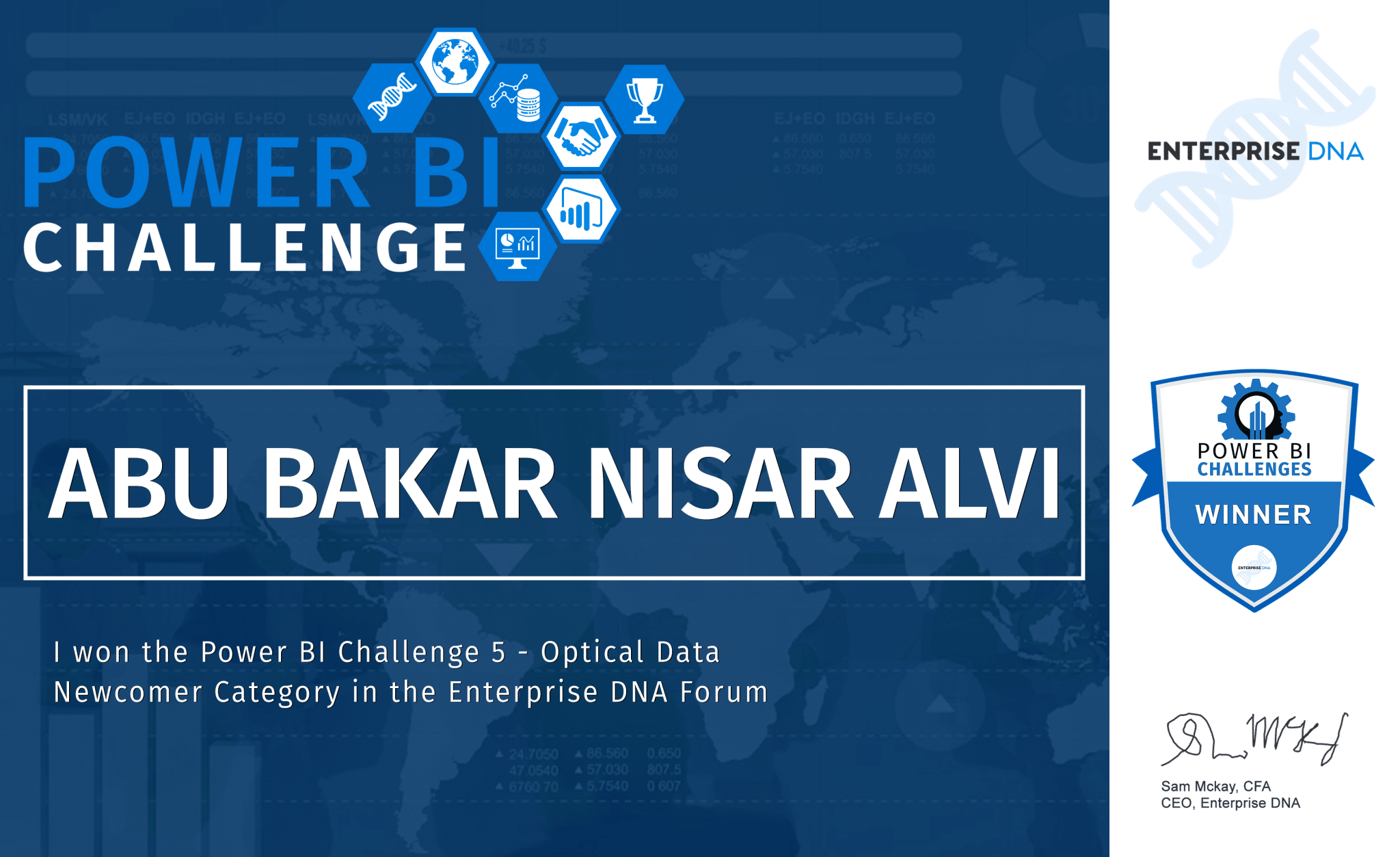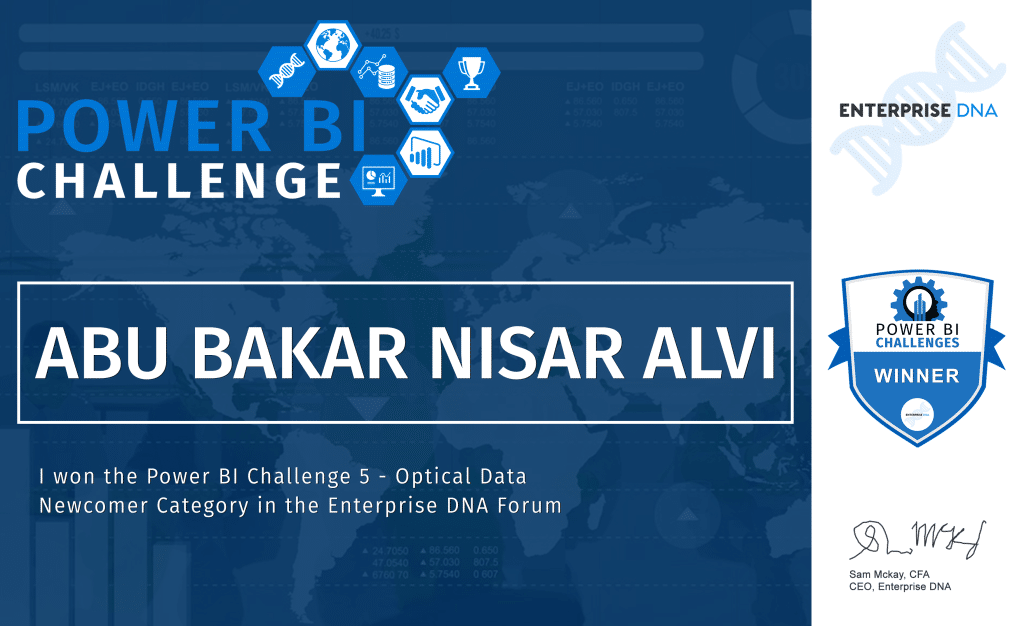 Alvi's submission was cleanly laid out, making it easier to review the data being presented. The simplicity of the design also allows anybody to immediately zero in on the information being presented.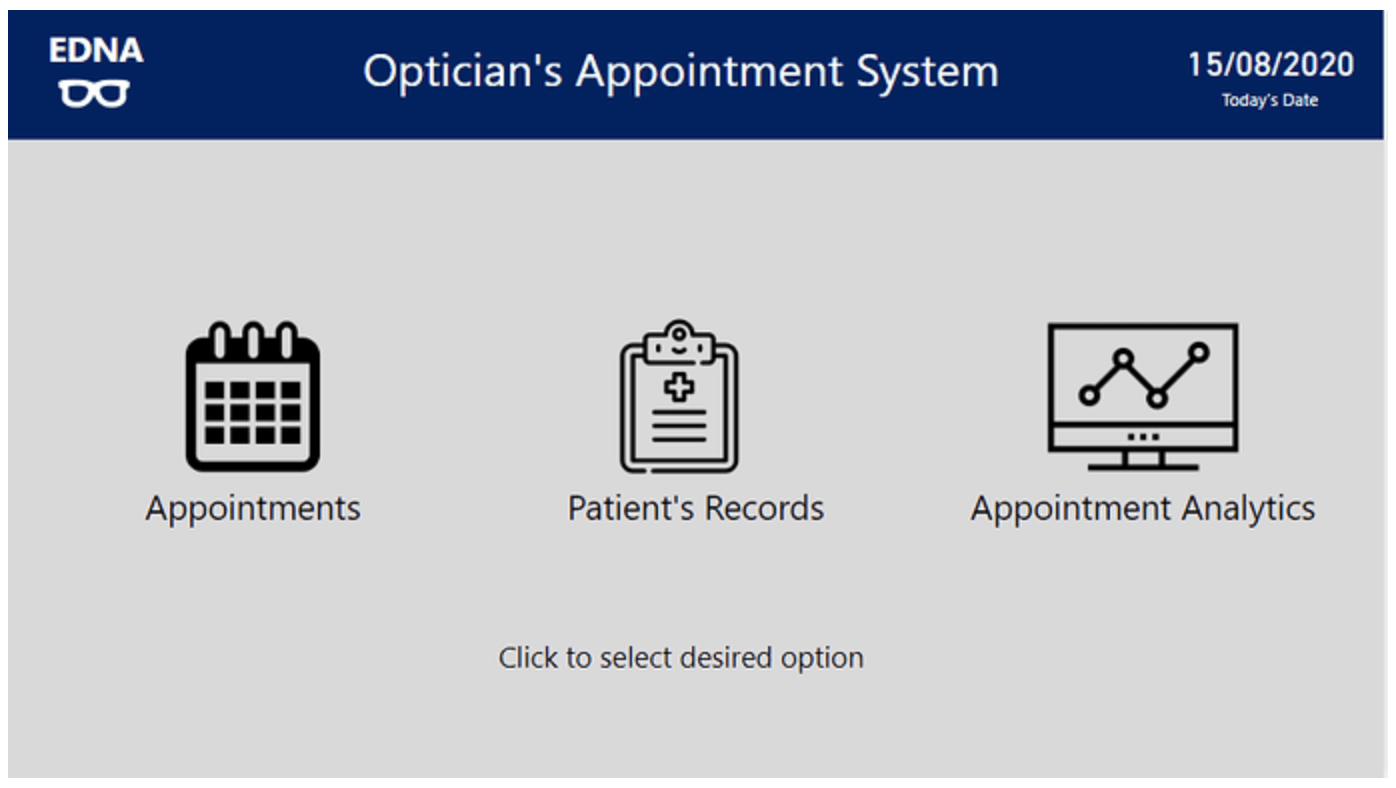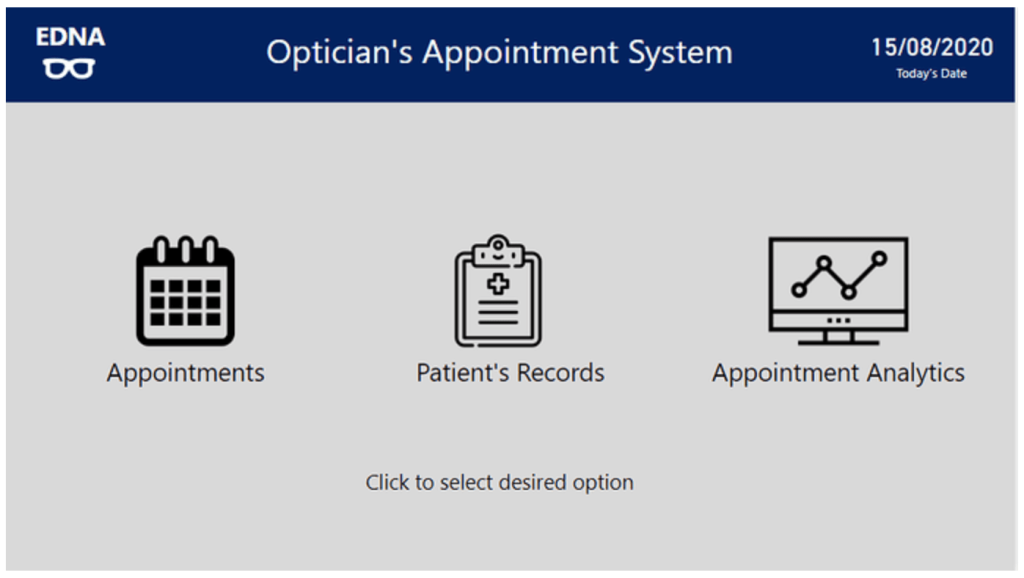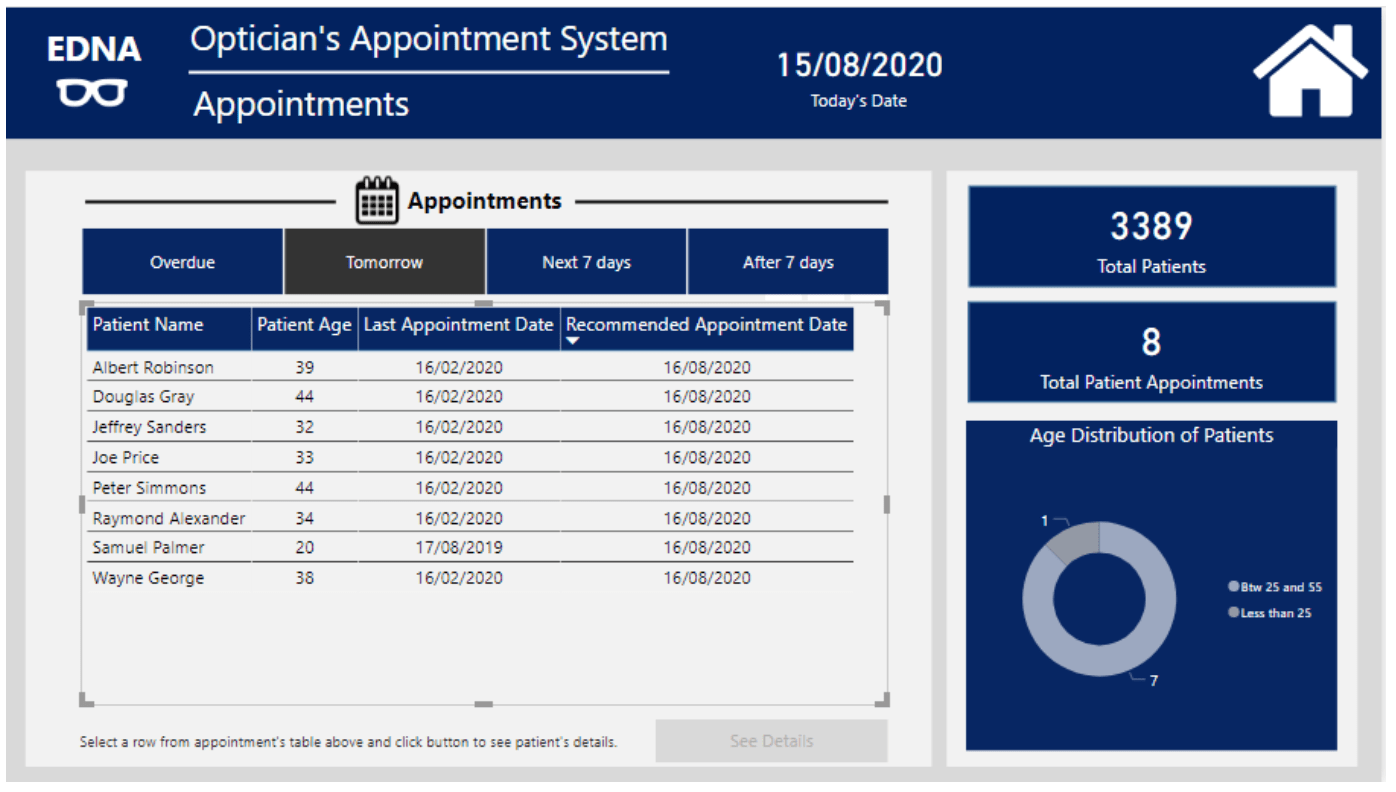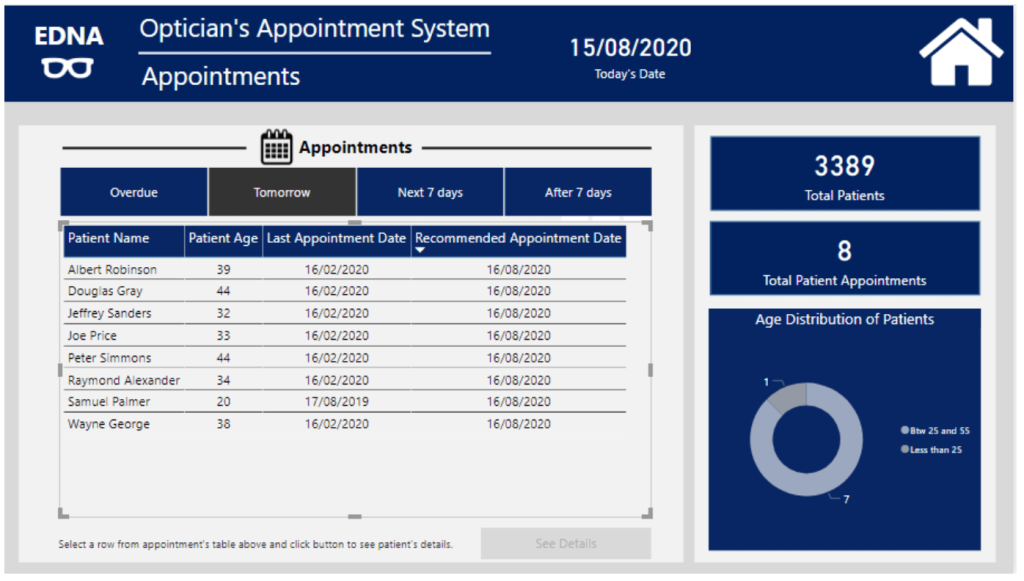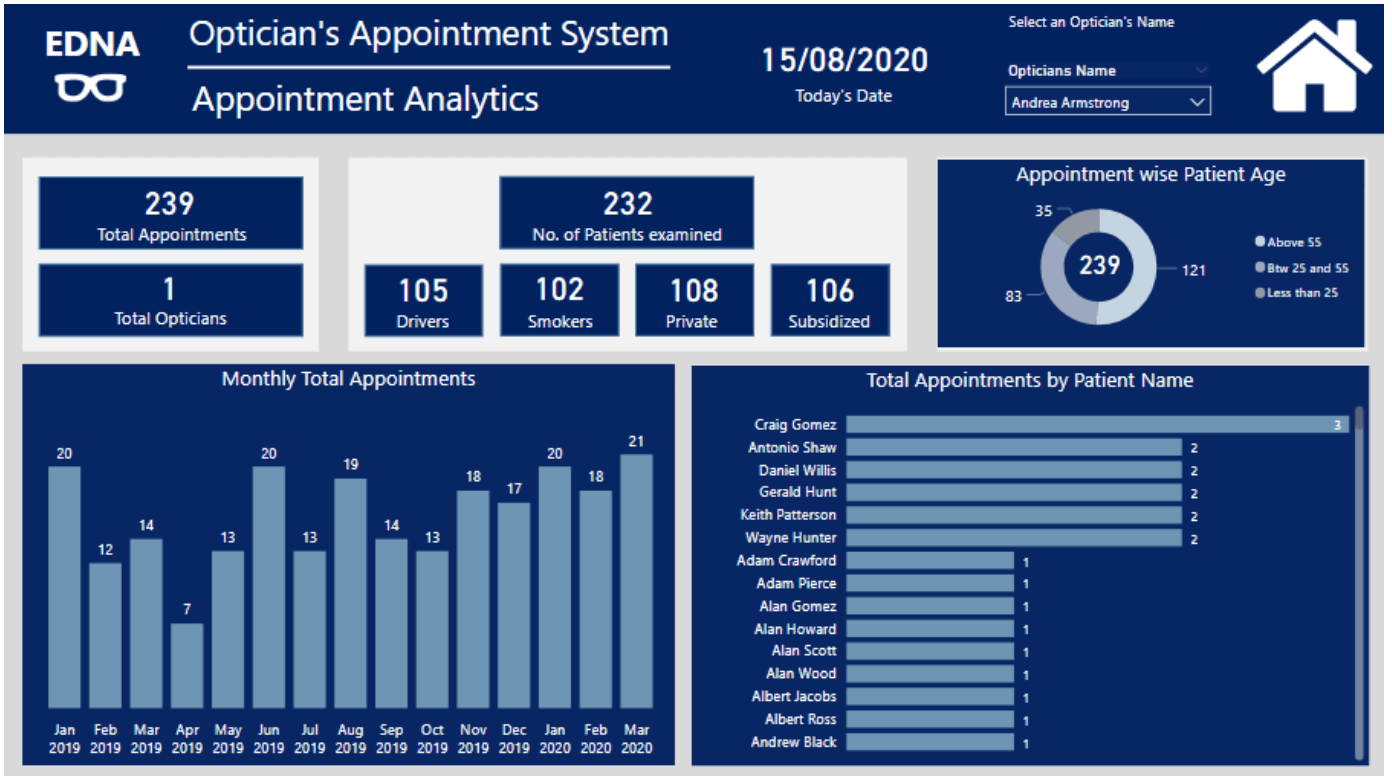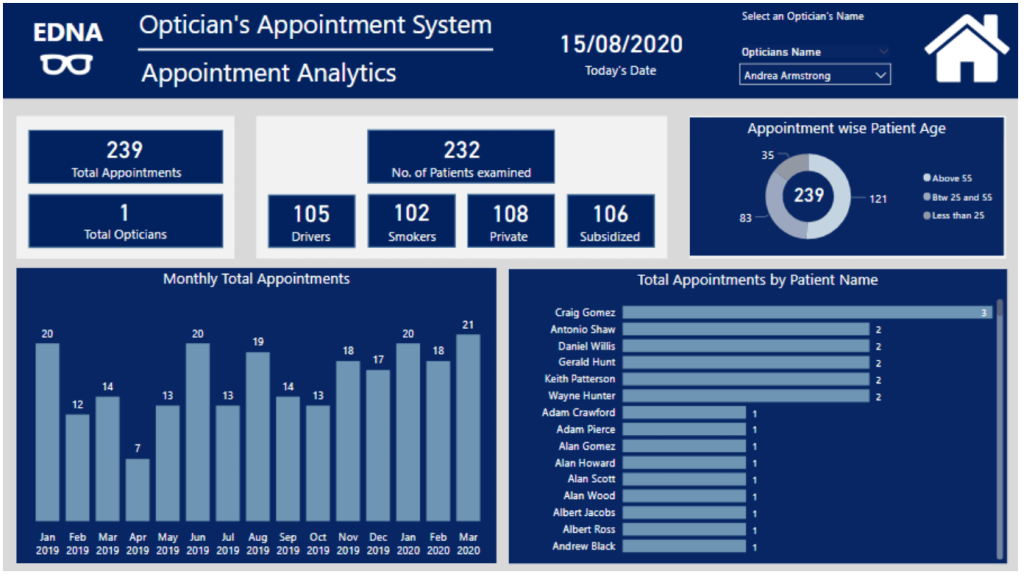 Also, we started inviting non-members to participate in our challenges last month, and the turnout has been great so far. For this challenge, the winning entry from a non-member comes from Paul Ross.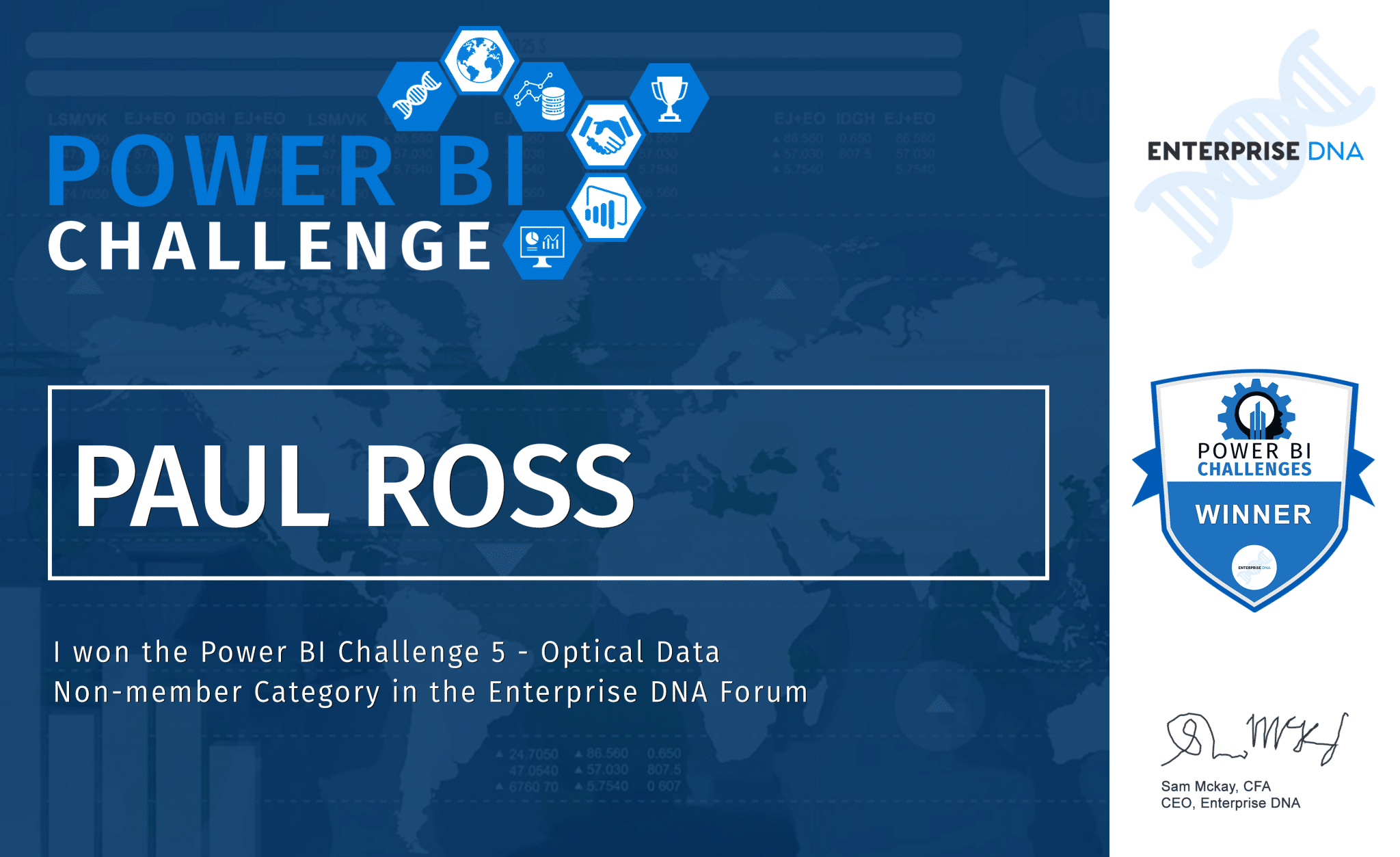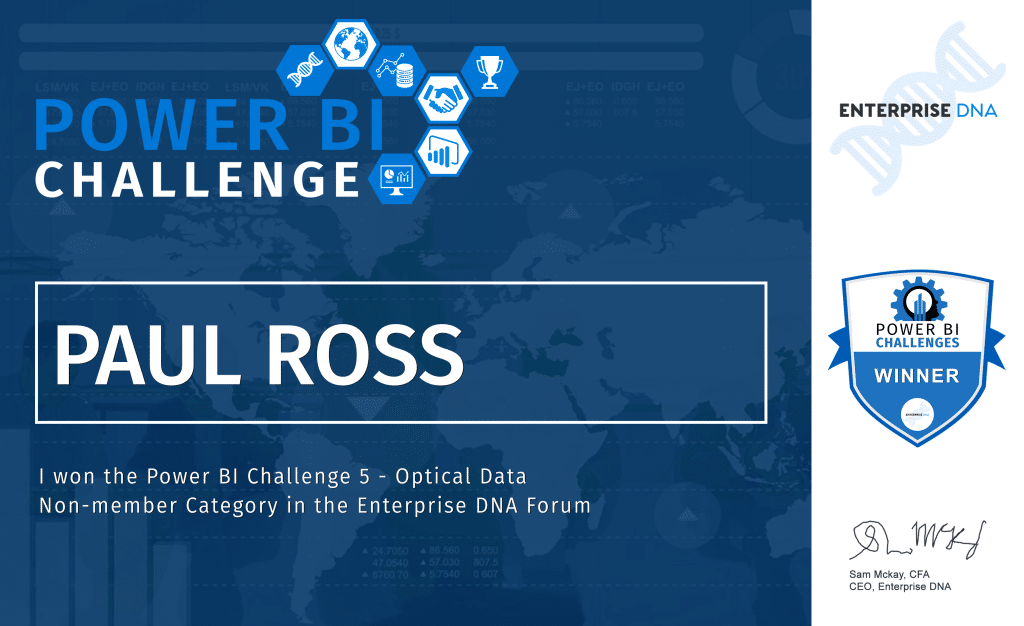 His report really showed us how much insight one can get if you only maximize the different tools within Power BI, especially when working on a scenario like this.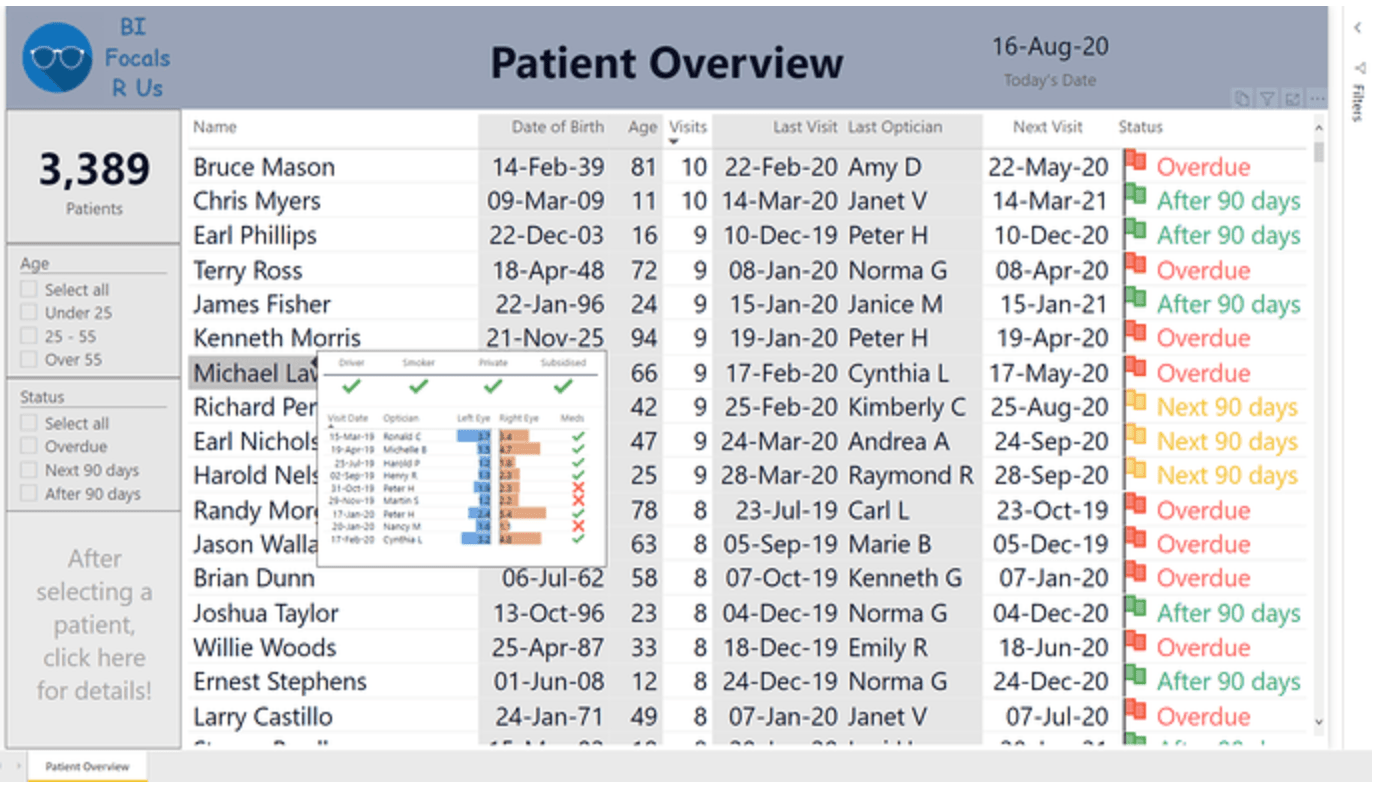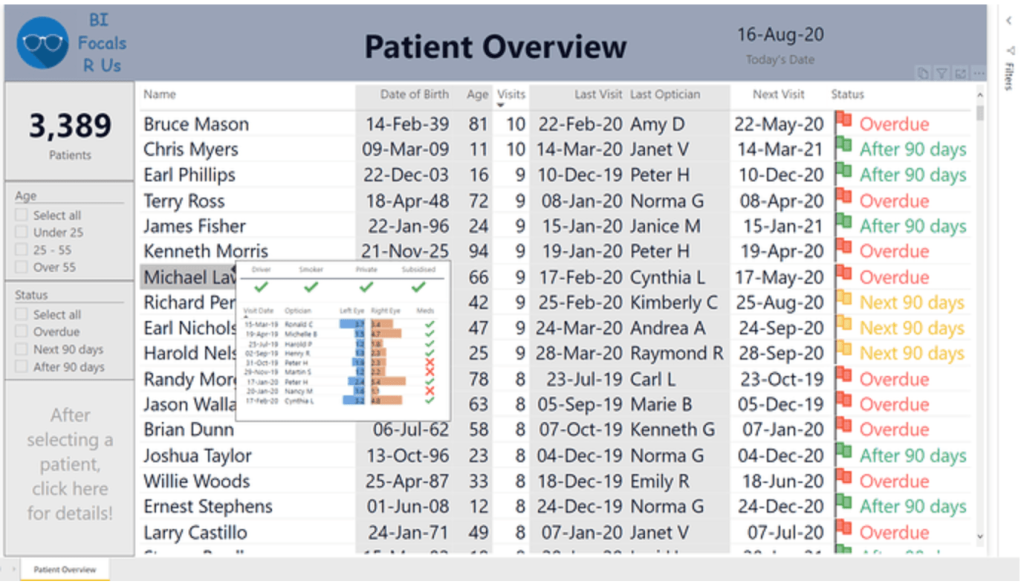 Every round gets more and more interesting, so there's no doubt everyone's looking forward to the next challenge.
So join the next Power BI Challenge and let's see what amazing reports you can come up with as well!
Enterprise DNA Team