We're extremely excited to announce that we're launching a new course called Geospatial Analysis in Power BI. This is discussed by Paul Lucassen, one of our Enterprise DNA experts and is the first of two parts.
One thing that really excites us is the fact that Paul, who founded Netherlands-based company Lucassen Consulting, has been doing amazing things with geospatial data that most of us haven't seen before especially in Power BI. He's a global expert on locational intelligence, supply chain analysis, and transportation and logistics.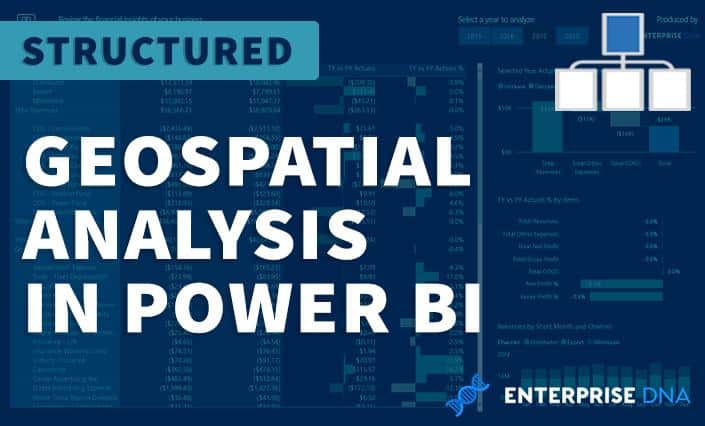 What to Expect from the Course
Geospatial analysis is not exactly an area that a lot of Power BI experts cover. To be honest, our excitement with this course lies in the fact that a lot of our members have been requesting for courses like this. It's one of those gaps that we've always wanted to fill.
Paul admits that using Power BI poses a lot of challenges when it comes to geospatial analysis. There are a lot of restrictions. It's not possible to display actual multiple layers, for example. You'd also have to manipulate some of your data, and both default and downloadable visuals perform differently when geocoding is applied.
These challenges, plus a few others, are among the things that Paul will go over in this course.
The great thing about this course is that even if your work is not connected at all to logistics and/or supply chain, all the concepts discussed here can be applied across various industries and applications.
The course contains over an hour's worth of training videos tackling these areas about the main topic:
Location and store attractiveness
Calculating distance and bearing using Excel, Power BI and DAX
Using distance calculations for different real-world business applications
Differences between current allocation of customers vs newly allocated customers based on distance
Using the native Power BI mapping visuals, as well as the most powerful and flexible custom geospatial visuals
The course also comes with PBIX files that you can download and analyze to better understand all the techniques discussed.
Even if your work has nothing to do with supply chain/logistics, the concepts taught in this course are highly generalizable and applicable to a broad array of industries and scenarios.
Enterprise DNA Education Platform
This course is just one of the many courses available in the Enterprise DNA Education Platform. We empower Power BI users to master techniques in developing compelling Power BI reports, visualizations and dashboards through courses catering to both beginners and advanced users.
This video can tell you more about the Enterprise DNA Education Platform.
The platform can be accessed either by paying for single courses, or by signing up for an Enterprise DNA Membership. Of course, a membership brings the best value knowing that it gives full access not only to all the course, but to other resources and exclusive events as well.
Expect new courses to be uploaded on the platform soon, and for those who aren't members yet, we encourage you to grab this opportunity to become one.

Enterprise DNA Upcoming Courses
All the best,
Enterprise DNA Team