Next week, we will be running our first ever Power BI & DAX Master Class event. This will be a virtual event held on Enterprise DNA TV.
This 4-day event is a new Power BI learning experience that we plan to put on every quarter.
You can learn more about the workshop sessions and register for the event at the link below.
Enterprise DNA – Power BI & DAX Master Class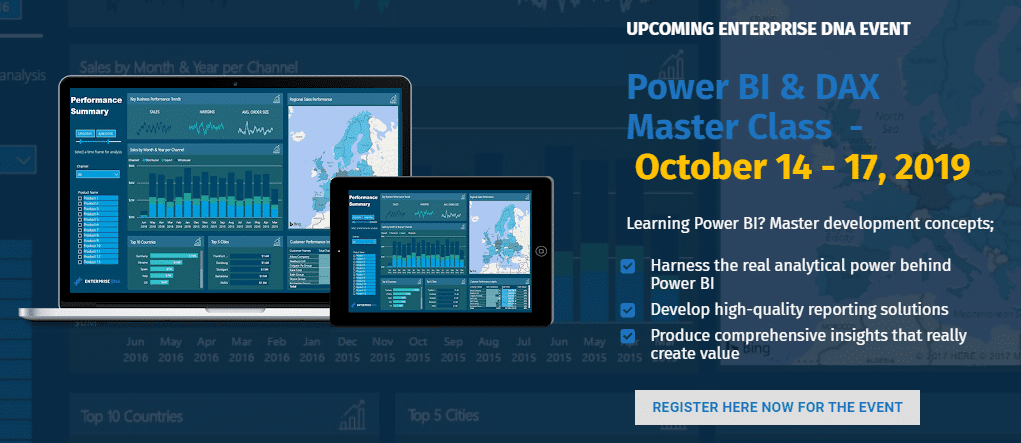 This event is tailored to all Power BI users who may be looking to get a strong headstart on many key tips and techniques for their own development work.
The sessions will be more focused on beginner and intermediate users who are looking to gain a greater understanding of the key pillars that make Power BI such a unique and powerful analytical tool.
During the event, we will have four workshops over four days. Each session will have a unique focus on a specific and relevant skillset that you need if you are looking to use Power BI to perform effective analysis over your data.
The session list for this upcoming master class are listed below.
Data Model Design Deep Dive
Fundamentals of DAX
DAX Formula Combinations
Advanced Analytics w/Power BI
We know with the amount of information that we pack into these events they can be a valuable learning experience for all those who can attend.
This is a totally virtual and free event so anyone around the world can participate.
If you can't make it to the live sessions you also will have access to replays for a short period of time after the sessions have been completed.
At Enterprise DNA we have a strong mission to impact all Power BI users around the world.
This new master class series event will go a long way to achieving this and impacting a lot of Power BI users who may be just starting out and looking to master some of the key fundamental techniques to use in a varying number of environments.
All discussions during the workshops will be very practical as we have a philosophy that Power BI is best learnt from a real-world perspective rather than from a solely theoretical angle.
You can find all of the details for this event at the link below. Don't forget to register and also tell your colleagues and friends.
This will likely be a popular event with plenty of opportunity for interactivity and informed learning. Looking forward to gathering a solid Power BI community together for next week.
Enterprise DNA – Power BI & DAX Master Class
Look forward to seeing you at this next event.
Enterprise DNA Team