It's been quite a busy month here at Enterprise DNA that we can't believe we're almost nearing the end of the year! Here's a quick round-up on the latest news and events from our learning platform.
Industries Analytics & Application Summit
The Industries Analytics & Application Summit was recently held from November 16 to 22, where more than 20 speakers showcased a variety of Power BI and Power Platform tips and techniques.
The event featured over 20 sessions packed with helpful tips, tricks, demos and best practices for users to get the most out of Microsoft's suite of tools.
This particular summit focused on how anyone can build and develop analytical solutions to solve real-world business problems.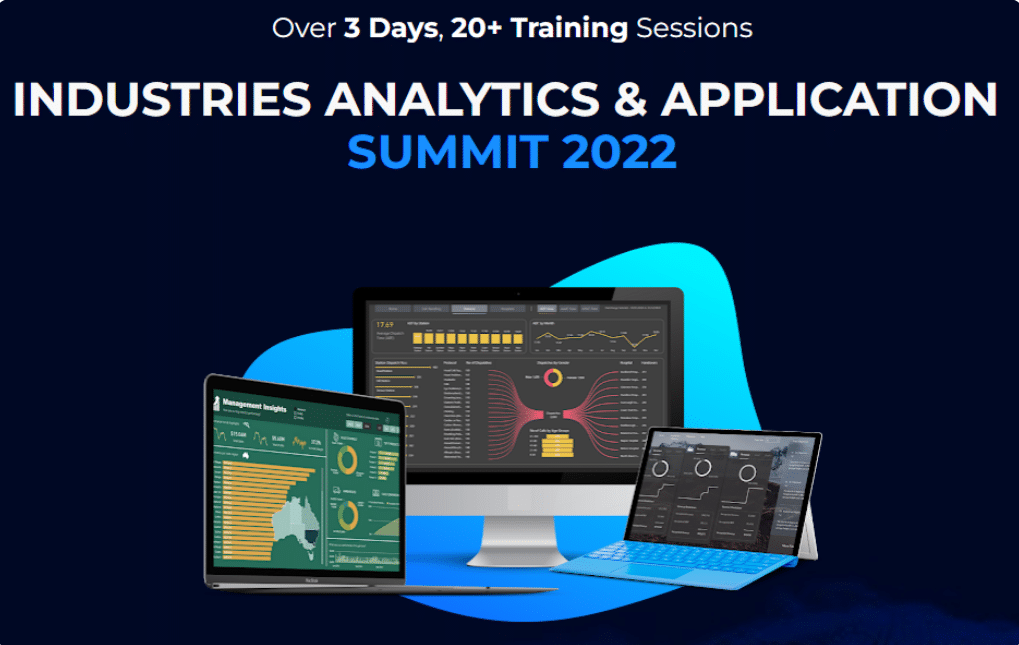 Updates From The On-Demand Platform
This month, we have worked on improving our platform to reflect the expectations of our subscribers. We released multiple updates that mainly focused on improving the user experience, bug fixes, and overall performance of our platform. Here are some of the updates we've made:
Experience Overview to track your XP's
Single sign-on with Google, Microsoft and LinkedIn accounts
Notification inside On-Demand for the latest news on events, challenges, courses, and resources
See and register for upcoming events inside On-Demand
Meet Our Latest Enterprise DNA Experts
One of the most valuable resources within Enterprise DNA is our Expert Team, composed of one-quarter of one percent of our total members.
This group is drawn from eDNA subscribers who have shown exceptional ability in Power BI/Power Platform through the solutions they provide on our forum, sustained excellence in our Data Challenges, and/or outstanding content creation.
We would like to welcome Jose Antonio Fernandez Puga, Kim Cook, and Ilgar Zarbaliyev as the newest Enterprise DNA Experts!
Jose has almost 20 years of professional experience as an ERP Analyst/Programmer in the Management, Finance, Optics and Transportation industry. He loves helping members in the Enterprise DNA community forum, and is also two-time winner of Enterprise DNA Challenges
Kim is a CPA with 20 years of experience working with enterprise corporations in the IT sector. She is a previous eDNA Challenge winner, and an expert in process improvement and automation.
Ilgar is a multi-year Microsoft Certified Trainer, and the holder of 14 different Microsoft Certifications. He is also an instructor of eDNA PL-300, which is one of the courses we recently launched on our platform.
We wish the best of luck to our new Enterprise DNA experts, and would like to thank Jose, Kim, and Ilgar for supporting our learning platform.
Exciting New Partnership with Excel BI
We are also pleased to announce the official tech partnership between Excel BI and Enterprise DNA.?
This partnership will give Enterprise DNA subscribers easy access to the full library of current and past Excel BI challenges and solutions by incorporating them into our learning platform, while further growing the Excel BI community by promoting it to our members and followers.
In addition, we have signed one of the stars of that community, Matthias Friedmann, to produce content for us, starting with a course on making the best use of the Power Query UI.
Shoutout to Vijay Verma for this great opportunity, and you can learn more about the Excel BI here.
Power BI Challenge 24 is Extended
Due to popular demand, the Power BI Challenge 24 has been extended. Considering how much everyone is enjoying the World Cup and the creative work involved in this challenge, we have decided to extend the Power BI Challenge 24.
We know how busy the holiday season can be, so we're giving you all the time you need to submit your best work. We will be accepting submissions until December 15, 2022.
A huge shoutout to Packt – our sponsor for the challenges for giving free books to our winners.
Launch of the Enterprise DNA Challenge YouTube Channel
Now would also be a good time to announce the launch of our brand-new YouTube channel. Our aim is to provide valuable tutorials and tips on data visualization to help challenge participants with their report development.


The latest videos feature some of our top Enterprise DNA experts. Subscribers will be able to learn from these videos the proper use of visuals to represent their data findings, as well as to ensure a great user experience on their reports.
Check out the Enterprise DNA Challenge YouTube channel today!
Substance Abuse Reports Showcase
Our showcase gallery is one of the most important resources that you can use as part of your On-Demand subscription. By downloading one of the showcase reports, you save a lot of time and streamline your process during the report development process.
For the month of November, we have released substance abuse analysis reports as part of our showcase. These reports cover the healthcare industry, and can help data analysts working in this sector.
We'd love to hear what you think of our latest showcase releases. Let us know how these reports have helped you with your own data!
Fresh Podcast Episodes from The Analytic Mind
Aside from our live events, challenges, and courses, we've also produced new episodes for The Analytic Mind, our own in-house podcast.
In recent episodes, we featured interviews with several BI professionals who shared their thoughts on their BI journey, along with advice to those wanting to develop their data analytics skills. You can listen to these new podcast episodes on Spotify.
What's Next At Enterprise DNA?
We have more exciting news in store for December. More courses and events are scheduled for release in the coming months, so stay tuned as more updates will be announced in the coming weeks.
Subscribers can expect a brand new course from Antriksh Sharma titled Microsoft Excel for Beginners. We will also be giving access to the 2022 My Data Summit on Power BI and Excel.
In the meantime, you can visit our website for more information about our courses, community forum, and other resources. We also regularly post free tutorials on our YouTube channel and blog.
We hope you enjoyed this month's quick round-up. If you haven't done so, become a subscriber to our On-Demand learning platform and get full access to our Power BI and Power Platform learning resources!
All the best,
Enterprise DNA Team