We had an amazingly productive month here at Enterprise DNA in March with new courses and amazing events. As you all know, we continue to find more ways to help the members of our community grow in their respective fields through the use of Power BI.
Here are some of the highlights for the month of March.
New Course: Geospatial Analysis in Power BI
We launched a new course called Geospatial Analysis in Power BI, which was created by Paul Lucassen, one of our Enterprise DNA experts. We definitely consider this as an exciting addition to our education platform, especially since geospatial analysis is one of the gaps that we're seeing in our offerings. A lot of members have been requesting for a course like this for quite some time now, and we're honored to have an expert with us who specializes in the field.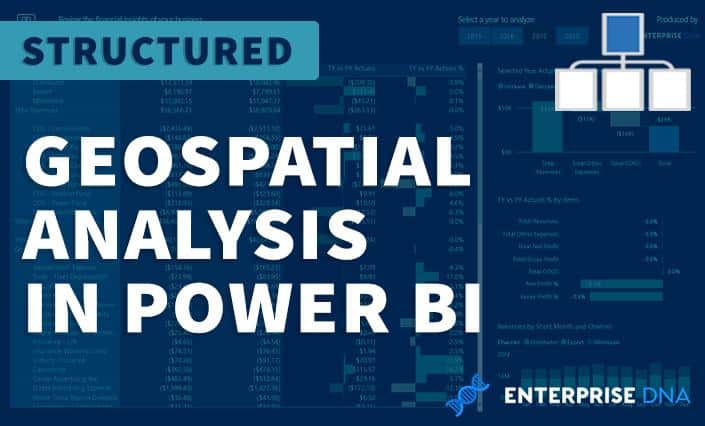 Paul Lucassen, founder of Lucassen Consulting, is known as a global experton locational intelligence, supply chain analysis, and transportation and logistics. As one of the very few people who specialize in this area, he does admit that there are quite a few challenges in using Power BI for this purpose. But he has found techniques to make it possible, something that could be helpful for those who want to apply their skills in the field.
The great thing about Paul's course is that the concepts discussed here can also be used for other applications. Plus, the course comes with PBIX files that can be downloaded and analyzed further.
Power BI Challenge 12 and 8th Problem of the Week
To continue our practice of encouraging collaboration and having that fun competitive spirit, we conducted the 12th Power BI Challenge and had the 8th Problem of the Week in March.
Power BI Challenge 12 is all about transport and shipping data, and so far, we're seeing quite a good number of people who submitted amazing entries for this challenge. The deadline was last March 28, so we're excited to see who managed to grab the prizes.
We also decided that experts will no longer have the ability to win the Power BI Challenges. Instead, they will be part of a different category.
We also made a few changes to the challenge prizes. We have a sponsor (who would rather remain anonymous) who kindly volunteered to add a few prizes aside from the usual Enterprise DNA membership. The new prizes include:
Winning Enterprise DNA member – $500 (Or amazon Voucher equivalent) + Free Membership
Most innovative Entry – $250 (Or amazon Voucher equivalent) + Free Membership (Open to both members and non-members and the overall winner can also claim the most innovative title)
Winning Non-Enterprise Member – $250 (Or amazon Voucher equivalent) + Free Membership (Open to everyone)
First time participant winner- Pick from a selection of prizes as mentioned here. You must be an Enterprise DNA member to qualify.
With these new prizes up for grabs, we're hoping to see even more people joining in the next rounds.
As for the Problem of the Week, the 8th round, which we recently concluded, looks into hierarchies in Power BI visualizations. For this problem, participants are only allowed to use Power Query to come up with the solution.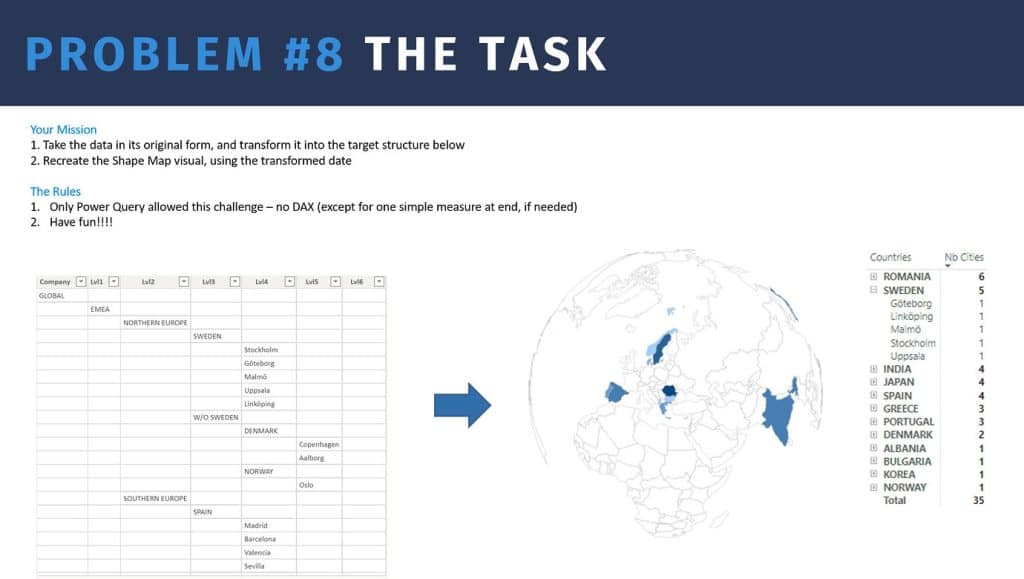 The Problem of the Week is done in two cycles every month — a DAX-based problem is posted every 1st Wednesday of the month, then a Power Query-based problem is posted every 3rd Wednesday of the month. The solution is posted the week after the problem was posted, with one of our experts walking everyone through the process.
Just like our Power BI Challenges, the Problem of the Week focuses on real-world scenarios that could help prepare participants should they encounter similar issues in the future.
March Events: Power BI Mastermind, Business Analytics Week and More
March was definitely a busy month in terms of events and we're anticipating even more in the coming months.
In March, we had two rounds of Power BI Mastermind workshops.
The 1st one was held in March 4 and was facilitated by Sam McKay and Alex Badiu. Here, they discussed one of the winning entries for thePower BI Challenge we had last year using Covid-19 data.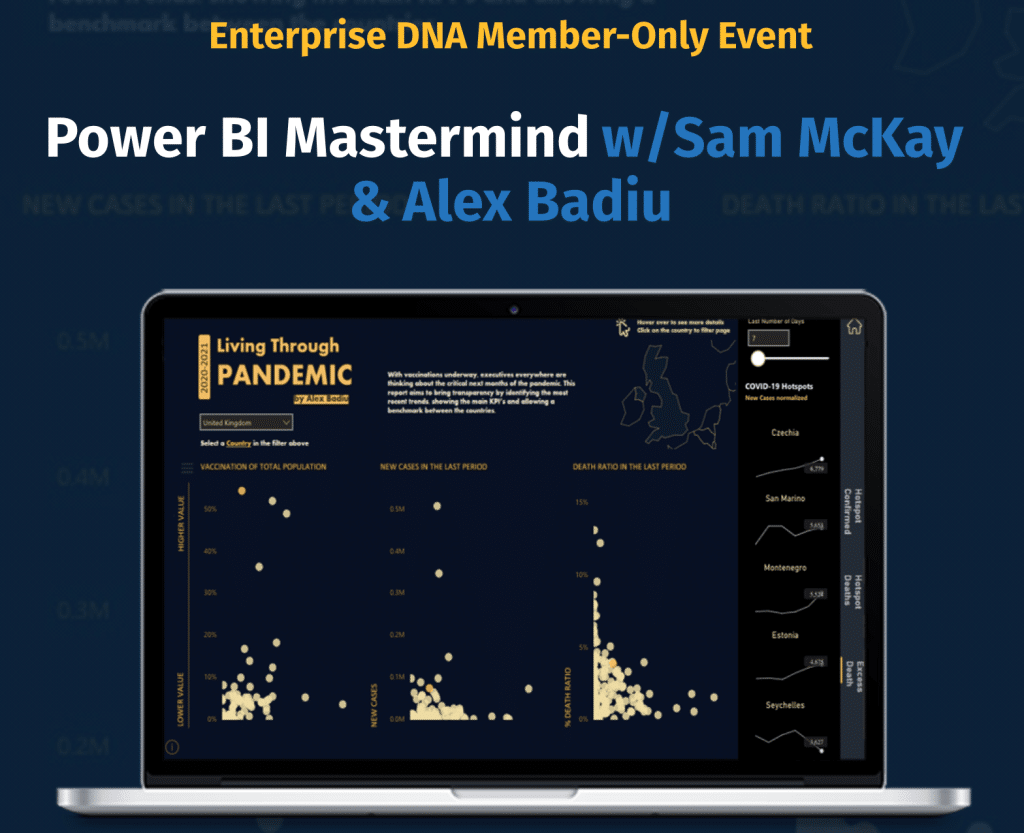 The 2nd one, which was held in March 11, was facilitated by our Enterprise DNA Covid dashboard expert team. The dashboard on spotlight here focuses on the same Power BI Challenge on Covid-19, but this time, some of our experts collaborated to come up with one of the best submissions we've seen.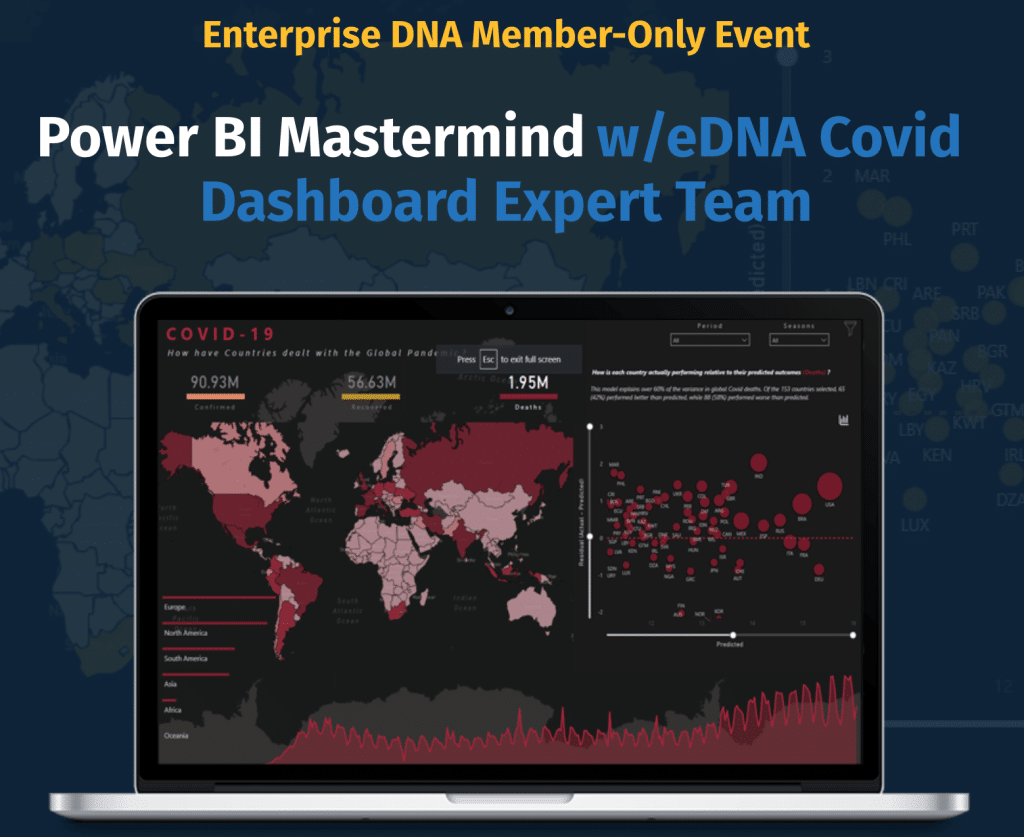 We also had an advanced analytics event called Business Analytics Week, which was a 4-day training session that ran from March 15 to March 19. Here, the participants learned about how to optimize KPIs, how to discover unique and valuable insights, how to do advanced analytics using DAX formulas, and how to evaluate patterns and outliers in a dynamic manner.
A live training workshop called Take Your Analysis to Another Level w/ DAX Formula Patterns was also concluded in March 25. Some of the topics discussed here include advanced scenario analysis techniques and enhancing related distinct counts.
Lastly, we had a live webinar about Analyst Hub Best Practices. It dug deep into the apps inside the Analyst Hub and discussed ways on how to maximize the use of these tools for better Power BI report development.
New Apps in the Analyst Hub
The Analyst Hub helps Power BI users to create powerful reports and dashboards through different tools that make the entire process more seamless. Last February, we introduced a number of new apps in the Analyst Hub like the Analytics Planner and the Data Model Planner. And because we always grab every opportunity to enhance the report development process, we added a few more apps last March.

The M Code Repository allows users to save and edit their M code formulas so that they can be easily accessed for future use. Raw Code is another app where users can save and edit their code regardless of what coding language they're using. The Video Playlist is another useful app where users can create playlists containing helpful YouTube videos that can be shared with their teams.
Membership Portals
We know how a precious few seconds can impact one's productivity. Because of this, we created the Enterprise DNA Membership Portal and the Center of Excellence Portal where users can find everything they need in one place.
The Enterprise DNA Membership Portal provides one-click access to trainings and tools that can help members maximize their learning experience.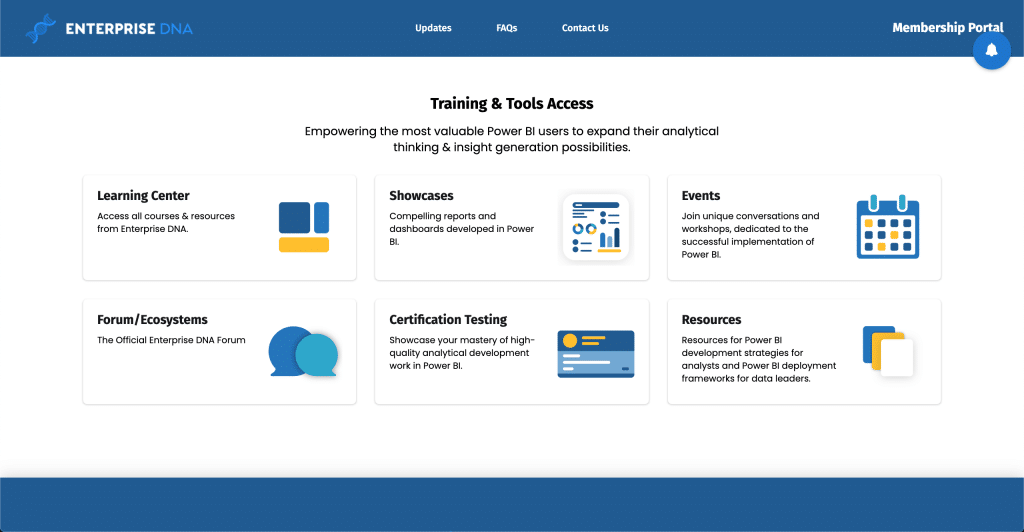 It contains links to the Learning Center where all courses can be found, as well as to our Power BI Showcases where members can download actual reports and dashboards and use them for hands-on application. It also contains links to our member-exclusive events, the Enterprise DNA Forum, our Certification Testing page, and other resources.
Teams subscribed to our Center of Excellence are also provided with their own portal.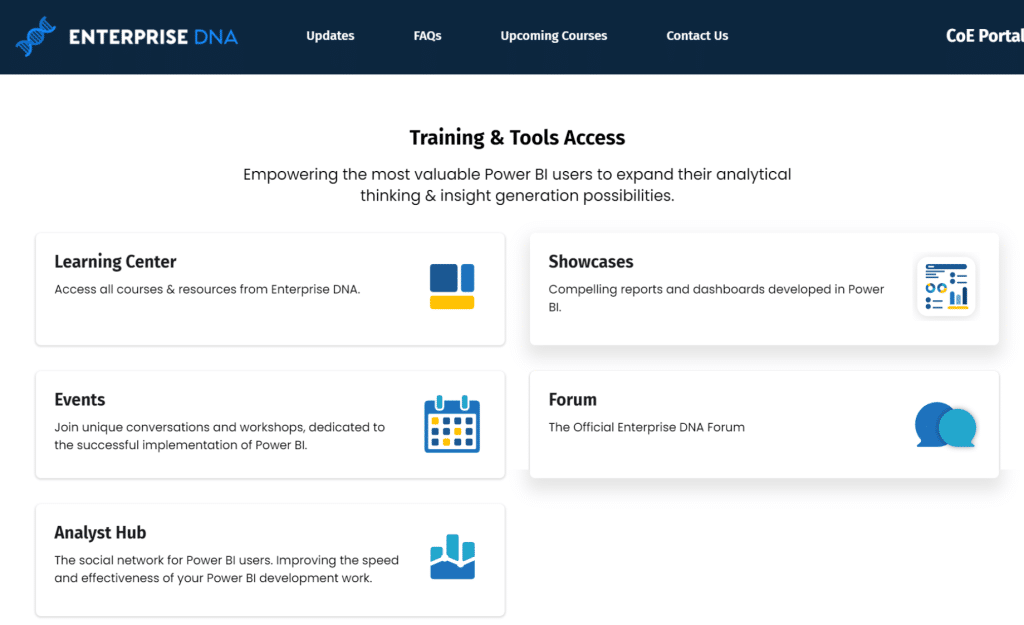 The Center of Excellence allows teams of different sizes to plan, manage and scale their Power BI training. As with the Enterprise DNA membership portal, team members can also access all the tools and resources they need in a single click through the CoE portal.
Stay tuned to the Enterprise DNA Blog and stay connected to our community at the Enterprise DNA Forum for more updates and announcements.
All the best,
Enterprise DNA Team