We have wrapped up another successful round of the Power BI Challenge. This time around, we tackled something familiar and close to our hearts: an analysis of Enterprise DNA's YouTube channel.


Enterprise DNA Challenge 21 By The Numbers
We're always pleasantly surprised by the results at the end of each Power BI Challenge, and Challenge 21 is certainly no exception. In fact, this has been a record-breaking challenge where we received the most number of entries with 62 high-quality report submissions.
Out of these 62 entries, we have 18 members, 44 non-members, and 40 newcomers. These numbers just goes to show how beginner-friendly the Power BI Challenges are. Everyone is welcome to join, no matter where you are in your Power BI journey.
Let us also revisit some of the other highlights that happened during Challenge 21:
Our data challenge hub grew up to 1,658 subscribers within 5 months
We created 33 posts in our LinkedIn group
We engaged 21,058 post views
We interacted with over 150 comments
Our participants produced 240+ analysis pages
Our participants made 550+ DAX measures and 350+ navigation buttons, bookmarks, and tooltips.
Enterprise DNA Challenge 21 Brief
The 21st edition of Power BI Challenge was brought to you by Enterprise DNA and Funnel, one of our tech partners.
Enterprise DNA empowers Power BI and Power Platform users to change their world. Our YouTube channel comprehensively covers how to utilize all areas of Power BI and the Power Platform to unleash powerful analytical insights from your data.
Funnel is a fast-growing tech company within digital marketing. With a focus on non-technical users, it builds a new generation of Software as a Service (SaaS) that helps their customers draw spot-on conclusions from their business and marketing data.
The objective for Challenge 21 was to understand the Enterprise DNA YouTube channel audience better and to come up with a strategy to drive more channel engagement through an exploratory data analysis (EDA).
With an EDA, the participants were not bounded by questions, so this particular challenge was more difficult than the others.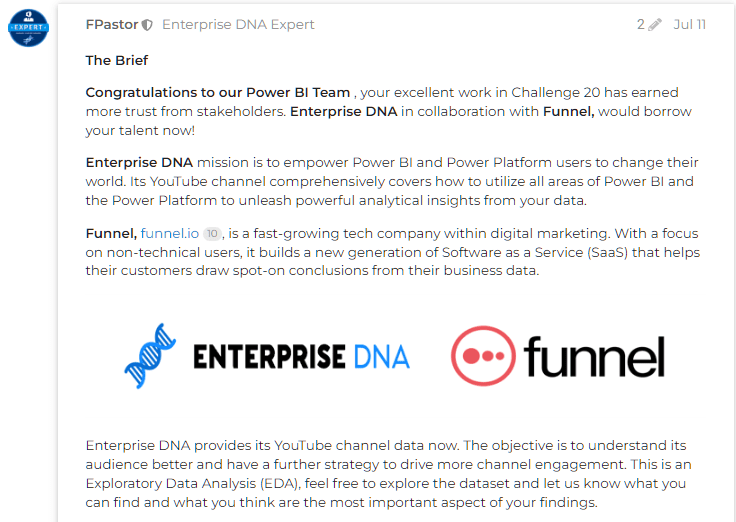 Enterprise DNA Challenge 21 Judging
With so many amazing reports received, narrowing down our list of 62 entries to just 4 winners is quite a difficult task.
The good news is that our panel of judges is up to the task. You can check this video where Enterprise DNA experts Brian Julius, Mudassir Ali, Gustaw Dudek, and Challenge Ambassador Solar Zhu share their insights and provide key factors in determining the winning entries.
As always, the winners are determined by what we believe are the qualities of a high-quality Power BI report:
Data transformation
Data modeling
DAX calculations
Enterprise DNA Challenge 21 Winners
A huge congratulations are in order for Rachwen Mosbehi, our Overall and Platform Member Winner. His stunning report will be a part of the Enterprise DNA Showcase page.
Rachwen's entry is remarkable because the overall structure of the report resembles how a YouTube platform looks like.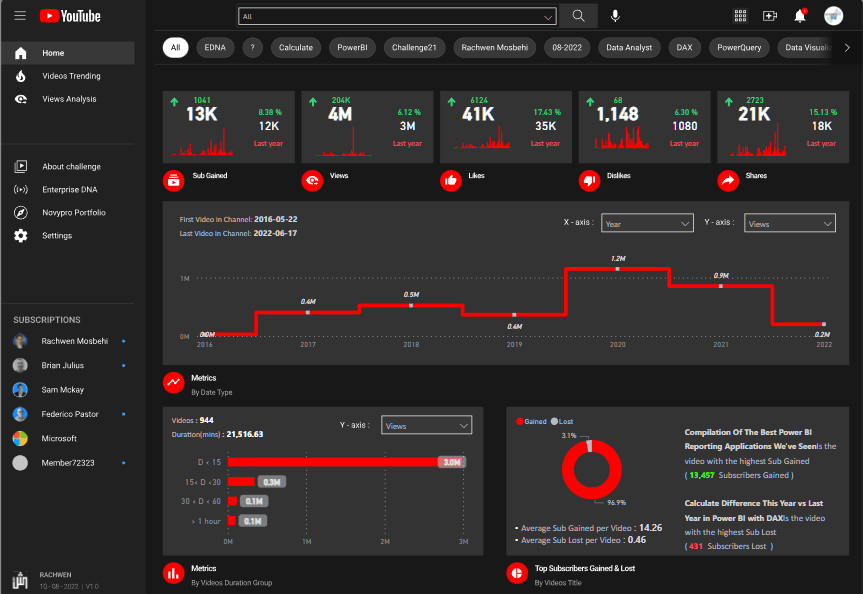 Let's welcome our Newcomer Winner for this challenge, Matthew Braun! Matthew has been a long-time follower of the Enterprise DNA platform, and this is his first challenge submission.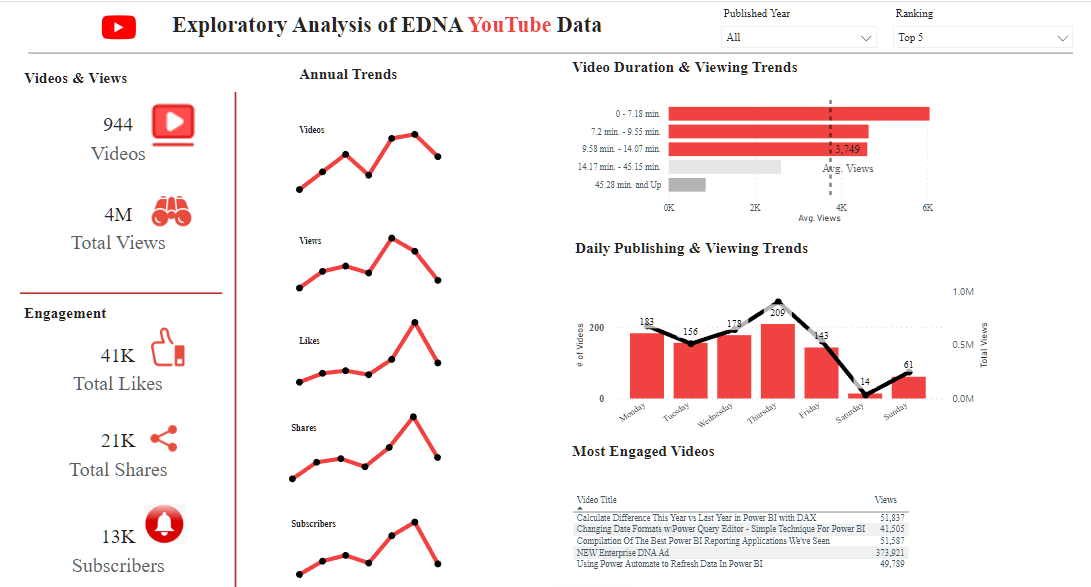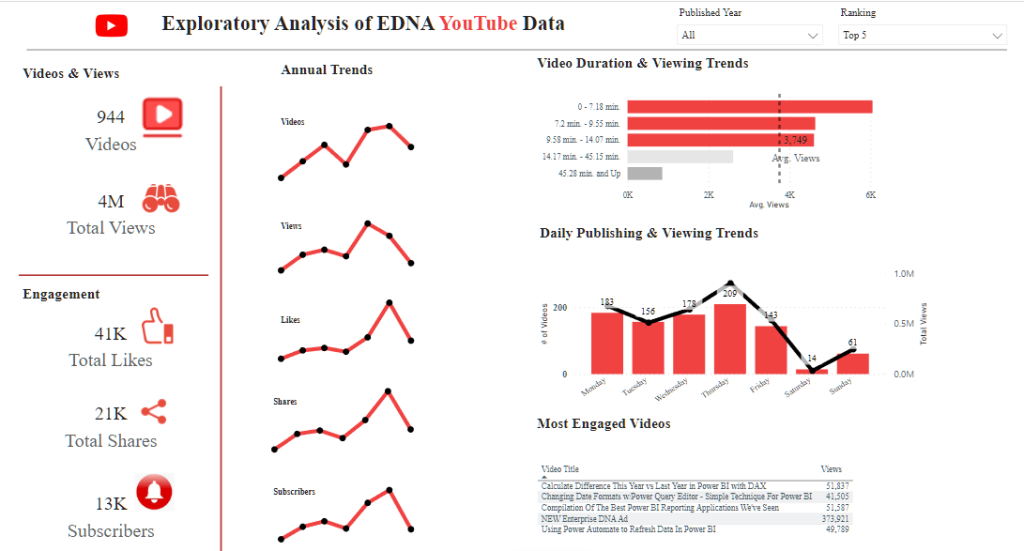 Kudos to Gaelan Smith? for nabbing the Non-Member Winner award and winning a free subscription to Enterprise DNA platform!
Gaelan's main goal was to make sure he nailed the brief by coming up with actionable questions and insights in the report to help increase audience viewership and drive more engagement.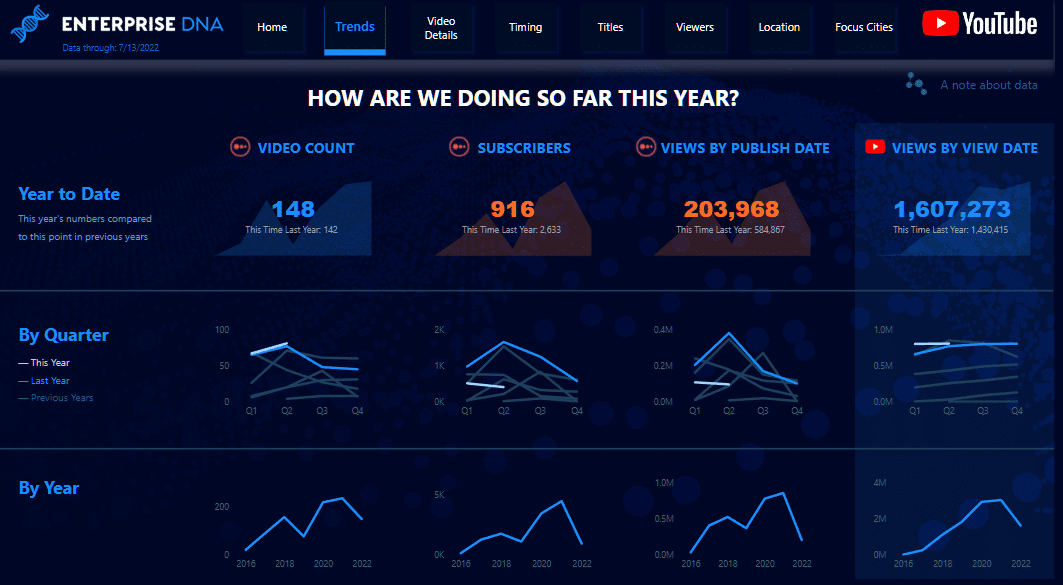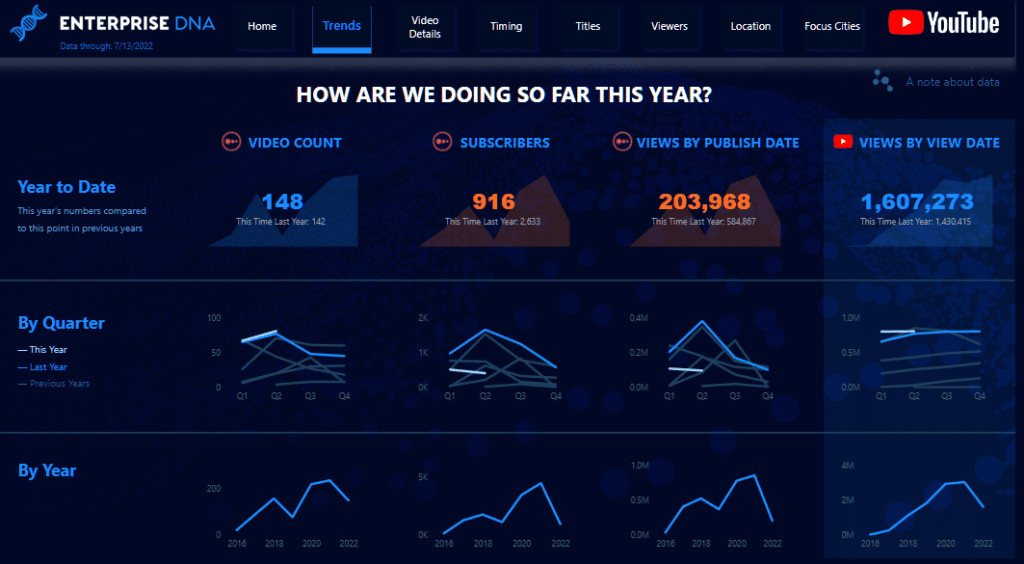 Last but not the least, we'd like to commend Veronica Aides for copping the Mobile View Winner category. She will also get a free subscription to the Enterprise DNA platform.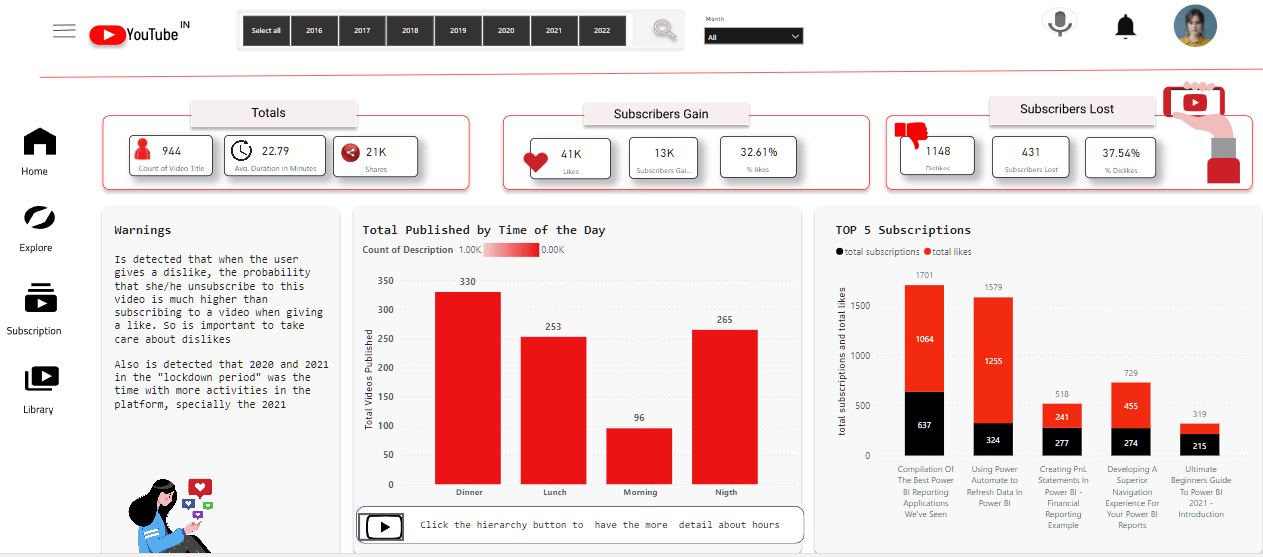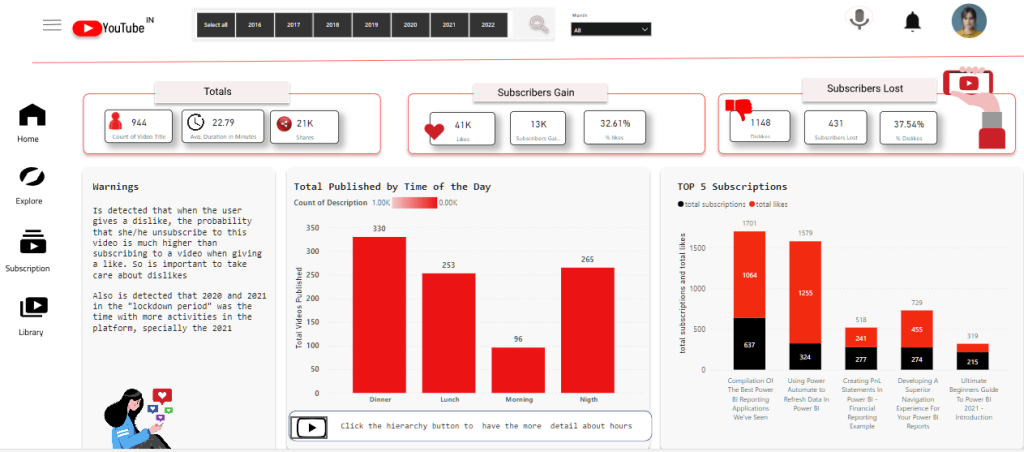 It has been amazing to see our Power BI community come together to learn something new on these challenges.
Many thanks to our judging panel for providing their expertise, as well as the Enterprise DNA experts for their feedback in the forum.
We hope to see you on the next challenge! Power BI Challenge 22 is already up and running. This time, we will be dealing with hotel revenue management.
All the best,
Enterprise DNA team