The Enterprise DNA Education Platform has always been a comprehensive resource for all things Power BI. We've always strived to make the learning process a fulfilling one and we've laid out a path that helps Power BI users build a strong foundation, learn more advanced techniques as they go along, and eventually become experts in their respective fields of expertise. We've taken these goals to a different level by developing the EDNA Learning Map.
The Enterprise DNA Learning Map
The Learning Map was first created to lay down a clear learning path that Enterprise DNA members can follow. This is ideal for those who would love to dive into everything there is to know about Power BI but are not sure where to start. It's also helpful for those who know the basics but would like some guidance on how they can take their skills to the next level.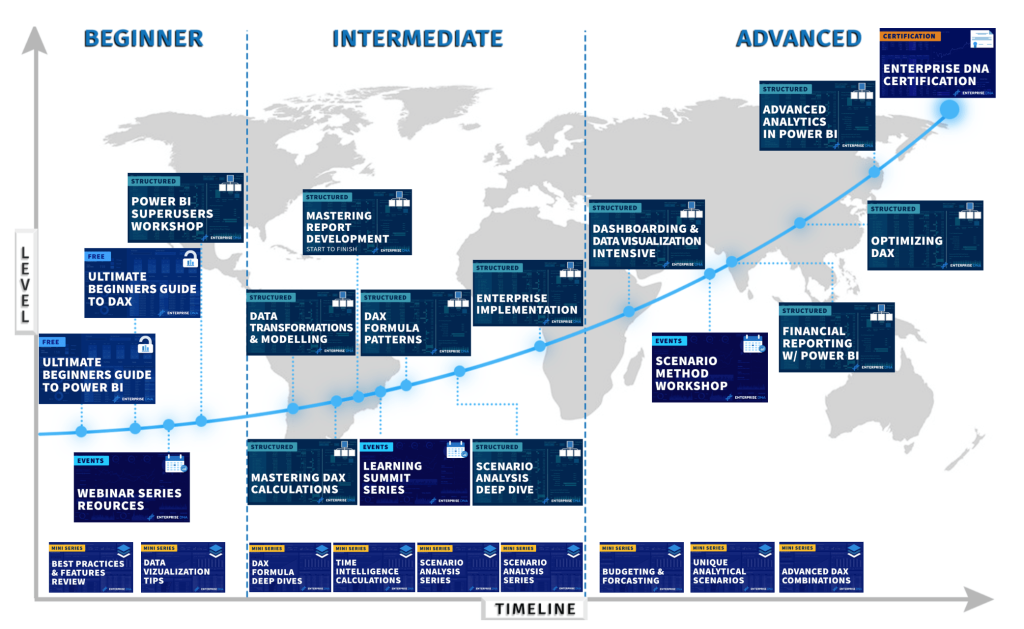 The map was divided into different skill levels – beginner, intermediate and advanced. Depending on what level you're at, there's a list of recommended classes that should ideally be taken in order. For beginners, for examples, they are advised to start with the Ultimate Beginner's Guide to Power BI and the Ultimate Beginner's Guide to DAX.
What's convenient about the Learning Map is that clicking on any of the recommended classes on the map automatically loads the module. There's no need to search for it in the portal.
Of course, we also want members to have complete control over their learning process. We saw the huge potential that the map had but we also found better ways to create a seamless learning experience. That's why we've updated the Learning Map and have created a customizable Learning Plan.
Build Your Own Learning Plan
Enterprise DNA members and Center of Excellence users now have access to a customizable learning plan that, in a way, follows the Learning Map's initial goal of helping Power BI users figure out which courses to sign up for.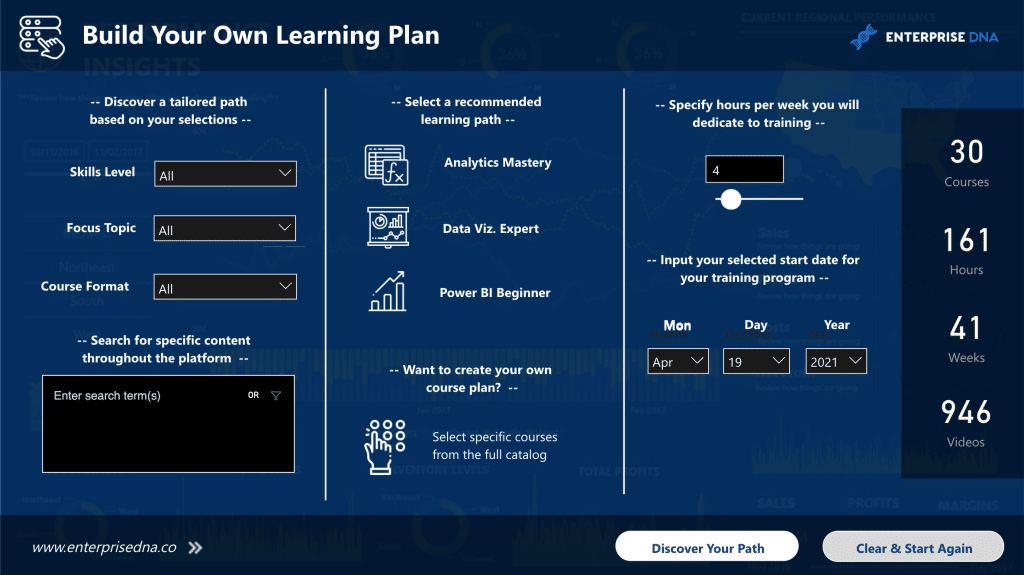 The dropdown menu under Skills Level allows users to choose among Beginner, Intermediate and Advanced. It also allows you to choose among different topics, like Data Prep or Visualization. As for the Course Format filter, it offers 4 unique options — EDNA Experts, Group Presentation, Instructor Led and Resource. Users can also specify the number of hours they're spending every week for training.
An overview pane on the rightmost side shows the number of courses available based on the filters applied. It also gives an estimate of how long it would take the user to finish all the courses.
From there, the system will then offer recommendations on courses that the user can take based on the options chosen on the planner.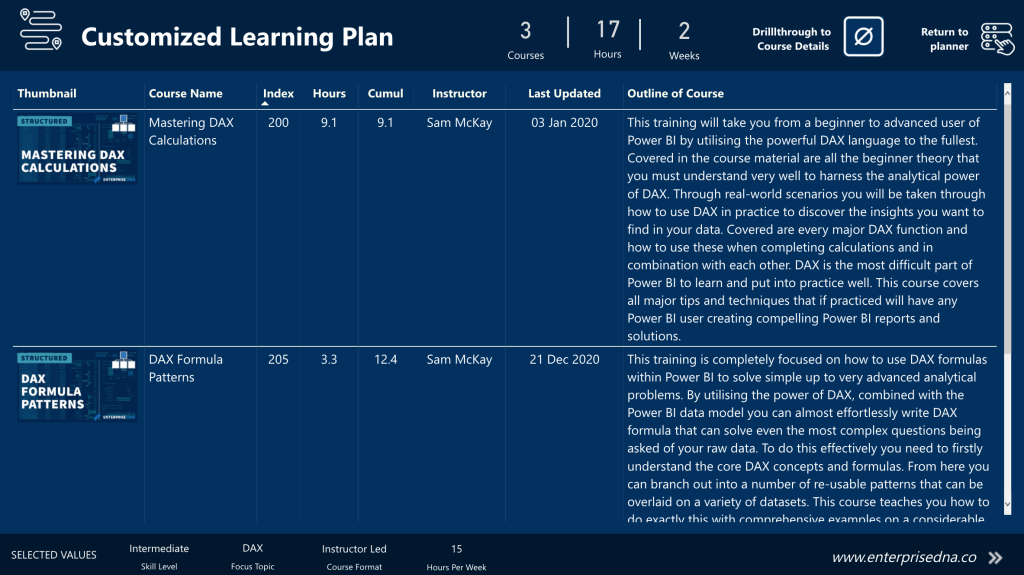 Conclusion
The new customizable EDNA Learning Map is only one of the many ways that we're helping you make the most out of your Enterprise DNA membership. It can be accessed through the membership portal and the CoE portal.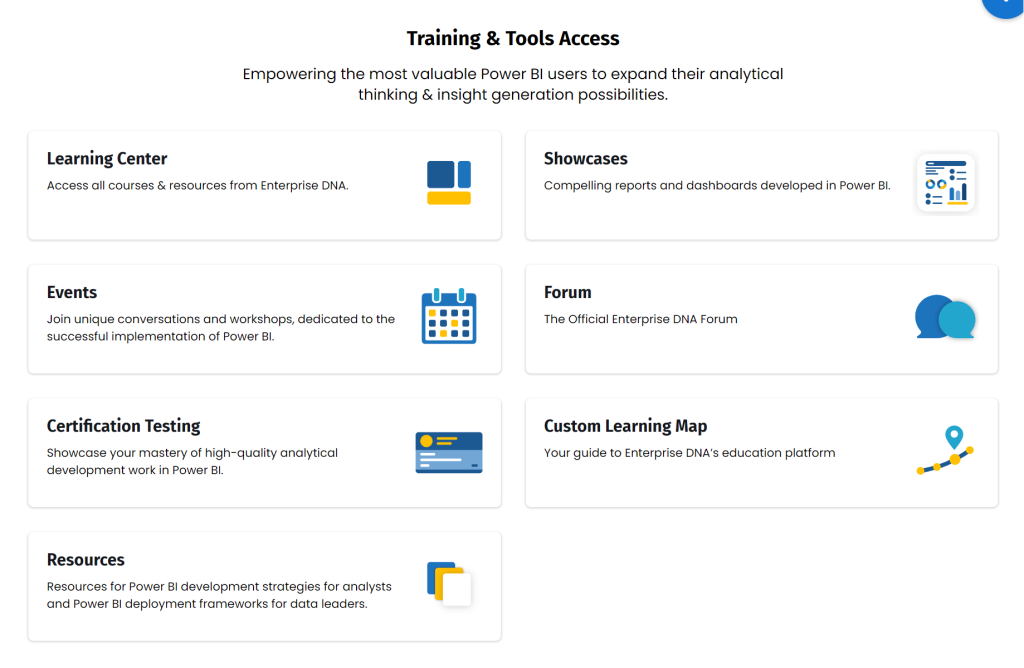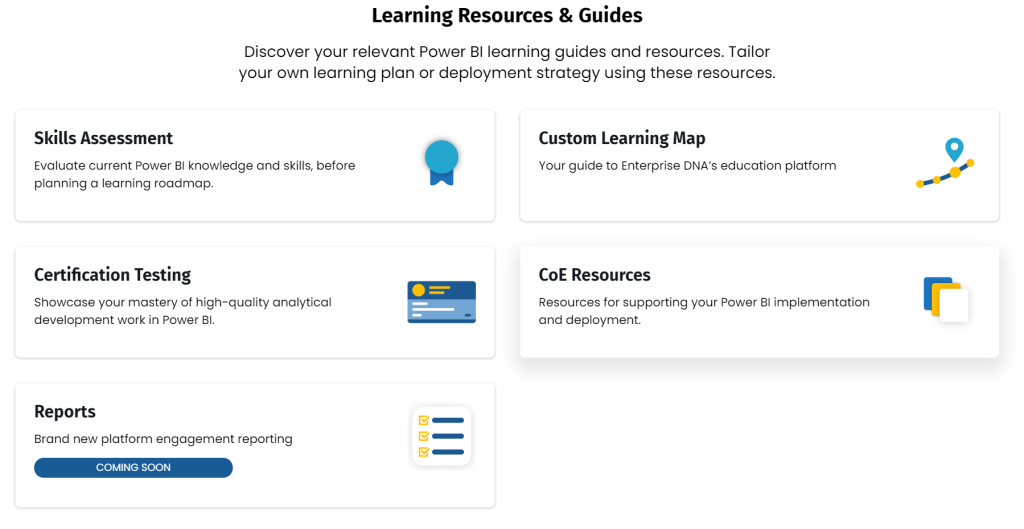 If you're not yet a member, now's the best time to consider subscribing for a membership and jumpstart your way towards being a real Power BI expert. You can also take advantage of a number of other resources, like the Enterprise DNA Forum where Power BI users from all over the world collaborate and share best practices to help each other learn and improve.
All the best,
Enterprise DNA Team