Did you know that there is a way that anyone connected to Enterprise DNA can obtain a membership by participating in our forum?
Well you now can by signing up at the below link.
Enterprise DNA Earn A Membership Program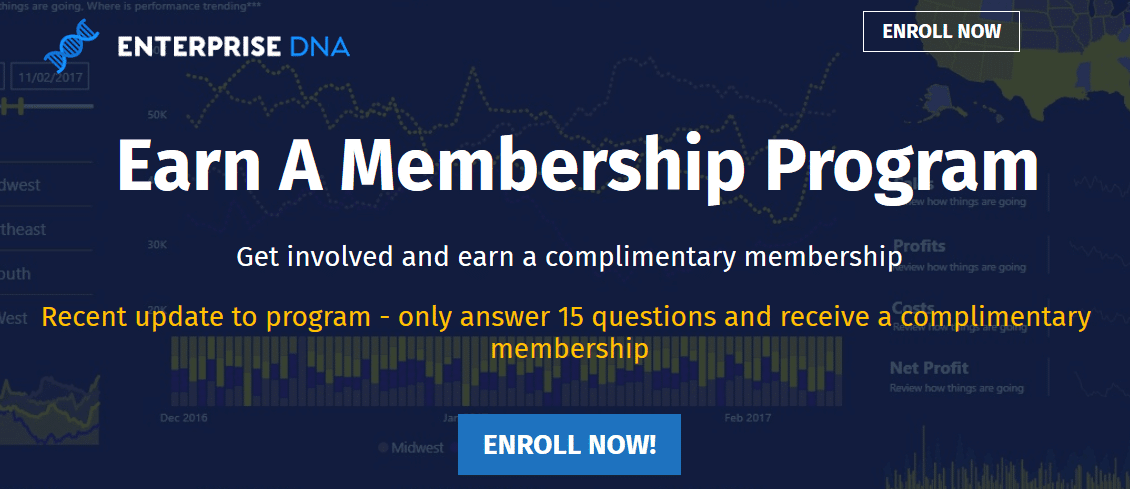 In this particular article I will showcase to you our Earn A Membership program and highlight how anyone can participate.
With our support forum going from strength to strength within our education platform, we thought that to boost activity even more, we could collaborate with many more capable Power BI users based anywhere who may not have upgraded to the full membership bundle yet.
That is why we have devised a program where anyone can potentially obtain an Enterprise DNA Membership by helping out in the forum and by providing some support to other members who are asking questions.

By doing this, you can earn a free membership and access all of the comprehensive training, resources and community features that we provide via our platform.
Think of it as a little bit like sweat equity.
Hopefully most of you know what this means but really it is all about assisting on a task and then obtaining something in return later on.
We know our education platform is the best out there for those Power BI users really wanting to master all aspects of high-quality development. And we also know that there are many users out there that are also already extremely capable with Power BI. So, with a little bit of participation we are making available the opportunity to obtain a membership without having to invest any cash to make it happen.
You can check out all of the details around this program at the link below.
Enterprise DNA Earn A Membership Program
I also really recommend checking out the Enterprise DNA Support Forum. You can read through the many threads added every day and get a very good gauge of the types of questions that users are asking. You will be able to very quickly see if you are at an ability level where you can provide really solid support to all of our members who are reaching out via the site.

Looking forward to getting you involved and working together on the support forum.
Thanks
Sam