These days every parent wants their kid to learn to code as young as possible. It's the future, right? What if we told you learning how to code is already becoming obsolete? What if you, or anyone, could build a perfectly functioning web app, without ever having to write a single line of code? It sounds impossible, but Bubble.io has made it happen.
Bubble.io is a web app-building platform that's revolutionizing the way individuals and businesses create web applications by offering a no-code app development framework. This powerful platform empowers users to design, develop, host, and scale applications without needing to write a single line of code.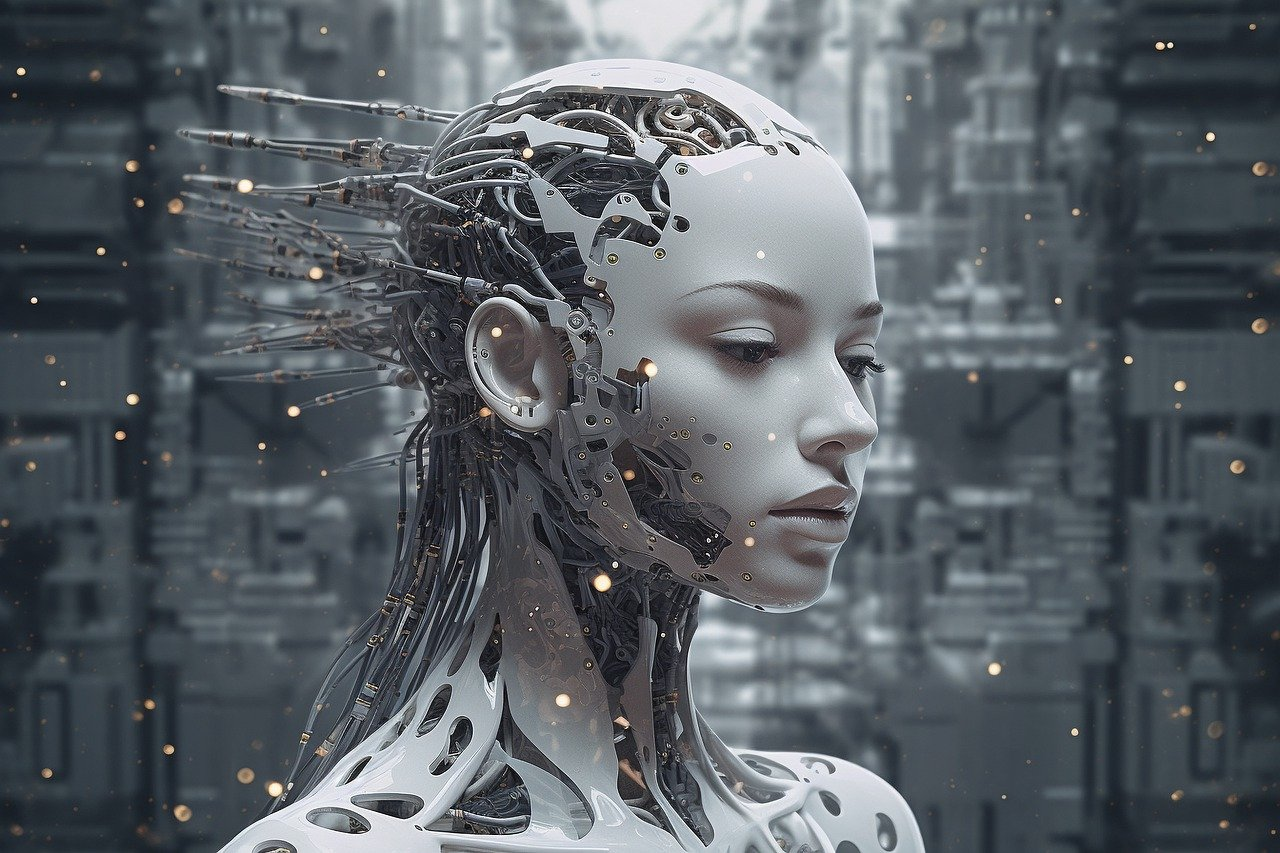 So where did this genius platform come from, and what makes it tick? In this article, we delve into the world of no-code development, exploring the transformative potential of Bubble.io. We'll guide you through the ins and outs of the platform, from the basics of visual programming to advanced features and best practices.
Let's get into it!
What is Bubble.io?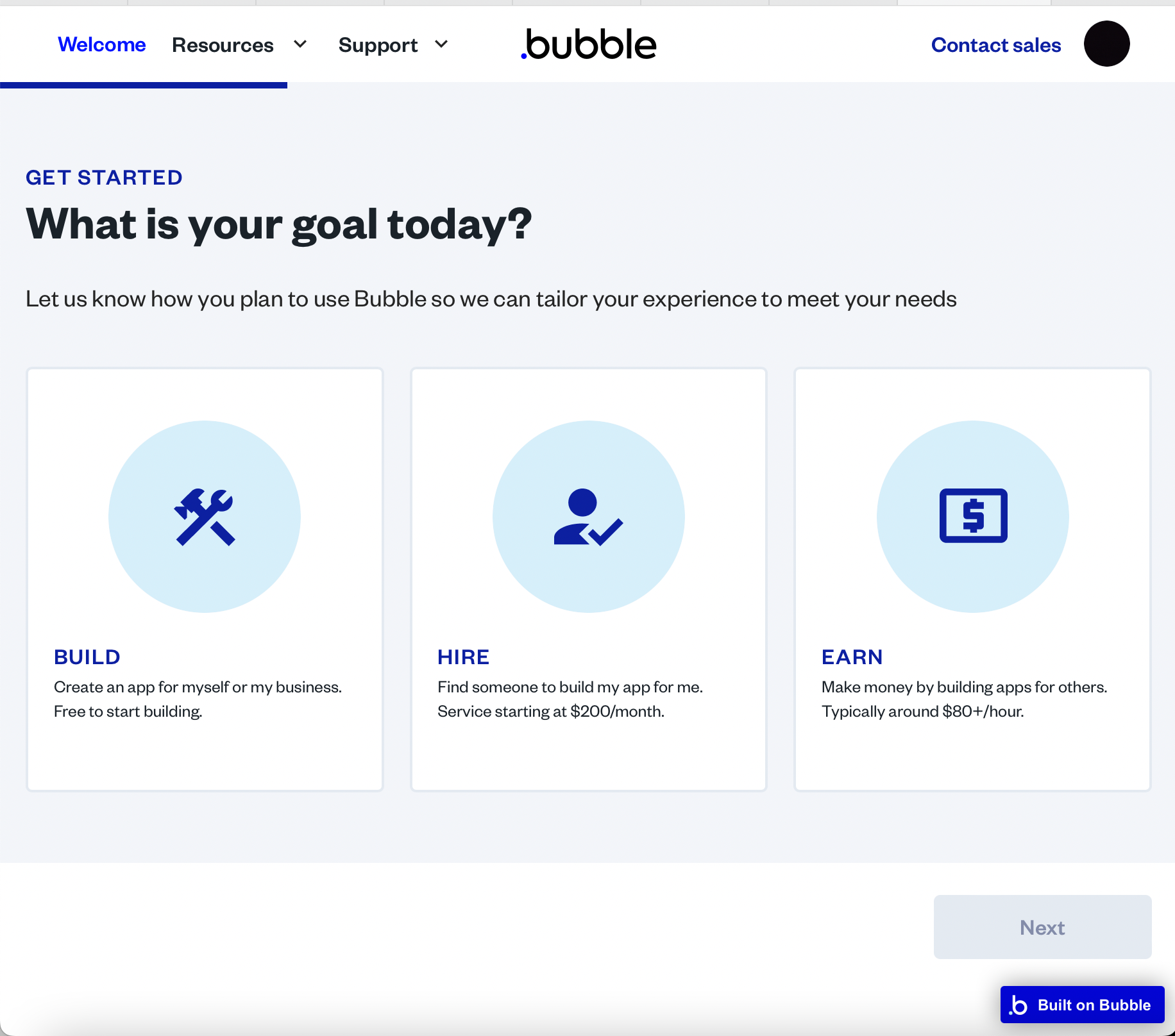 Bubble.io was founded by Emmanuel Straschnov and tech co-founder Joshua Haas in 2012. Bubble's vision was a future where anyone could develop software without requiring extensive technical knowledge.
After seven years of bootstrapping the project, the pair finally got the funding to take the platform to the next level, first with an injection of $6 million in 2019 and a whopping $100 million two years later in 2021.
When it comes to no-code tools, it has become increasingly clear that investors have woken up to the potential of this field. And when you look at what users are able to develop with Bubble.io, it's easy to see why.
Let's go over some of the key features of Bubble.io in the next section!
Key Features of Bubble.io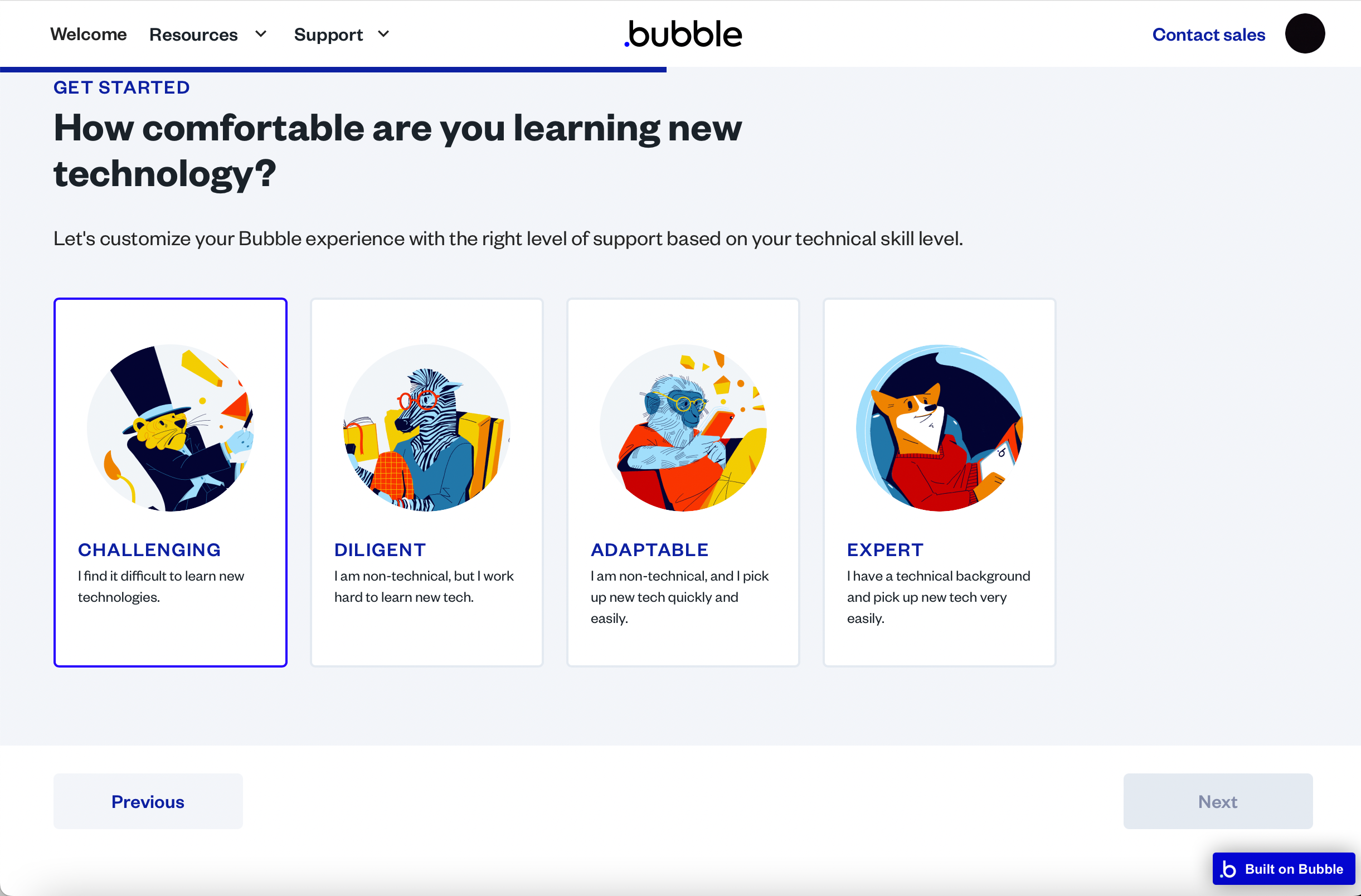 The Bubble platform provides a wide range of possibilities, allowing you to create SaaS platforms, marketplaces, and CRMs, among other applications.
But building these applications and sites is not new. So what exactly makes Bubble.io stand out? Here are some of the features that have programmers and the average Joe excited.
1. Bubble.io is a No-Code Platform
Bubble is one of the best no-code development platforms out there that empowers users to create web applications using a visual editor.
With Bubble you can build complex applications without having to write any code at all. Instead, you can use Bubble's drag-and-drop interface to design and develop your application.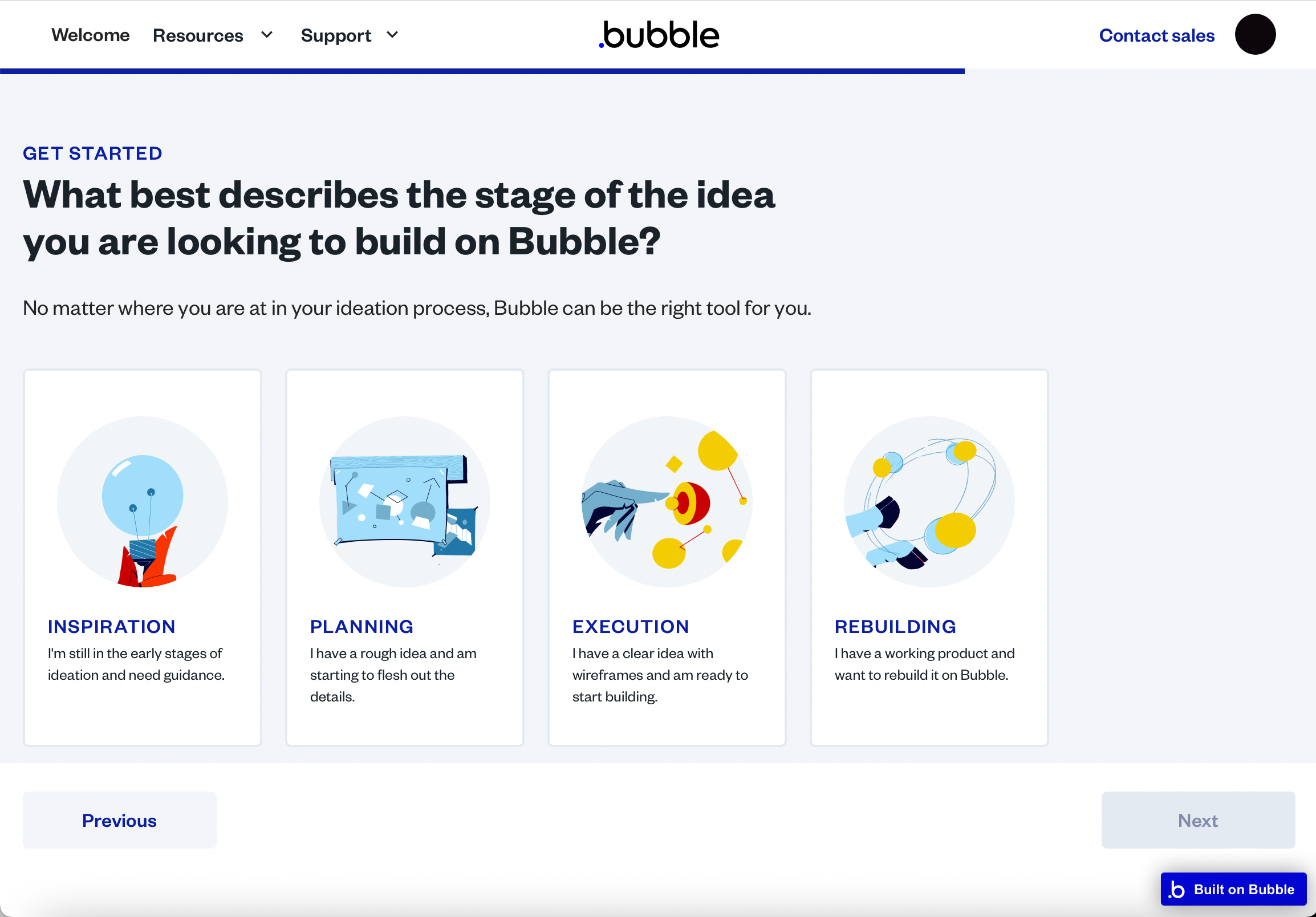 This is a huge step in the democratization of the software development space. Bubble.io makes programming and app creation accessible to those with little-to-no technical background or programming experience.
2. Bubble.io Can Create a Wide Range of Apps
Bubble's versatility allows developers to create a wide range of applications, from simple websites and landing pages to complex applications with multiple user roles and workflows.
Examples of popular applications developed using Bubble include:
Airbnb-like booking platforms
Job boards and hiring platforms
Social networks
E-commerce websites
Data visualization tools
With Bubble's open-ended approach, there is virtually no limit to the types of applications you can build using its platform.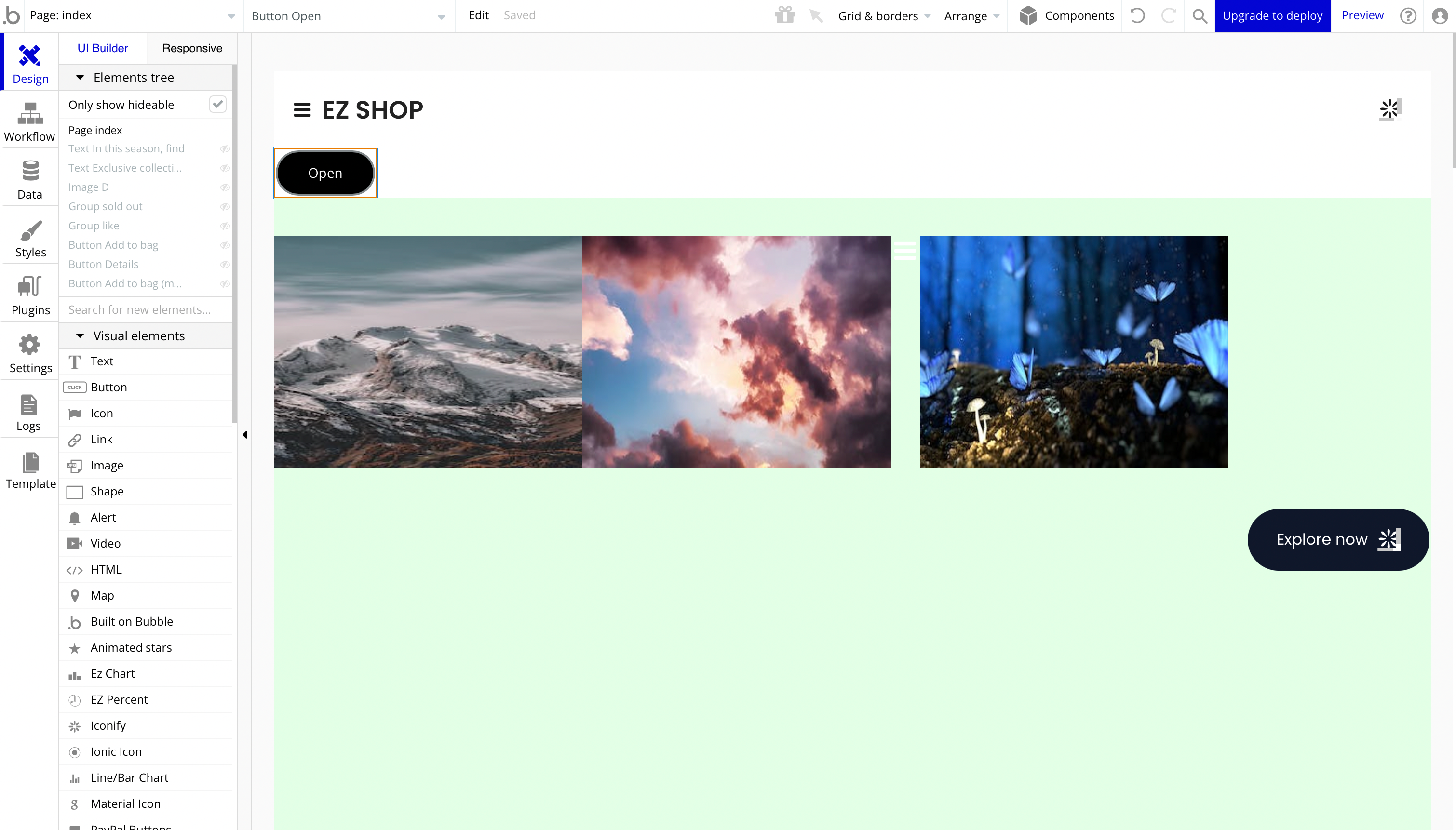 3. Bubble.io Has Numerous Built-in Services
To further simplify the development process, Bubble.io offers a range of built-in services and internal tools that cater to various aspects of your application. Some of these services include:
User authentication: Easily manage user accounts, sign-ups, and logins.
Database services: Store, retrieve, and manipulate data using Bubble's built-in encrypted database tools.
Workflow automation: Create and manage complex workflows through events and actions.
Responsive design: Ensure your application looks great on desktop, tablet, and mobile devices.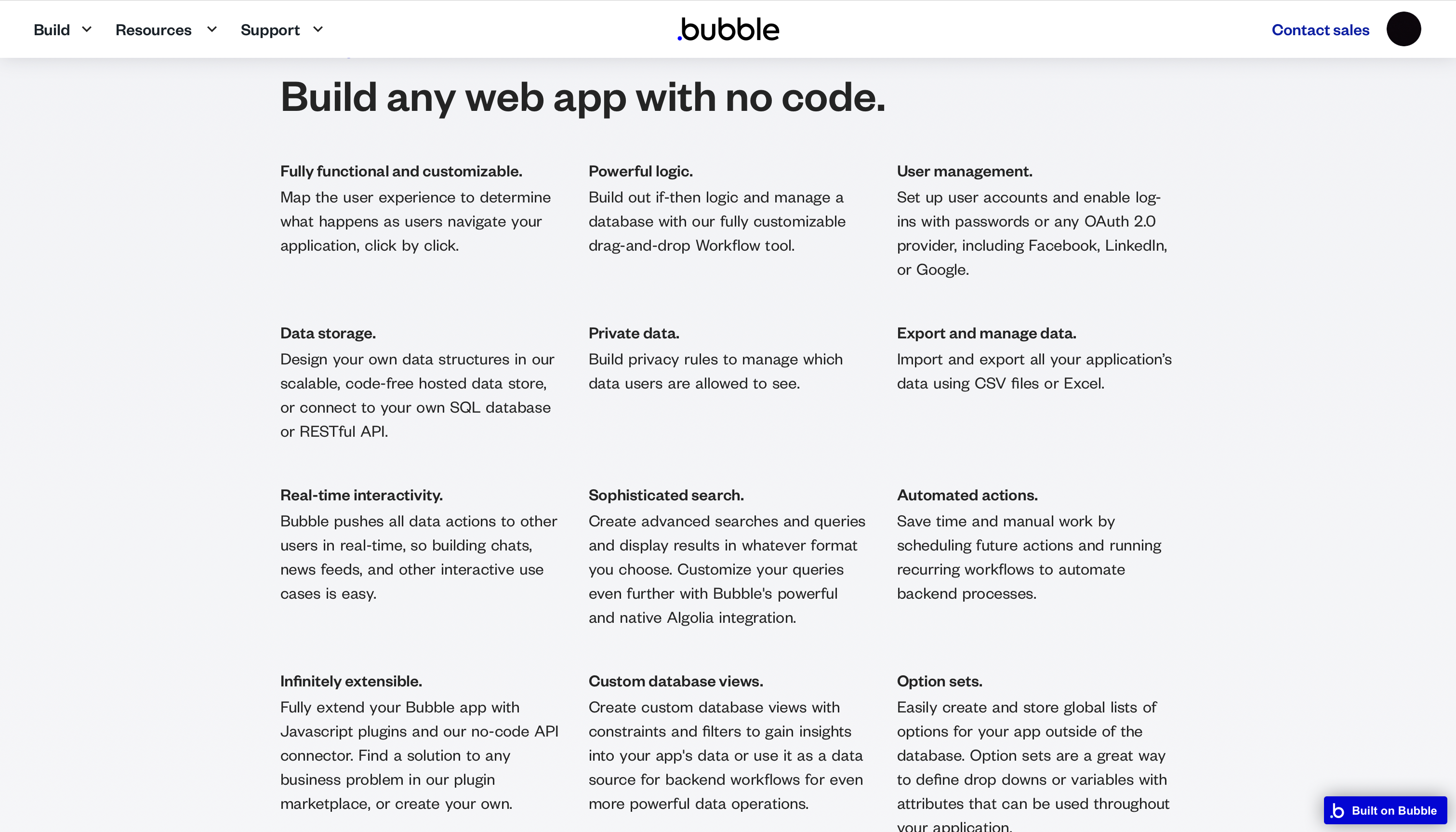 By providing these essential services out-of-the-box, Bubble saves users time and effort that would otherwise be spent on setting up and managing these aspects on a traditional development platform.
4. Bubble.io Supports API Integrations
Bubble's API integration feature enables users to connect their code app to external services and leverage third-party APIs.
With a range of pre-built connections and the ability to create custom connections, developers can easily incorporate data and functionality from other systems, such as Google Maps for navigation, Stripe for payment processing, or OAuth for user authentication.
5. Bubble.io Supports Plugins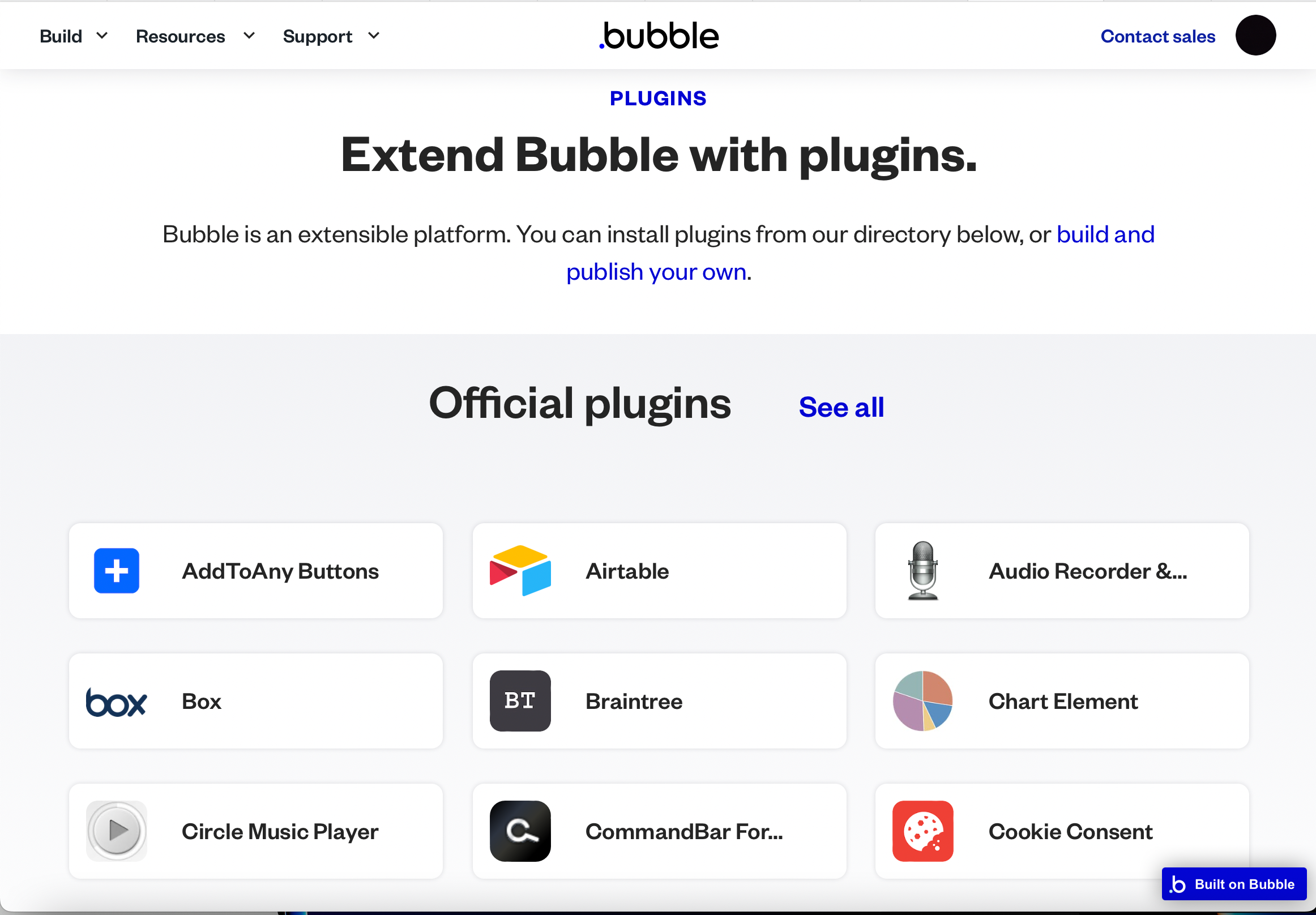 Plugins are a great way to extend the functionality of a Bubble application. Once you've set up an account, you'll have access to both free and premium plugins created by the community and will be able to enhance your app by incorporating additional features and integrations.
What Are Bubble.io's Limitations?
It's clear that Bubble and its features have a lot to offer. But no program is perfect. So as you make a decision on whether you want to build your web app using the platform, let's take a look at some of its limitations.
1. You Can't Export a Bubble App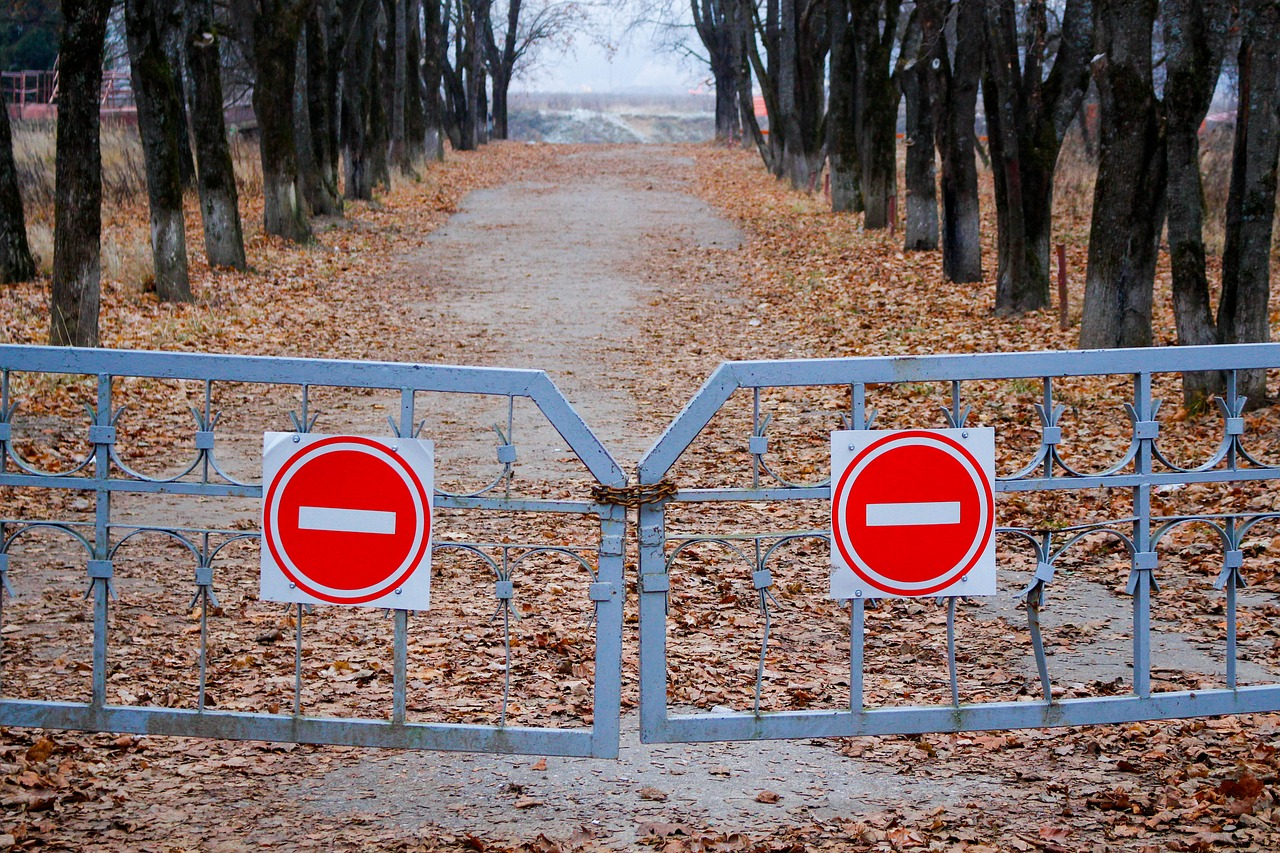 If you build your app on the Bubble platform, you'll not be able to export it at any time.
According to Bubble, your app design and any user data are your property, but the code used to build your app is Bubble's property. So you need to be very sure that Bubble.io is the right home for your app and that you are prepared to stay on the platform in the long run.
Bubble has however stated that in the event that they close down for whatever reason, they will release the Bubble source code with an open-source license so you can build your own platform to continue running your app on.
2. Things You Can't Build in Bubble.io
There are very many useful applications you can build with this app-building platform. But the list is unfortunately not limitless. Here are some of its limitations: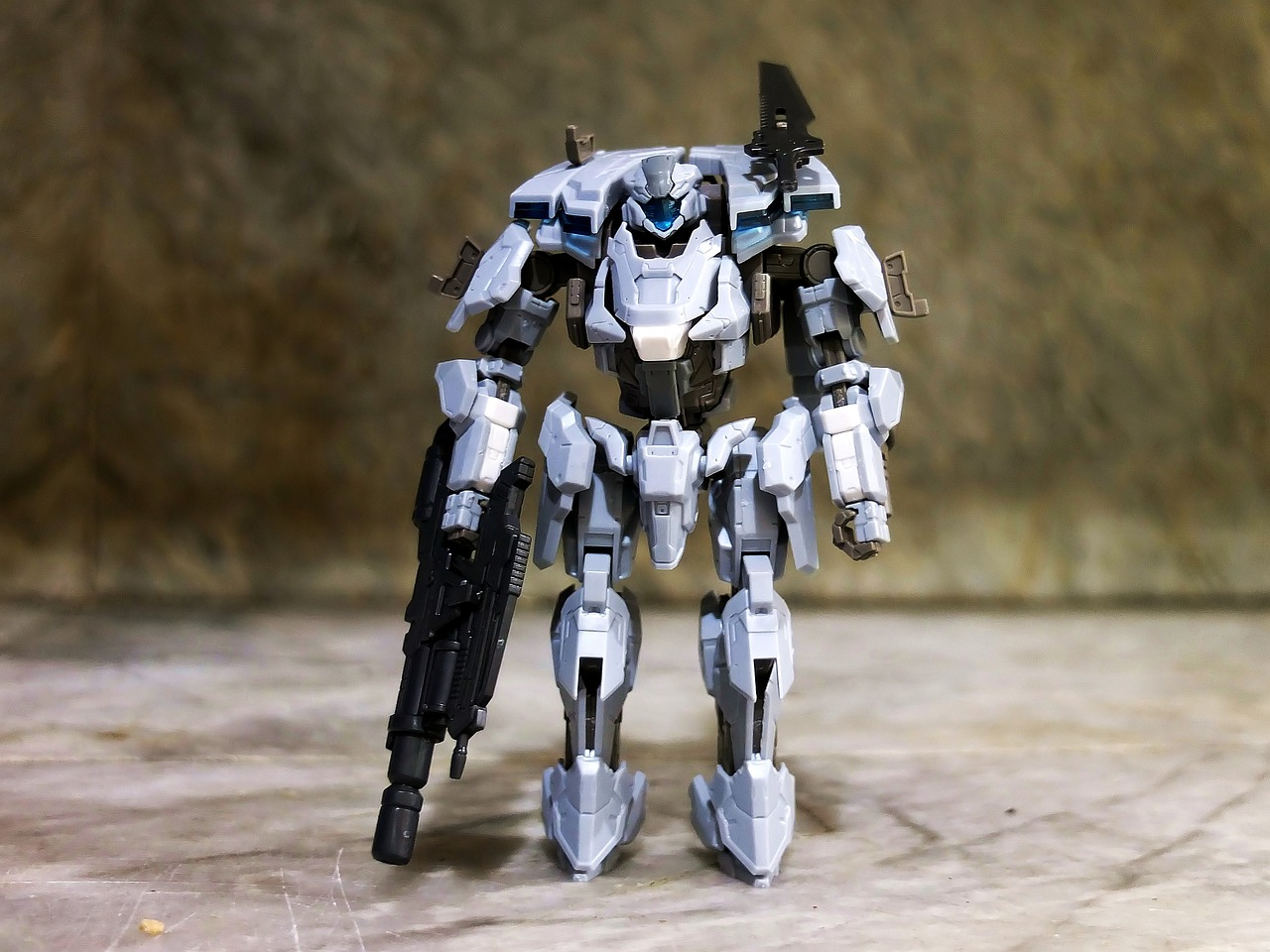 Games: Bubble really struggles when it comes to building games. Some Bubble developers have been able to create simple short 3D games, but if you want to develop a game with any kind of complexity, it will be near impossible to do this on Bubble.
Mobile apps: Bubble.io is a web app-building platform. As such, you cannot build mobile apps on the site. The best you will get is a mobile-optimized web app.
JavaScript only: Bubble is also limited when it comes to the programming languages available. The platform was built using JavaScript language, so while Bubble developers do have the option to enhance their own app by writing code, they can only do so using JavaScript.
3. Steep Learning Curve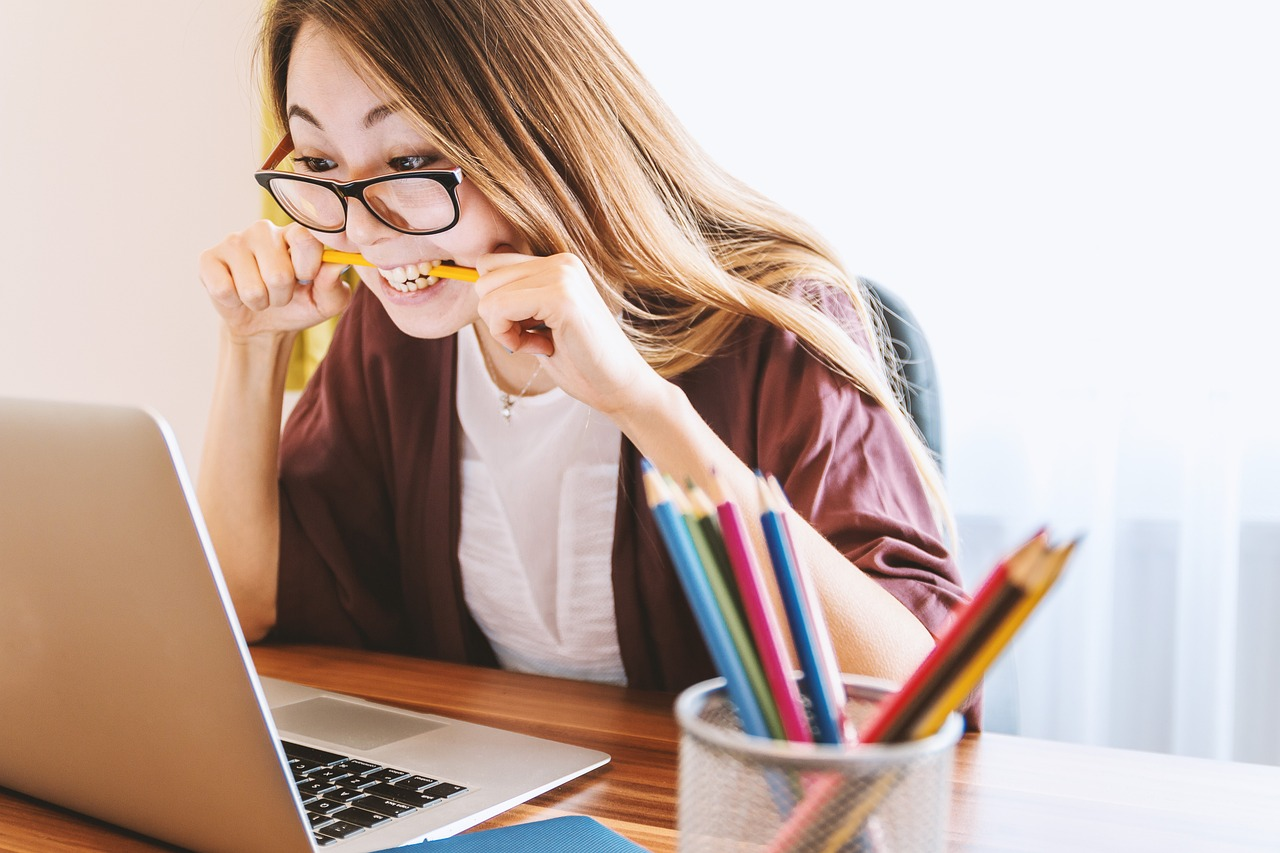 While no-code programming has opened the doors for non-coding experts to build programs, the process has nuances of its own.
Bubble users have found that while simple apps are fairly easy to build, more complex apps require you to invest a lot of time to truly learn Bubble and how to use it optimally.
But because of the complexity and customization possible on Bubble, most users have found the learning curve to be well worth their time.
So now that you have a clearer idea of what the Bubble app builder can do and what it can't do, let's talk numbers. How much would it cost to build your own apps on Bubble.io? We go over that in the next section!
Bubble.io Plans and Pricing
Bubble has created five plans based on the needs of Bubble users. And yes, there is a free plan.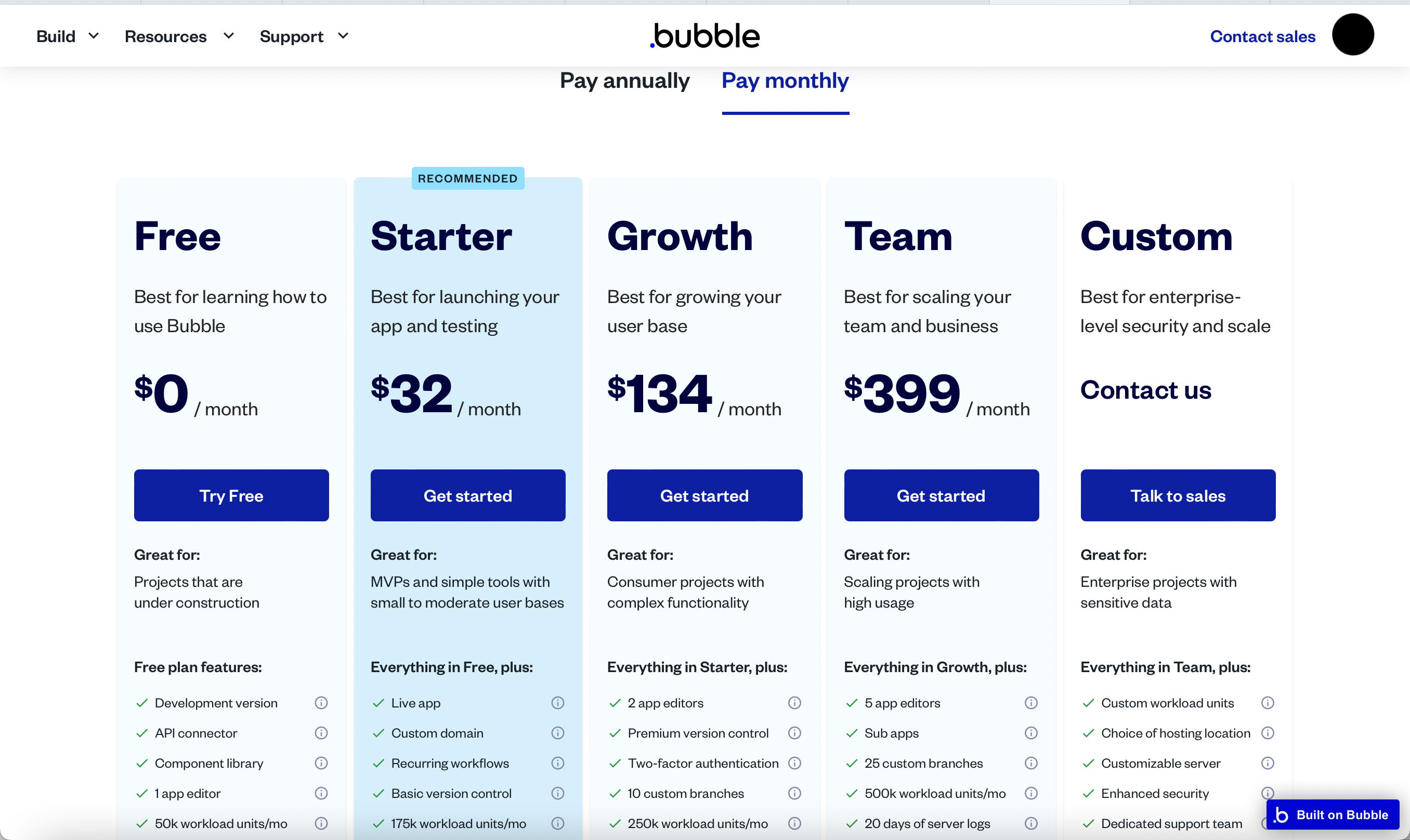 Here's a list of the available plans and who they're best suited for.
Free plan – If you're new to Bubble and want to tinker around to see if it's the right home for your app, the free plan will be perfect for you. With the free plan, you can create a prototype of your app, and when you are ready to go live with it, you can simply switch to one of the paid plans.
Starter plan – If you only need to create simple tools with simple functions, and you only expect a small-to-medium user base, this plan is for you. It only allows for one app editor, but you can create a custom domain, along with other benefits. The Bubble cost for this plan is $32/month or $348/year.
Growth plan – This plan was created for those working on consumer projects with complex functionality. It allows for two app editors, two-factor authentication, 14 days of server logs, and offers other benefits. The cost for this plan is $134/month or $1,428/year.
Team – If you want to scale your team and your app has or is expecting high usage, then the team plan is probably your best option. This plan allows for five app editors, 20 days of server logs, 1 TB of storage, and a number of other benefits. The cost for this plan is $399/month or $4,188/year.
Custom – This is the mother of all plans on Bubble. This plan is meant for enterprise projects that require enterprise-level security for sensitive data. Along with the benefits of all the other plans, with this plan, you get to choose your hosting region, host multiple apps in one place and have a static IP address, among other benefits. To subscribe to this plan, you need to contact the Bubble group to get a quote.
Alright, now that we've gone over the available plans, let's talk about how you can contact support for any issues in the next section.
What Support Does Bubble.io Offer Users?
Beyond just offering users a plan and leaving them to fend for themselves on the platform, Bubble.io has a robust community and support system for its users.
There are two main places where you can connect with the Bubble community: Bubble's Marketplace and Bubble Academy.
1. Bubble Marketplace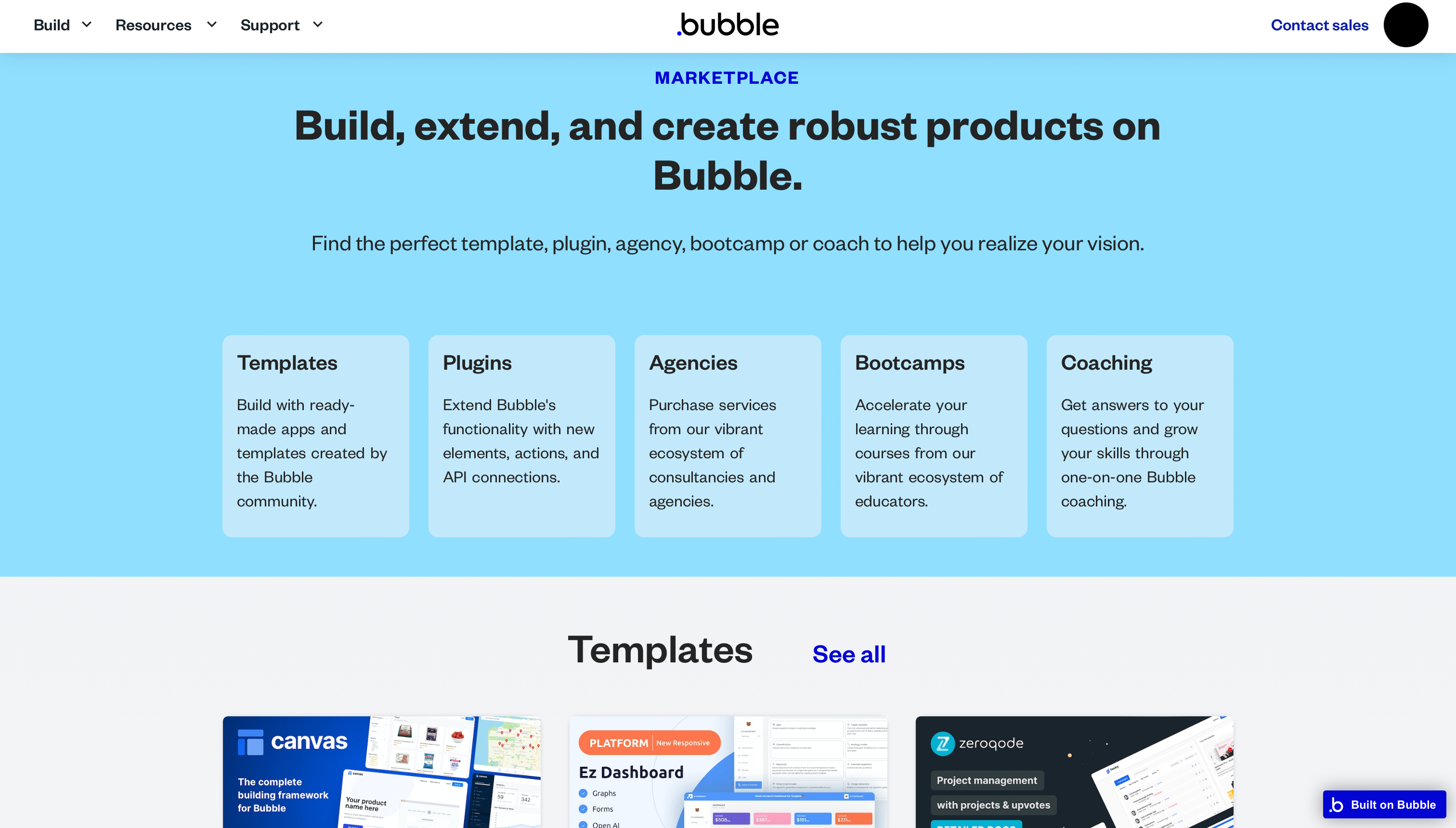 For an extra cost, Bubble's Marketplace offers in-house and third-party services that make your work easier. These services include:
Templates – There are over a thousand ready templates that you can use to jump-start your app development. And even better, some of the templates are free!
Plugins – Bubble offers an array of available plugins to use in your app development. If you can't find what you need, you can buy third-party plugins or build and publish your own plugins.
Agencies – If you'd rather have a professional development agency build your app, you can choose to employ one of the agencies listed on Bubble. Using a third-party service in this way can greatly decrease your overhead costs and quicken the development process.
Bootcamps and coaching – You can also choose to take a Bubble bootcamp offered by third parties. And if you need some specialized attention, there are coaches you can employ for some one-on-one guidance.
2. Bubble Academy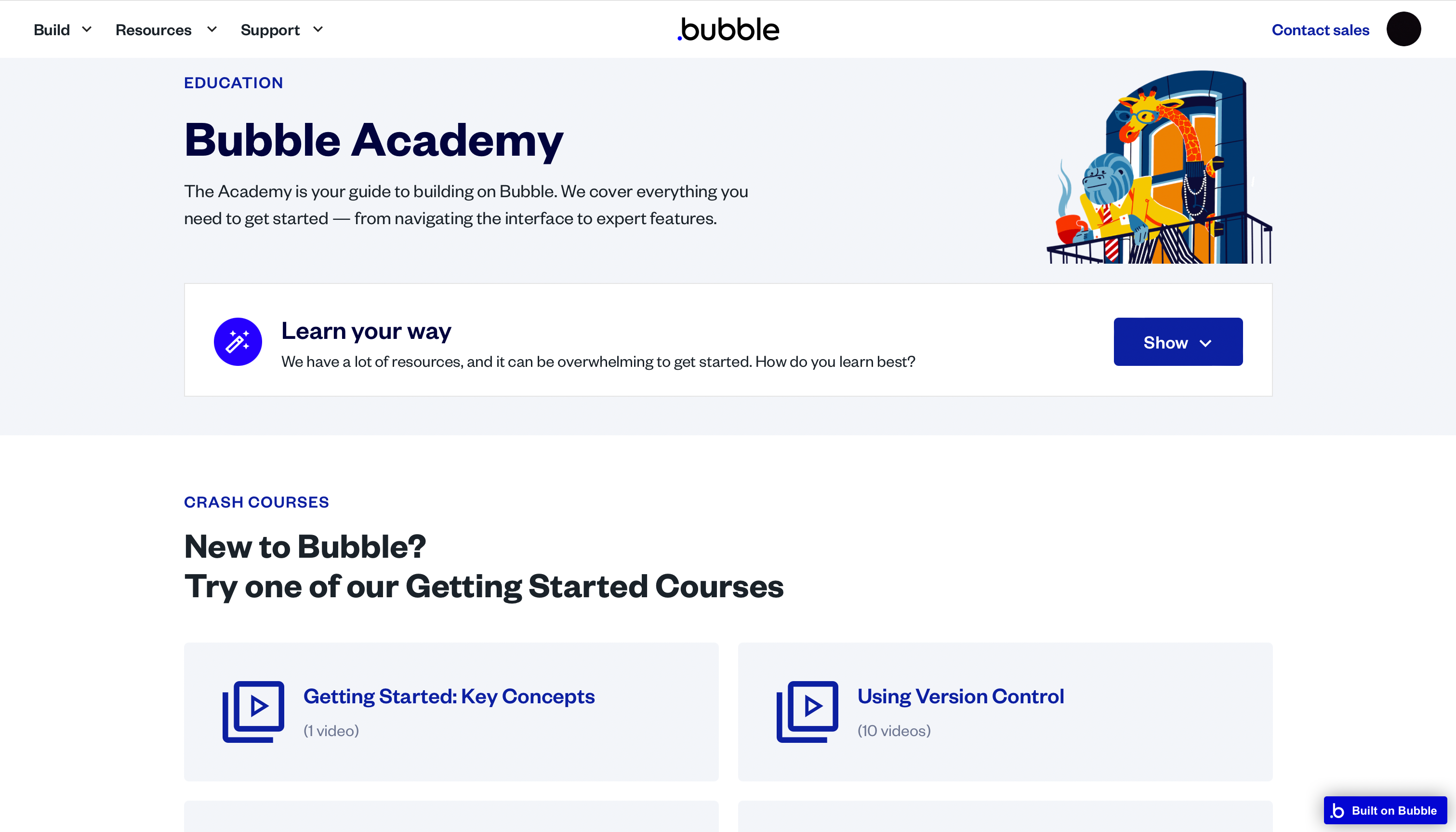 Bubble Academy is an excellent place to start for those new to the platform and who want to learn Bubble basics. It offers a wide range of tutorials, including interactive lessons designed for users of different skill levels.
Additionally, the academy provides various real-world application examples, which can help you become an effective Bubble developer.
At Bubble Academy, you'll find:
Video Lessons
Interactive lessons
Manuals
How to build step-by-step guides
A blog
And whatever information you can't find there, you can request it in Bubble's user forum.
Are There Any Good Bubble.io Alternatives?
With all the features and support that Bubble offers, it's easy to see why some say Bubble is one of the best no-code tools out there. However, it's not the only player in the no-code space.
For this section, we've compiled a few other no-code tools that are giving Bubble a run for its money.
1. Softr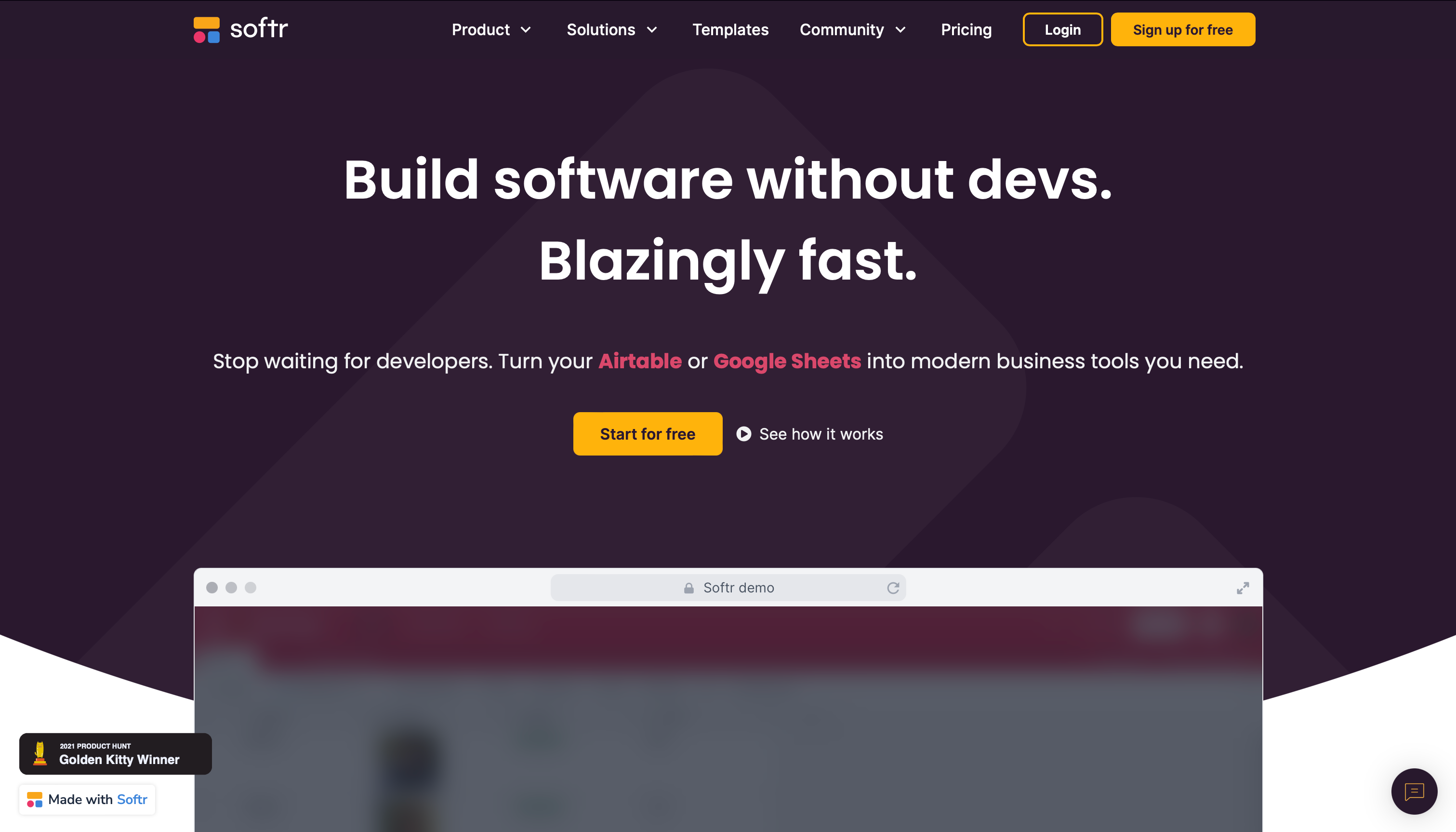 Like Bubble, Softr is a no-code platform where users can build websites and web apps. It's relatively cheaper than Bubble and a lot easier to use if you want to build fairly straightforward websites or apps.
However, if you want to build more complex apps, Bubble is still the stronger platform as it allows for more customization of your app. But as we mentioned earlier, there is a steeper learning curve with Bubble.
2. Adalo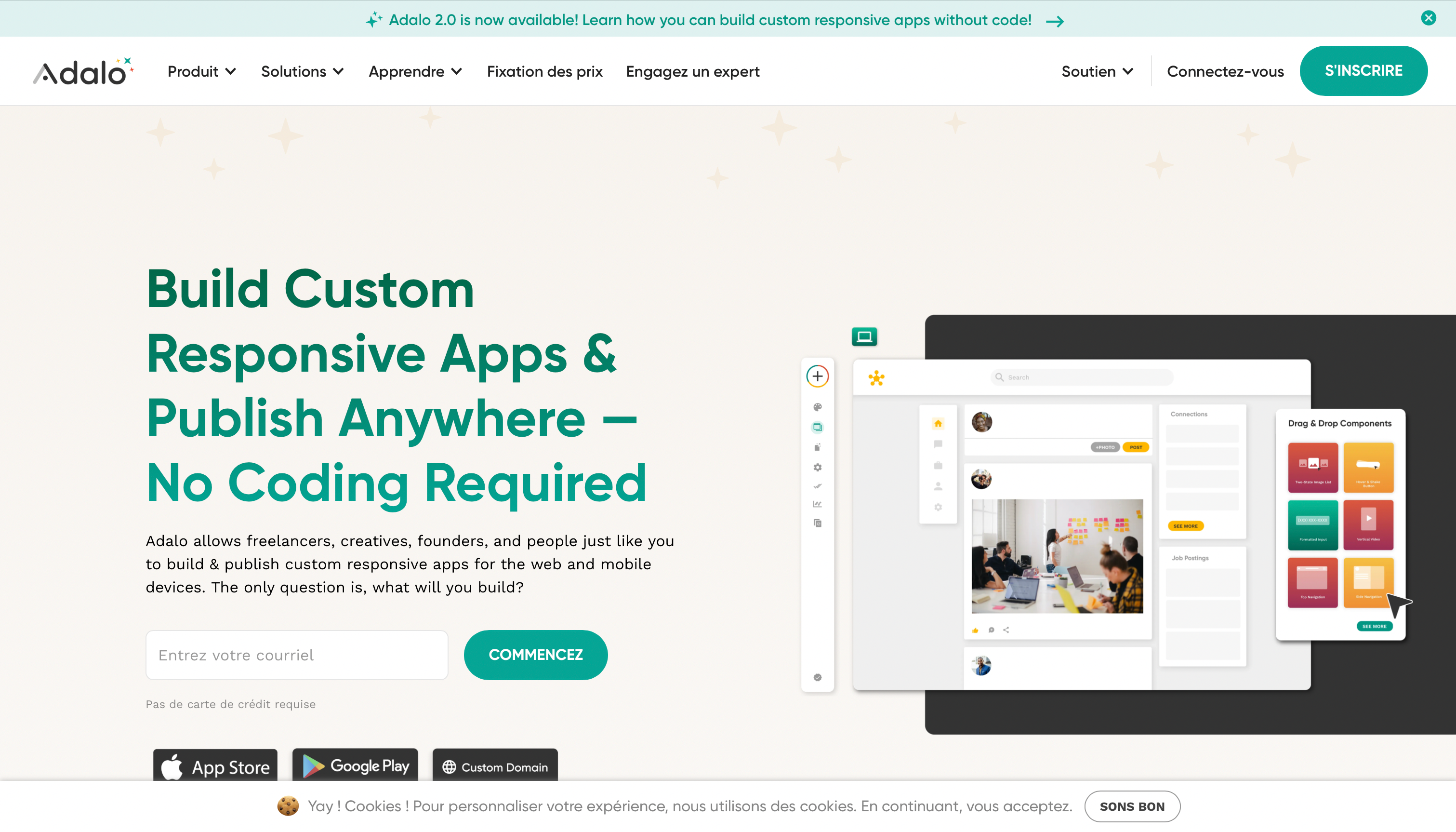 Adalo is another cloud-based platform that allows you to build web apps without having to write code. Like Softr, Adalo is a lot easier to use than Bubble and is a great option if you want to develop small or simple applications.
However, much like Softr, it doesn't stand up to Bubble when it comes to bigger and more complex apps. Bubble is also the better option if you need community support.
Adalo doesn't offer many of the marketplace and academy options that Bubble does, including the availability of templates and collaboration options.
3. Glide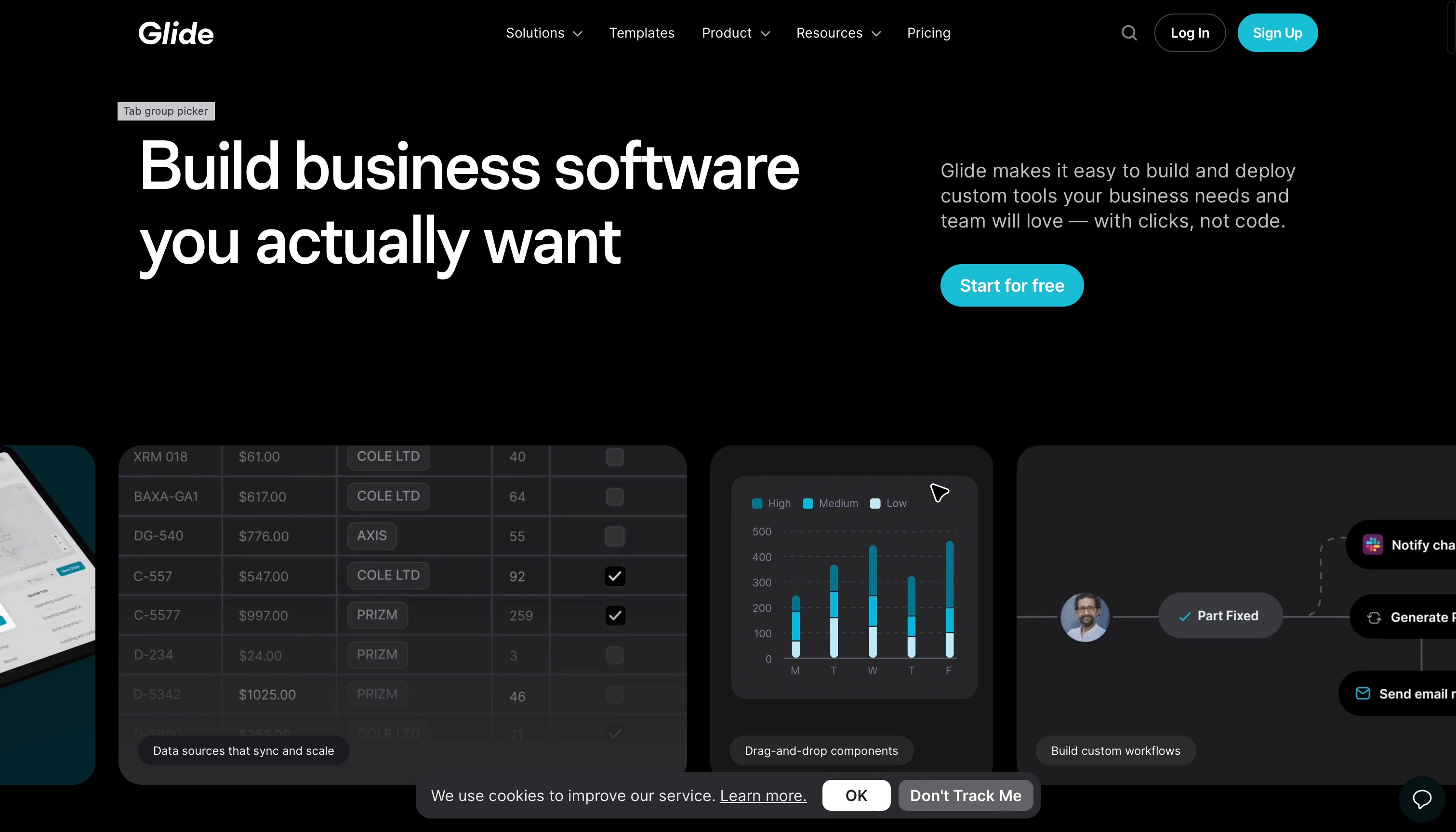 Last on our list of competitors is Glide. Where Bubble and Glide differ is in their approach.
Like the other competitors in this section, Glide is a much easier platform to use and focuses on the visual development of the apps produced. It also has an array of resources and tutorials to match Bubble's offerings.
Bubble, on the other hand, can be said to be more of a developer's app. It's harder to use because it offers a lot more programming options and possibilities.
All in all, it's pretty clear that Bubble is the best choice in the market if you need to build complex apps. But if you're looking to build something a little more simple. the alternatives we've listed may be a better fit.
Honorable mention: We must give a shout-out to the low-code platform provided by Microsoft PowerApps, which is perfect for developers who have some code-writing experience but still want the ease of a no-code environment.
If you'd like to learn more about Microsoft PowerApps, check out some of our tutorials as well as the YouTube video below:
Final Thoughts
We can confidently say that Bubble.io is currently the ChatGPT of no-code platforms; it's the biggest and most popular. And with the no-code development trend rapidly expanding, we expect Bubble.io to become even more popular.
Even with its learning curve, the platform still gives everyone the power to build robust and complex web apps. And for users who may not be as good at programming as professional developers, Bubble has created an unbeatable marketplace and academy to offer support, guidance, and education.
So whether you're a developer looking for an easy-to-use no-code platform or a novice who is fairly new in the programming arena, Bubble.io is definitely worth a try!