At Enterprise DNA, we believe that learning never stops. This is why we keep on launching new courses to help our subscribers become the best among the world's Power Platform users.
We're so excited to announce the launch of three brand new courses: Power Platform Certification Course, Accessing Data via APIs in Power BI, and Paginated Report Writer II.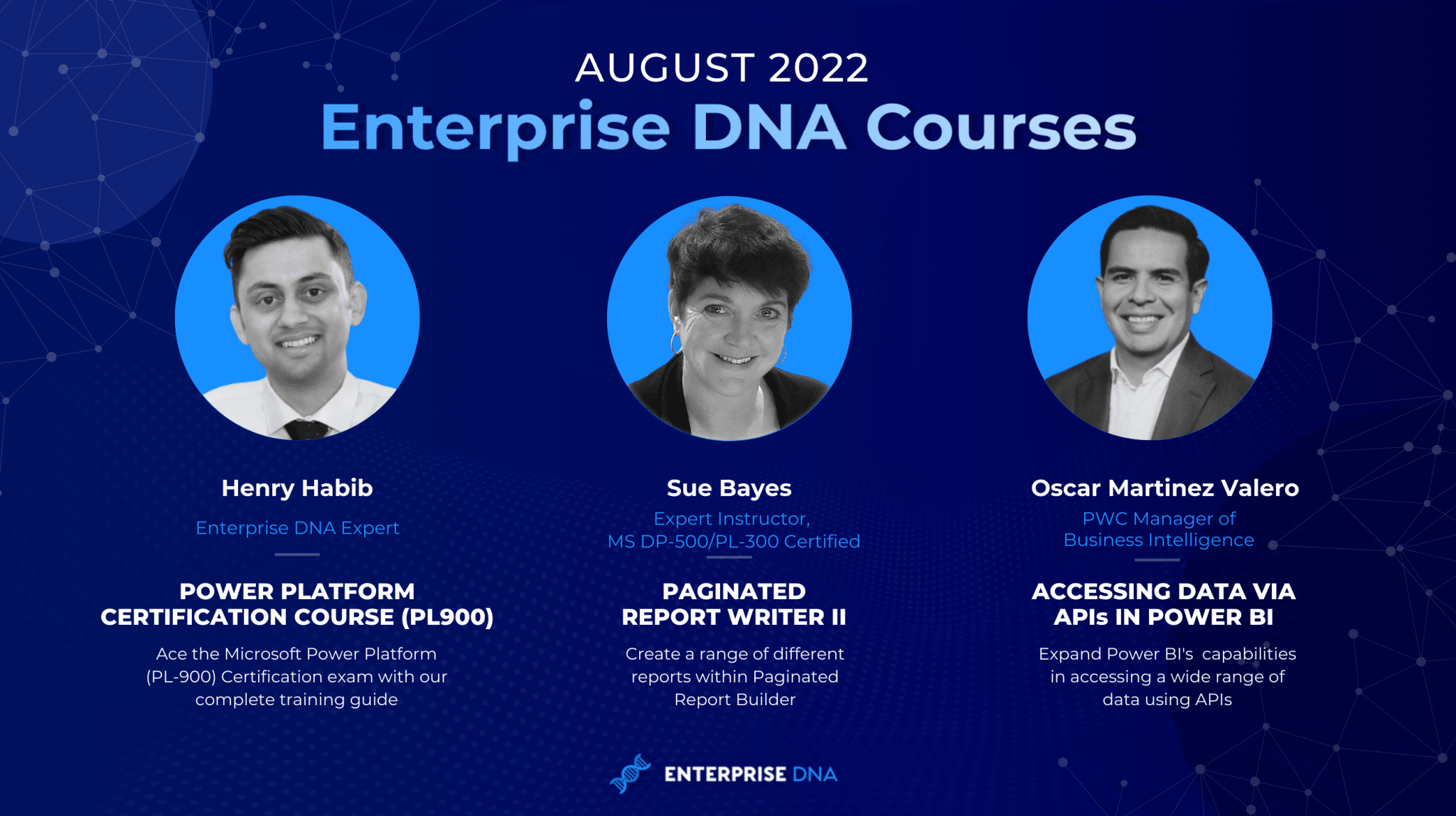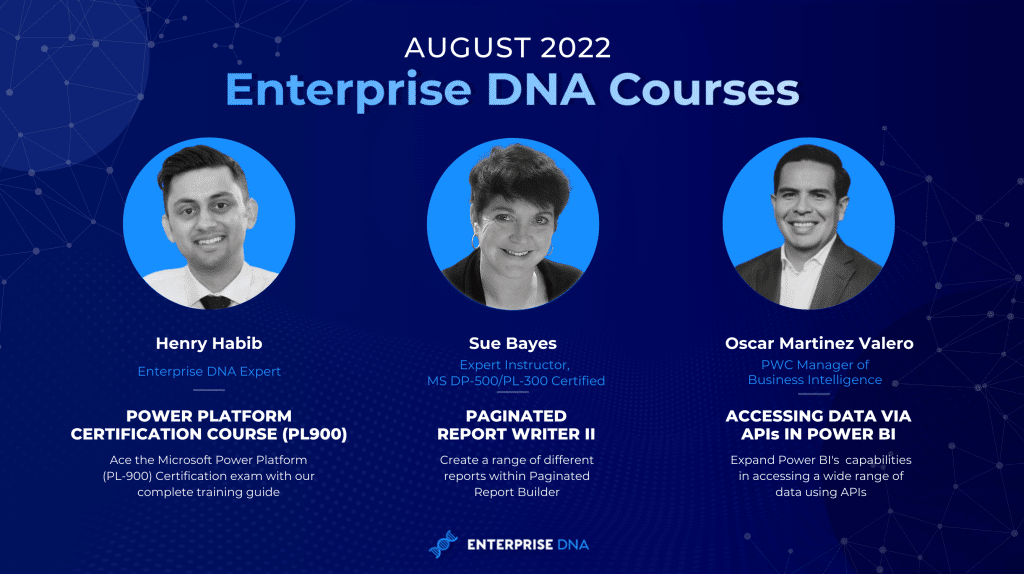 Power Platform Certification Course
The Power Platform Certification course is designed for those who are planning to take the Microsoft Power Platform (PL-900) Certification.
If you're a data analyst or an Excel enthusiast who works with Microsoft's suite of products, passing Microsoft's certification will add a lot of value to your career. If you are a business professional who wants to build basic solutions using Microsoft's Power Platform applications, there is no better way to do it than by taking this course.
This course also marks the first entry in our Microsoft Certification Series. Over the next couple of months, we will be releasing a course covering the PL-300, PL-100, PL-400 and DP-500 certifications.
What to expect from this course
Henry Habib, our Power Platform expert, has prepared more than 6 hours of self-paced training videos to help you build the necessary skills that will maximize your success at your first PL-900 try.
Here's a quick overview of the Power Platform Certification course:
Identify the concepts that must be learned to pass the PL-900 exam
Identify the business value and core components of Microsoft Power Platform
Identify the key features of Power BI and demonstrate its capabilities as an analytical tool
Identify the key features of Power Apps and demonstrate its capabilities as an app builder
Identify the key features of Power Automate and demonstrate its capabilities in automating business processes
Identify the key features of Power Virtual Agents and demonstrate its business value as a chatbot builder
Who is this for?
This course is for business analysts aiming to pass the PL-900 exam, as well as business professionals who want to utilize Power Platform to improve their business operations and processes.
Data analysts who want to improve their professional credentials and get better career opportunities will also benefit from this, as well as any individual who wants to learn how Power Platform works.
This is a beginner course with no prerequisite knowledge or advance preparation required.
About Henry Habib
Henry Habib is an Enterprise DNA expert with a strong background in Accounting and Finance, and specialization in Economics.
He is an accomplished Power Platform and Office 365 trainer, with over 100 hours of recorded content and over 30,000 paid students on various e-learning platforms.
Accessing Data via APIs in Power BI Course
There is a multitude of data available in various applications and web services, and the way to get them is through APIs. However, there is a limitation on what we can do with the data that we get with APIs alone.
We need a tool for retrieving this data, and the perfect tool to do that is with Power BI. In this course, you will learn how to successfully use APIs to retrieve data in Power BI.
What to expect from this course
Oscar Martinez Valero has produced an extremely clear, instructive, and entertaining course on how APIs can open up a whole new world of data within Power BI.
Here are some of the things you will learn from the Accessing Data via APIs in Power BI course:
Understand APIs in the Power BI context
Connect APIs to data sources like Chuck Norris jokes, NewsAPI, JIRA, and bring it to Power BI
Transform data retrieved via Power BI with correct parameters to make the file usable
Learn the different types of authentication methods
Develop APIs in Power BI using different tools like JSON Beautifier & Editor, Postman, Fiddler and HTTP Debugger
Who is this for?
This intermediate course is for all analysts working with data from different sources while using Power BI. A basic working knowledge of Power Query will be required to understand the course.
About Oscar Martinez Valero
Oscar Martinez Valero is one of the world's experts when it comes to using APIs in Power BI. He has done plenty of research and written extensively on this topic, as well as developed a number of custom Power BI connectors.
Many of you know him as a wildly creative Power BI expert developer who was a finalist in this year's Microsoft Power BI Championship in Switzerland.
Paginated Report Writer II Course
While Power BI has a dynamic and interactive feature that is useful during report presentations, there are business professionals who need to create "pixel perfect" PDF or hardcopy reports.
This can be done by creating a paginated report. Paginated reports are designed to be printed or shared, and are formatted to fit well on a page.
We have previously published an introductory course on this topic earlier this year, where we discussed the use of paginated reports, and how to install the Power BI Report Builder.
What to expect from this course
In this sequel, Sue Bayes will be sharing how you can create different kinds of reports and how to prevent issues in formatting. This course delves deeper and provides additional techniques for users who want to produce pixel-perfect printed reports from Power BI.
This 3+ hour course will cover the following topics:
Learn how to get data into report builder
Create different types of reports
Set up report while avoiding formatting issues
Set up and position texts, tables, graphs, and images
Set up parameters to filter data
Create and format a Gantt chart into the report
Who is this for?
This intermediate course is for analysts who need to create "pixel perfect" printed reports from Power BI. Before taking this course, we recommend completing the Intro to Paginated Reports course first to gain a basic understanding of how paginated reports work.
About Sue Bayes
Sue Bayes is a Microsoft-certified Data Analyst Associate specializing in Microsoft Power BI, Excel, and Paginated Reporting.
She develops reports and models using Microsoft Power BI, Microsoft Excel, R, and Python and works closely with businesses to help them use these tools and come up with strategic insights.
How to enroll in our new courses
Ace the PL-900 exam, learn how to use APIs to retrieve data, and create pixel-perfect printed reports with these newly-minted Enterprise DNA courses. Subscribe to the Enterprise DNA On-Demand platform and start learning today.
We'd like to thank Henry, Oscar, and Sue for their exceptional efforts in producing these valuable courses. You can check out our upcoming courses for more details, and keep your eyes out for the other courses that will come out later this year.
All the best,
Enterprise DNA team