Today we are releasing a 3 more Power BI showcases to the Enterprise DNA showcase page.
To view these and try them out check out the below link.
These reports are all great representations of the immense analytical possibilities that you have available to you when utilizing Power BI really well.
Power BI is an incredible analytical tool with immense versatility. That's what all these Enterprise DNA showcases look to represent in various different ways.
You can utilize Power BI across many different business functions, industries and analysis scenarios.
When reviewing the showcases that are made available on the Enterprise DNA website we truly hope that you can identify all these concepts and possibilities that you can utilize yourself inside your own reports.
That's why these are created and made available to the Power BI community.
We also make all of these showcases available to Enterprise DNA membership holders to download and review in more detail.
Currently, there are over 40 Power BI showcases members are able to download. You can view them all here – Enterprise DNA Showcase
Financial Reporting Templates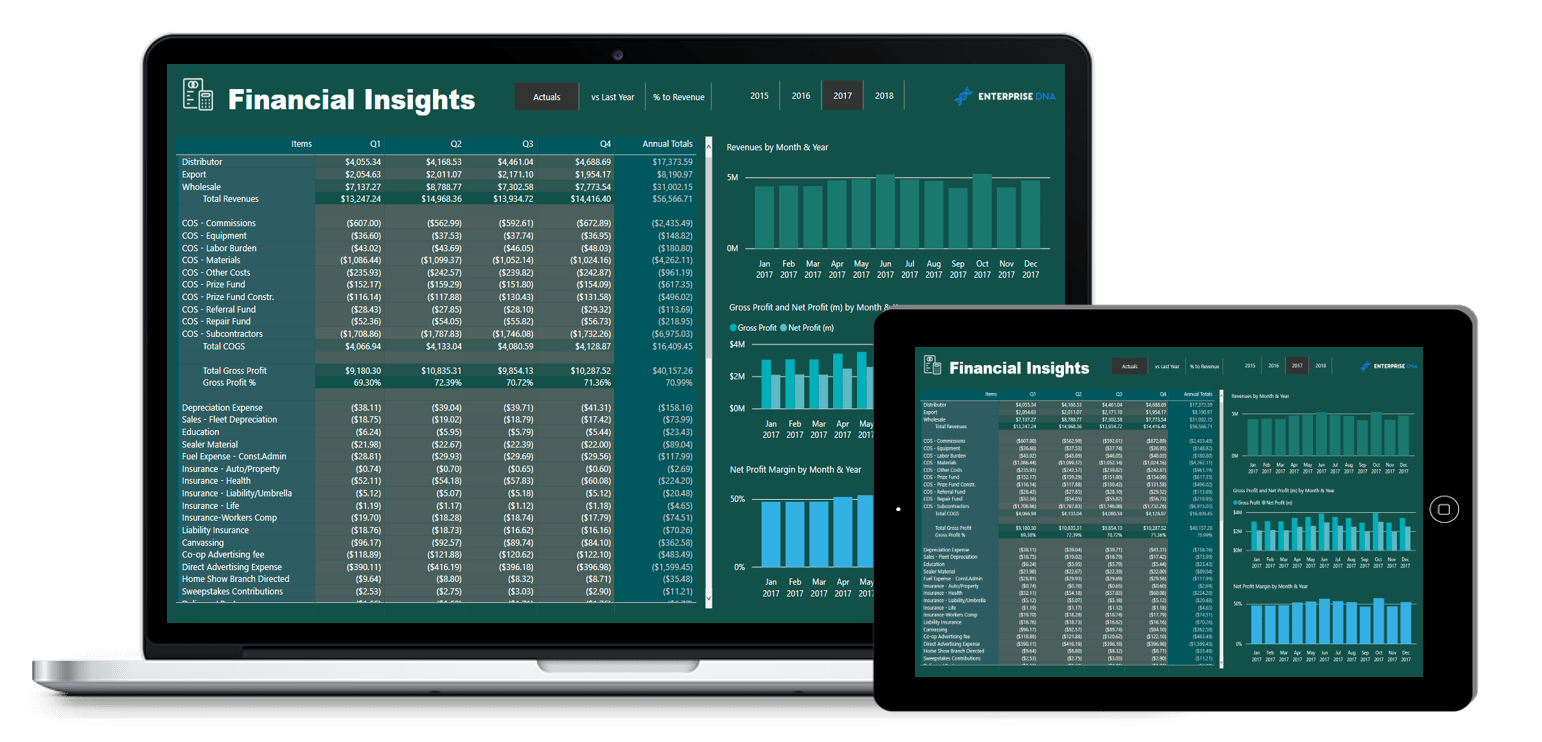 The first showcase is around financial reporting templates. This is a relatively new concept and technique Enterprise DNA has developed which is perfect for the variety of financial reporting that you may have to complete inside of Power BI.
There was also a full workshop that ran through how to create this from scratch. You can view this here with this module at Enterprise DNA Online – Scenario Method Workshops
This is perfect for those who work in finance teams or accountancy areas, who need to represent information across a range of different financial reports including; profit & loss statement, balance sheets, and cash flow statements.
The custom templating idea showcased within this particular report is also able to be used in many different ways. So when reviewing this particular showcase definitely look to expand your mind in terms of what's possible inside tables within Power BI.
Quarterly Business Insights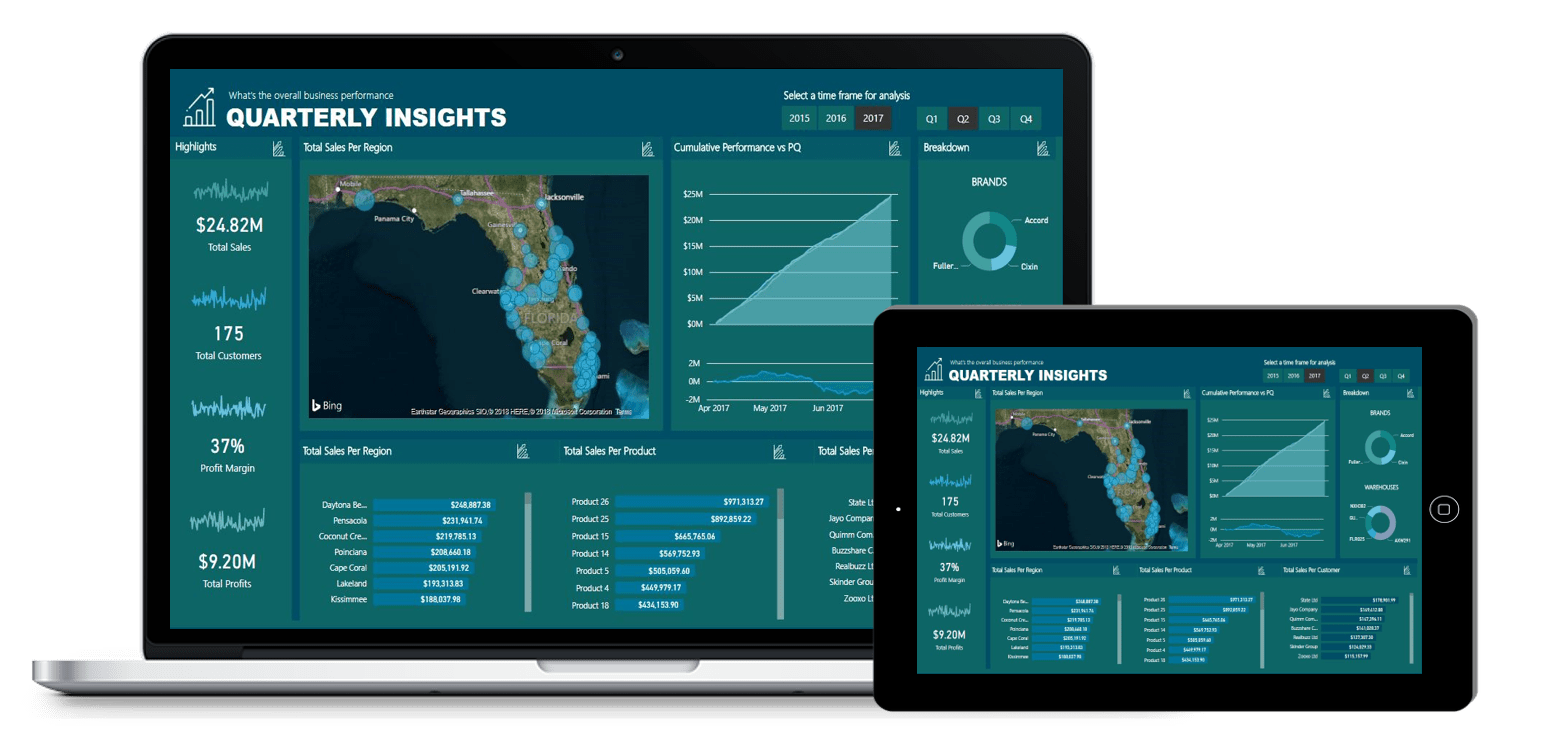 This second Power BI showcase is based on business insights, across a range of different focus areas of an organization.
This is a detailed report that covers quarterly performance insights but also things like customer segmentation and future scenario analysis techniques.
Territory Sales Breakdown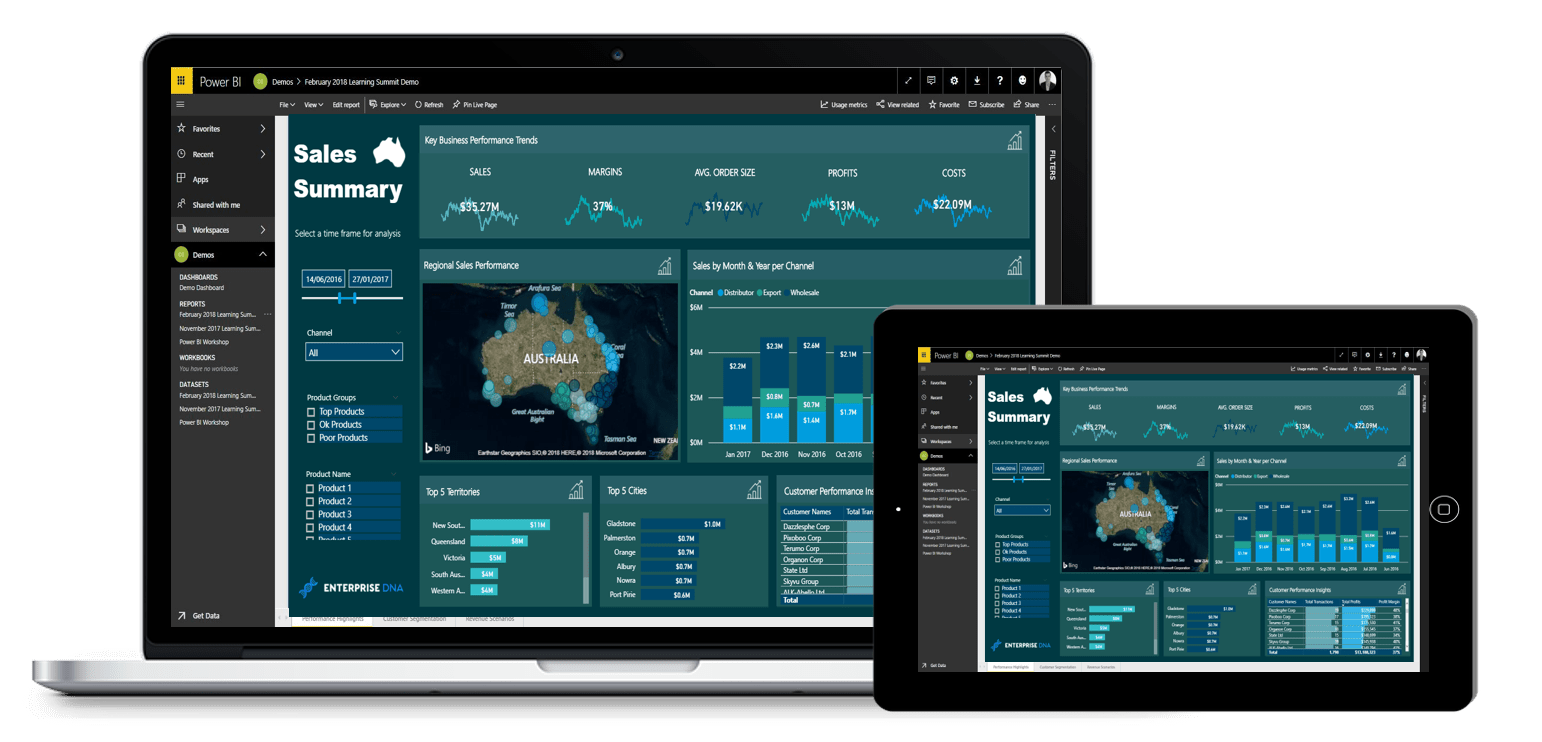 The last showcase is again another detailed Power BI model which covers many business applications and analytical techniques.
The takeaway with this showcase is how you should organize and manage your detailed Power BI reports and models in an effective and intuitive way.
This is very important because you want to be able to have great continuity with your internal development work and also a seamless ability to audit your results and calculations you're representing.
By reviewing how this model is put together you can understand how all this works and look to integrate some of these ideas into your own work.
So there you have it, three detailed Power BI reports and models being made available on the Enterprise DNA showcase.
To be able to actually download these models all that's required is an upgrade to Enterprise DNA Membership. If you want to learn more about membership and the significant amounts of advanced training content, resources, and support that is available check out the below link.
Look forward to bringing you more Power BI showcases in the near future!
Sam